This Slow Cooker Sausage Hotpot is easy to whip up and is a wonderfully warming, filling meal.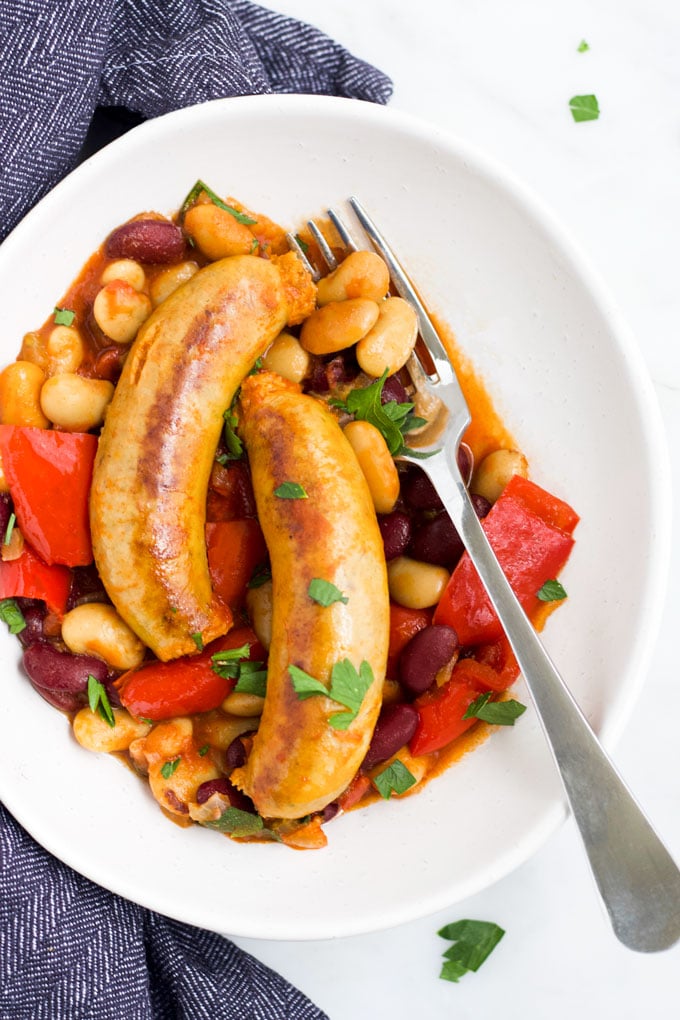 Before I had kids my slow cooker was always something that I use in spurts. Sometimes it was out and used constantly and then for months it was hidden away and forgotten about.
It then became a lifesaver when my youngest, Rory, was first born. I'd drop my eldest (Finn) off at pre-school, Rory would fall asleep in his stroller and I used the time to make something in the slow cooker. This was much easier than trying to cook something at 5 pm when Finn was often needy and Rory just seemed to constantly want to feed and be held.
Ingredients
Sausages are never going to win an award for a healthy food choice. However, there are a few things we can do to make sure we are picking good quality sausages. Always read the ingredient list and
Choose a sausage with as high a percentage of meat as possible. Look for a sausage containing a minimum of 85% meat.
Beware of sodium levels. Sausages are often high in sodium which is not good for young children.
Look at the saturated fat content and try to choose sausages with 4g or less per 100g.
Preferably buy from a local butcher, who knows where his meat comes from.
I have added butter beans and kidney beans to this recipe but you can replace them with other bean varieties.
The onion and celery add a lot of flavours and I do not recommend that you miss them out.
I added red capsicum (bell peppers). If you want to add more variety you can also add other colours of capsicum, carrots or some mushrooms at the start of the cooking process.
Frozen peas or spinach also work well but should be added in the last 30 mins of cooking.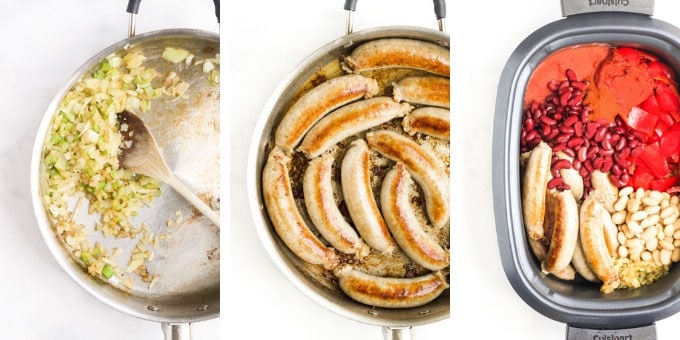 Slow Cooker Sausage Hotpot Cooking Tips
I recommend sauteing the onion, garlic and celery before adding to the slow cooker. This accomplishes two things: One, it reduces the moisture and two, as the vegetables brown, they develop deep, sweet flavours.
Similarly, I brown the sausages before adding to the slow cooker. This not only makes the sausages visually more appealing the end meal will be more flavoursome and less greasy (as you have already released some of the fat.)
In my opinion, taking an extra 10 minutes to saute the vegetables/ aromatics and browning your sausages is worth it. However, if you prefer a "dump everything into the slow cooker" kind of recipe then you can skip these steps but the flavour and texture won't be at the same level.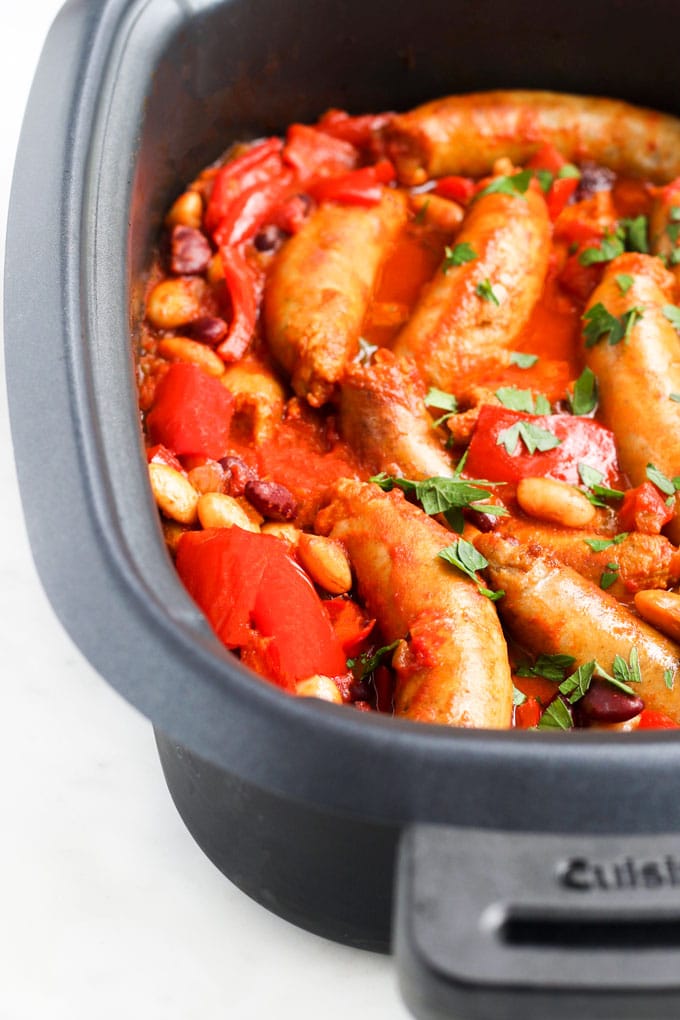 Storing & Re-heating Slow Cooker Sausage Hotpot
Refrigerating
Cool the hotpot quickly; store in an airtight container and refrigerate for up to 3 days.
Reheat on the stove top or microwave.
Freezing
Cool the hotpot quickly, transfer to an airtight container and freeze for up to 4 months.
Thaw, overnight, in a refrigerator and reheat on the stove top or microwave.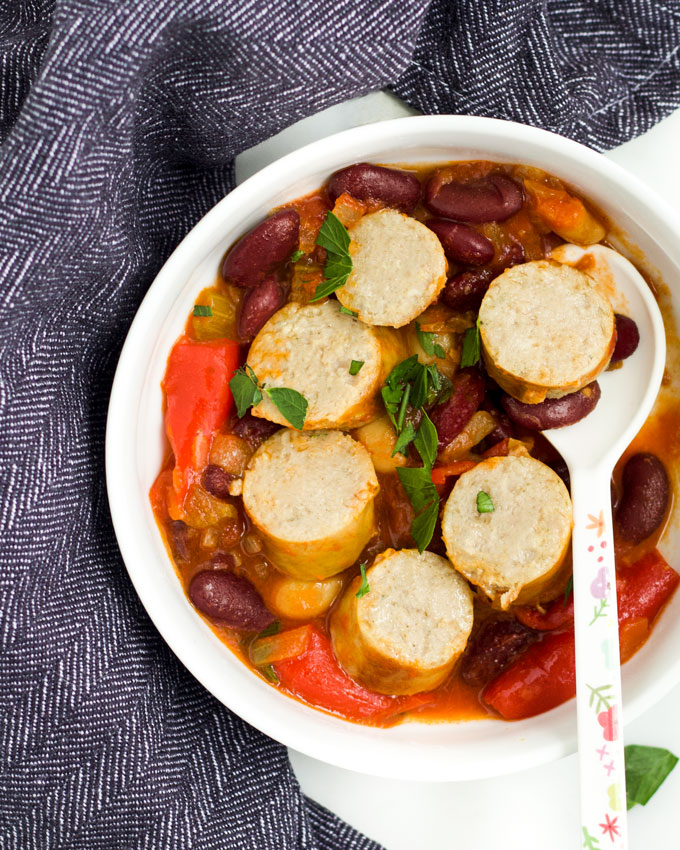 Other Slow Cooker Recipes...
Looking for more healthy kid recipes?Sign up for my free recipe newsletter to get new family friendly recipes in your inbox each week! Find me sharing more kid-friendly inspiration on Pinterest and Instagram.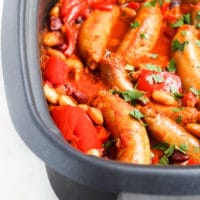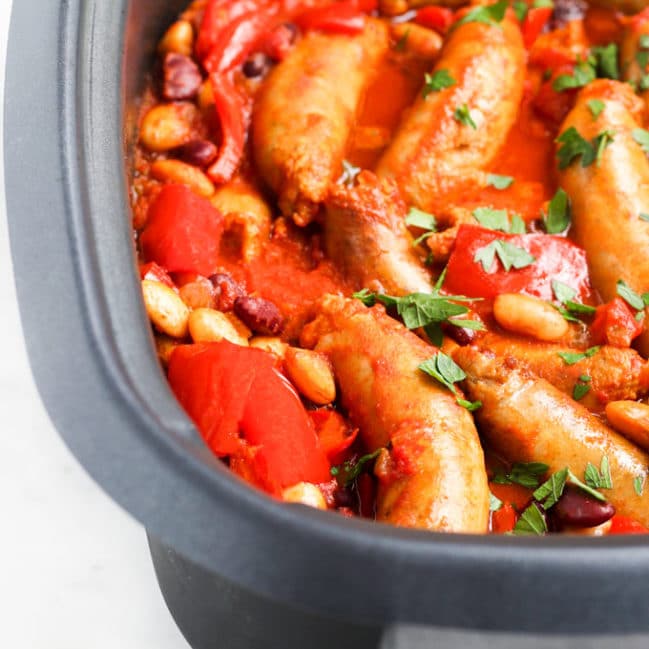 Slow Cooker Sausage Hotpot
An easy and delicious family meal that the kids will love.
Prep Time: 15 minutes
Cook Time: 6 hours
Total Time: 6 hours 15 minutes
Serves:6 people
Hover over "serves" value to reveal recipe scaler
Ingredients
1 tablespoon Olive oil
1 Onion (finely chopped)
1 Celery stalk (finely chopped)
2 cloves Garlic (finely chopped)
12 Good quality sausages ( I used Pork)
3 Capsicum peppers (bell peppers) (you can use any colour)
1 400g (14oz) Can kidney beans (rinsed and drained)
1 400g (14oz) Can butter beans (rinsed and drained)
1 400g (14oz) Can chopped tomatoes
3 tablespoon Tomato Puree (tomato paste)
1 teaspoon Smoked Paprika
Instructions
Heat the olive oil in a frying pan over a medium heat. Add the onion, celery and garlic and fry for 5-10 mins (until softened) Transfer the mixture to the slow cooker.

Add the sausages to the same pan and cook for 5-10min (until browned all over) Transfer to the slow cooker.

Add all the other ingredients to the slow cooker, mix and cook on low for 6-8 hours
Recipe Notes
Nutritional information is a ROUGH guide only, calculated using an online calculator.   
Nutritional facts
Calories: 857kcal | Carbohydrates: 29g | Protein: 42g | Fat: 63g | Saturated Fat: 20g | Cholesterol: 162mg | Sodium: 1938mg | Potassium: 1218mg | Fiber: 9g | Sugar: 6g | Vitamin A: 2345IU | Vitamin C: 87mg | Calcium: 87mg | Iron: 5.7mg