Out all day? Come home to this delicious Slow Cooker Beef Stew; a complete dish that you can set and forget.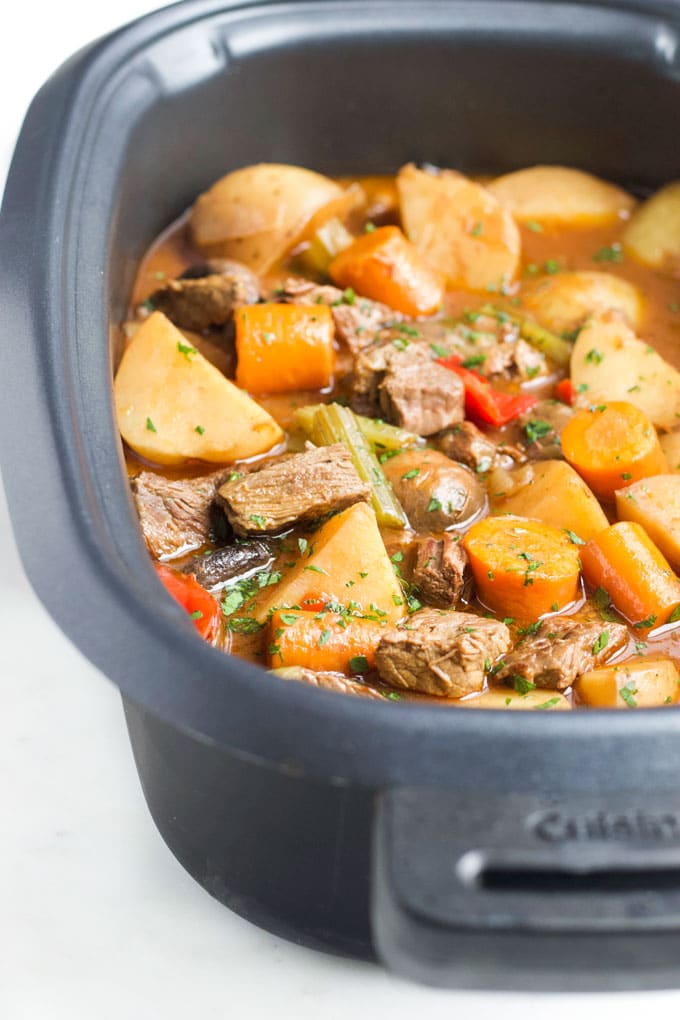 Pre-children, I would occasionally take out my slow cooker during the winter months, but it was never something I used that often. Since having kids I feel it rarely leaves my countertop. Especially now that my eldest is at school with a very busy after school sports schedule.
Although you can prep many meals in advance, what I love about the slow cooker is that the meals are not only prepped they are ready to serve when you come in through the door.
What Is Slow Cooker Beef Stew?
Like all stews, slow cooker beef stew is meat cooked slowly with vegetables in liquid. The very slow, steady cooking in a slow cooker means that you don't have to be around to "nurse" your stew on the stove top or have your oven on all day.
How to Make It
What meat should I use?
Forget expensive cuts of meat; go for inexpensive tougher cuts of meat. Cuts from the top front of the animal work well (Chuck, Blade or Shoulder). Shin or shank also work.
My favourite is chuck and is what I have used in this recipe. It is nicely marbled with fat, which breaks down during the slow cook, making the meat tender and juicy.
Avoid leaner cuts of beef which can dry out during a long cooking process.
What Vegetables should I use?
Beef stew is great for getting a range of vegetables into a meal. My kids seem to devour vegetables cooked slowly this way and often argue over who gets the most carrots! You can add vegetables to suit your family's taste buds or as a way to introduce veggies, they normally wouldn't like, in a different way.
Root vegetables such as carrots, parsnips and turnips can all be used.
Vegetables that give good flavour include onions, celery, capsicum (bell pepper), fennel and mushrooms.
Potatoes, especially waxy ones that hold their shape, are fantastic in a stew, sweet potato works well too.
Tender vegetables such as frozen peas, broad beans or spinach are great for adding in during the last half hour of the cook.
Important Cooking Steps
Searing the beef is the most labour intensive part of this meal. However, it is a step that shouldn't be skipped and is worth spending time on. Sear the beef on all sides and do it in batches, if you overcrowd the pan the meat will steam and it won't brown well.
Deglaze the pan (remove the flavourful caramelised brown bits from searing the beef), with a splash of vinegar and saute the onion, garlic and celery in it. This adds a ton of flavour and skipping this step means you will lose out in all this flavour.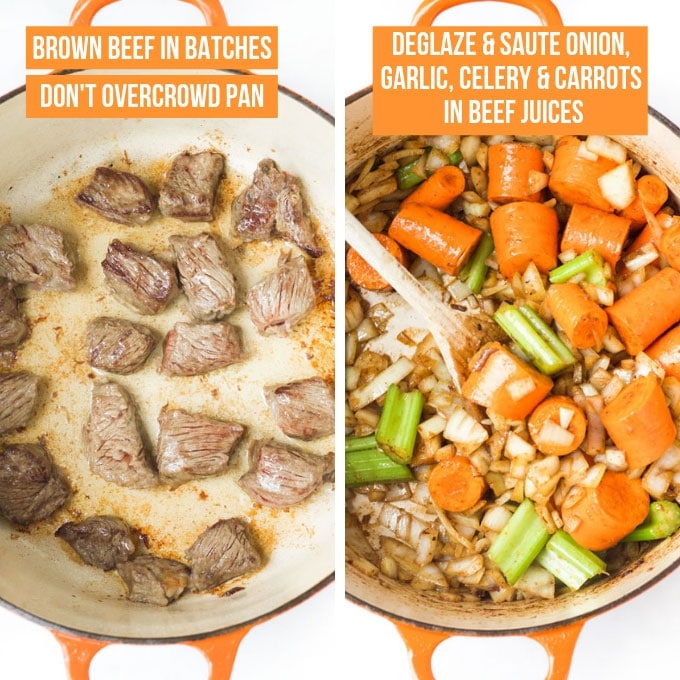 Thick or Thin Gravy?
This recipe produces a flavoursome, but thin gravy. This is the way my family enjoys it.
I dust the meat in flour before searing and this provides just enough thickness for our liking.
However, I am very aware that a thicker gravy is often preferred. If you are a thick gravy lover then add an extra 2-3 tablespoons of flour (depending on how thick you like it), just after sauteing the onion, carrots and celery. Add the liquids to the pan and stir to dissolve the flour into the sauce.
How long does my Slow Cooker Beef Stew need to cook?
You want the meat to be very tender but not to the point that it is breaking up in the pot.
It will take a minimum of 7 hours on low.
Beyond 10 hours is too long.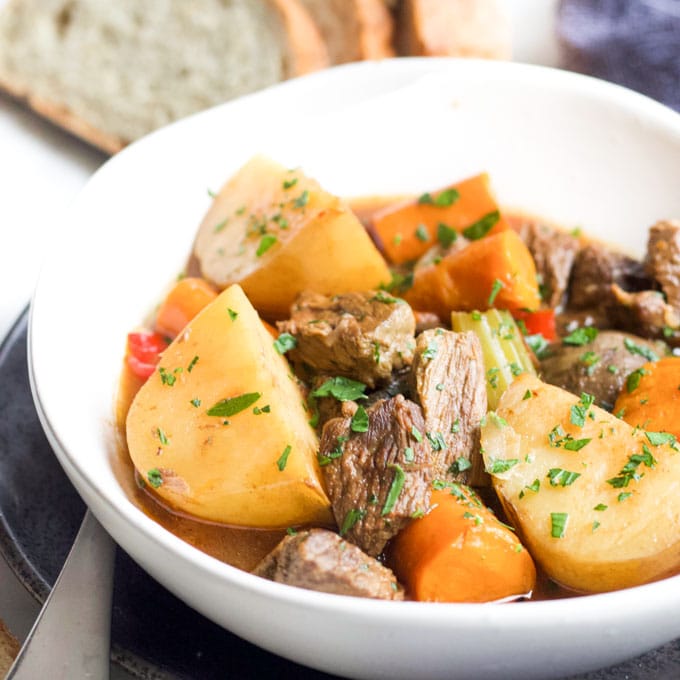 Storing & Re-heating Instructions
Refrigerating
Cool the stew quickly; store in an airtight container and refrigerate for up to 3 days.
Reheat on the stove top or microwave.
Freezing
Cool the stew quickly, transfer to an airtight container and freeze for up to 4 months.
If I am making stew purposely to freeze, I often cook it without potatoes and instead serve with mashed potatoes. Although it is perfectly safe to freeze potatoes, I sometimes find the texture changes and they can become a little soft and grainy.
Thaw, overnight, in a refrigerator and re-heat on the stove top or microwave.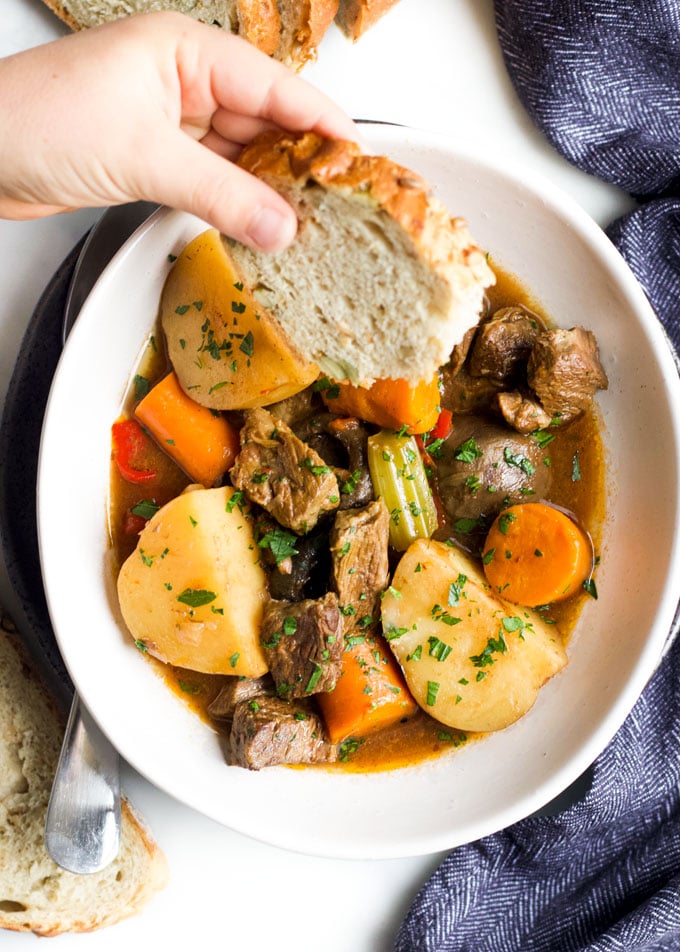 Other Slow Cooker Recipes
Looking for more healthy kid recipes?Sign up for my free recipe newsletter to get new family friendly recipes in your inbox each week! Find me sharing more kid-friendly inspiration on Pinterest and Instagram.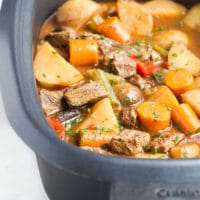 Slow Cooker Beef Stew
A family-friendly dish that you can set and forget. Packed with beef, vegetables and potatoes making it a nutritious and complete meal.
Prep Time: 20 minutes
Cook Time: 8 hours
Total Time: 8 hours 20 minutes
Serves:6
Hover over "serves" value to reveal recipe scaler
Ingredients
750g (1.75lb) Chuck Steak *SEE NOTE 1
1 tablespoon Plain (All Purpose) Flour
1 tablespoon Oil
2 tsp Red Wine Vinegar
2 Onions, finely chopped
1 teaspoon Garlic, minced
5 Medium Carrots, Cut into large chunks
2 Celery Stalks, Cut into large chunks
1 tsp Mixed Herbs (dried)
2 tbsp Tomato Puree
1 tsp Dijon Mustard
1 tbsp Worcestershire Sauce
500ml (2 cups) Beef Stock *Use low sodium / homemade stock when serving to a baby / young toddler.
1 Red Capsicum (Bell Pepper), Cut into large chunks
200g (7oz) Mushrooms, stalks removed
5 Medium Potatoes, Cut into quarters
Instructions
Cut your beef into large chunks and toss in the flour.

Heat oil, over high heat, in a wide, heavy based pan. When hot add around one-third of the beef cubes and brown on all sides. Remove and repeat with the other two batches.

Deglaze the pan by adding the red wine vinegar. Add the onions, garlic, carrots and celery and saute, on low heat, for approx 3 mins. *SEE NOTE 2

Mix the stock, tomato puree, mustard & Worcestershire sauce together and add mixture to the pan.

Add the capsicum, mushrooms, potato and seared beef to the pan and stir before transferring to the slow cooker.

Cook on low for 7-8 hours.
Recipe Notes
BEEF - I used chuck in this recipe. You can use any cut that is nicely marbled with fat, such as blade, shoulder, shin or shank. Avoid leaner cuts of beef which can dry out during the long cooking process.
THICKER GRAVY - This recipe produces a stew with a thin gravy if you prefer a thicker gravy - add 2-3 tbsps of flour at this stage. Sprinkle flour evenly across the surface,  stir to coat before adding the liquids. Stir again until the flour is incorporated into the sauce. 
SEASONING - Taste and season at the end of cooking, removing portions for babies / young children before seasoning. 
Nutritional information is a rough guide only, calculated using an online calculator. The nutrition facts are for one serving, assuming 6 servings. 
Nutritional facts
Calories: 464kcal | Carbohydrates: 36g | Protein: 32g | Fat: 22g | Saturated Fat: 8g | Cholesterol: 85mg | Sodium: 346mg | Potassium: 1724mg | Fiber: 7g | Sugar: 6g | Vitamin A: 9160IU | Vitamin C: 53mg | Calcium: 110mg | Iron: 9.5mg