Looking for an easy weeknight dinner? Try this Slow Cooker Chicken Casserole recipe that will leave your taste buds wanting more. With a little morning prep, you can sit back and relax while the slow cooker does all the work!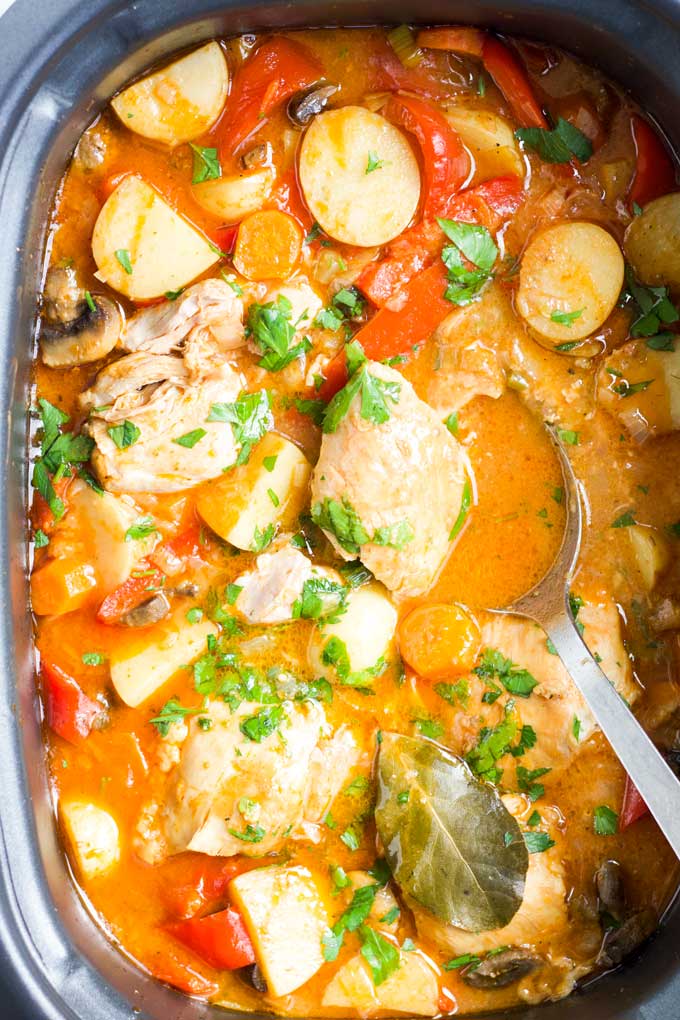 Slow cooker recipes are some of the most popular recipes on Healthy Little Foodies and I can understand why. Life is busy and slow cookers make mealtimes easier for many families, regardless of their working situation or kids' ages.
This slow cooker chicken casserole is a complete meal that will be ready and waiting for you at dinner time. Stress-free.
Jump to:
Reasons to Love this Recipe
Convenience: Spending a little time prepping in the morning allows you to have a delicious meal waiting for you in the evening.
Nutritious: This recipe is packed with protein, vegetables and complex carbohydrates, making it a well-balanced meal.
Flavourful: The slow cooking process allows for the flavours to develop and blend together, resulting in a rich and savoury dish.
Freezer Friendly: This is a great meal to prepare in advance and freeze for later use.
Step by Step Instructions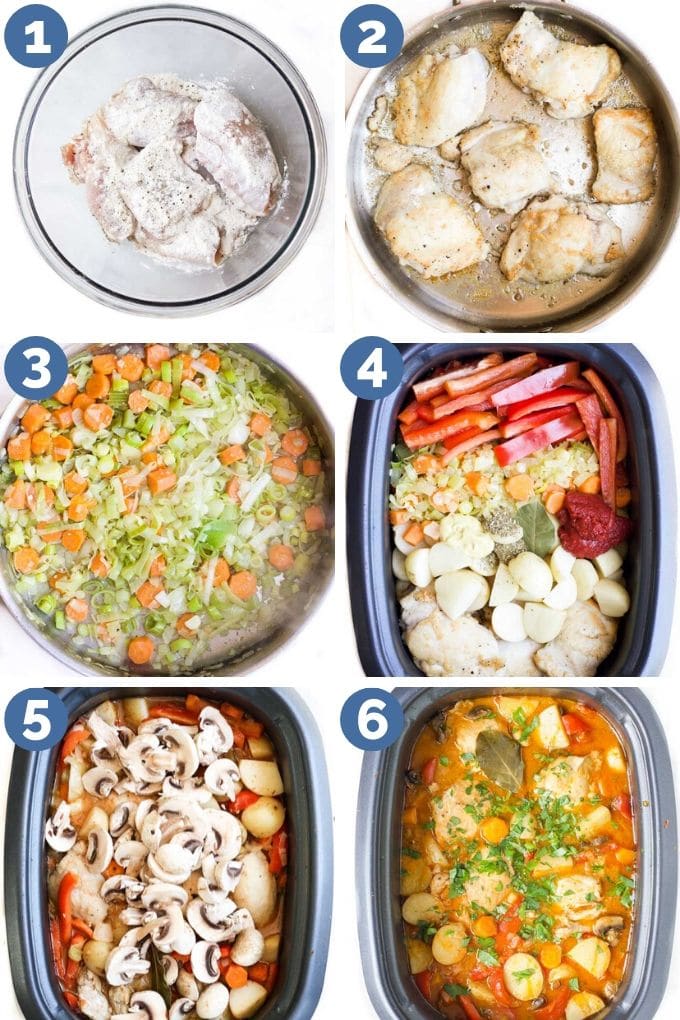 Coat chicken thighs in flour - By coating the chicken this way, the flour helps to thicken the liquid in the casserole.
Brown chicken pieces in oil to provide added flavour.
Saute vegetables - in the chicken juices to retain all the flavour.
Add all ingredients (apart from mushrooms, lemon juice and parsley) to the slow cooker and set to cook (on high or low)
Add mushrooms towards the end of cooking
Add lemon juice, fresh parsley and season to taste just before serving.
Recipe FAQs
Do you have to brown the chicken and saute the vegetables before adding them to the Slow Cooker?
This casserole includes browning the chicken and sauteing vegetables before adding to the slow cooker. Technically these steps are not necessary but doing so results in a mellower, more balanced casserole with a slightly sweeter flavour. For this reason, I choose to brown beforehand. 
However, I do think you have to weigh up your priorities. Although browning makes a difference in taste you may feel that dirtying a pan and the extra time required is not actually worth that difference. In that case, you can just chop, dump everything in the pot, set it to cook and go!
If you do choose to skip the browning then omit the oil and vinegar and whisk the flour with the chicken stock before adding to the slow cooker.
What are the best chicken thighs to use and can you use chicken breast?
The chicken you use is personal preference, see notes below.
Chicken Thigh  (Skin on vs skin off) - If you are pre-cooking then using skin-on thighs will produce added flavour, make sure to sear them well. Add chicken skin-side down to the hot oil, cook until skin is golden in colour, around 5 minutes. If you choose to skip the searing stage then I would recommend removing the skins as they can go a funny texture if added raw to the slow cooker.  Chicken Thigh (Bone in vs Boneless) - I didn't find a big difference in texture or flavour when using bone-in or boneless thighs in this dish. For younger children it might be easier to use boneless, my youngest certainly preferred it without the bones.  
Chicken Breast - If using chicken breasts I recommend adding them whole rather than chopping them into pieces. They will fall apart easily and I suggest shredding the chicken (like in this slow cooker chicken curry). It will give a different feel to the dish but will still be delicious.
I prefer a thicker gravy, how can I achieve this?
To thicken; in a small bowl, whisk together 2 tablespoon of flour/cornflour with ½ cup of the casserole broth. Stir the flour mixture into the slow cooker. Cover and cook on high heat for an additional 30 minutes, or until thickened.
Can you refrigerate / freeze leftovers?
Refrigerate: Allow the casserole to cool; store in an airtight container and refrigerate for up to 3 days.
Reheat on the stovetop or microwave.
Freeze: Allow the casserole to cool, transfer to an airtight container and freeze for up to 3 months.
If I am making purposely to freeze, I often cook it without potatoes and instead serve with mashed potatoes. Although it is perfectly safe to freeze potatoes, I sometimes find the texture changes and they can become a little soft and grainy.
Thaw, overnight, in a refrigerator, and reheat on the stovetop or microwave.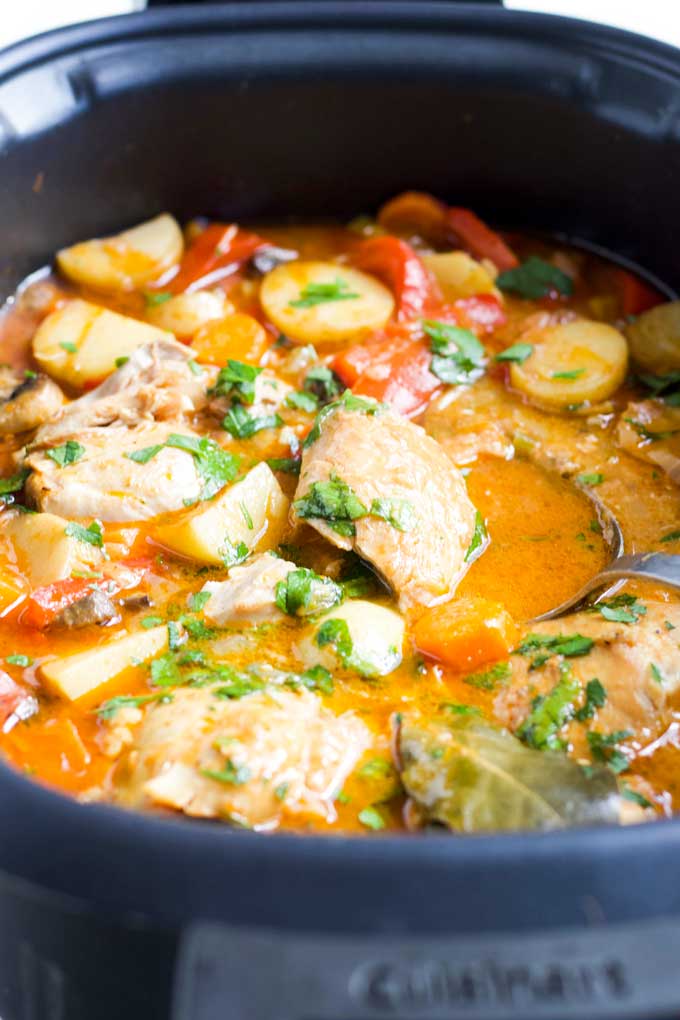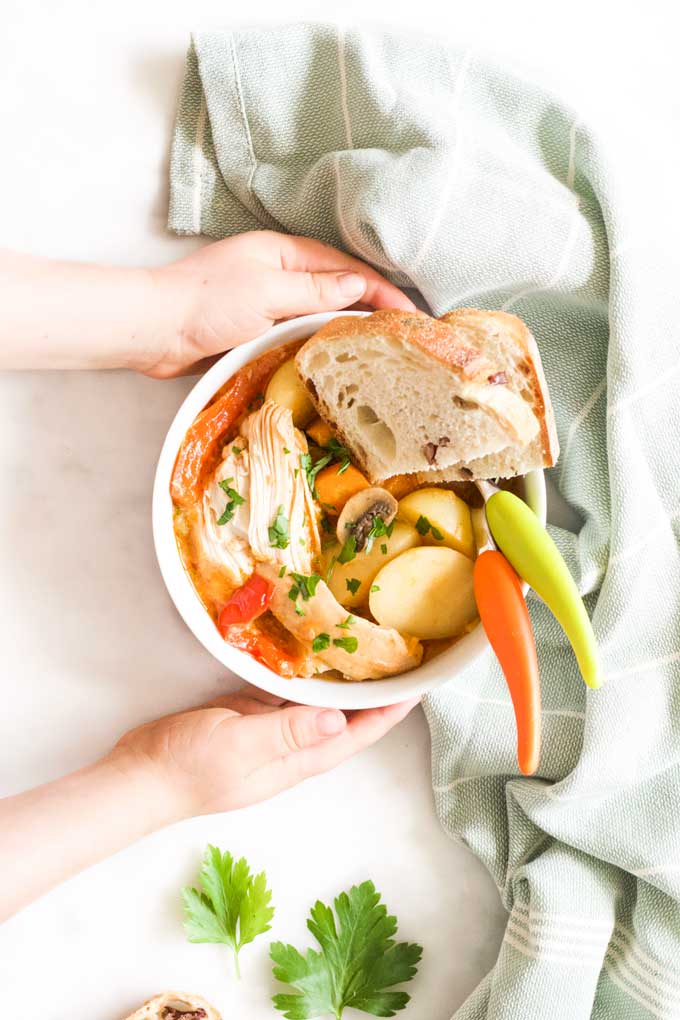 Other Slow Cooker Recipes
Looking for more healthy kid recipes?Sign up for my free recipe newsletter to get new family friendly recipes in your inbox each week! Find me sharing more kid-friendly inspiration on Pinterest and Instagram.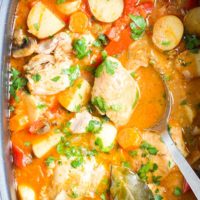 Slow Cooker Chicken Casserole
A nutritious, flavourful and versatile dish made with chicken thighs, vegetables, herbs and spices.
Prep Time: 15 minutes
Cook Time: 4 hours
Total Time: 4 hours 15 minutes
Serves:6
Hover over "serves" value to reveal recipe scaler
Ingredients
6 (750g) Skinless Chicken Thighs
1 tbsp Flour (plain/all purpose)
2 tsp Cider Vinegar
1 tablespoon Olive OIl
1 Onion, finely chopped
2 Celery Stalks, finely chopped
1 medium Leek, thinly sliced
3 medium Carrots, sliced
1 tsp Garlic, minced
2 Red Bell Peppers (capsicum), sliced into strips
1 tsp Dried oregano
2 tbsp Tomato Paste
1 tsp Dijon Mustard
430ml (1¾ cups) Chicken Stock
750g (1.6lb) Baby Potatoes, quartered
200g (7oz) Mushrooms, sliced
½ Lemon, juice of
1 small handful Fresh Parsley, chopped
Instructions
Add the chicken pieces to a large mixing bowl and coat in the flour.

Heat oil, over high heat, in a wide, heavy-based pan. When hot add chicken thighs and fry for approx 3 mins on both sides. Remove thighs from the pan and add to the slow cooker.

Deglaze the pan by adding the cider vinegar. Add the onions, garlic, carrots, celery and leek and saute, on low heat, for approx 3 mins. Add to the slow cooker.

Add the bell pepper (capsicum), oregano, tomato paste, dijon mustard, chicken stock and potatoes to the slow cooker.

Stir to combine; cover and cook on high for 3-4 hours, or low for 6-7 hours.

Add the mushroom in the last 30 min - 1 hour of cooking.

Stir through the lemon juice and fresh parsley before serving.
Recipe Notes
Skipping the pre cooking - Pre cooking results in a mellower, more balanced casserole with a slightly sweeter flavour. However, if you are short in time you can skip the pre cooking. Omit the oil and cider vinegar and whisk the flour with the cicken stock before adding to the slow cooker.   Thickening the Gravy - If you prefer a thicken gravy then you can thicken by adding a slurry. In the last 30 mins of cooking, remove ½ a cup of the broth and mix together with 2tbsp of flour / corn flour. (add more flour depending on how thick you like it) Pour the mixture back into the slow cooker and stir. Cook on high for 30 mins to allow to thicken.  Gluten Free Version - To make this dish gluten free you can skip the flouring stage and be sure to use a gluten free chicken stock.  Storage - Allow the casserole to cool; store in an airtight container and refrigerate for up to 3 days or freeze for up to 3 months. Nutritional information is a rough guide only, calculated using an online nutrition calculator. 
Nutritional facts
Calories: 463kcal | Carbohydrates: 36g | Protein: 27g | Fat: 24g | Saturated Fat: 6g | Cholesterol: 123mg | Sodium: 207mg | Potassium: 1239mg | Fiber: 6g | Sugar: 7g | Vitamin A: 6820IU | Vitamin C: 84mg | Calcium: 58mg | Iron: 3mg