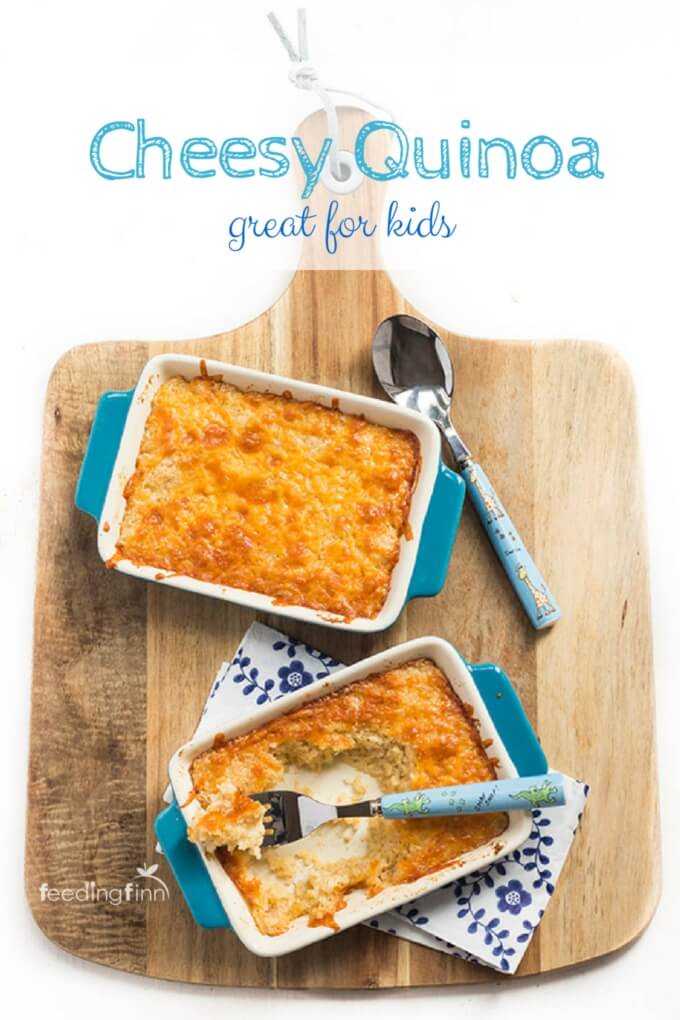 Quinoa is known as one of the healthiest grains (or technically seed) available. This super food is a complex carbohydrate with a low glycemic index. It is packed full of essential vitamins and minerals, is a rich source of protein and is high in fibre.
For these reasons I love cooking with quinoa and because it is so versatile I use it in many ways. The boys love it for breakfast (like in this raspberry breakfast quinoa) in snacks (like these fruit and nut quinoa bars) and served as part of a main meal.
As mac and cheese seems to be a firm favourite of kids I thought a cheesy quinoa would be a great way to introduce quinoa to your kids (if you haven't already.) Mix some of their favourite vegetables through the quinoa, before baking, to add extra nutrients.
I sometimes roll the mixture into balls and then bake them so that I can throw a couple into a packed lunch box the next day. If you like this idea then you must try these tomato and cheese quinoa balls.
Looking for more healthy kid recipes?Sign up for my free recipe newsletter to get new family friendly recipes in your inbox each week! Find me sharing more kind-friendly inspiration on Pinterest and Instagram.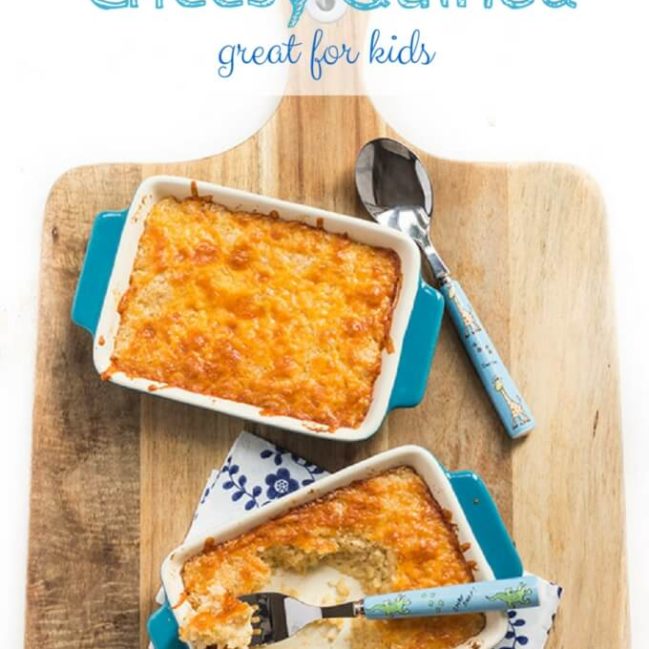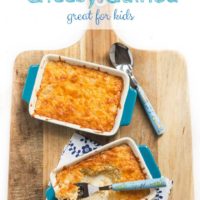 Cheesy Quinoa for Kids
Prep Time: 5 minutes
Cook Time: 20 minutes
Total Time: 25 minutes
Hover over "serves" value to reveal recipe scaler
Ingredients
200 g (1 pack) cream cheese
100 g (1 cup) grated mozzarella
50 g (1/2 cup) grated cheddar (plus 1/2 cup extra for sprinkling on top)
3 cups cooked quinoa (I cup uncooked quinoa yields just over 3 cups cooked quinoa)
Instructions
Pre heat oven to 180c / 350f / gas 4

Add the cream cheese, mozzarella and cheddar to a pan and gently stir over a medium/low heat until warmed through and cheese is melted. Add the quinoa and stir through.

Transfer mixture to a baking dish (approx. 8 inches) or several mini dishes.

Sprinkle with cheese and bake for approx. 15 mins (until cheese has melted and starting to crisp)
Recipe Notes
Why not try forming the mixture into balls and add them to your kid's lunch box. Take a tablespoon of the mixture and roll into a ball. Repeat and bake for approx. 10 mins.