Slow Cooker Chicken Tortilla Soup, a delicious and comforting meal with very little effort.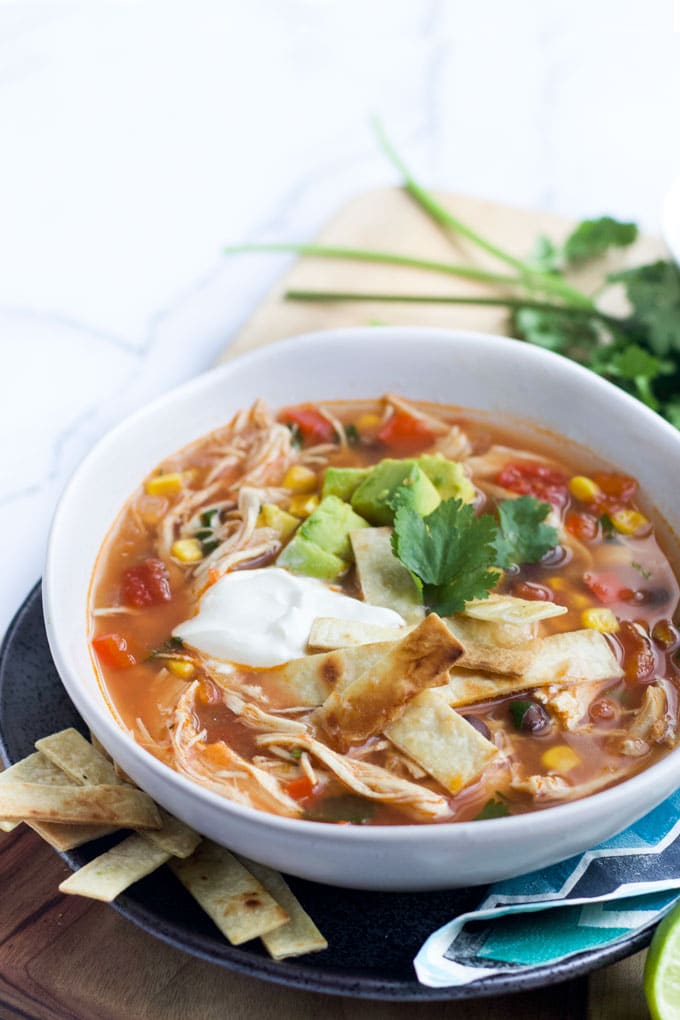 I sometimes think of the slow cooker as a parent's best friend. After a long day, either at work or with the kids, cooking dinner is often the last thing we want to do in the evening. However, kids need to be fed each night and we want to provide meals that are healthy, nutritious and filling. Spending literally minutes in the morning, throwing ingredients into a slow cooker, results in a delicious meal ready for when you get back in the evening.
How to Make Chicken Tortilla Soup in the Slow Cooker
There really isn't much to making this soup, once you have chopped your vegetables it is just a case of throwing all the ingredients into the slow cooker. At the end of the cooking time, remove the chicken, shred it and then add it back into the soup. Squeeze in some lime juice, stir in fresh coriander (cilantro) and then you are ready to serve along with your toppings.
Although I have used breast meat in these photos, I often use thigh meat and it literally falls off the bone. There was a time my kids only ate thigh meat as they found the breast too dry and difficult to eat. Now I use the different cuts interchangeable and often use a mix of both. Just make sure your chicken is skinless.
If cooking for young children you want to make sure you keep the sodium levels down. I recommend using homemade stock but if that sounds too much like hard work then look for low sodium stocks or dilute with water.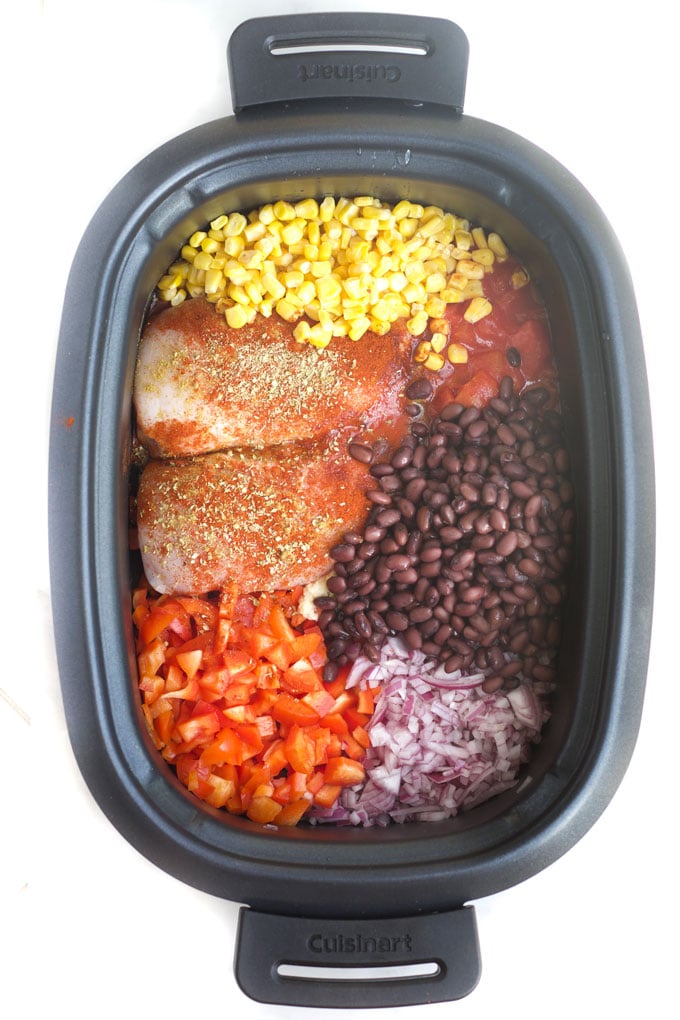 How to make Smooth Chicken Tortilla Soup
For some children, texture or simply seeing "bits" (vegetables) in their meal can put them instantly off, before they have even tried it. If this is the case you can blend this soup which will result in a thicker, creamier texture with no sign of vegetables.
Once fully cooked, remove the chicken breasts and blend the soup mixture until smooth. Shred the chicken up to add back into the soup, along with some delicious toppings. This will add a textural contrast to the creamy soup. You can also choose to leave out the black beans and add them to the blended soup at the end.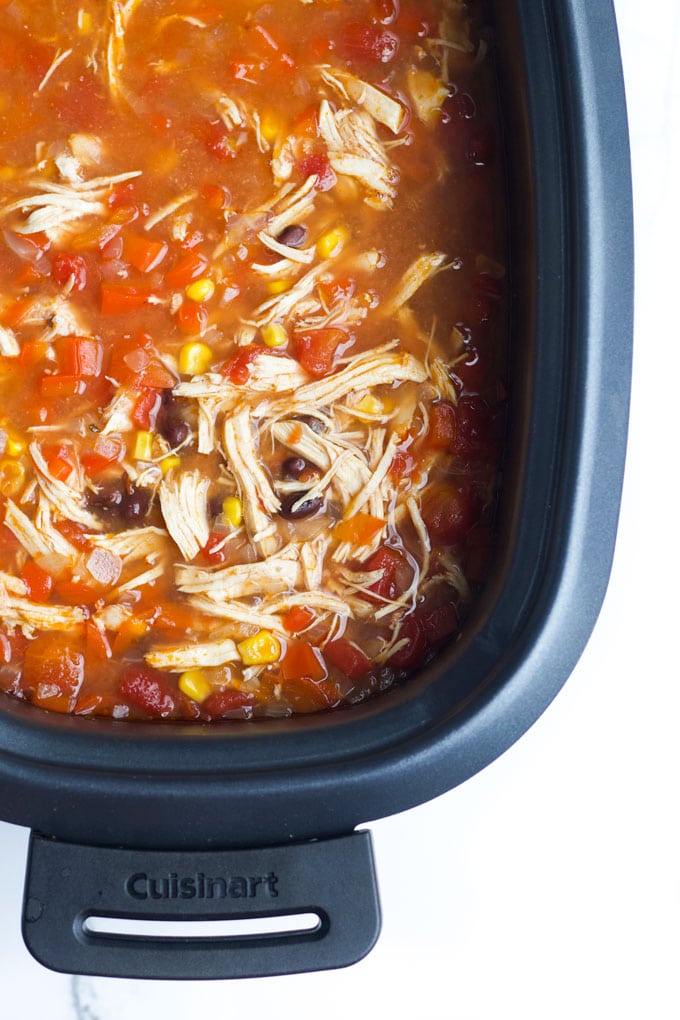 How to Serve Slow Cooker Chicken Tortilla Soup
Chicken Tortilla Soup is all about the toppings and I think this is the main reason my boys love this soup so much. I love "family style" meals where the children can take some ownership of their meal. I serve up bowls of the soup but allow the boys to choose their own toppings from a selection laid out on the table.
Some of our favourite toppings include
tortilla wrap strips
avocado
grated cheese
sour cream
lime
fresh coriander/cilantro
My family believes in loading up this soup, the more toppings the better!
How to store Chicken Tortilla Soup
I usually refrigerate any leftovers and use the following day. The soup also freezes well (without the toppings).
If freezing.....
Allow the soup to chill completely.
Transfer to freezable containers/zip lock bags (leave space at the top to allow for soup to expand).
Thaw in the refrigerator overnight.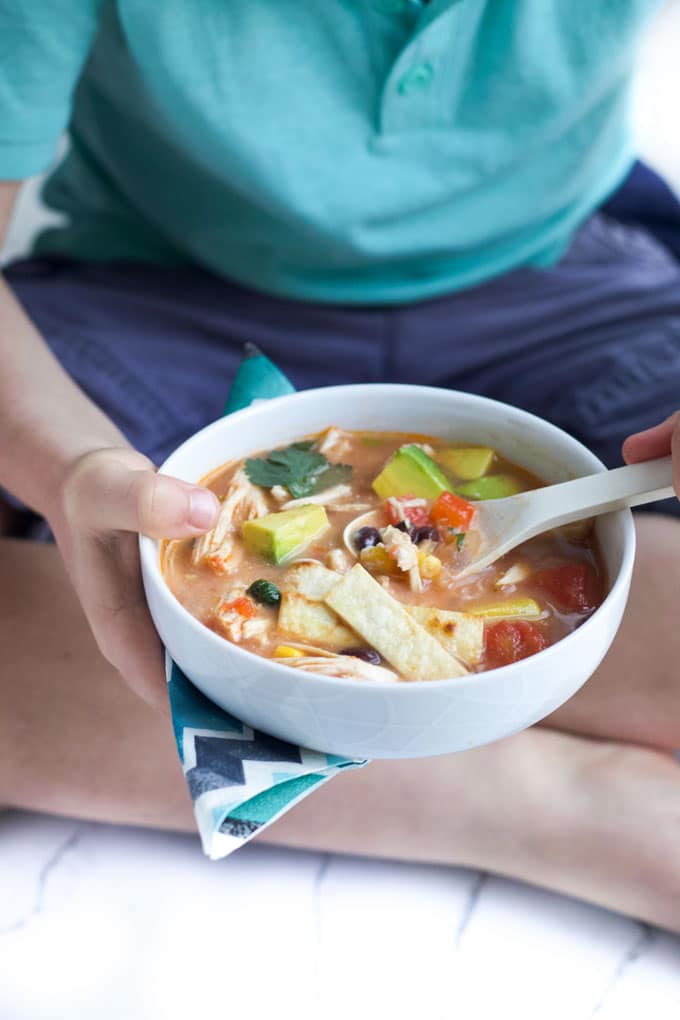 Other Slow Cooker Recipes...
Looking for more healthy kid recipes?Sign up for my free recipe newsletter to get new family friendly recipes in your inbox each week! Find me sharing more kid-friendly inspiration on Pinterest and Instagram.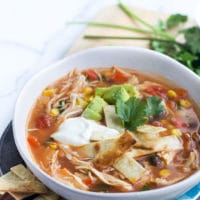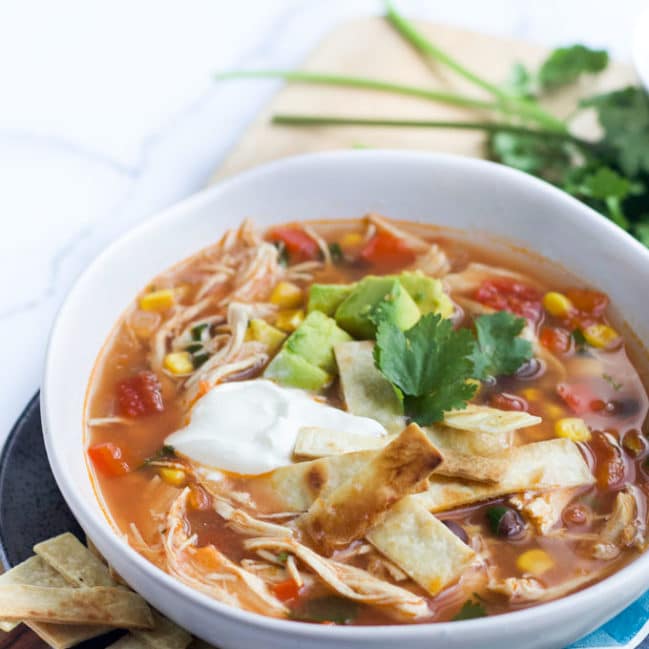 Slow Cooker Chicken Tortilla Soup Recipe
A delicious and comforting soup with very little prep work.
Prep Time: 5 minutes
Cook Time: 5 hours 20 minutes
Total Time: 5 hours 25 minutes
Serves:8 people
Hover over "serves" value to reveal recipe scaler
Ingredients
700g (1 ½ lb) Chicken (SEE NOTE 1)
1 tsp cumin
2 tsp smoked paprika
½ tsp dried oregano
3 cloves garlic (minced)
1 medium Onion, finely chopped (SEE NOTE 2)
1 Red Capsicum (Bell Pepper), finely chopped
1 can 400g Chopped Tomatoes
1 litre (4 cups) Chicken Stock (SEE NOTE 3)
1 can 400g Black Beans (drained) (SEE NOTE 4)
120g (1 cup) Corn
1 Lime (juice)
¼ cup Chopped fresh corriander (cilantro)
2 Tortilla Wraps
Toppings of Choice (SEE NOTE 5)
Instructions
SOUP

Add the chicken to the slow cooker. Sprinkle with the cumin, smoked paprika, and the dried oregano.

Add the garlic, onion, capsicum (pepper), tomatoes, chicken stock, black beans and corn. Stir to combine and place the lid on.

Cook on HIGH for 5 hours or LOW for 7 hours.

Remove the chicken and shred using two forks. (SEE NOTE 6)

TORTILLA STRIPS (SEE NOTE 7)

Pre heat oven to 180c (350F) and line a baking tray with baking paper or brush with oil.

Brush each tortilla lightly with oil and slice into strips.Arrange the strips on the tray and bake for approx 8-12 mins, until the strips are crisp and golden.Allow to cool, in the tray, before serving.
Recipe Notes
I used breast meat in these photos but if you prefer you can replace the breast meat with thigh meat or even use a combination of both. Use skinless. 
I used a red onion in these photos but you can use a brown on white onion if you prefer. 
For babies and young children, you want to watch the sodium levels. Use a homemade stock or low sodium stock.
You can replace the black beans with a different bean if you prefer. We often use red kidney beans. 
Topping suggestions (in addition to the tortilla strips) include avocado, grated cheese, sour cream, extra lime & coriander
If your children prefer smooth soups then blend at this stage. You want to make sure the chicken is removed before blending. 
The tortilla strips can be made in advance.
Nutritional information is an ESTIMATE only, calculated using an online calculator. The facts should be used as a ROUGH GUIDE only. The facts do not include the addition of extra toppings. 
Nutritional facts
Calories: 242kcal | Carbohydrates: 10g | Protein: 17g | Fat: 14g | Saturated Fat: 3g | Cholesterol: 65mg | Sodium: 115mg | Potassium: 289mg | Fiber: 1g | Sugar: 2g | Vitamin A: 910IU | Vitamin C: 25.2mg | Calcium: 28mg | Iron: 1.5mg