These Raspberry Peanut Butter Freezer Bites are deliciously creamy and sweet. A great dairy-free dessert.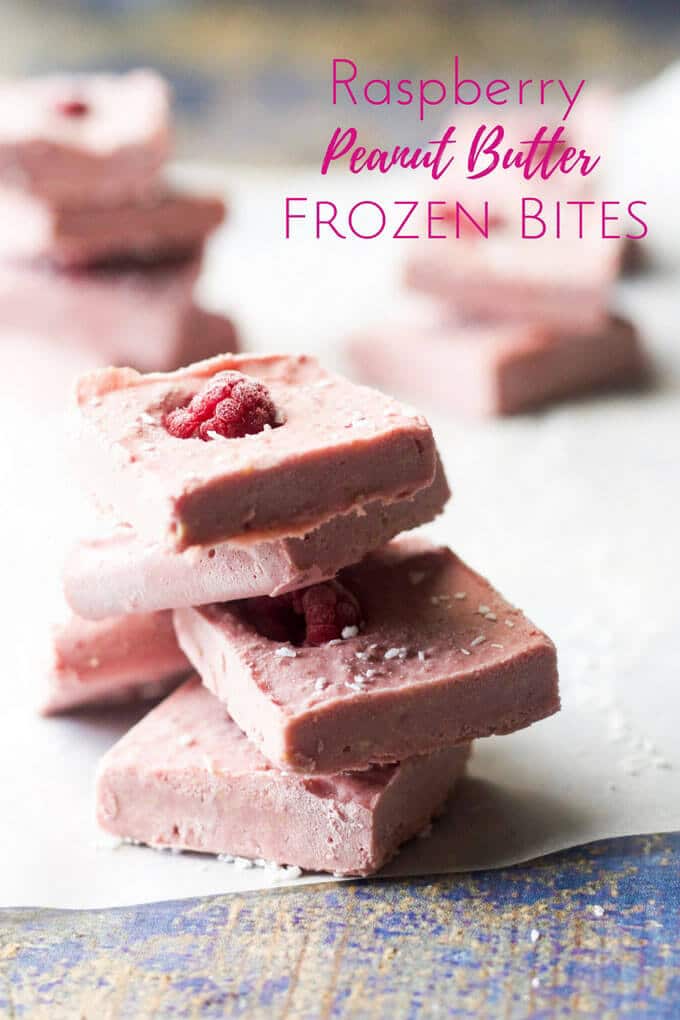 I blame my room mate from University for my peanut butter addiction. It wasn't something we had often growing up and so when I caught her eating spoons of the stuff, straight from the jar, I thought she was seriously weird. However, I was doing the same by the end of the year! Even now, I often grab a sneaky spoonful as the snack attacks appear in the evening. Both my boys have the same addiction and so I always make sure to buy brands that are not full of added sugar and instead opt for the most natural varieties.
This recipe came about by accident but it was one of those great accidents that taste soooo good. I don't think I have ever seen Rory go so crazy over something as he did over this mixture. The delight in his face, as he licked the spoon, was priceless!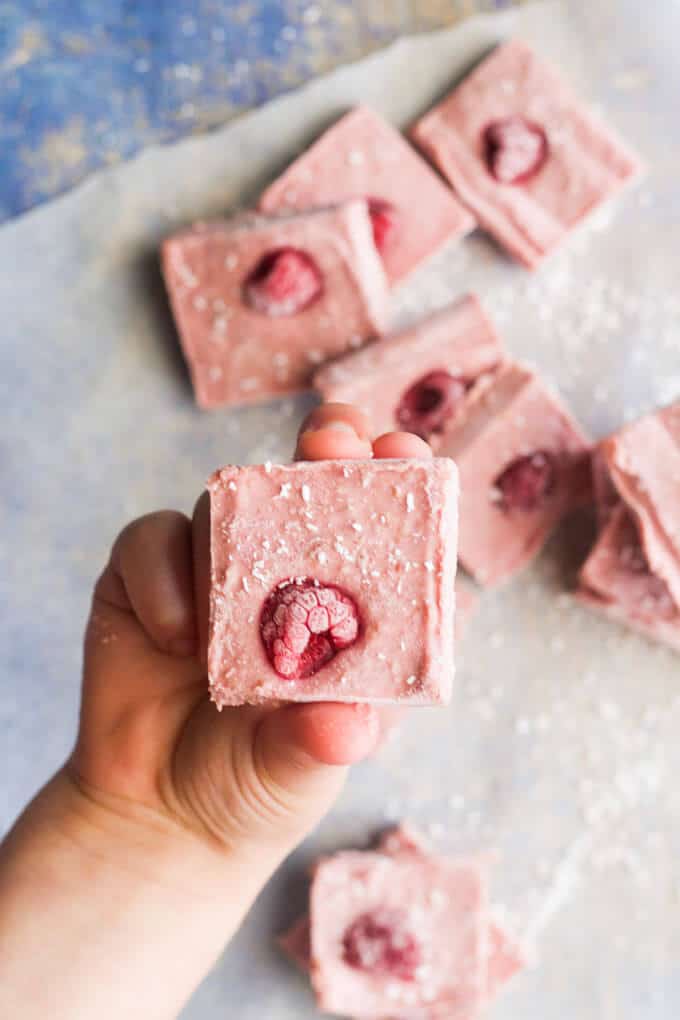 To make these little Raspberry Peanut Butter Freezer Bites I simply mixed some stewed apples, a few dates, peanut butter, raspberries and a little coconut oil in a food processor. The result was a deliciously smooth and tasty, thick liquid that I pored into a small lined dish and froze. After a couple of hours, I took it out and cut it into squares then popped the pieces into an covered container to store in the freezer.
I've made these a few times now and they store well as long as they are covered in a tub or ziplock bag. Unfortunately they don't last long in our house so I have only managed to store them for a week. They were still great after this time and I'm sure they would still be fabulous for a longer period (if they last that long!)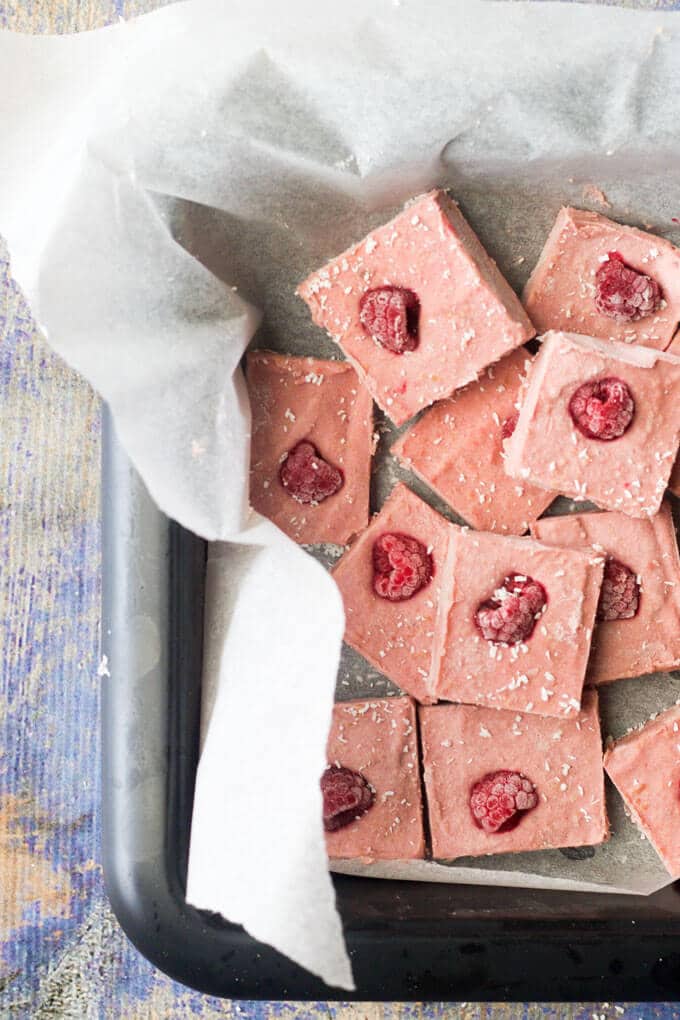 You May Also Like
Have you tried this recipe? I love receiving your feedback, please rate and leave a comment below or tag me on Instagram @healthylittlefoodies
Looking for more healthy kid recipes?Sign up for my free recipe newsletter to get new family friendly recipes in your inbox each week! Find me sharing more kind-friendly inspiration on Pinterest and Instagram.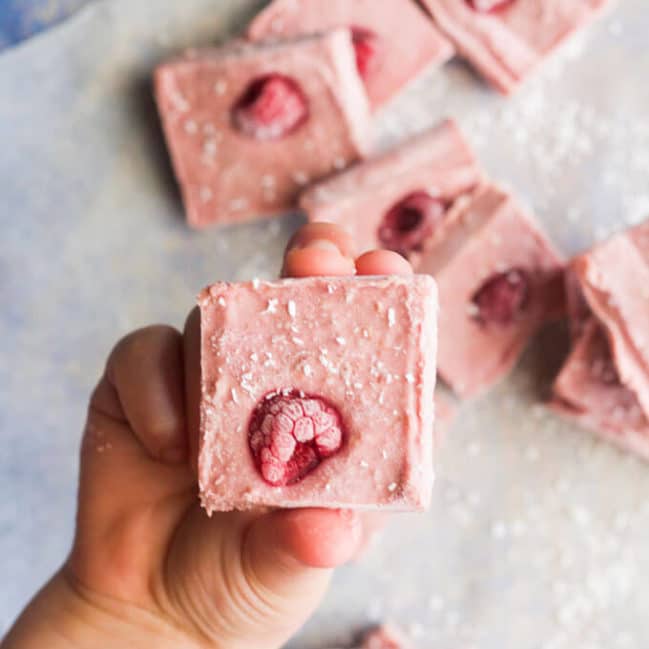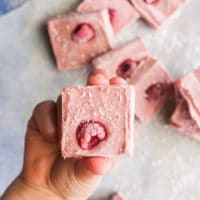 Raspberry Peanut Butter Freezer Bites
These raspberry peanut butter frozen bites are seriously addictive!
Prep Time: 10 minutes
Cook Time: 2 hours
Total Time: 2 hours 10 minutes
Hover over "serves" value to reveal recipe scaler
Ingredients
2 medium apples , cored, peeled and chopped into small chunks (mine weighed 212g) (Alternatively you can use 175g of apple sauce)
30 g dates
125 g (1/2 cup) peanut butter
2 tbsp melted coconut oil
70 g (3/4 cup) raspberries (I used frozen)
Instructions
Add chopped apples to a pan along with 4-5 tbsp of water. Cover and cook over a low heat until tender (7-8 mins). Drain (if any water remaining) and add to a high speed blender / food processor along with the remaining ingredients. Blitz until smooth.

Line a small baking tin / dish (mine was 13cm x 13cm - approx. 5x5" but a loaf tin would work well too).

Pour mixture into the dish and freeze for approx. 2 hours. Cut into cubes and return to freezer in a covered container or bag to store. Enjoy straight from the freezer.