This Spinach and Pear Puree is deliciously sweet and a great way to serve spinach to kids.
Having been without all our belongings for a couple of months, I was more than delighted when our shipment arrived last week. It was an exciting day and I was very glad to be reunited with our goods. (Apart from having to unpack them, that wasn't quite as exciting!)
I especially missed the kitchen gadgets. It has been so frustrating being a food blogger with no kitchen tools. However, this week, I have been making up for the lost time and have been experimenting a lot in the kitchen.
As soon as Finn saw the blender he was begging for a smoothie and so that is what he got! We have had a version of this smoothie for the last couple of days as I perfected the recipe. It is jam packed with spinach so I was more than happy for the boys to be my taste testers.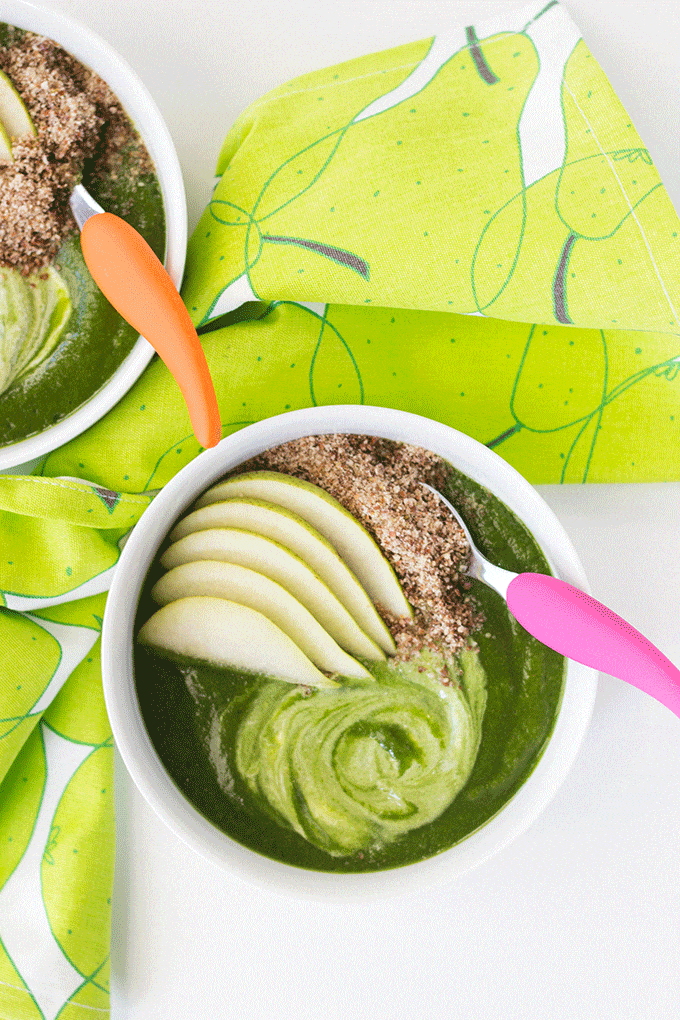 Spinach, pear, dates, ginger and water make up this vibrant smoothie. You can serve it in a glass or make more of a meal out of it. Pictured is how I served it, poured into two bowls with a good dollop of greek yoghurt and some LSA mix to add a protein kick. LSA mix isn't something I had heard of until I moved to Australia. I don't think I ever saw it in the UK but it is really popular here. LSA is a combination of Linseeds, Sunflower Seeds and Almonds which have been ground down to a fine or coarse form. I love it and have been adding it to a ton of different recipes.
It is evident from the bowls below that this smoothie was a big hit with my boys and I hope you and your kids love it too.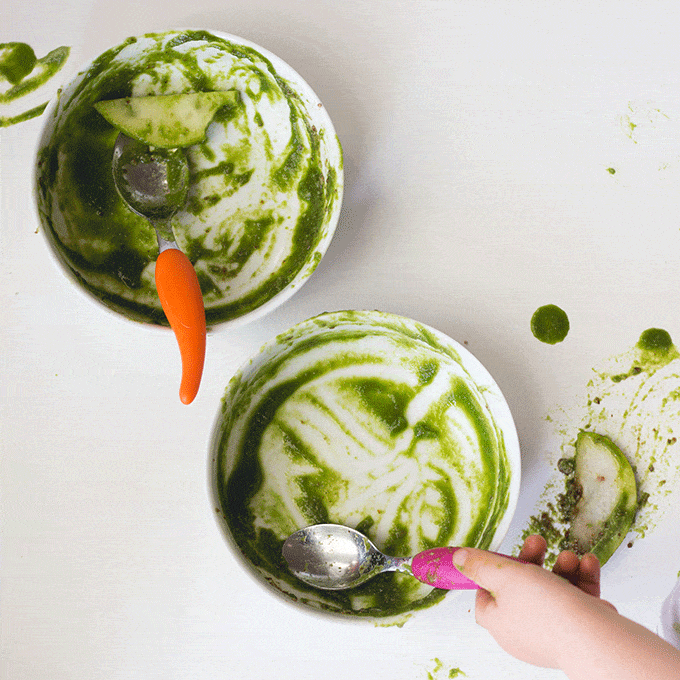 You May Also Like
Have you tried this recipe? I love receiving your feedback, please rate and leave a comment below or tag me on Instagram @healthylittlefoodies
Looking for more healthy kid recipes?Sign up for my free recipe newsletter to get new family friendly recipes in your inbox each week! Find me sharing more kind-friendly inspiration on Pinterest and Instagram.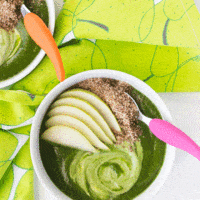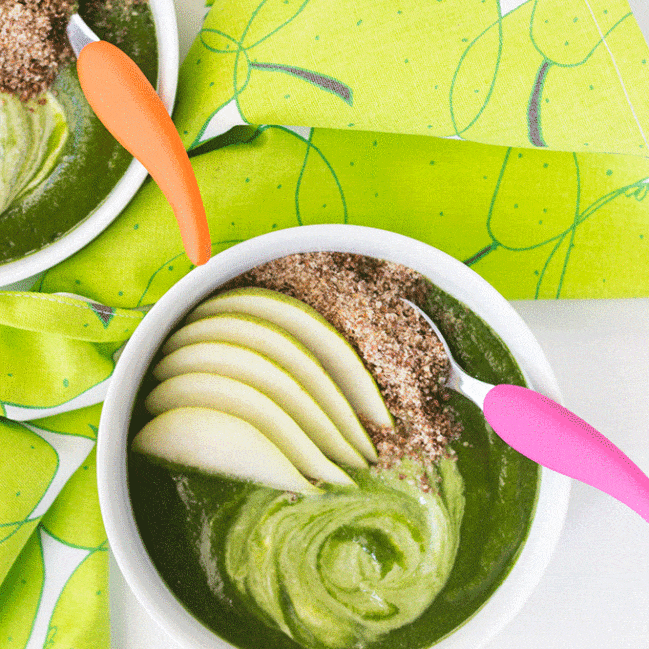 Spinach and Pear Smoothie
A vibrant green smoothie packed with spinach, pear, ginger and dates. A great way to get your kids to eat their greens.
Prep Time: 5 minutes
Total Time: 5 minutes
Serves:2
Hover over "serves" value to reveal recipe scaler
Ingredients
SMOOTHIE
2 heaped handfuls of Spinach (around 60g)
2 small pears (255g)
4 small dates (26g)
1/2 tsp ginger puree.
1/2 cup water
TOPPING
1 tbsp greek yoghurt (optional topping)
1 tbsp LSA mix (optional topping)
1/2 pear thinly sliced (optional topping)
Instructions
Add the smoothie ingredients to a high speed blender and blitz until smooth. ** See note 1

(Serving suggestion) Pour the mixture into two bowls. Swirl in 1/2 tbsp of yoghurt to each bowl add 1/2 tbsp of LSA mix, top with thinly sliced pears.
Recipe Notes
Depending on the size of your blender you may have to add the spinach in stages. I added about a 1/4 of the spinach, blitzed it and then added the remaining spinach before blending again. Nutritional information is a ROUGH guide only, calculated using an online nutrition calculator.
Nutrition Facts
Spinach and Pear Smoothie
Amount Per Serving
Calories 204 Calories from Fat 27
% Daily Value*
Fat 3g5%
Saturated Fat 1g5%
Cholesterol 1mg0%
Sodium 34mg1%
Potassium 551mg16%
Carbohydrates 46g15%
Fiber 10g40%
Sugar 30g33%
Protein 4g8%
Vitamin A 2855IU57%
Vitamin C 18mg22%
Calcium 72mg7%
Iron 1.5mg8%
* Percent Daily Values are based on a 2000 calorie diet.