These Ginger and Lemongrass Chicken Meatballs are super succulent (with no trace of toughness), deliciously fragrant (with a hint of sweetness), the perfect size for dipping (because kids love to dip) and are great for adding to a lunchbox. Just make sure you leave some for the kids!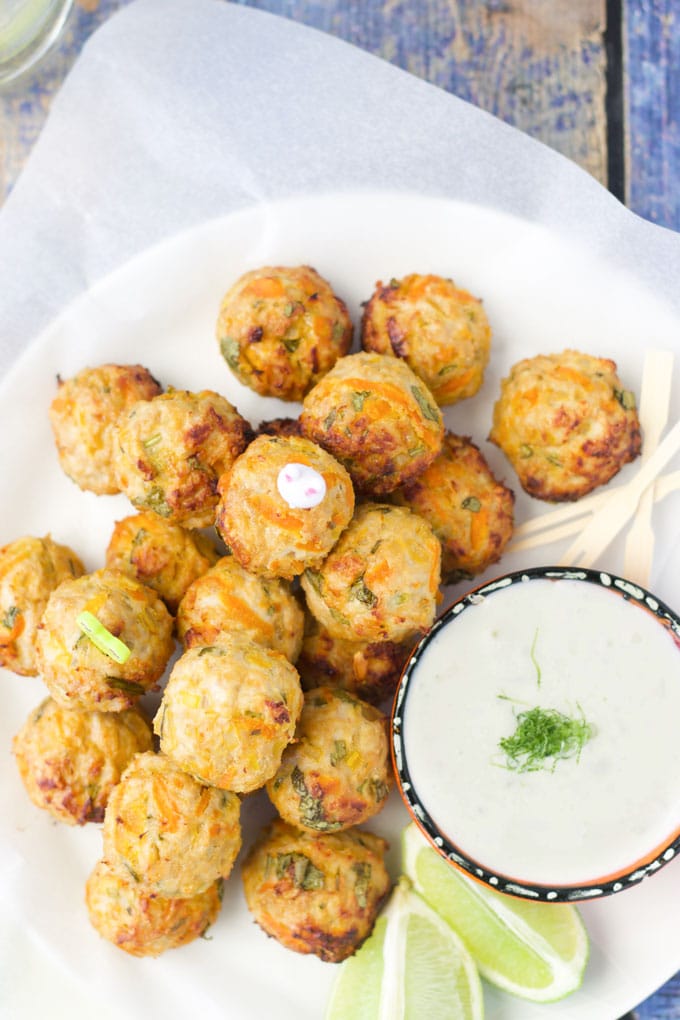 Jump to:
How to Make Tender Chicken Meatballs that Kids will Love.
Using leaner meats, such as chicken or turkey, can often result in a tougher meatball due to the low-fat content. This would be such a turn off for my kids and I'm sure it would be for many children. Young kids often aren't keen on meat and I put it down to the texture. This is why I add a breadcrumb and milk mixture to my meatballs, it helps add moisture and also prevents the meat proteins from shrinking and becoming tough.
Adding Veggies to Chicken Meatballs
As parents, we are always trying to encourage our children to eat the recommended daily vegetable intake. This can be tough and so I always like to grate or finely chop some vegetables into every meal. I'd say 80% of my meals start with an onion. Known as the "Secret Serve" of vegetables it provides great flavour and if chopped finely enough it will go unnoticed. In these chicken meatballs, I also added grated carrot. I recommend sautéing the vegetables, along with garlic and the lemongrass, until softened before adding it to the ground meat. It makes the meatballs more flavoursome and adds a delicious sweetness to the balls that kids love. You also want to sauté the mixture until it is quite dry so that the moisture balance isn't offset.
Get the Kids Involved
This is a great recipe to get your children in the kitchen. I honestly believe that kids who are involved in cooking meals are more likely to try and enjoy their food. There are a lot of simple tasks that young kids can do in this recipe. Pouring, mixing, forming balls are all easy activities that kids can undertake (just watch that they don't try to eat the raw mixture like my boys do!)
The great thing about these meatballs is that I can have them prepped in the morning. Finn's busy sport's schedule means that we are often home late in the evening and I need something easy and quick. I chill the meatballs and just pop them in the oven when we get home. The dip can be made ahead of time too, in fact, I think it tastes better if made in advance. My kids are suckers for a dip and the flavours complement the meatballs perfectly. If you have any dip left over I suggest you add some pureed mango to it for a delicious dessert.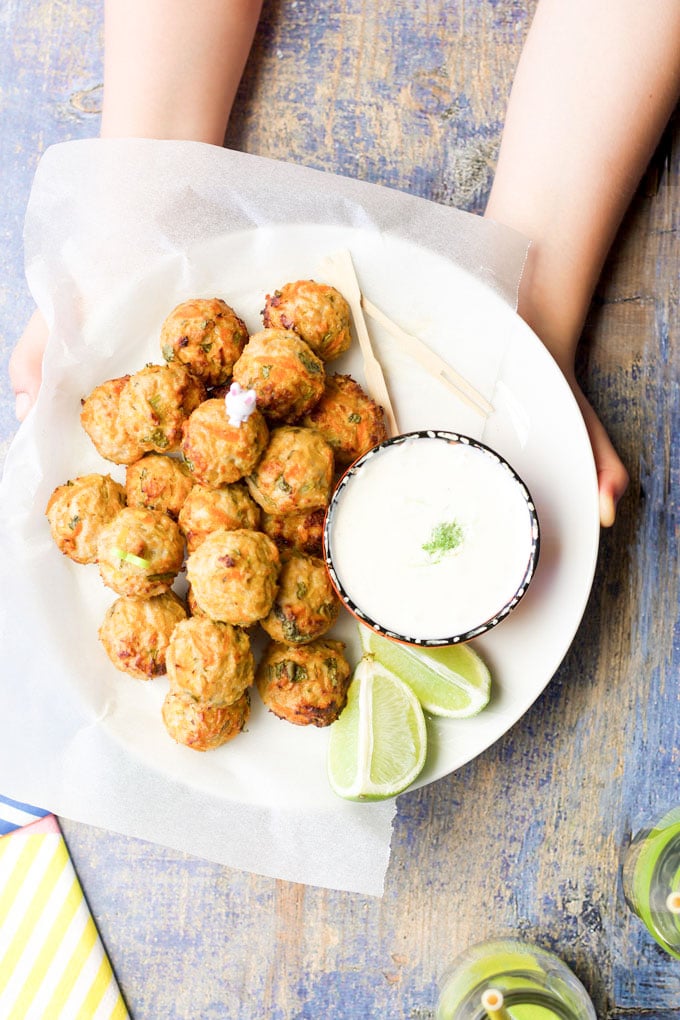 You may also like...
Looking for more healthy kid recipes?Sign up for my free recipe newsletter to get new family friendly recipes in your inbox each week! Find me sharing more kid-friendly inspiration on Pinterest and Instagram.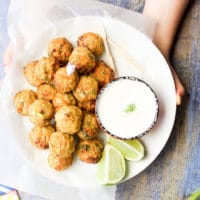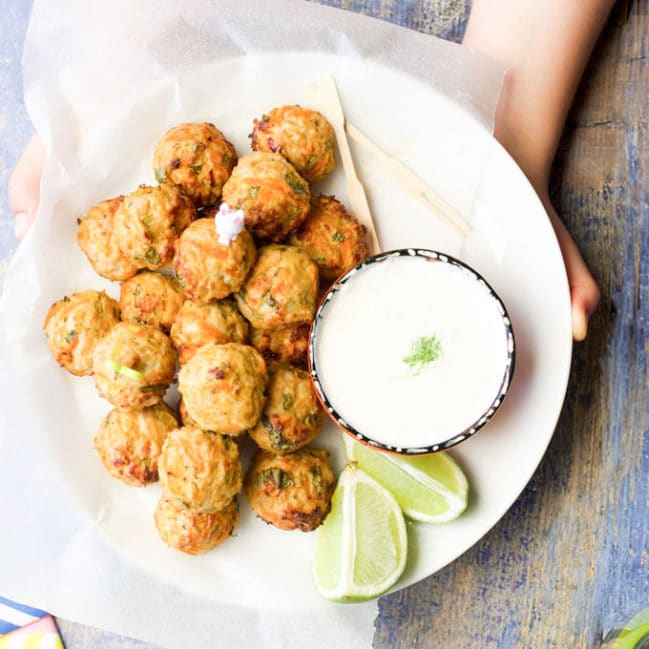 Chicken Meatballs with a Lemongrass and Ginger Dip.
A delicious finger food, perfect as part of a meal or for popping into lunch boxes.
Prep Time: 20 minutes
Cook Time: 26 minutes
Total Time: 46 minutes
Serves:27 balls
Hover over "serves" value to reveal recipe scaler
Ingredients
25g (½ cup) Breadcrumbs
2 tbsp Milk
1 tbsp Oil
1 Onion (white, brown or red) (Finely Chopped)
1 Carrot (Grated)
2 Garlic Cloves (Finely Chopped)
1 stalk Lemon Grass (white only) (Finely Chopped)
1 tablespoon Ginger (grated)
2 tbsp Soy Sauce
1 tbsp Fresh Lime Juice
500g (1.1lb) Minced Chicken
2 tbsp Fresh Coriander Leaves (cilantro) (Finely Chopped)
Dip
250g (1 cup) Greek Yoghurt
½ Lemon Grass Stalk (white Only)
2 tsps Ginger (grated)
½ Lime (zest and juice)
Instructions
Pre heat oven to 200C / 400F and line a baking tray with baking paper / baking mat.

In a small bowl, pour the milk over the breadcrumbs and set aside while preparing the rest of the meatball mix.

Heat the oil in a frying pan over a medium-high heat. Add the onion and carrot and cook until softened, about 4 mins. Add the garlic and lemon grass and cook for a further minute. Remove from the heat and allow the mixture to cool.

In a small bowl, add the ginger, soy sauce and lime juice. Stir until combined.

Add the chicken mince to a large mixing bowl and add the carrot / onion mixture, sauce mixture, coriander and the breadcrumb mixture. Gently mix until combined. Shape tablespoons of the mixture into balls and place on the lined baking tray. (I made 27 balls)

Place in the oven and bake for approx. 20 mins, until golden and cooked through.

DIP - Add the lemon grass to a food processor and pulse until finely minced. Add the ginger, lime zest and juice and continue to pulse until combined. Stir the mixture through the yoghurt until fully mixed.
Recipe Notes
Nutritional information is a ROUGH guide only, calculated using an online nutrition calculator. 
Nutritional facts
Calories: 48kcal | Carbohydrates: 2g | Protein: 5g | Fat: 2g | Saturated Fat: 1g | Cholesterol: 17mg | Sodium: 99mg | Potassium: 120mg | Fiber: 1g | Sugar: 1g | Vitamin A: 385IU | Vitamin C: 1.1mg | Calcium: 17mg | Iron: 0.3mg