Finn has been enjoying these turkey meatballs since he started eating solids. They are tender, moist and taste delicious served as a dish in their own right, with fresh crusty bread, couscous, rice or spaghetti. I usually serve them with a pasta and courgette spaghetti mix. I make the courgette spaghetti using a spiralizer and find it a great way to add more veg to a dish.
Finn likes to help with the meatball stage of this meal. We try to form 1 inch balls and today we made 28. The trick to making them tender is to not over work the mixture (so I just have to make sure Finn doesn't handle the mixture too much when forming the balls.)
The raw turkey meatballs go straight into the tomato sauce and simmer away, soaking up the flavours of the sauce, until cooked.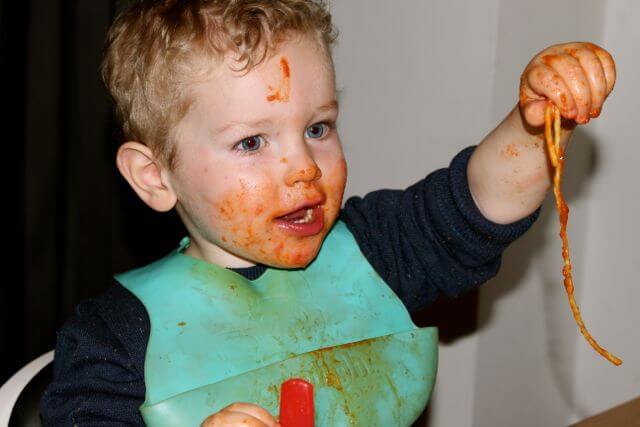 Turkey Meatballs in a Tomato Sauce
Succulent meatballs in a tomato sauce.
Ingredients
Tomato Sauce

2

tbsp

oil

1

onion - finely chopped

1

celery stalk - finely chopped

2

garlic cloves - crushed

500

g

carton of Passata

2

cups

(500ml) water

1/2

teaspoon

oregano

pinch of dried crushed chilli flakes

Meatballs

1/2

onion - finely chopped

450

g

turkey mince

1/2

cup

(35g) breadcrumbs

1/2

cup

(25g) grated parmesan cheese
Instructions
Heat the oil in a heavy based pan, add the onions (for the sauce), celery and garlic and cook at a moderate temperature, stirring occasionally, for about 10 mins.

Add the oregano, crushed chilli flakes, passata and water and bring to the boil before turning the heat down to simmer gently (while you make the meatballs. )

Put all the meatball ingredients into a large mixing bowl and mix together, gently, with your hands. Try not to over mix.

Roll the mixture into balls approx. 1 inch in size. We made 28 from this mixture.

Gently place the balls into the tomato sauce and allow to simmer for 30 mins, until cooked through.

Serve with a side of your choice.