Succulent turkey meatballs served in a tasty tomato sauce.
This is a recipe that I made a lot when my boys were babies/toddlers. At that age, meat dishes weren't high up on their list of favourite foods. These turkey meatballs were one of the exceptions.
The tender texture of the meatballs makes them perfect for little ones. Cooking the balls in the sauce results in succulent and flavourful meatballs with a sauce that becomes richer in the process.
Jump to:
Ingredients Information (with suggested alternatives)
This is a recipe for turkey meatballs but I often use ground (minced) chicken and it works equally as well. If you wish to switch it up a bit, you can replace the ground turkey with any ground meat or a mixture of meats.
The egg helps to bind the meatballs together. If you or your kids have an egg intolerance then you can miss it out. I forgot to add it once and the meatballs still tasted great, held together and had a good texture.
If leaving out the egg you may wish to make a Panade with the breadcrumbs. Mix the breadcrumbs with two tablespoons of milk and allow to sit for approx. 5- 10 mins before adding to the meatball mixture. This will help keep the meatballs tender.
Parmesan adds a delicious creamy flavour to the meatballs, you can miss this out if you are dairy-free or if you want to reduce sodium levels.
You can also add some herbs to the meatballs. Basil, oregano thyme and parsley all work well.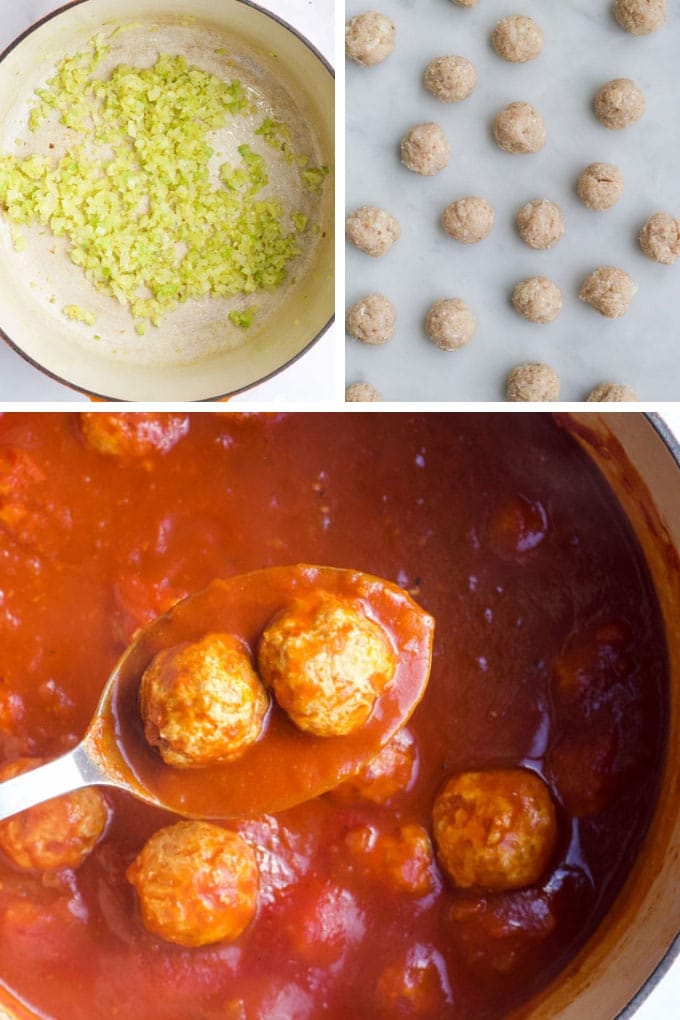 How to Make Turkey Meatballs - Tips and Tricks
Avoid Overworking the Meatball Mixture
To keep your meatballs tender, try not to overwork the mixture. Put all the ingredients into a bowl and use your hands to mix them. Mixing by hand incorporates the ingredients without crushing the meat.
Lightly oiling or wetting your hands makes forming meatballs a lot easier. When using dry hands the meat mixture can stick to your hands.
Try to form uniformed balls to ensure they cook at the same time. I make my balls that are roughly a tablespoon in size.
How to make the Tomato Sauce - Tips and Tricks
I finely chop the onion and celery (see picture above.) If your children do not like to see "bits" in their sauce then I recommend pureeing the onion and celery for a smoother sauce.
I usually use passata in this sauce. If you do not have passata you can replace it with two 400g / 14oz cans of chopped tomatoes.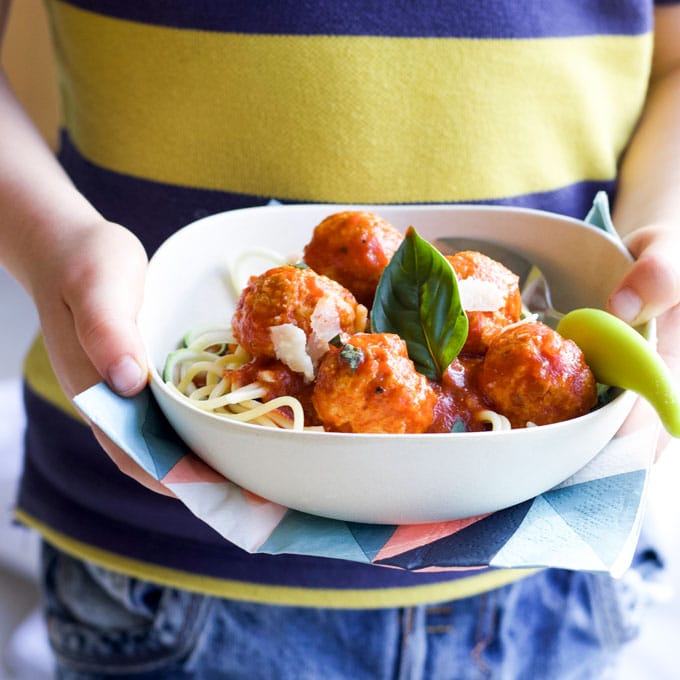 What to Serve Turkey Meatballs with.
I usually serve these meatballs with a mix of spaghetti noodles and zucchini (courgette) noodles.
They would also taste great with crusty bread or mashed potato or even added into a sub sandwich.
I'm sure there are many great ways to serve these meatballs, I'd love to know how you and your kids enjoy them, please leave a comment below or tag me on Instagram.
Storing Leftover Meatballs
Refrigerate - Store in a covered container for up to two days. Reheat in a saucepan until meatballs and sauce are piping hot.
Freeze - Cooled meatballs and sauce can be frozen in an airtight container. Thaw frozen meatballs overnight in the refrigerator and reheat in a saucepan until piping hot.
Other recipes you may wish to try...
Looking for more healthy kid recipes?Sign up for my free recipe newsletter to get new family friendly recipes in your inbox each week! Find me sharing more kid-friendly inspiration on Pinterest and Instagram.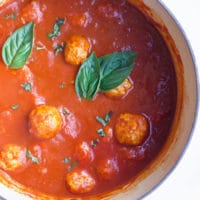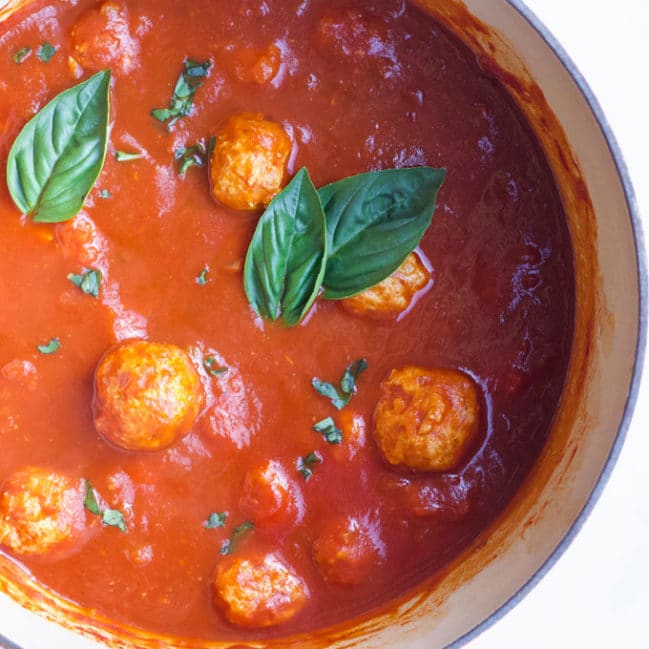 Turkey Meatballs in a Tomato Sauce
Succulent meatballs in a tomato sauce.
Prep Time: 15 minutes
Cook Time: 45 minutes
Total Time: 1 hour
Serves:4
Hover over "serves" value to reveal recipe scaler
Ingredients
TOMATO SAUCE
2 tablespoon oil
1 onion - finely chopped *SEE NOTE 1
1 celery stalk - finely chopped *SEE NOTE 1
1 teaspoon minced garlic
700ml (3 cups) passata *SEE NOTE 2
500 ml (2 cups) water
½ teaspoon oregano
Pinch dried crushed chilli flakes (optional)
MEATBALLS
½ onion - finely chopped
450g (1 lb) turkey mince (ground turkey)
1 egg
35g (½ cup) breadcrumbs
25g (4 tbsp) freshly grated parmesan cheese * SEE NOTE 3
Instructions
Heat the oil in a heavy based saucepan or dutch oven, add the onions (for the sauce), celery and garlic and cook at a low temperature, stirring occasionally, for about 10 mins.

Add the oregano, crushed chilli flakes, passata and water and bring to the boil before turning the heat down to simmer gently (while you make the meatballs. ) Season to taste.

Put all the meatball ingredients into a large mixing bowl and mix together, gently, with your hands. Try not to over mix. *SEE NOTE 4

Roll the mixture into balls approx. 1tbsp inch in size. We made 28 from this mixture.

Gently place the balls into the tomato sauce and allow to simmer for 30 mins, until cooked through.

Serve with a side of your choice.
Recipe Notes
I finely chop the vegetables for the sauce but if your kids do not like "bits" in their sauce then I recommend pureeing the onion and celery to give a smoother sauce.
You replace the passata with two 400g (14 oz) cans of tomatoes. 
Freshly grated parmesan works best in this recipe. I buy a block and freshly grate it. You can alternatively buy freshly grated parmesan but don't use the ambient grated parmesan (you find in the pasta aisle), the taste is not the same!  
For more flavour, you may wish to add some herbs. A little thyme, oregano or basil all works well. 
Nutritional information is a rough GUIDE only, calculated using an online nutrition calculator. 
Nutritional facts
Calories: 348kcal | Carbohydrates: 26g | Protein: 34g | Fat: 12g | Saturated Fat: 3g | Cholesterol: 107mg | Sodium: 302mg | Potassium: 1218mg | Fiber: 4g | Sugar: 11g | Vitamin A: 1075IU | Vitamin C: 22.1mg | Calcium: 152mg | Iron: 4.8mg