This kale pesto works great as a dip, spread or pasta sauce and is sure to get your kids loving kale!
The easiest way to ensure my kids are meeting their recommended daily vegetable intake is to always have chopped up veggies in the fridge for them to snack on at any time of the day. When we arrive home late, after the various after-school sports, my boys are starving and will demolish a plate of veggies in minutes.
Other times of the day they aren't as keen and need a little encouragement. This is when I like to add a dip which instantly makes the veggies more appealing. Dips like this Kale Pesto are perfect, as an added bonus the kids are actually dipping their veggies into veggies!
I love to make sure I add variety to my kids' lunches/snacks to keep them interested. Simply presenting food in different ways helps with this. This week I added a small layer of the kale pesto to the bottom of a small glass jar. I then filled it with chopped capsicum, carrot and celery
Of course, this Kale Pesto isn't just for dipping. It makes a delicious spread or pasta sauce. I love to serve this with spaghetti and some crispy kale on top. If you haven't tried kale chips yet then you should. They are such a hit with my boys and I find it great to add to lunch boxes, to have as a snack or crumble on meals like this to add variety and texture.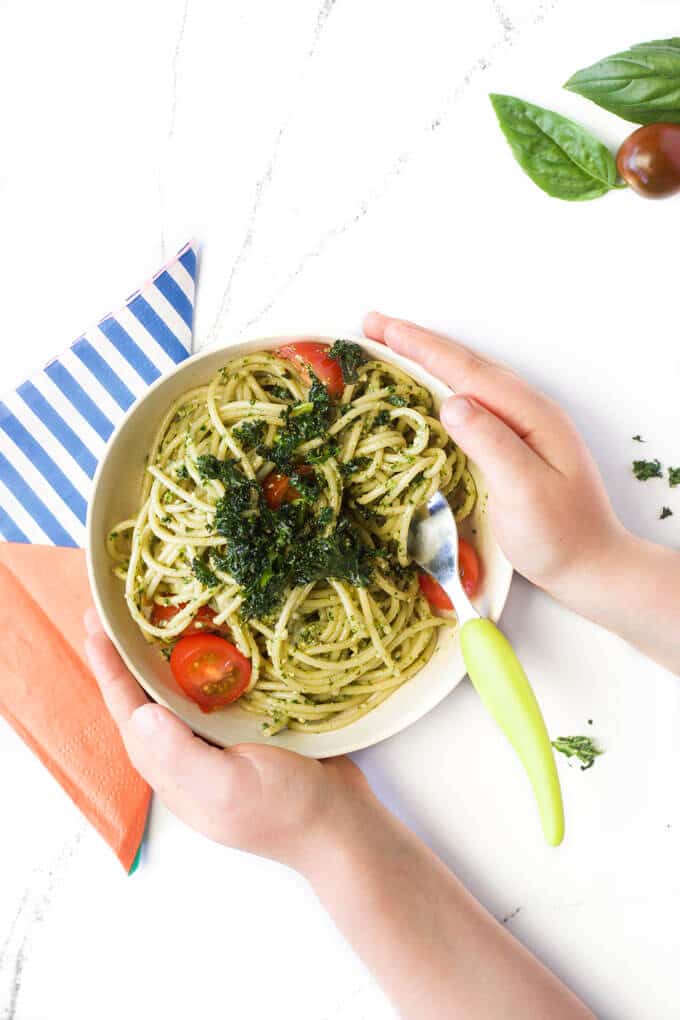 You May Also Like
Have you tried this recipe? I love receiving your feedback, please rate and leave a comment below or tag me on Instagram @healthylittlefoodies
Looking for more healthy kid recipes?Sign up for my free recipe newsletter to get new family friendly recipes in your inbox each week! Find me sharing more kid-friendly inspiration on Pinterest and Instagram.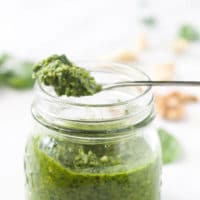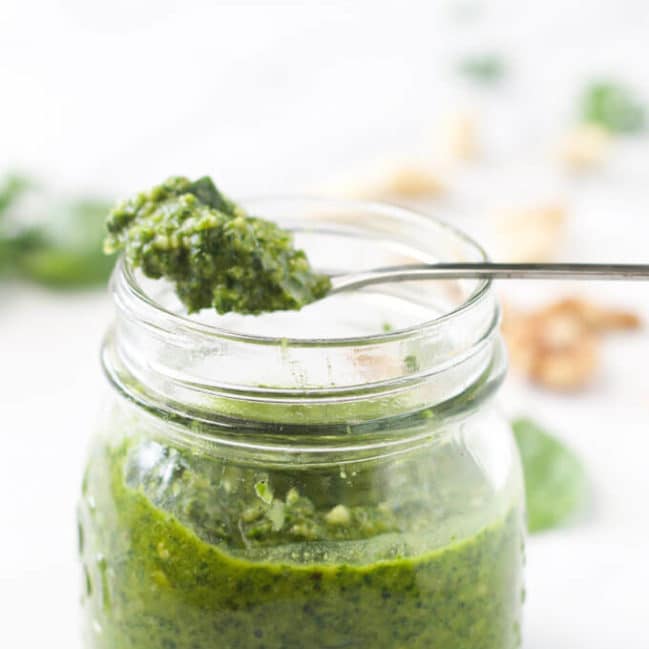 Kale Pesto
A delicious sauce, dip or spread
Prep Time: 5 minutes
Total Time: 5 minutes
Serves:6
Hover over "serves" value to reveal recipe scaler
Ingredients
55g 1 ½ cups chopped kale (stems removed)
15g ½ cup fresh basil leaves
125ml ½ cup olive oil
1 clove garlic
juice of 1 lemon
35g ¼ cup raw cashew nuts
25g ¼ cup walnut pieces
Instructions
Add the kale, basil, olive oil and garlic and lemon to a food processor and pulse until smooth

Add the nuts and pulse until you achieve desired texture.
Recipe Notes
I typically don't add salt to the recipes on the website to keep sodium levels low. However, now that my kids are getting older I do add a little to bring out flavours. I find a little salt in this recipe really brings out the flavour.  Nutritional information is a ROUGH guide only, calculated using an online nutrition calculator. 
Nutritional facts
Calories: 251kcal | Carbohydrates: 4g | Protein: 2g | Fat: 26g | Saturated Fat: 4g | Sodium: 5mg | Potassium: 109mg | Fiber: 1g | Sugar: 1g | Vitamin A: 1050IU | Vitamin C: 13.5mg | Calcium: 24mg | Iron: 0.8mg