Baked Arancini is healthier than traditional fried arancini, making it perfect for baby-led weaning and kids. Use your favourite risotto recipe or use up leftover risotto to make these delicious baked risotto balls.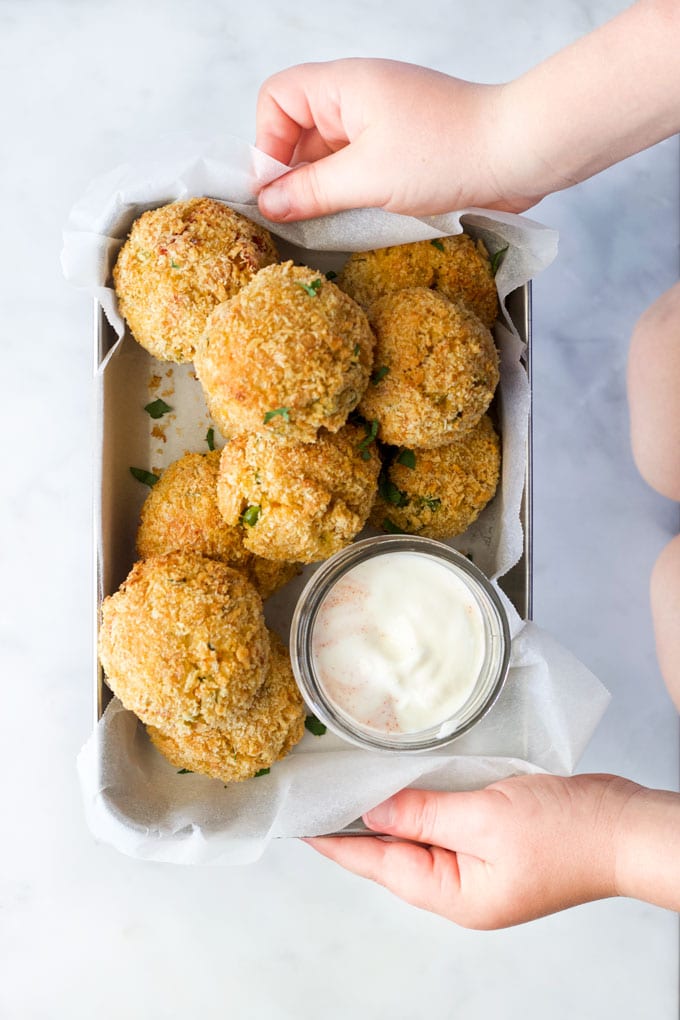 Reasons to LOVE Baked Arancini
HEALTHIER: This baked version is a healthier alternative to deep-fried arancini.
BABY/TODDLER FRIENDLY: Serving rice as a finger food makes it easier (and often more appealing) for little ones to eat. It can also mean a lot less mess! Just make sure to use a low-salt recipe for the risotto.
GREAT WAY TO USE LEFTOVERS: I love creating a completely different meal with leftovers.
KIDS IN THE KITCHEN: This is a great recipe to get your kids involved in the kitchen. Little kids can have a go at forming the balls and older kids can coat and dip them.
What is Arancini?
Arancini are risotto balls coated in breadcrumbs and deep-fried, they are usually stuffed with ragu, mozzarella and peas. This adaptation is baked, instead of fried, and has no extra stuffing.
Process Shots and Cooking Steps
Baked risotto balls are relatively quick and easy to put together (if you have already made and chilled the risotto). I would usually make this recipe with leftover risotto rather than making the risotto, cooling it and then preparing the balls on the same day.
TOAST BREADCRUMBS: This is an optional step. Spray your breadcrumbs with oil and pop them in the oven for 5-10 mins before you coat your balls. Although not necessary for taste, doing this will give your breadcrumbs a head start in the browning process and will make your arancini more visually like the fried version.
ROLL LEFTOVER RISOTTO INTO BALLS: I used roughly one and a half tablespoons of rice to form each ball. You can make the balls bigger or smaller but the cooking time will change, as will the amount of coating needed.
ROLL BALL IN FLOUR & DIP IN EGG: Roll each ball in the flour and then dip in the egg mixture
ROLL BALL IN TOASTED BREADCRUMBS: Finally coat with the breadcrumbs
BAKE: Place each ball on a prepared baking tray, lightly spray with oil and cook until golden and heated throughout (around 20 mins)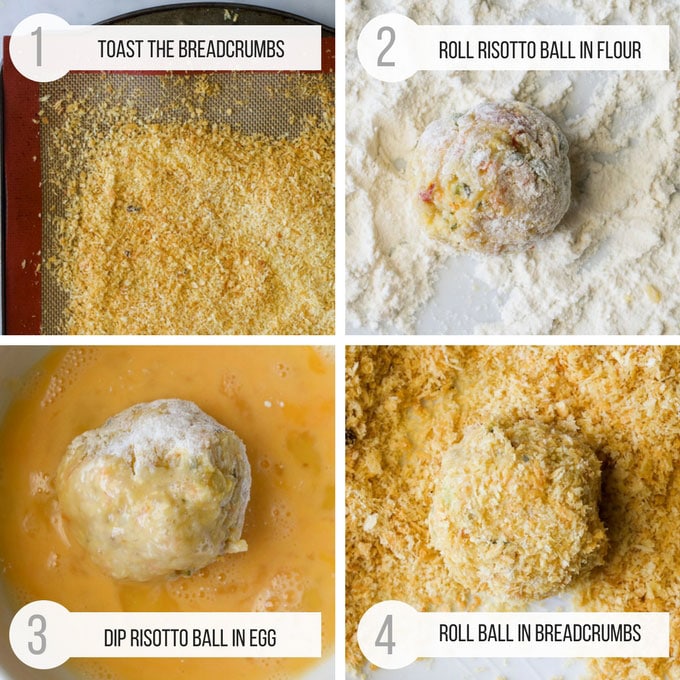 Top Tips
RISOTTO RECIPE – Any risotto recipe can be used so if you have a recipe you love, then use that one. Just make sure your risotto is made with an Italian variety of rice that has the correct starches to produce a creamy texture when cooked.  Arborio, Vialone Nano and Carnaroli are the most common varieties. Also, if you are serving babies/toddlers use a low-sodium recipe.

RISOTTO TEXTURE – If you find your risotto is a little wet, and you are worried that your balls won't hold their shape when baked, simply make a test ball and let it sit for a couple of minutes to see if it starts to flatten. If this is the case add some breadcrumbs, a little at a time, until the right consistency.

GOLDEN ARANCINI – Baking can result in pale-looking arancini. To combat this, pre-toast your breadcrumbs. This will give them a head start in browning and will result in your balls looking more like the fried version.

PANKO BREADCRUMBS: I have made baked arancini with a range of breadcrumbs. Fresh, dried and panko. My personal favourite, although not very Italian, is Panko breadcrumbs. It is hard to achieve the same delicious crunchy shell, that frying achieves when you are baking but panko gives the best results.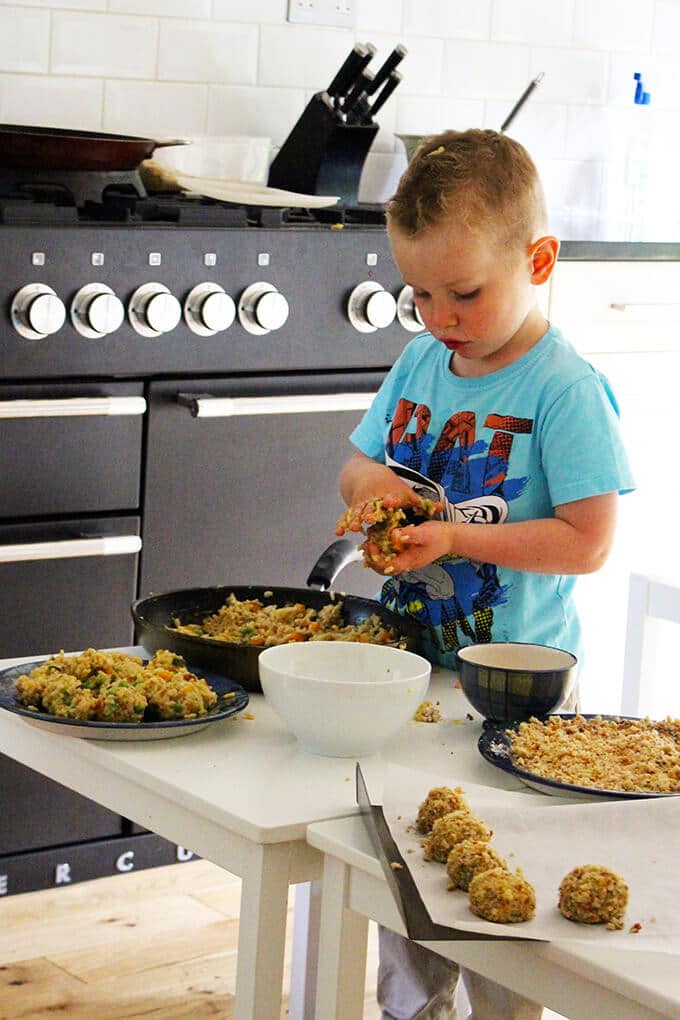 Recipe Variations
ADD CHEESE – I didn't include a cheese centre in these arancini balls because I wanted to make them a little more baby / toddler-friendly (less added sodium).
However, you can easily add cheese to yours if you like. Add a small cube of mozzarella, or your desired cheese, into the centre of each risotto ball. Make sure to fully cover the rice around the cheese to stop it from oozing out while baking.

ADD SEASONINGS – No salt was added to the breadcrumbs, again to reduce sodium levels for little kids. If making for adults then you may wish to add around 1/2 tsp of salt to the breadcrumbs. Alternatively, you could mix in some complimentary spices (depending on what risotto recipe you use)
Storage / Make Ahead Instructions
You can make these risotto balls ahead of time. Form the balls and return them to the refrigerator until you are ready to bake that day.
Once cooked they should not be stored or re-heated as the rice will have already been re-heated once.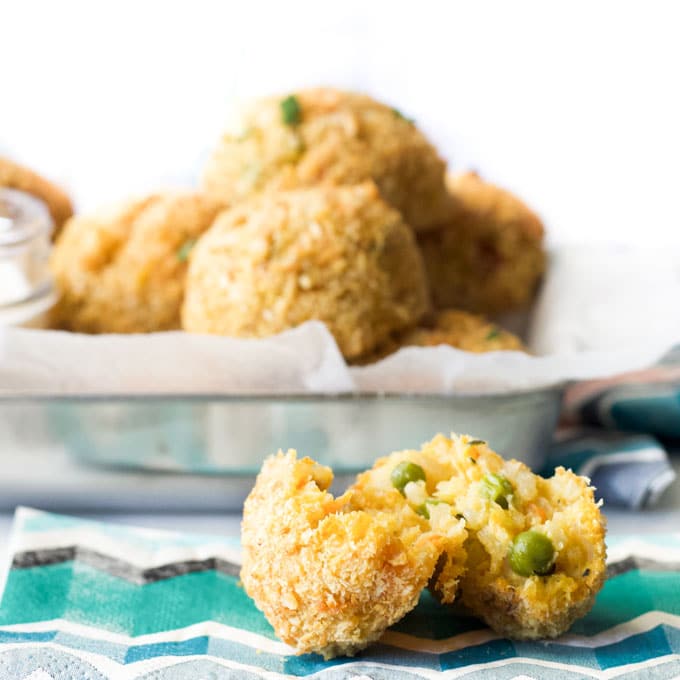 You May Also Like
Have you tried this recipe? I would love to know how it went, please leave a comment below or tag me on Instagram @healthylittlefoodies
Looking for more healthy kid recipes?Sign up for my free recipe newsletter to get new family friendly recipes in your inbox each week! Find me sharing more kid-friendly inspiration on Pinterest and Instagram.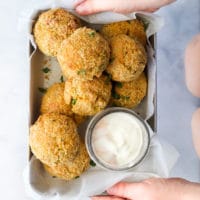 Baked Arancini
Risotto formed into balls, coated in breadcrumbs and baked.
Prep Time: 20 minutes
Cook Time: 20 minutes
Total Time: 40 minutes
Serves:12 Balls
Hover over "serves" value to reveal recipe scaler
Ingredients
600g (3 cups) Cooked and Chilled Risotto *SEE NOTE 1
2 Eggs, beaten
35g (¼ cup) Flour
80g (1½ cups) Panko Breadcrumbs *SEE NOTE 2
Instructions
Pre heat oven to 180c / 350F and line baking tray with baking paper / silicon mat.

OPTIONAL (to achieve a more golden look to your balls) Place breadcrumbs on a baking tray, spray with oil and bake on the top shelf for around 5 – 10 mins (until golden)

Place flour in a dish, beaten egg in another and the breadcrumbs on a flat plate.

Roll risotto into balls (mine were approx. 1 1/2 tbsp each)

Roll each ball into the flour then dip into the egg and finally coat with the breadcrumbs.

Place on baking tray, lightly spray with olive oil and cook until golden and heated though out. (Approx. 20 mins)
Recipe Notes
1. Make sure to your risotto is properly chilled and was made with an Italian variety of rice that has the correct starches to produces a creamy texture when cooked. Arborio, Vialone Nano and Carnaroli are the most common varieties. 
If serving to a baby make sure the risotto was made using homemade stock or baby stock/low salt stock.
Link to Vegetable Risotto Recipe
2. I personally feel panko breadcrumbs produce the best result in this recipe. However you can substitute them with dried breadcrumbs. 
Nutritional information is a ROUGH guide only, calculated using an online nutrition calculator. Values are based on plain cooked risotto and will differ depending on the cooked risotto made.
Nutrition Facts
Baked Arancini
Amount Per Serving
Calories 108 Calories from Fat 9
% Daily Value*
Fat 1g2%
Saturated Fat 1g5%
Trans Fat 1g
Cholesterol 27mg9%
Sodium 59mg2%
Potassium 38mg1%
Carbohydrates 20g7%
Fiber 1g4%
Sugar 1g1%
Protein 3g6%
Vitamin A 40IU1%
Calcium 17mg2%
Iron 1mg6%
* Percent Daily Values are based on a 2000 calorie diet.