Frozen Kiwi Pops can are delicious just as they are or can be made extra special by coating them in yoghurt or chocolate.
I've never had a problem encouraging my kids to eat fruit, in fact, I often have to limit their consumption. This is why I love to serve frozen fruit as a dessert or snack, it slows down the eating process and allows them to appreciate their food.
If, however, you have the opposite problem and need to encourage your children to eat fruit then these Frozen Kiwi Pops may just be the answer. Kids seem to love food that is served on a stick and freezing the kiwi, I feel, brings out the natural sweetness.
To make these frozen kiwi pops you really want to make sure that you have well-peeled kiwis. You don't want half your kiwi to come away with the peel resulting in small and strangely shaped pops! Take your time peeling the kiwi for better shaped pops!
How to Peel a Kiwi
There are many methods for peeling a kiwi but I find the best way to create a smooth surface with very little wastage is to use the spoon method.
Cut off the ends of the kiwi using a sharp knife.
Take a dessert/soup spoon and insert it between the fruit and the peel.
Gently move the spoon around the flesh, in a circular motion, being careful to stay as close to the peel as possible. Often the peel can be removed in one piece.
If you really mess it up, just chop the kiwi up into a fruit salad or blend it to make this kiwi puree, great for adding to yogurt or topping pancakes.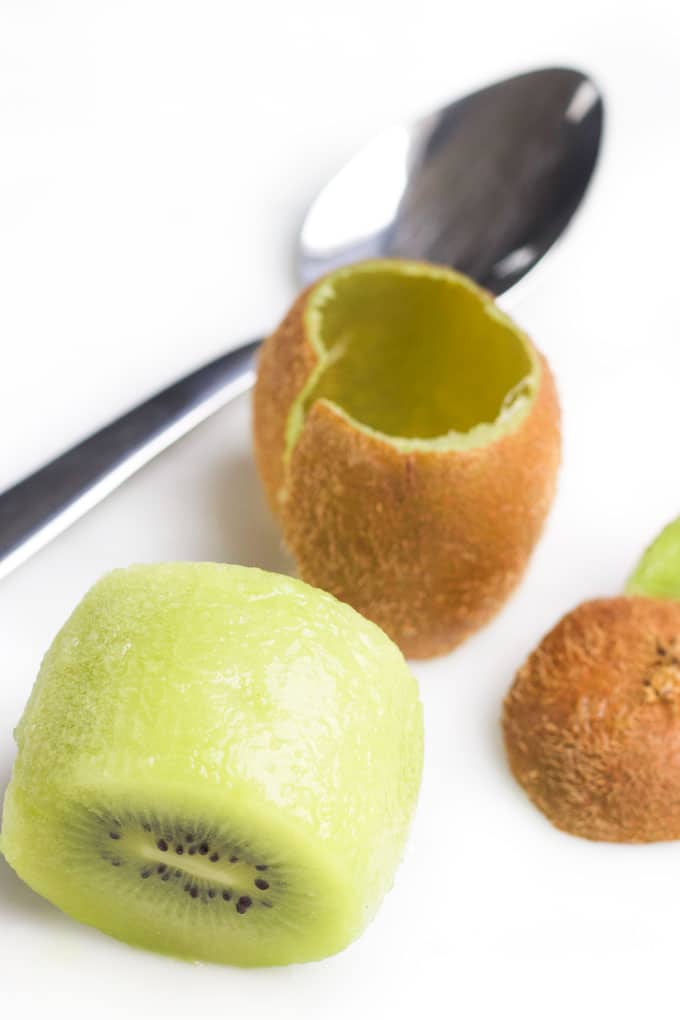 Freezing Tips
You want to make sure you freeze your pops on a single layer. If they are piled on top of each other then they will stick together. The easiest way is to cover a baking tray with parchment paper/silicone mat and lay the pops out making sure they aren't overlapping.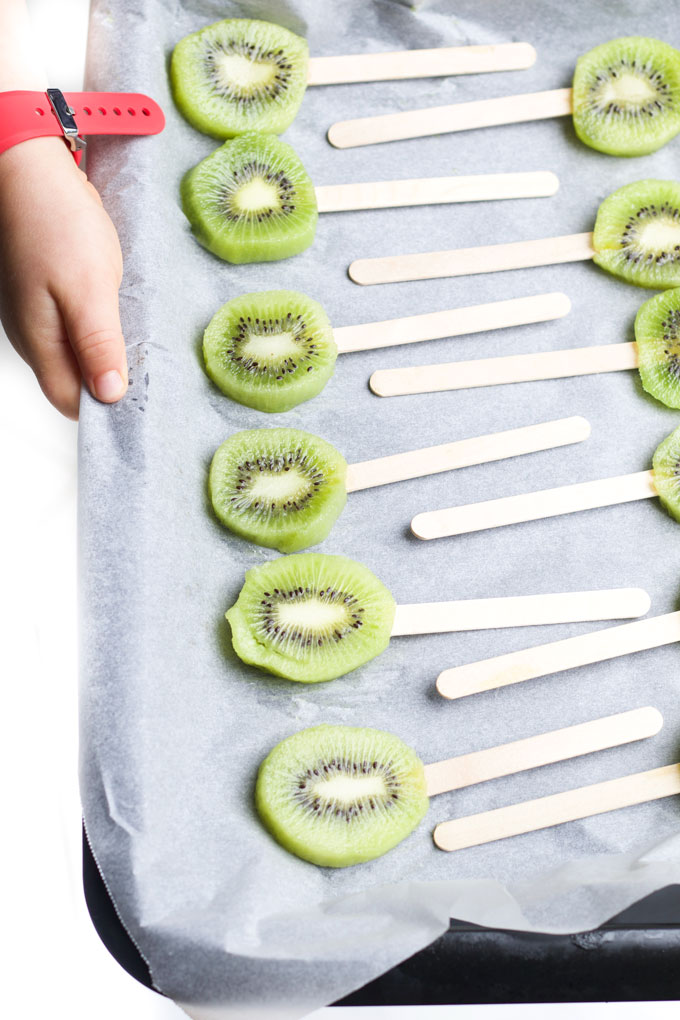 Coating Frozen Kiwi Pops
These frozen kiwi pops taste absolutely delicious just as they are but there is something fun about coating them to make the treat extra special. This step is fun for the kids to help out with too.
For a healthy option, I like to dip them in natural greek yogurt. If your children find natural yoghurt a little sour then you can always add a little honey to sweeten it. However, the frozen kiwi does add a delicious sweetness that I think works well with the yoghurt.
Chocolate is a fantastic coating if you are looking for something more indulgent. I love dark chocolate with the sweetness of the kiwi.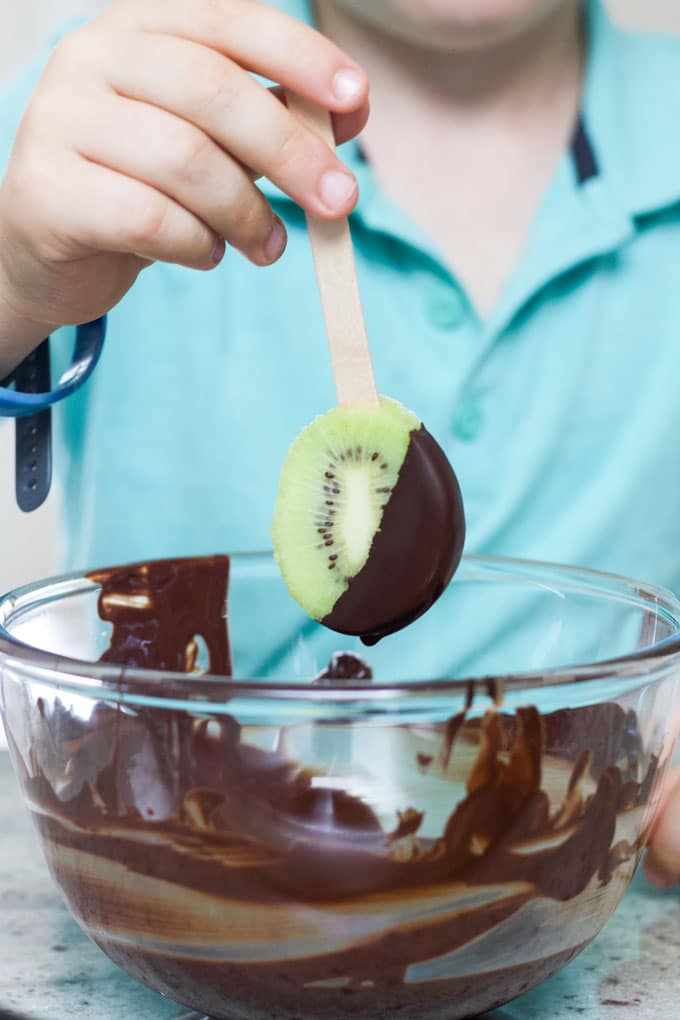 Tips for coating frozen kiwi in chocolate.
Make sure the kiwi is completely frozen before dipping in the chocolate. If the kiwi is wet then the chocolate will slide off. The chocolate will instantly harden when you dip it. Enjoy straight away or return to the freezer to enjoy later.
You don't want your chocolate to be too thick. I like to use good quality dark chocolate with a high cocoa content. If your chocolate is a little thick the addition of coconut oil (or vegetable oil) thins out the chocolate and creates a smoother consistency than melted chocolate alone. I feel it results in a more evenly coated product.
You May Also Like
Have you tried this recipe? Please rate and leave a comment below or tag me on Instagram @healthylittlefoodies
Looking for more healthy kid recipes?Sign up for my free recipe newsletter to get new family friendly recipes in your inbox each week! Find me sharing more kid-friendly inspiration on Pinterest and Instagram.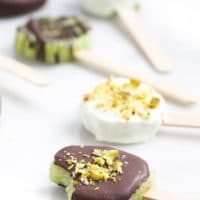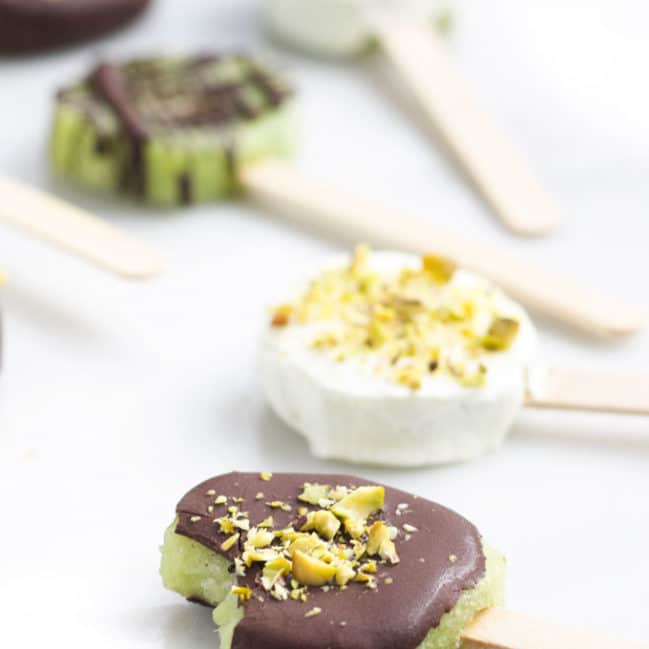 Frozen Kiwi Pops Recipe
Frozen kiwi pops dipped in yoghurt or dark chocolate. A delicious treat for the whole family.
Prep Time: 15 minutes
Freezing Time: 3 hours
Total Time: 15 minutes
Serves:10
Hover over "serves" value to reveal recipe scaler
Ingredients
3 Kiwis
½ cup Natural Greek Yoghurt (Optional - see NOTE 1)
120 g Dark Chocolate (Optional - See NOTE 1)
2.5 teaspoon Coconut Oil (If dipping in chocolate)
2 tablespoon Crushed Pistachio (Optional)
Instructions
Line a baking tray with parchment paper/silicone mat.

Slice the ends off of each kiwi and carefully peel. SEE NOTE 2

Slice each peeled kiwi into rounds around 1cm in thickness. I generally get 3 to 4 slices from each kiwi.

Gently push a popsicle stick into each slice of kiwi, to halfway up the kiwi.

Freeze until completely frozen throughout. Around 3 hours

If using chocolate to dip....Once your kiwi is completely frozen, melt your chocolate either using the microwave method or double boiler method and stir in the coconut oil until combined. (SEE NOTE 3) Dip your kiwi slices into the chocolate and allow any excess chocolate to drip off. Sprinkle with crushed nuts (optional) and return to the freezer until you are ready to enjoy. (SEE NOTE 4)

If using yoghurt to dip...Dip the frozen kiwi into the yoghurt and smooth with a spoon. Sprinkle with crushed nuts (optional) Return to the freezer until frozen. (SEE NOTE 4)
Recipe Notes
I often serve the frozen kiwi pops just as they are but if you do wish to add a coating then yoghurt and dark chocolate (or even a combination of both) work well.
I find the easiest way to peel a kiwi is to take a dessert spoon and insert it between the fruit and the peel. Gently move the spoon around the flesh in a circular motion being careful to stay as close to the peel as possible. (Picture in above post for illustration)
Be very careful melting your chocolate, here are some great tips for melting chocolate. https://www.wikihow.com/Melt-Chocolate-for-Dipping
Make sure your kiwi is completely frozen, you do not want the kiwi to be wet or the chocolate will slide off.
If you wish to do a combination of yoghurt and chocolate, dip in the yoghurt first and allow to freeze before adding the chocolate.
Nutritional information is a ROUGH GUIDE only and is calculated using an online nutrition calculator. Facts will vary greatly depending on the coating used, amount used and size of kiwi slices. The results were calculated based on the kiwi being dipped in the chocolate coating.
Nutritional facts
Calories: 98kcal | Carbohydrates: 9g | Protein: 1g | Fat: 6g | Saturated Fat: 3g | Cholesterol: 0mg | Sodium: 3mg | Potassium: 170mg | Fiber: 2g | Sugar: 5g | Vitamin A: 25IU | Vitamin C: 25.3mg | Calcium: 18mg | Iron: 1.5mg