Do you want to start cooking with your kids but don't know where to start? This list of age-appropriate cooking tasks and recipes has you covered.
I have already written about the many benefits of cooking with kids. Teaching your children how to cook not only allows them to learn a life long skill but it can help encourage an interest in food, healthy eating habits and build on their self-confidence.
When it comes to getting your child into the kitchen, what your child does and how they help you will really depend on their experience, interest and readiness rather than their age. Although I have detailed tasks by age group, this is just a guide and your child may progress through the stages quicker or slower than suggested.
Regardless of age, safety and hygiene should be of the utmost importance.
Kitchens can be dangerous places for kids of all ages. (Hot stoves, sharp knives, dangerous appliances). Ensuring your child's safety and setting appropriate rules for your child's skills and understanding will help to make your kitchen safe.
Teaching food hygiene (washing hands before starting or after touching raw food etc) should be introduced from the beginning and constantly revisited
Lastly, patience is your friend! Regardless of what age your child is, try not to let mess, spills or mistakes frustrate you. Remember to build your child's confidence rather than undermine it. (Taking over, asking them to speed up, reworking their creations)
Cooking with Babies
It is never too early to bring your little one into the kitchen. Babies can't help with the cooking but don't let that deter you from setting up a safe place where they can observe and listen to you.
You may wish to babywear (with care) or set them in their bouncer, high chair or playpen. Talk to them about what you are doing and as they get older let them smell and touch ingredients. Allow them to play with the pots, pans, spoons and other safe and non-destructible kitchen utensils.
This is the age of observation and discovering that the kitchen can be a fun and enjoyable place.
Most toddlers enjoy helping out in the kitchen but their attention spans are really short, so you are very unlikely to have them sticking around for a full recipe. At this age, they will need lots of instruction and supervision so short quick tasks are best to keep them occupied and focussed.
Safety is paramount. Make sure hot pot handles, sharp/heavy utensils, hot food and liquids as well as cleaning products are not at reaching distance. If you have space, setting up a separate area, away from stovetops etc, is a good idea at this age.
Activities to try with 1-2-year-olds
Washing fruits and vegetables
Stirring (room temperature) ingredients
Pouring liquid ingredients into a large bowl.
Sprinkling herbs
Brushing ('painting") oil/egg wash with a pastry brush.
Adding ingredients to a blender
Pressing start buttons on blender/food processor
Simple recipes you may like to try with your toddler
Cooking with 3 to 5 Years Old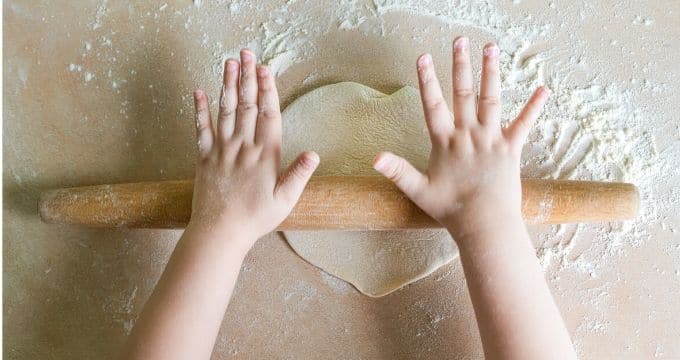 At this age, your child's fine motor skills are developing, as is their concentration. Thus, you can give them slightly more detailed tasks. However, skills can vary greatly so you may find that your child will continue doing the 1-2-year-old tasks, or advance to the 6-9-year-old tasks.
Don't tackle anything you are unsure of and remember supervision and safety is still of paramount importance.
Activities to try with 3 - 5-year-olds
Everything listed in 1-2 yr old section
Drying produce in a salad spinner
Juicing citrus fruits
Squeezing water out of grated fruit or thawed spinach etc
Mashing (being careful of temperature)
Cracking eggs
Peeling cooled hard-boiled eggs
Cutting soft ingredients (eg bananas, strawberries, butter) using a child-friendly knife.
Breading and flouring - for making fish fingers, arancini etc
Picking herbs from a stem
Tearing herbs/lettuce
Sieving (this can get messy! Model tapping the sieve over the bowl)
Using a pestle and mortar
Kneading
Rolling, shaping and cutting dough.
Recipes you may wish to try
Cooking with 6-10 Year Olds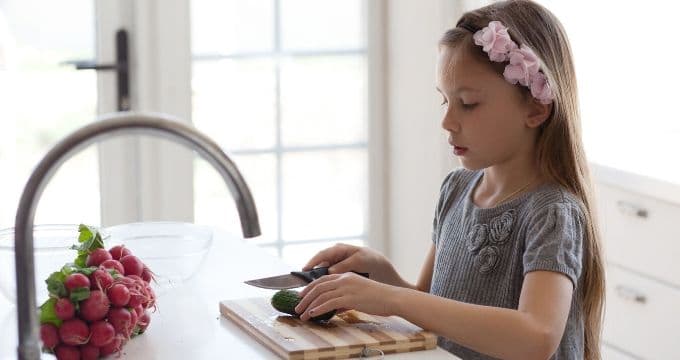 This is a lovely age to have your child helping in the kitchen. They have much longer attention spans and with their new ability to read means you can read the step by step instructions together. Their increased mathematical knowledge will also allow them to undertake measuring tasks.
Show them that you have confidence in their ability and allow them to undertake tasks independently (supervising them without their knowledge!)
Activities to try with 6-10 yr olds
Every task prior to this age group
Grating vegetables, cheese etc with a box grater
Using a can opener
Forming patties, meatballs etc
Using the stand mixer/hand mixer
Pounding chicken
Skewering food
Measuring (using scales and cups)
Making sandwiches and wraps
Cooking (with you) at the stove
Setting and using the oven (with assistance)
Using a small pairing knife
Using scissors
Recipes you may wish to try
Cooking with 11+ Year Olds
If they have had plenty of prior experience in the kitchen and learned the basic skills then this age group can start to work independently in the kitchen. They may even be the "head chef" for one meal a week.
Before being allowed to work independently it is important that they have had plenty of cooking experience with full adult supervision. Once you are happy they can follow basic kitchen and safety rules then you can reduce the supervision.
However, always ensure there is an adult around as even much older children can have accidents in the kitchen. I'm talking from experience here (I recall setting fire to the kitchen when I was 16!)
Activities for 11+ year olds
Make recipes on the stovetop - learn to stir, spread and flip foods over
Bake on their own - pulling trays in and out of the oven
Use sharp knives
Learn to independently use various kitchen gadgets (food processor, blender, stand mixer, microwave, mandoline etc)
BBQing
Recipes to try
Allow your child to look through recipe blogs or books to decide on what they want to cook!
Cooking with Kids In a Nutshell
Every child is different and the amount of time they spend in the kitchen will vary depending on the time you have and also their interest. You may find your child works ahead or behind of the suggested age guide and that doesn't matter. You know your child best and you should tailor the guide to work best for you.
Always think of kitchen safety and make this a priority when cooking with kids. Regardless if they are tots or teens.
Teach with patience, praise and encourage your children. Help them foster a love for cooking.
Finally, making a meal involves more than just cooking. Your children should be involved in all aspects of meal preparation. This starts at the grocery store and ends with the cleanup. Start teaching your children to help you fetch ingredients at the grocery store, help you put them away at home, set the table, stack the dishwasher, wash dishes, sort recycling as well as basic cleaning skills.
You May Also Like
How much cooking do you do with your children? What is their favourite cooking task?
I love seeing your little ones cooking! If they make any of these recipes please tag me on Instagram @healthylittlefoodies