Spiralized Sweet Potato Noodles and vegetables are cooked in a creamy Asian-style peanut sauce to make this super tasty, family-friendly meal.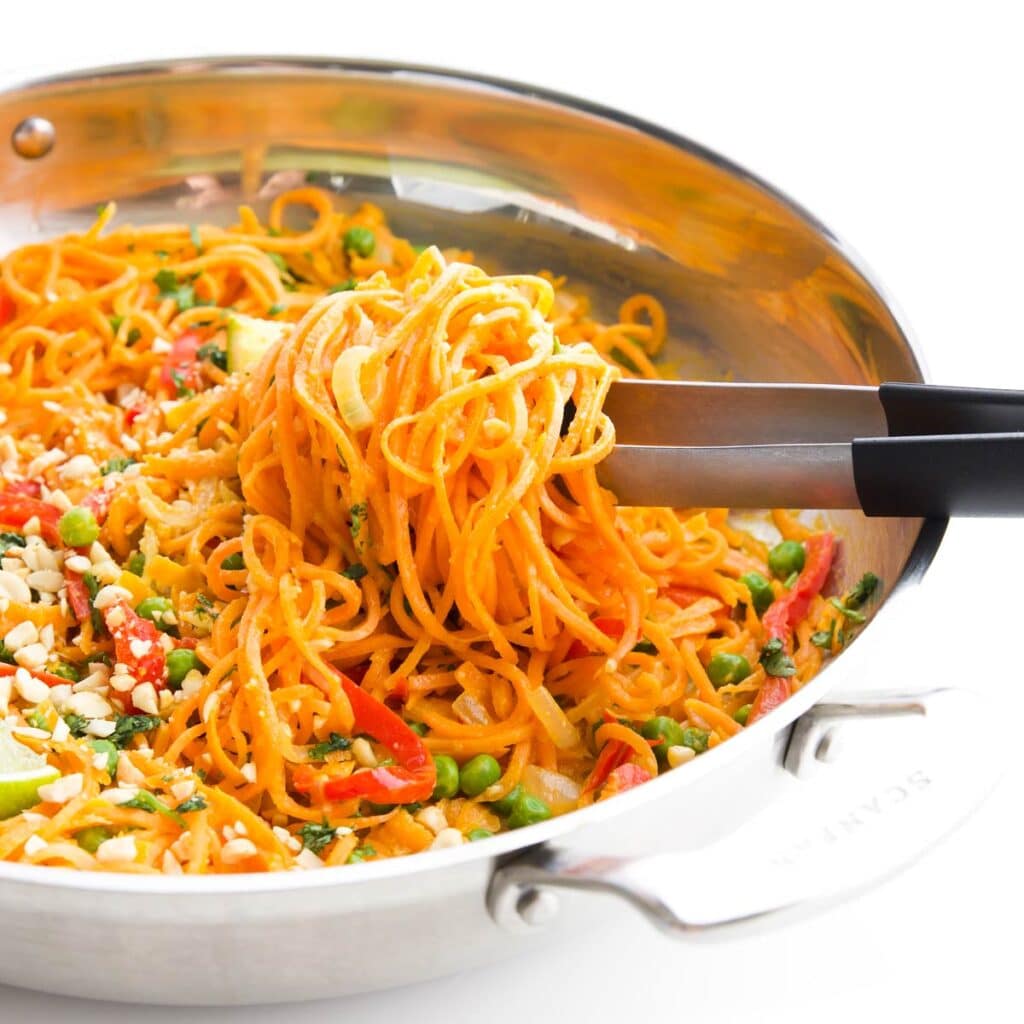 Reasons to Love this Recipe
ADAPTABLE - Keep the cooking process the same but switch out the sauce with your favourite stir fry or pasta sauce. Alternatively, keep the sauce the same but swap out the sweet potato with other spiralized zucchini, or your favourite noodles. (Cooking times will vary)
KIDS IN THE KITCHEN - There are so many benefits to getting your kids in the kitchen cooking and this is a great recipe for getting them involved. Kids love gadgets and helping to make the noodles can be a lot of fun.
FUN - Spiralizing sweet potato is a different and fun way to serve sweet potato. Variety is key when serving meals to our children. If they don't like a certain food one way, then changing the way you serve it can make a big difference.
Watch How to Make It (Video)
Spiralized Sweet Potato Noodles vs Sweet Potato Glass Noodles
When referring to sweet potato noodles in this recipe I mean sweet potatoes that have been spiralized, not the Korean sweet potato glass noodles, which are made from sweet potato starch and water. (Although I'm sure they would work really well in this recipe too!)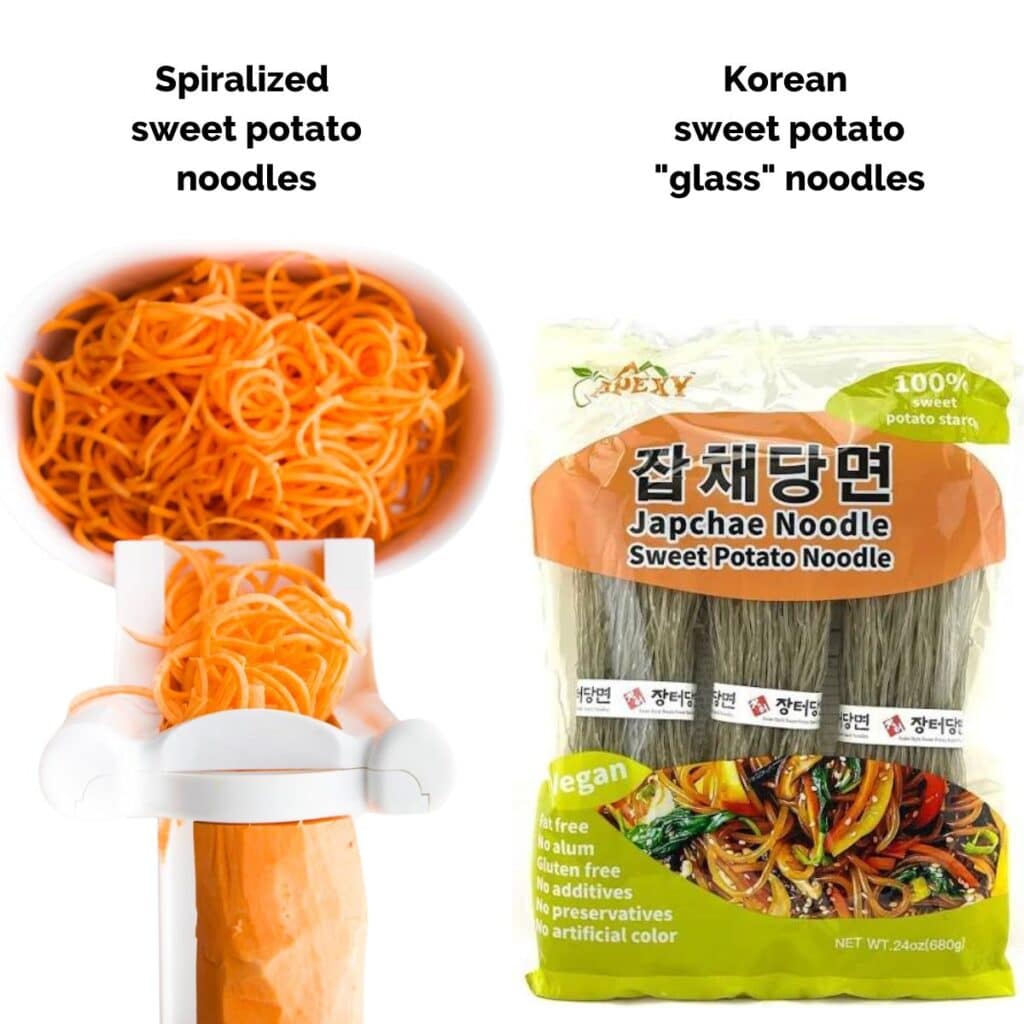 I use a spiralizer to make the noodles but if you don't have one you can prepare them using a julienne peeler, they just won't have that same noodle shape and it will take a lot more time and effort.
Spiralized sweet potatoes can no also be found in the fresh section of some major grocers so this could be an easy and convenient alternative to making your own.
To spiralize sweet potato...
Peel the potato and use a sharp knife to cut off both ends of the sweet potato. If your sweet potato is quite long you may find it easier to spiralize if you cut it in half.
Secure your potato in the spiralizer and, using a good amount of pressure, turn the handle until you spiralize the entire potato section.
Ingredients Information (With Alternative Suggestions)
This section gives a little more information on the ingredients and suggests alternatives. For the full recipe, with ingredient amounts, scroll to the recipe card at the bottom of the post.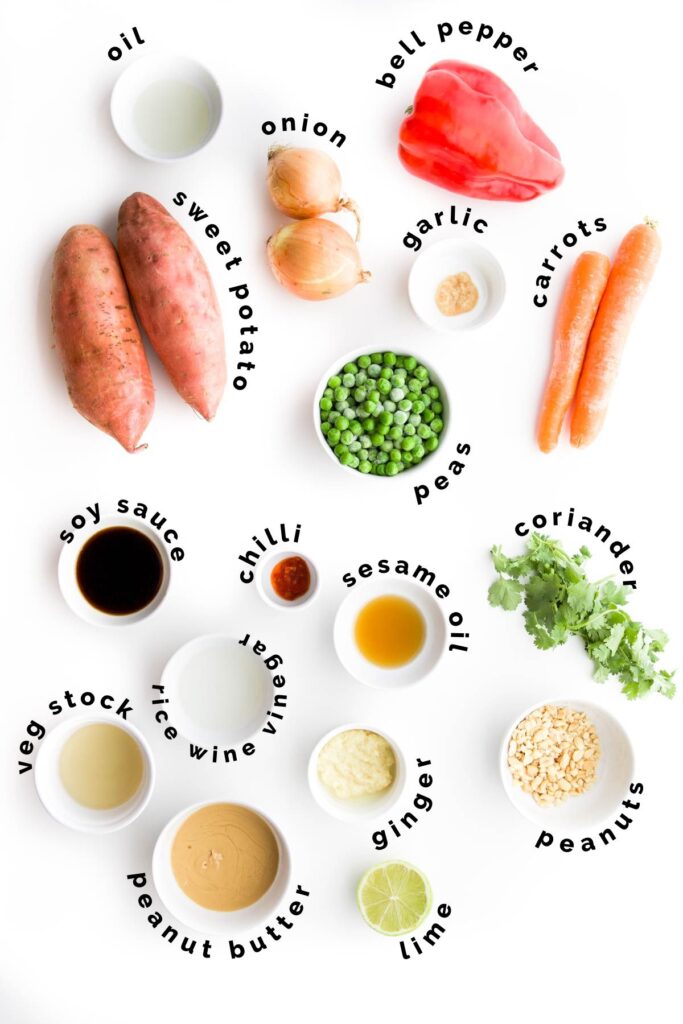 SWEET POTATO - Used to make the noodles. You can also buy pre-spiralized in the fresh section of many supermarkets now.
VEGGIES - Added to the stir fry for added flavour and texture. You can play around with the vegetables you add to suit your taste and what you have available.
SAUCE INGREDIENTS -
Peanut butter - can be replaced with any nut butter
Stock - Used to thin out the sauce which you may need to increase depending on the type of peanut butter you use. You can replace with water.
Rice wine vinegar - If you don't have any you could replace it with a different vinegar such as white wine or apple cider.
Soy sauce - can be replaced with tamari or coconut aminos for a gluten free, lower sodium alternative
Sesame oil - gives the sauce a lovely nutty flavour but you can replace with an alternative light tasting oil.
Ginger - My family love the ginger flavour in this sauce but you may wish to start with a smaller amount, taste the sauce and then add more to taste.
Chilli - only a touch is added to keep this meal kids frinedly. You can skip it or or add extra to taste.
LIME JUICE - Added at the end of cooking and really elevates the dish
CORIANDER (CILANTRO) - Added for extra flavour, skip if you hate it.
PEANUTS - Adds crunch to the dish, just make sure to chop finely if serving young children.
Process Shots and Cooking Steps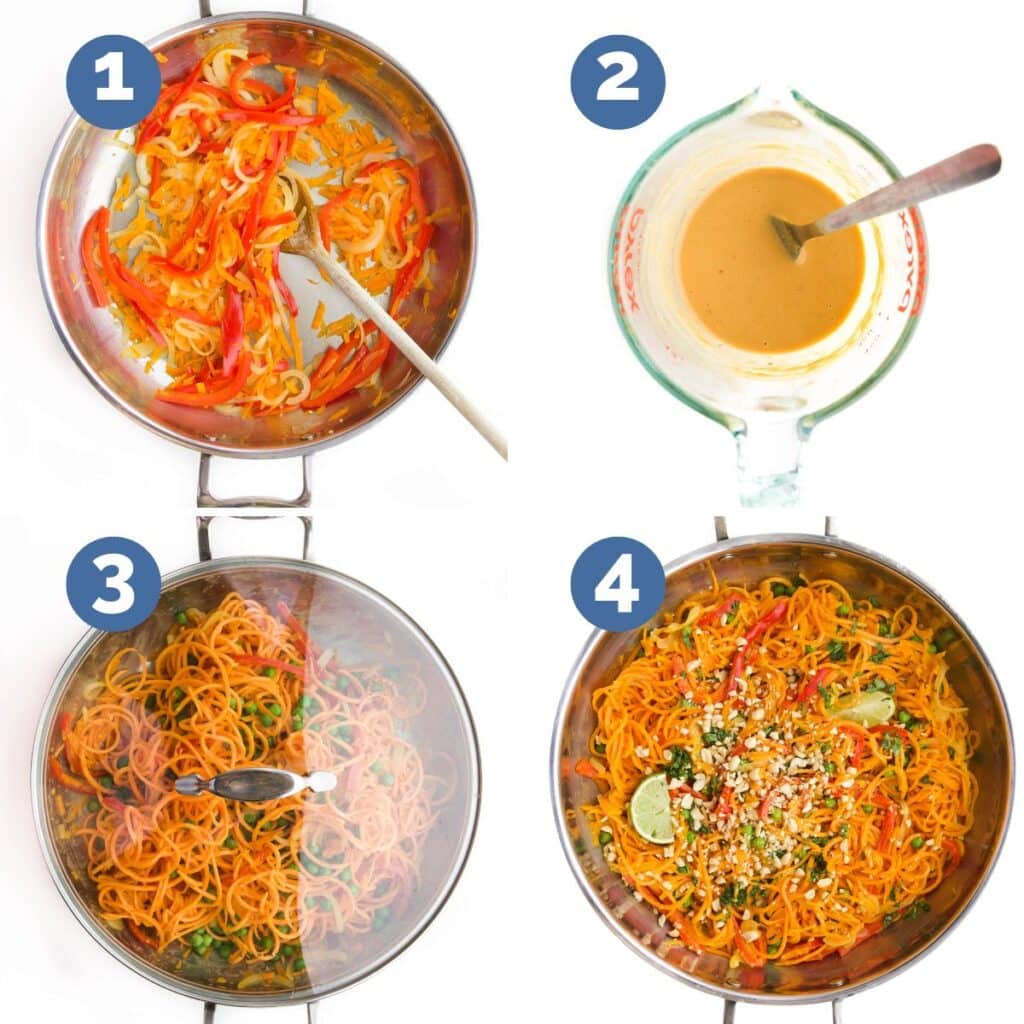 SOFTEN VEGETABLES - Allow them to cook, over low heat, for 6-8 mins to soften and bring out their natural sweetness.
PREPARE SAUCE - Add all the sauce ingredients to a jug and whisk well. If it is a little thick (it can be depending on the peanut butter used) you can thin it out with a little more stock (or water). Start with a teaspoon at a time.
COOK - Add the sauce to the vegetables and stir. Then add the sweet potato noodles and gently toss to coat in the sauce. Add the peas, cover and gently heat for approx. 10 mins. Keep checking and lightly tossing your noodles. Due to the sugars in sweet potatoes if you aren't careful they can caramalize and stick to the bottom of the pan. Using a non-stick pan can help to prevent this.
FINISH - Squeeze in the lime juice, sprinkle the chopped coriander (cilantro) and mix through. Serve and top with the chopped nuts.
Serving Suggestions
As a main meal: This is a great meal as it is. Add some cooked prawns, shredded chicken or tofu if you wish to add more protein.
As a side dish: Serve as a side with a variety of meat dishes such as fish, chicken or pork.
Storage Instructions
Place leftovers in an airtight container and refrigerate for up to two days.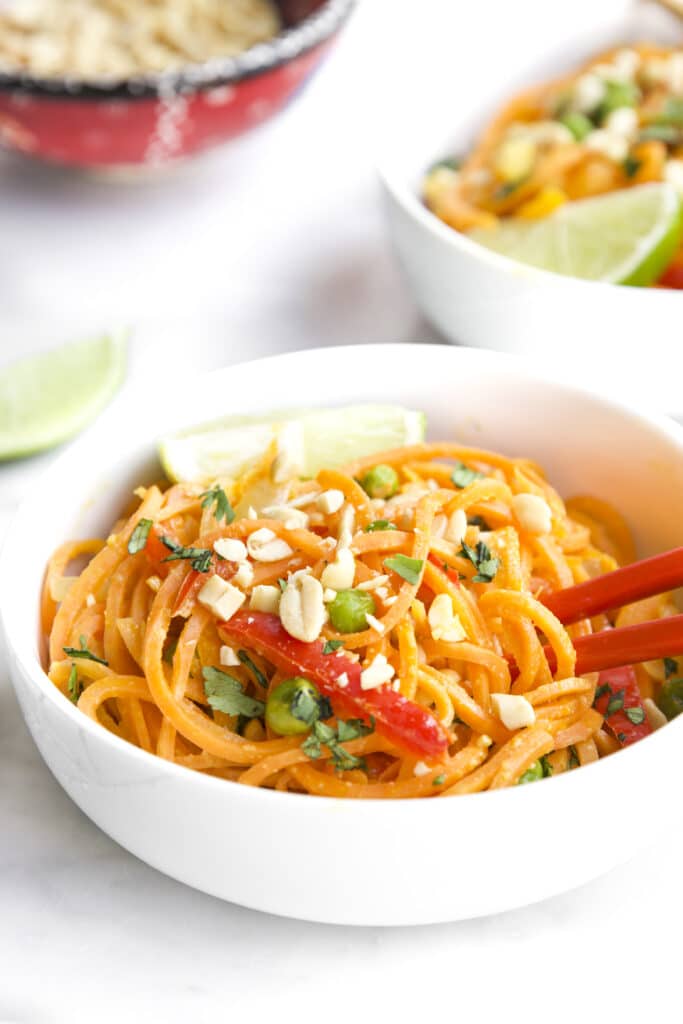 Other Sweet Potato Recipes You May Like...
Looking for another way to use your spiralizer?
Have you tried this recipe? I love receiving your feedback, please rate and leave a comment below or tag me on Instagram @healthylittlefoodies
Looking for more healthy kid recipes?Sign up for my free recipe newsletter to get new family friendly recipes in your inbox each week! Find me sharing more kid-friendly inspiration on Pinterest and Instagram.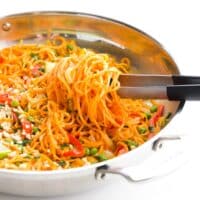 Sweet Potato Noodles in a Peanut Sauce
Sweet potato noodles and veggies cooked in an Asian influenced peanut sauce.
Prep Time: 15 minutes
Cook Time: 20 minutes
Total Time: 35 minutes
Serves:4
Hover over "serves" value to reveal recipe scaler
Ingredients
Stir Fry Ingredients
1 tablespoon Vegetable Oil
2 Onions halved and finely sliced
1 teaspoon Minced Garlic
1 Red Bell Pepper (capsicum) cut into thin strips
2 small Carrots grated
2 medium Sweet Potato spiralized / grated into noodles (mine were 550g after spiralized and around 5 cups worth)
1 cup (145g) Frozen Peas
Sauce Ingredients
3 teaspoon Sesame Oil
3 tablespoon Soy Sauce low sodium
1½ tablespoon Rice Wine Vinegar
3 tablespoon Peanut Butter
1 tablespoon Minced Ginger *SEE NOTES
½ teaspoon Minced Chilli (optional)
3 tablespoon Vegetable stock / Chicken stock / Water more as needed
Finishing Ingredients / garnish
1 tablespoon Coriander (Cilantro) finely chopped
½ Lime juice of
¼ cup (35g) Peanuts chopped
Instructions
In a large nonstick frying pan, heat the oil over medium heat and add the onion. Cook for a couple of minutes before adding the garlic, carrots and bell peppers. Allow to cook, over low heat, for 6-8 mins - until the vegetables have softened.

Meanwhile, as the vegetables are softening, add the sauce ingredients to a jar/bowl and whisk until combined.

Add the sauce to the vegetables and stir. Then add the sweet potato noodles and gently toss to coat in the sauce. Add the peas, cover and cook over a gentle heat for approx. 10 mins. Keep checking every couple of minutes to make sure the sauce/noodles aren't catching/burning. Add more stock if needed.

Stir in the coriander (cilantro) and the lime juice

Dish up and sprinkle with the crushed nuts.
Recipe Notes
GINGER - I use minced ginger from a jar and found 1 tablespoon was a good amount for my family. You may wish to start with 1tsp, taste the sauce and add more if you like the ginger flavour. Freshly minced may also be stronger in flavour. 
A non-stick pan works best for this recipe. 
Refrigerate leftovers, in an airtight container, for up to two days. 
Nutritional information is a ROUGH guide only, calculated using an online nutrition calculator. 
Nutritional facts
Calories: 351kcal | Carbohydrates: 49g | Protein: 12g | Fat: 14g | Saturated Fat: 2g | Polyunsaturated Fat: 4g | Monounsaturated Fat: 6g | Sodium: 902mg | Potassium: 957mg | Fiber: 10g | Sugar: 14g | Vitamin A: 24934IU | Vitamin C: 65mg | Calcium: 96mg | Iron: 3mg