Sweet Potato Love….
Oh how my boys love sweet potato! Roasted, mashed, boiled, in pancakes, as pie toppers….it doesn't really matter. They just love them, which is great really as they are so good for us and provide a range of nutritional benefits. One medium sweet potato contains well over our daily requirement of Vitamin A and gives us a good dose of Vitamin C, potassium and fibre.
From Sweet Potato Flatbreads to Sweet Potato Truffles….
I like to serve sweet potatoes at least once a week and I love experimenting with different recipes. I recently saw a recipe for sweet potato flatbread. The pictures looked amazing and the recipe looked pretty simple. However, I just couldn't get it to work. The mixture was too sticky and no matter how much I adapted it, I couldn't form the flatbreads. It tasted really good though and I knew that I could modify the mixture to make these delicious sweet potato truffles.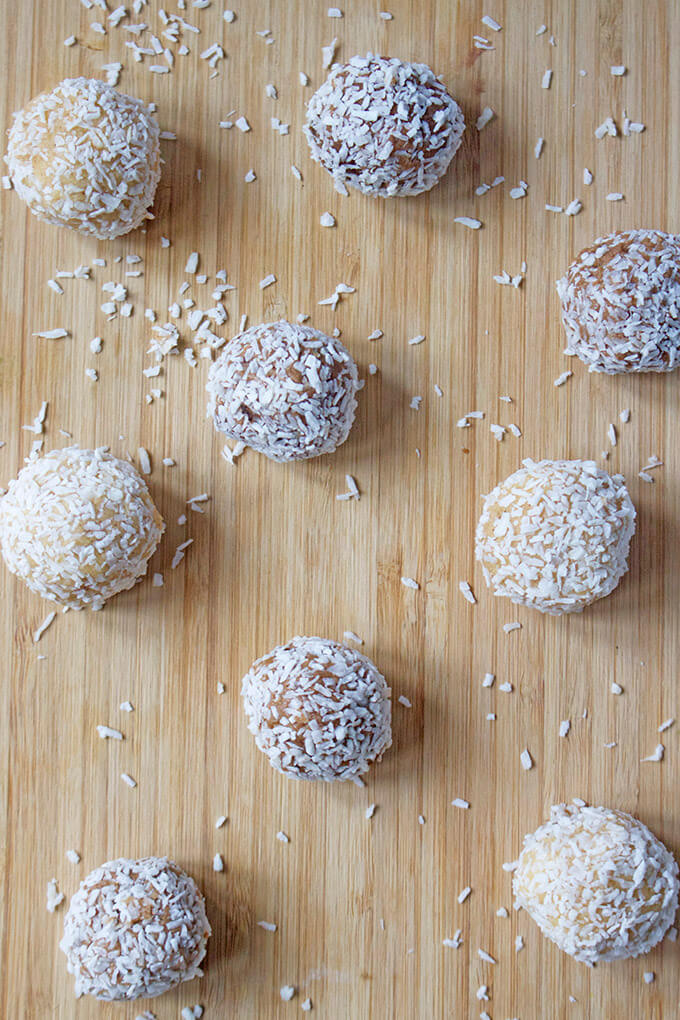 So Simple, So Delicious and So Nutritious.
You are going to love these sweet potato truffles, they are tasty, good for you and so simple to make. I had my helper in the kitchen and we made two variations, a super healthy version and a more indulgent one.
We combined cooked sweet potato with ground almonds and then added cinnamon to enhance the sweetness. We then rolled the mixture into balls, chilled them and coated in some unsweetened coconut. This version was perfectly sweet enough for my youngest (7 months) and at such a young age I try not to add too much extra sweetness. I would recommend you stick with this version if serving to a baby. Finn was happy with this version too but he definitely preferred the sweeter truffle.
For the more indulgent version, we added a few dates and some cacao powder to the original recipe. This one is definitely my favourite but it also has a higher sugar content with the added dates and is therefore definitely a treat, rather than an everyday snack. You can easily add more dates and cacao to the mixture, to suit taste.
I have made these many times and find that I have to vary the almond meal content each time depending on how wet the potatoes are. I find that mashed roasted potatoes give the nicest result but just play around with the measurements, the recipe is very flexible. The truffles are softer than usual truffles and are quite delicate to roll, I find wetting my hands before rolling works best.
You have got to give these a try. They are pre schooler approved……
and baby approved…….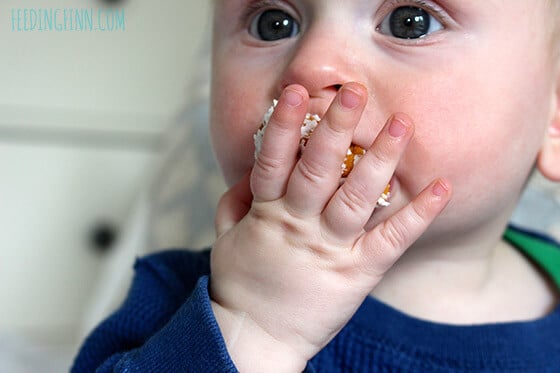 Sweet Potato Truffles
Ingredients
1

cup

(255g) Mashed Sweet Potato

I find baked sweet potato works best in this recipe, boiled can be too wet.

1

cup

(120g) Almond meal*

1 1/2

tsp

Cinnamon**

20

g

Dates

(optional / for version 2)**

1

tsp

Cacao Powder

(optional /for version 2)**

Unsweetened desiccated coconut

(for rolling)
Instructions
Version 1

Mix the sweet potato, almonds and cinnamon together.

Form into balls, chill for 10 mins and then roll in coconut.

Version 2

In a food processor blend all the ingredients (apart from the coconut) together until combined.

Form into balls, chill for 10 mins and roll in coconut.
Recipe Notes
* The amount of almond meal needed may vary depending on the level of moisture in the potatoes.
**These ingredients can be increased / decreased to suit taste.
Keep chilled.