Soft and subtly sweet, these Sweet Potato Truffles are sure to be a hit with everyone in the household.
Our household is a massive fan of the humble sweet potato. Although we mainly enjoy them in savoury meals, we also appreciate the diversity of this root vegetable. They are deliciously sweet and a great addition to many desserts and sweet treats.
Like in these Sweet Potato Truffles...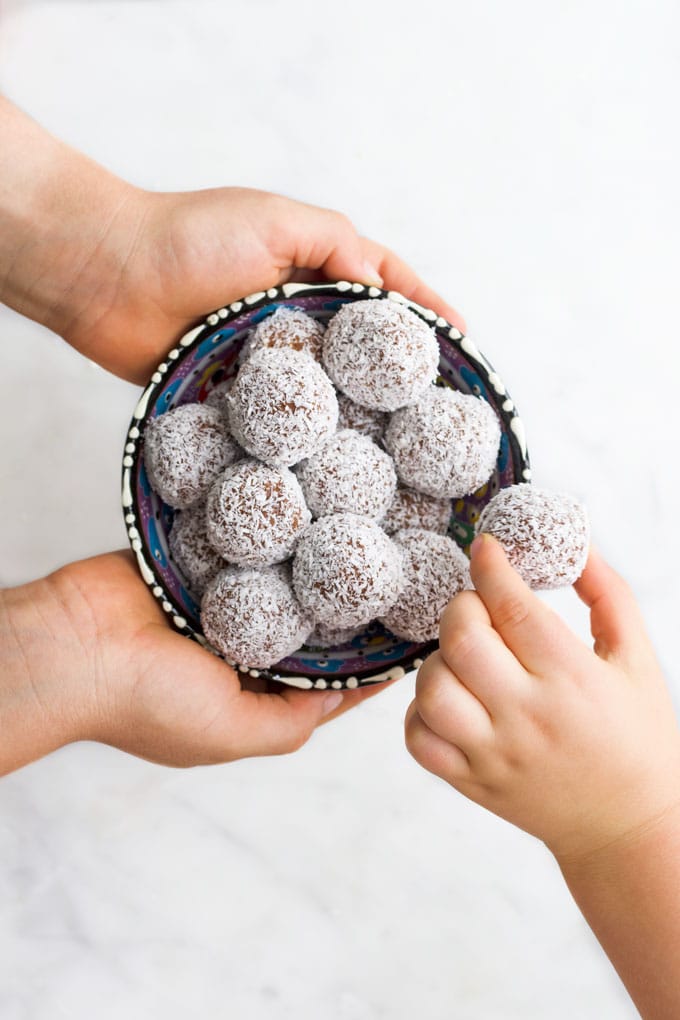 How To Make Sweet Potato Truffles
This is a very simple recipe, with very little steps
Add sweet potato, almond meal, dates, cacao & cinnamon to a food processor
Blend until smooth
Roll into balls
Chill &
Roll in coconut
That being said there are a few tips to ensure you make the BEST Sweet Potato Truffles...
Sweet Potato - This recipe calls for mashed sweet potato. Please make sure your mash is from roasted sweet potato. If you use boiled potato, the mash will be too wet and will lack the sweetness that roasting provides. I usually make these when I have leftovers. If you are unsure how to bake sweet potatoes then you can follow these instructions.
Almond Meal - You can replace with almond flour if you prefer. The amount needed may vary depending on how wet your potato is. If the mixture feels a little wet, add an extra tablespoon until you achieve a mixture that can easily be rolled.
Dates - I used Medjool dates which blend easily. If your dates are dry you should soak in boiling water for 5 minutes to soften them before blending.
Cacao & Cinnamon - These are optional add-ins and can be adjusted to suit taste. You could also try powdered ginger, nutmeg, mixed spice or some vanilla.
Rolling - The mixture is very sticky, to make it easier to handle, wet your hands before rolling.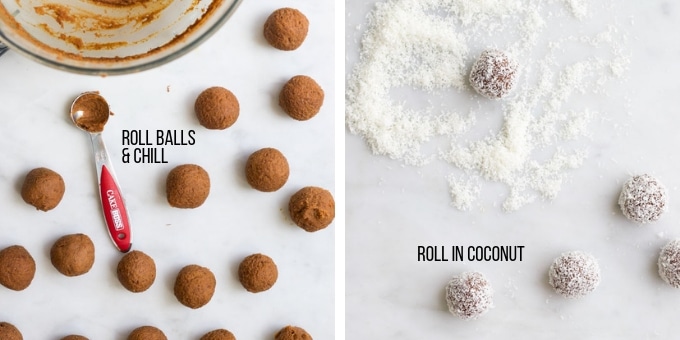 Sweet Potato Truffles for Babies
I used to make these a lot when my youngest was a baby. However, I did leave out the dates and cacao. This less indulgent version was perfectly sweet enough for my 7-month-old.
At such a young age I tried not to add too much extra sweetness and so I didn't see the need for the dates.
Try making them without the dates first and see what your baby makes of them. You can always double up and make the sweeter version for the rest of the family.
Nutrition
Sweet Potatoes are a great source of carbohydrate and are packed full of fibre, Vitamin A and Vitamin C.
Almond Meal is a good source of protein, healthy fats and fibre.
Dates contain several vitamins and minerals, in addition to fibre and antioxidants.
Although packed with goodness, this snack is still a treat and we should be mindful of portion sizes.
Storing Sweet Potato Truffles
Sweet Potato Truffles are enjoyed best from chilled.
Store in an airtight container and refrigerate for up to 1 day or freeze for up to 2 months.
You may also like
Have you tried this recipe? I love receiving your feedback, please rate and comment below or tag me on Instagram @healthylittlefoodies.
Looking for more healthy kid recipes?Sign up for my free recipe newsletter to get new family friendly recipes in your inbox each week! Find me sharing more kid-friendly inspiration on Pinterest and Instagram.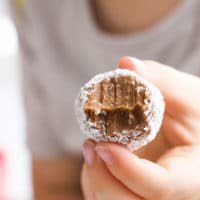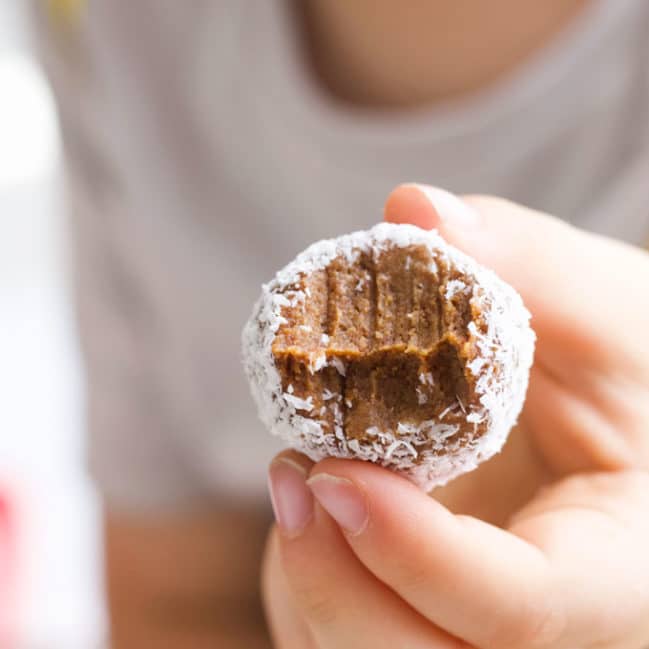 Sweet Potato Truffles
Soft and subtly sweet, these Sweet Potato Truffles are sure to be a hit with everyone in the household.
Prep Time: 15 minutes
Total Time: 15 minutes
Serves:18 Truffles
Hover over "serves" value to reveal recipe scaler
Ingredients
225g (1 cup) Baked & Mashed Sweet Potato
110g (1 cup) Almond meal SEE NOTE 1
53g (5) Medjool Dates, pitted SEE NOTE 2
2 teaspoon Cacao Powder SEE NOTE 2
1 ½ teaspoon Cinnamon
15g (¼ cup) Unsweetened desiccated coconut (for rolling)
Instructions
Add the sweet potato, almond meal, dates, cacao powder and cinnamon to a food processor and blend until smooth

Roll the mixture into tablespoon sized balls and then place in the refrigerator, for 10 mins, to firm up and make them easier to roll in the coconut.

Remove from the refrigerator and roll in the coconut.
Recipe Notes
The amount of almond meal needed will vary depending on the moisture content of the sweet potato. If the mixture is too wet to roll easily then add some more.
For young babies, you may wish to reduce the sugar level by missing out, or reducing, the dates. You may also wish to skip the cacao due to caffeine content. When my boys were babies I missed out both the dates and cacao and they were more than happy to eat them.
To stop the mixture sticking to your hands, wet your hands before rolling. 
I first published this recipe in May 2015 but have updated the post with new photos and recipe information.
Nutritional information is a ROUGH guide only, calculated using an online nutrition calculator. 
Nutritional facts
Calories: 59kcal | Carbohydrates: 6g | Protein: 1g | Fat: 3g | Saturated Fat: 0g | Cholesterol: 0mg | Sodium: 7mg | Potassium: 67mg | Fiber: 1g | Sugar: 2g | Vitamin A: 1780IU | Vitamin C: 0.3mg | Calcium: 21mg | Iron: 0.4mg