Serve these roasted sweet potatoes and apples as a side, snack or as part of a salad bowl. The perfect balance between sweet, tart, and savory
Jump to:
Reasons to Love This Tray Bake
Easy: You do the chopping the oven does the rest.
Healthy: Sweet potato can be a great source of nutrition for growing children. They are rich in several essential nutrients such as potassium, calcium, and vitamins A, C, and B-complex. Apples provide lots of fiber, vitamin C, vitamin B6, and antioxidants to help a little one thrive.
Family Friendly: Great for babies (both spoon-fed or baby-led weaning), toddlers, big kids and adults. The whole family will love this!
Versatile: Change up the herbs/oil/spices for a completely different flavour profile (suggestions given below). Serve as a Thanksgiving side, weeknight side, toss through salad bowls or offer as a snack.
Video Tutorial
Ingredient Info and Substitutes
Sweet potatoes. Any variety of sweet potatoes will work. Orange is pictured but you can sub with purple or white sweet potatoes.
Apples. This recipe uses Granny Smith apples. The tart flavor complements the sweetness of the potatoes and the apple keeps its shape well. You can, however, use any variety of apples.
Oil. Olive oil is used but you can use your preferred oil. However, do take into consideration that the oil used will change the overall taste of the dish. E.g if you are looking for a sweeter profile, coconut oil is a great substitution.
Seasoning: This recipe adds rosemary and thyme but there are many other sweet and savory spices and herbs that work well with both apple and sweet potato. Why not try curry powder, tarragon, parsley, coriander, or chives. For a sweeter profile, use coconut oil and spice with cinnamon, cardamom and/or allspice.
Process Shots and Cooking Tips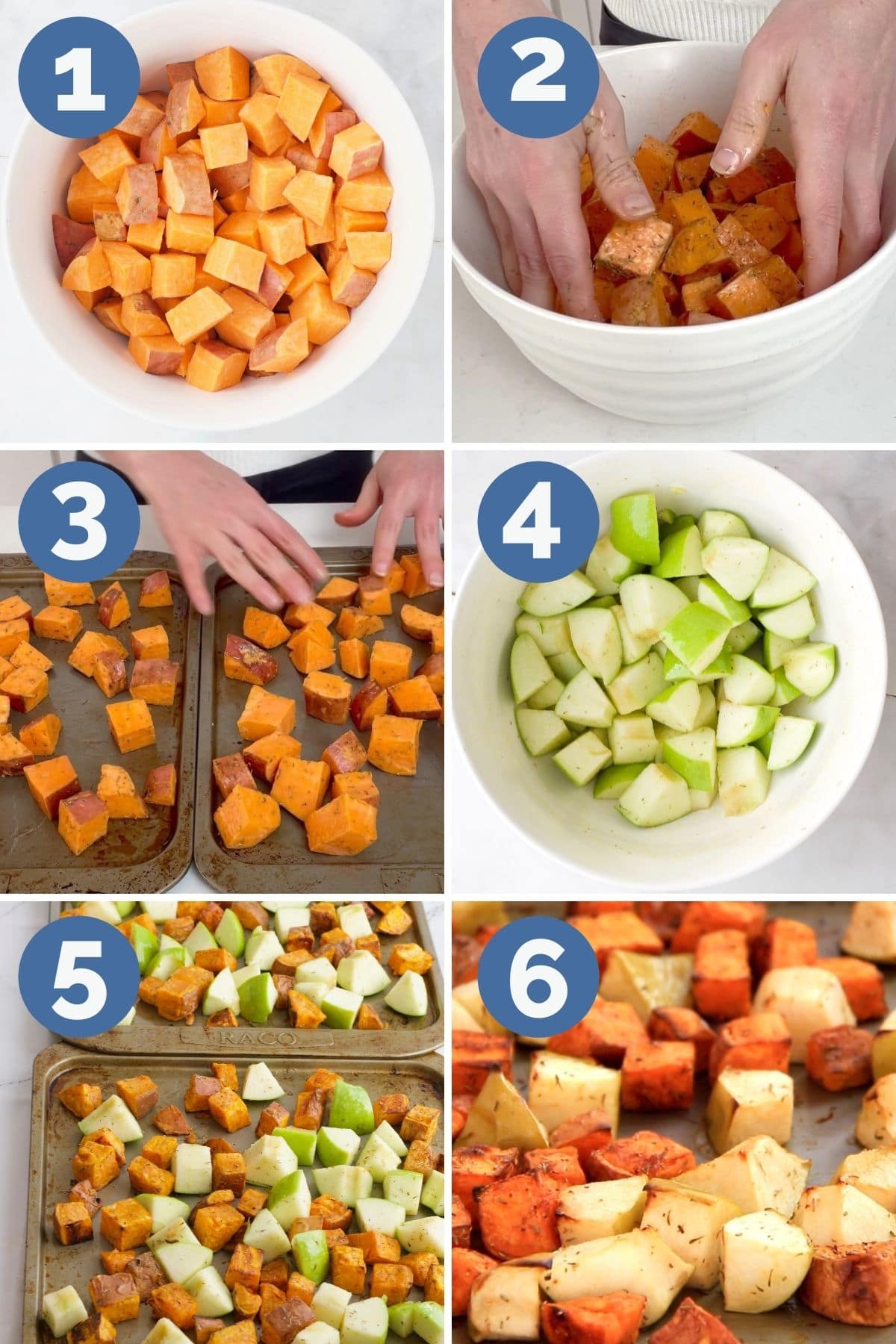 Prepare Sweet Potato: Chop your sweet potato. Keep roughly the same size for uniform cooking.
Coat Sweet Potatoes in Oil & Herbs: Make sure you really coat the sweet potato well in oil, this helps to prevent them from sticking to the roasting pan and to encourage browning and caramelisation.
Arrange on Two Baking Trays: Don't be tempted to cram too much on the one pan as this will cause excess moisture and you will end up with soggy sweet potato. Bake for 20 mins.
Prepare Apple: Core and chop your apples, keeping them roughly the same size for uniform cooking. Using the same bowl as the sweet potato, coat in oil and herbs.
Remove Sweet Potato from The Oven The sweet potato cubes should be soft and starting to brown. Add the apple pieces to both trays and return to the oven for a further 15 mins.
Remove From Oven – Allow the cubes to sit for a couple of minutes, this will make it easier to toss and remove from the tray.
Making for a Baby - Cooking Tips and Serving Suggestions
Don't shy away from adding spices and herbs when making food for your baby. It is great to introduce a wide range of flavours at a young age.
You can puree, mash or serve as a finger food.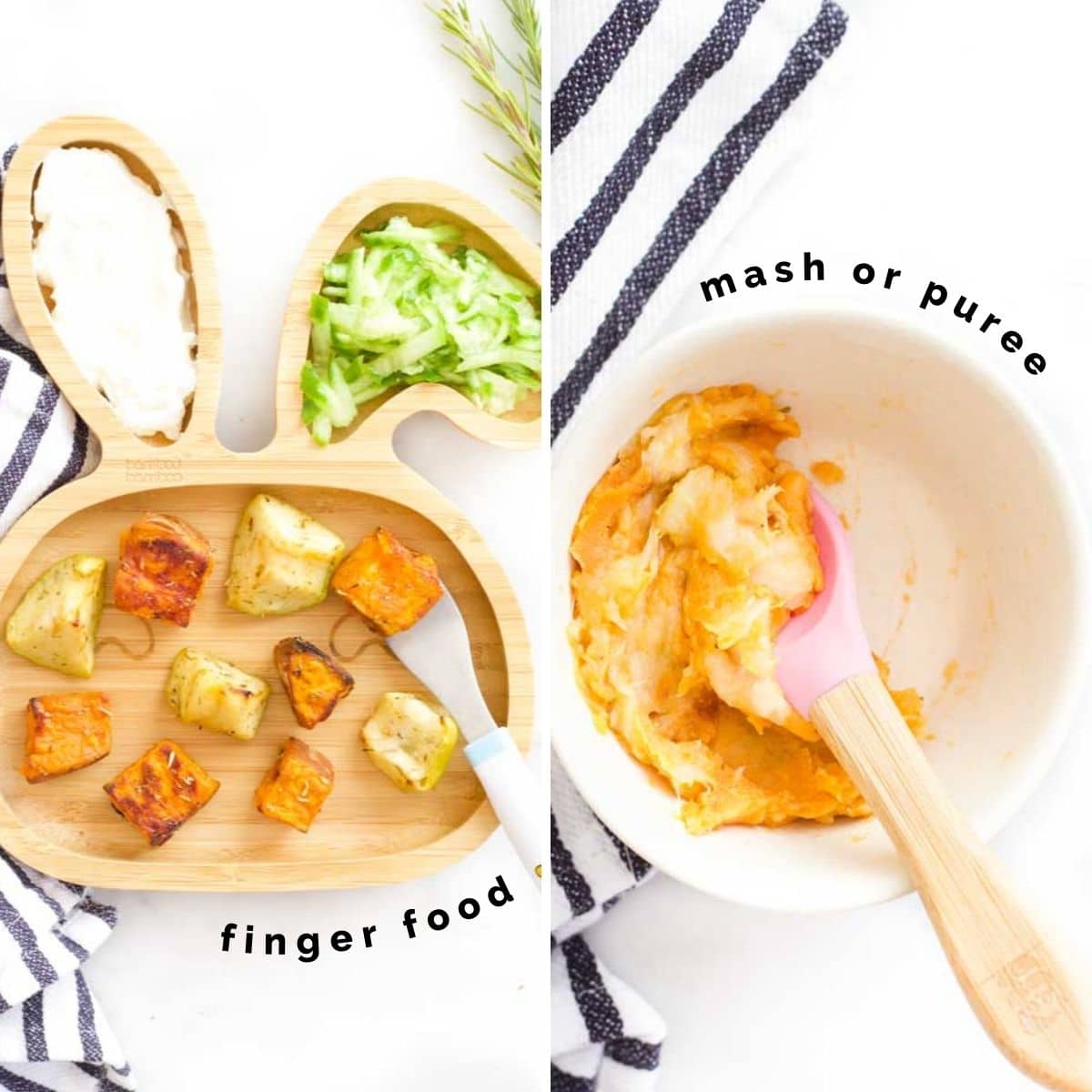 Serving Suggestions
Serve as a side along with chicken, pork or fish. Also great as a Thanksgiving side.
Toss through quinoa bowls or add to salad bowls
Serve as a snack or lunchbox filler
Storage Instructions
Add any leftovers to an airtight container and refrigerate for up to two days.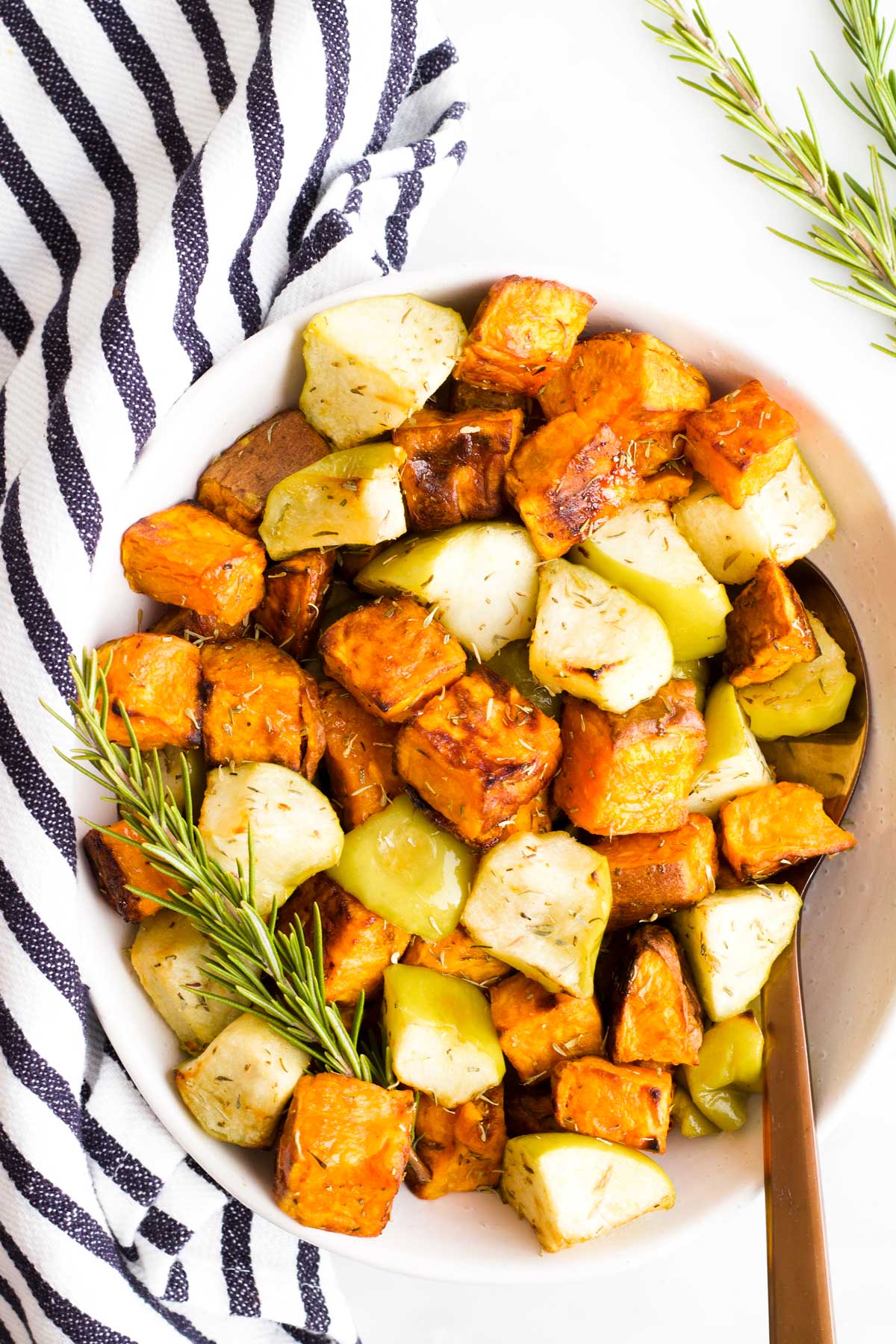 You may also like...
Looking for more healthy kid recipes?Sign up for my free recipe newsletter to get new family friendly recipes in your inbox each week! Find me sharing more kid-friendly inspiration on Pinterest and Instagram.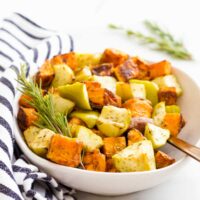 Roasted Sweet Potato and Apple
Chunks of sweet potato and apple roasted together
Prep Time: 10 minutes
Cook Time: 40 minutes
Total Time: 50 minutes
Serves:6
Hover over "serves" value to reveal recipe scaler
Ingredients
2 Medium (1kg) Sweet Potatoes
3 Apples
3 tbsp Olive Oil
1 tsp Dried Rosemary
1 tsp Dried Thyme
½ tsp Salt do not add if making for a baby
Instructions
Pre heat oven to 215C / 420F

Wash, scrub and cut the ends off the sweet potatoes. Cut into 2.5cm / 1 inch cubes 

In a large bowl, toss the cubed sweet potatoes with 2 tablespoon of the olive oil, half the herbs and the salt. Stir until coated.

Arrange potatoes in a single layer over two baking trays, making sure to not to overcrowd. Bake for 20 min, stirring halfway through.

While the sweet potatoes are baking, core and chop the apples into 2.5cm / 1 inch cubes. Add to a large bowl and toss in the remaining oil and herbs.

After 20 minutes, remove the sweet potatoes from oven, add the apples and stir to combine.

Return to the oven and bake for a further 15 minutes, stirring halfway through.

Allow to cool for a couple of minutes before removing from the tray.
Recipe Notes
Apples: You can use any variety. Pictured are Granny Smith apples which provide a lovely tartness to complement the sweetness of the potato. Herbs: Not keen on rosemary and thyme? Why not try tossing in curry powder, coriander, or sumac. Looking for a sweeter profile? Try using coconut oil and tossing in cinnamon, cardamon, and/or allspice.  Don't Overcrowd: If you overcrowd the pan the sweet potatoes will steam and will become soft and mushy. Two roasting pans are recommended.  Nutritional information is a ROUGH guide only, calculated using an online nutrition calculator. 
Nutritional facts
Calories: 253kcal | Carbohydrates: 46g | Protein: 3g | Fat: 7g | Saturated Fat: 1g | Polyunsaturated Fat: 1g | Monounsaturated Fat: 5g | Sodium: 287mg | Potassium: 661mg | Fiber: 7g | Sugar: 16g | Vitamin A: 23701IU | Vitamin C: 8mg | Calcium: 59mg | Iron: 1mg