This Apple Overnight Oats recipe is a healthy breakfast that you can make ahead of time for busy mornings. A delicious and nutritious start to the day.
If you are always in a rush in the morning, overnight oats are a game-changer. You can enjoy them in a variety of ways (banana overnight oats, mango overnight oats, strawberry overnight oats, blended overnight oats and of course these apple overnight oats). Or, if you're craving a different option, give Overnight Weetabix a go!
Jump to:
Reasons to Love this Recipe
Convenience: Perfect for busy mornings. Everything is done in advance and breakfast is ready to be served when you get up.
Nutritious: A dense source of good carbohydrates and minerals. Oats also has more protein than many other grains and is a good source of iron and zinc
Delicious: The added apple, cinnamon and ginger make this breakfast taste like apple pie!
Customisable: You can make a batch of the base recipe and customise the add-ins to suit taste / what you have available.
Allergy Friendly: This recipe is easily adapted to suit dietary requirements. Go gluten-free by using gluten-free oats or dairy-free by using a plant-based milk and yogurt.
Video Tutorial
Ingredient Information
For the full recipe, with ingredient amounts, scroll to the recipe card at the bottom of the post.
Rolled / Old Fashioned Oats result in the best consistency. Quick oats are better for a shorter soaking time and steel-cut oats should be soaked longer.
Chia Seeds are optional, they provide extra nutrition and also make the overnight super creamy and pudding-like.
Cinnamon & Ginger adds sweetness and flavour, giving the oats an apple pie like flavour.
Grated Apple adds sweetness, grating allows you to get a taste of apple in every bite. If you prefer, you can dice the apple (not suitable if making for a baby) or use apple puree/ sauce.
Milk – use your preferred milk.
Yogurt adds extra protein and creaminess. Use a dairy or plant-based yogurt.
Step by Step Instructions and Tips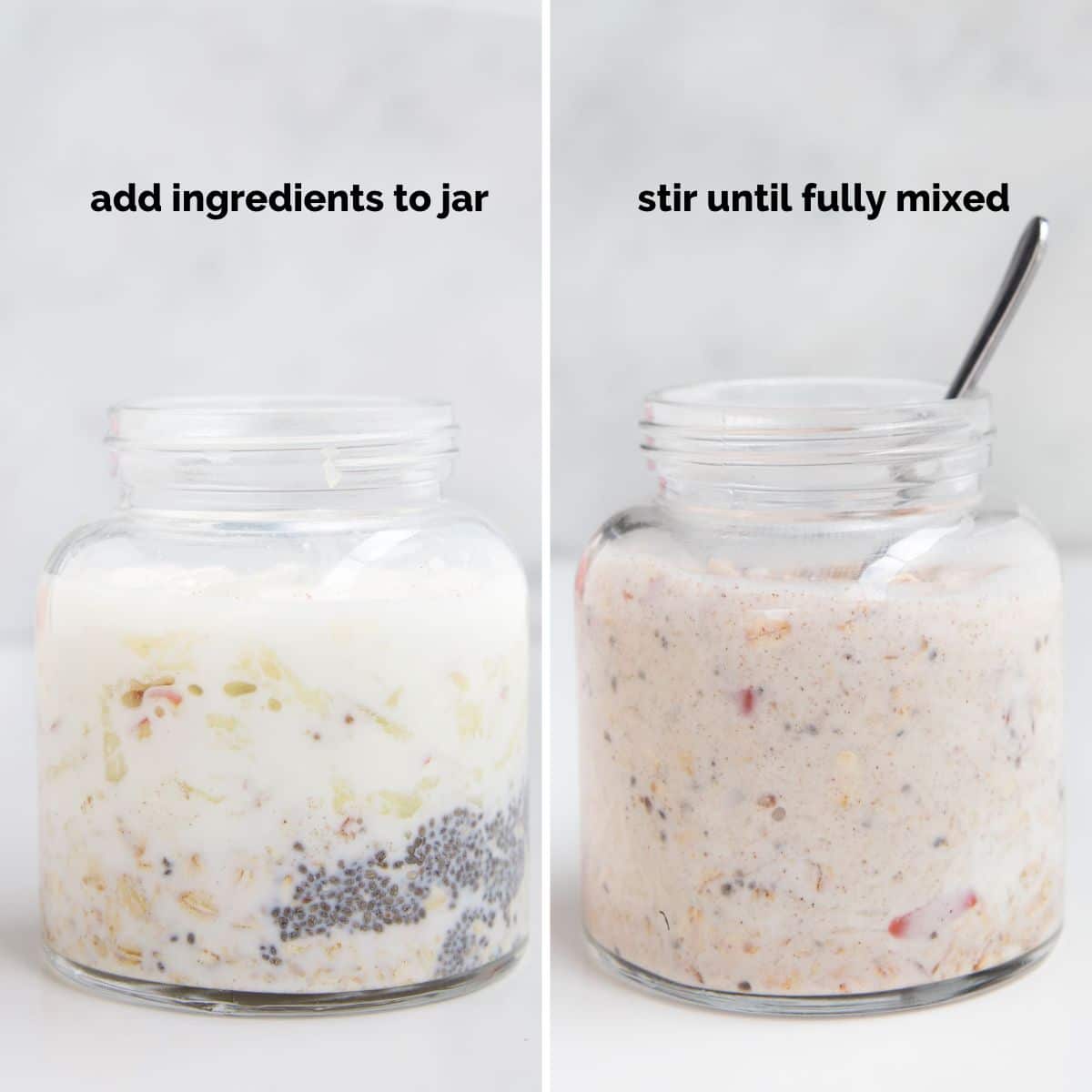 You can prepare apple overnight oats in a regular bowl, glass jar or container.
Combine all the ingredients in a bowl, glass jar or container.
For smaller jars, start by mixing the dry ingredient, then add the grated apple and a splash of milk before stirring again, Finally add the remaining milk and yogurt to ensure everything is mixed together perfectly. If using a larger bowl or container, you can just add everything and stir.
Refrigerate overnight.
By morning, the oats will have soaked up the milk and softened, creating a deliciously creamy texture. If you prefer a thinner consistency, simply add more milk to achieve your desired texture.
Topping Ideas
You can serve these overnight oats with a variety of toppings. Experiment with different combinations to find your (or your kids) perfect match.
Apples: Top with diced apples for a crisp, fresh taste or stewed apples for a warming touch.
Nuts and Seeds: Add crunch with chopped almonds, walnuts or pecans. Or sprinkle with pumpkin seeds or flaxseeds for added fibre and healthy fats.
Spices: Add more cinnamon and ginger or a little nutmeg to enhance the flavour.
Sweeteners: If you like your oats a little sweeter then try drizzling on some honey or maple syrup.
Nut Butters: Add some richness and creaminess with a spoonful of nut butter.
Recipe FAQs
Do you eat overnight oats hot or cold?
Overnight oats are typically served chilled, straight from the refrigerator. If you prefer, you can heat the oats up in the morning. Heat them in the microwave, in a microwavable container, for around 60 seconds (or until piping hot), stirring frequently. Alternatively, transfer to a small saucepan and heat on the stove until piping hot. Allow cooling before serving to baby/ young child.
Are overnight oats good for you?
Yes, but like many recipes, the nutritional content can vary considerably depending on the recipe. (The type of milk used, add-ins /toppings you choose to include and any sweeteners used.)
Can babies (6 month +) have overnight oats?
Yes, the oats are soft but textured so they are a good step up from pureed baby food. If you want a smoother texture you can blend or use ground oats or quick oats.
Dairy is a common allergen so introduce it separately first before offering this recipe.
Grate the apple or use apple puree rather than chopping, to prevent choking. (read more about serving apples to babies)
Can you store leftovers / make in advance?
If you wish to batch prepare larger portions of this recipe, it is best not to add the grated apple until the night before. The recipe, minus the apple, can be refrigerated for up to 4 days.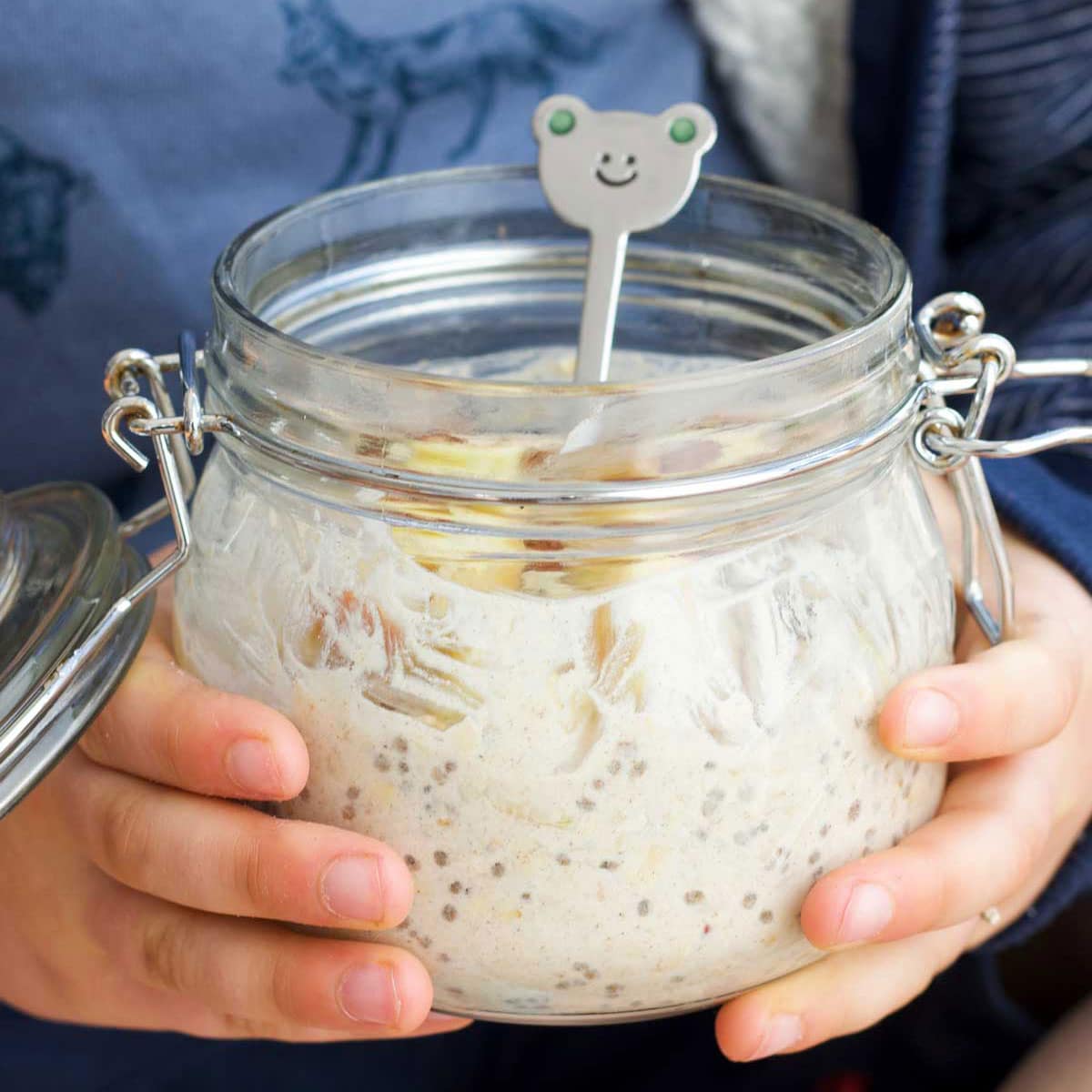 Other Apple Recipes
Looking for more healthy kid recipes?Sign up for my free recipe newsletter to get new family friendly recipes in your inbox each week! Find me sharing more kid-friendly inspiration on Pinterest and Instagram.
Apple Overnight Oats
This Apple Overnight Oats recipe is a healthy breakfast that you can make ahead of time for busy mornings.
Prep Time: 10 minutes
Resting Time: 4 hours
Total Time: 4 hours 10 minutes
Serves:1
Hover over "serves" value to reveal recipe scaler
Ingredients
⅓ cup (40g) Rolled Oats
½ tbsp Chia Seeds
½ tsp Cinnamon
¼ teaspoon Dried ginger
½ Apple grated
½ cup Milk
¼ cup Greek yoghurt
Instructions
Add oats, chia seeds, cinnamon to a glass jar / Tupperware container / bowl and stir to combine.

Add the grated apple and a splash of the milk. Stir to fully combine

Add the remaining milk & yogurt, stir, cover and refrigerate overnight (or for a minimum of 4 hours)

Uncover and enjoy from the container/bowl the next day. Thin with a little more milk if desired and add toppings of choice.
Recipe Notes
Toppings are optional but add extra flavour and texture to the dish. Let your kids have fun with the toppings and proving them with some fresh fruit, dried fruit, nut butters, nuts, seed and spices to choose from. Toppings should be age-appropriate, be mindful of the toppings you use for young children. (e.g. Nuts are a choking hazard and should be missed out or finely chopped.) If you prefer a sweeter breakfast you can add a little maple syrup, honey or sweetener of choice (not recommended for under 2s) Nutrition information is a ROUGH guide only, calculated using an online nutrition calculator. It will vary based on the specific ingredients you use.  The nutrition value does not include any toppings.
Nutritional facts
Calories: 350kcal | Carbohydrates: 51g | Protein: 16g | Fat: 10g | Saturated Fat: 4g | Polyunsaturated Fat: 3g | Monounsaturated Fat: 2g | Trans Fat: 1g | Cholesterol: 15mg | Sodium: 80mg | Potassium: 439mg | Fiber: 9g | Sugar: 18g | Vitamin A: 286IU | Vitamin C: 4mg | Calcium: 279mg | Iron: 2mg