This Healthy First Birthday Cake contains no refined sugar or sweeteners, is gluten free and dairy free. It makes a great smash cake without all the refined sugar and additives.
I had never heard of smash cakes until I lived in the USA. I'm not sure if this was because it is an American thing or if it was because I hadn't had a baby until I lived there. I saw so many gorgeous photos of friends' babies covered in cake frosting and I just thought they looked totally adorable.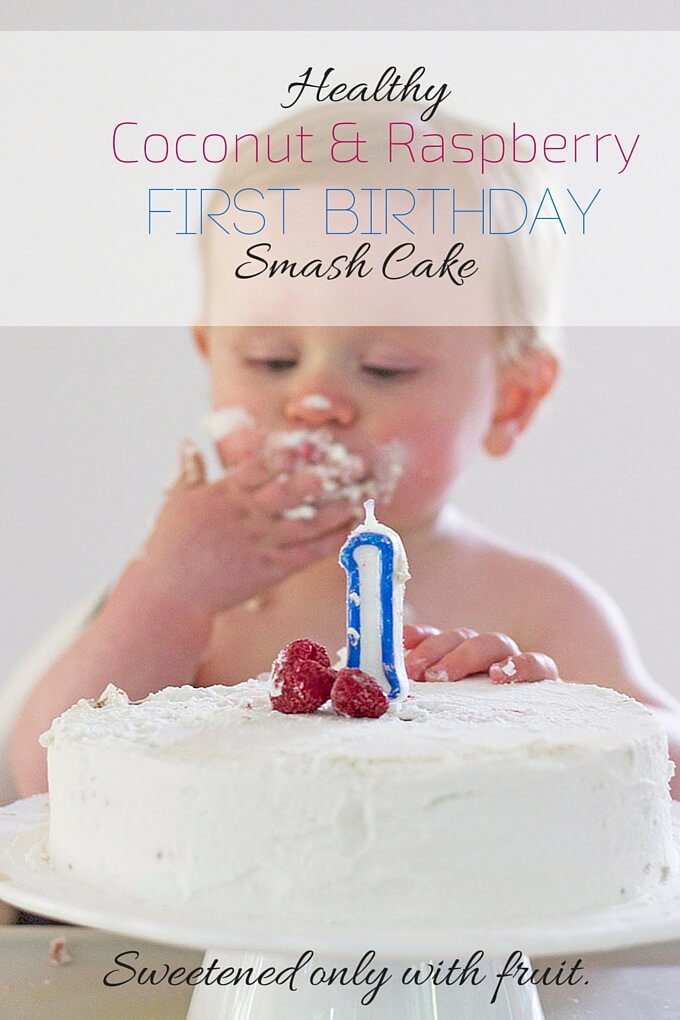 I really wanted to make one for Finn but Finn's first year was hectic to say the least. We moved country and moved house four times in that year (not including a couple of months living with different family members waiting for our house to be ready and our furniture shipment to arrive.) When Finn turned one we were all boxed up in the process of moving again. Making a cake was the last thing on my mind and so, instead, he got a delicious shop bought a chocolate cake. We got some cute photos but chocolate probably isn't the best colour for doing a smash cake….!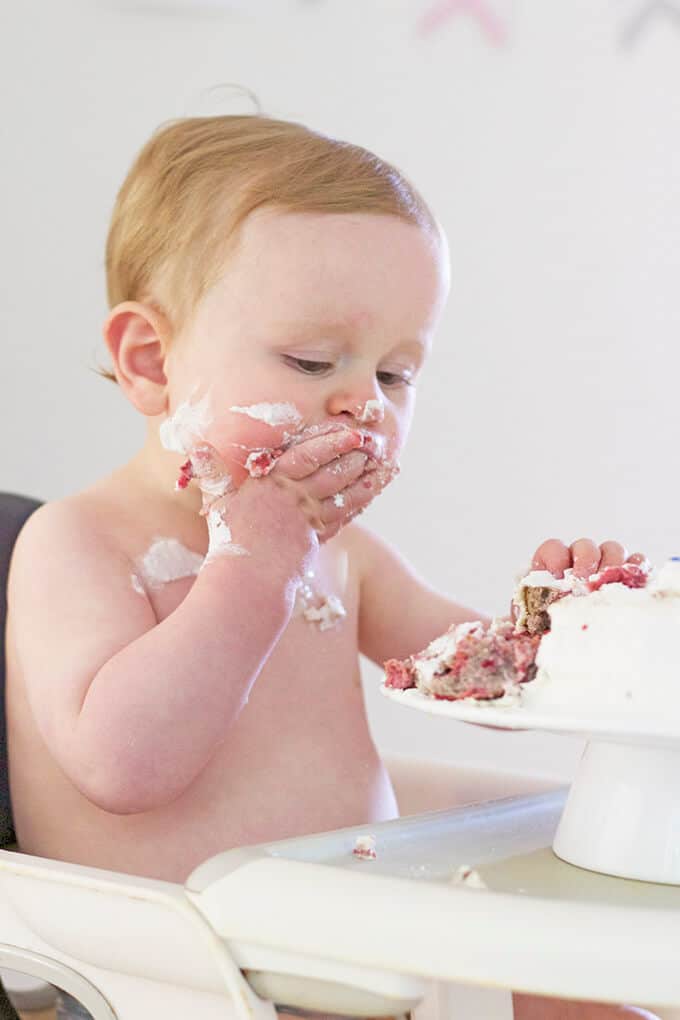 Life has been a lot easier in Rory's first year. We haven't even moved once! I, therefore, had the time and energy to make a healthy first birthday cake. I wanted a smash cake without tons of sugar. I'm not totally against sugar, I do believe in balance and don't totally restrict my kids from certain foods. However, I also believe that you can't miss what you haven't had. I knew that a cake sweetened with only fruit would make Rory more than happy.
I found this great recipe for a banana and coconut cake which I adapted and baked in two seven inch pans. Sandwiched between the two sponges, I added a layer of this raspberry chia seed jam and for the frosting, I covered the cake in whipped coconut cream.
This healthy first birthday cake was quite dense but deliciously moist. It was a big hit with the whole family. I had to make sure that I snapped the photos quickly before Rory managed to devour the whole cake!
Looking for more healthy kid recipes?Sign up for my free recipe newsletter to get new family friendly recipes in your inbox each week! Find me sharing more kind-friendly inspiration on Pinterest and Instagram.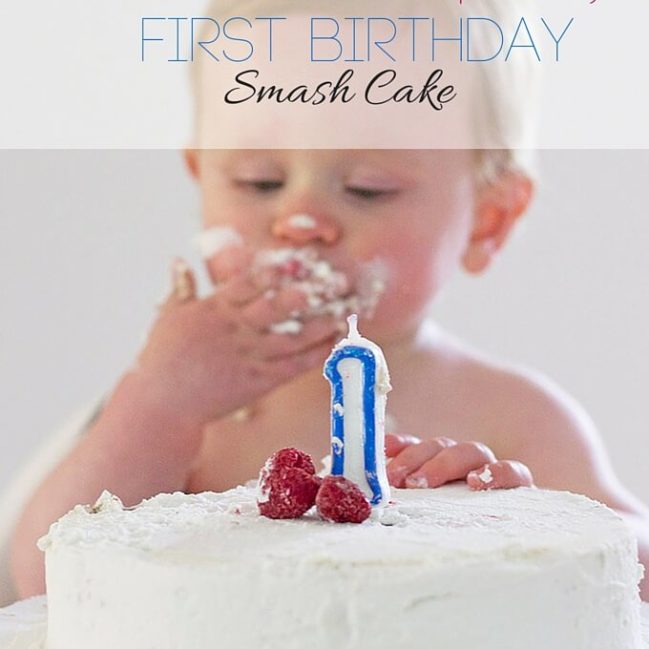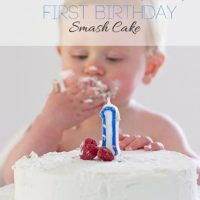 Healthy First Birthday Cake
A healthy coconut and raspberry first birthday smash cake. No refined sugar and sweetened only with fruit.
Prep Time: 1 hour
Cook Time: 45 minutes
Total Time: 1 hour 45 minutes
Serves:16 slices
Hover over "serves" value to reveal recipe scaler
Ingredients
CAKE
375 g (approx 4) ripe bananas
60 g (approx 6) pitted dates
6 eggs
1/4 cup coconut oil (melted) (plus extra for greasing the tins)
1/4 cup (36g) coconut flour
1/2 tsp cinnamon
1 1/2 tsp baking powder
1/2 cup (65g) raspberries
JAM
1 cup frozen raspberries (defrosted)
1 tbsp chia seeds
1 tbsp warm water
FROSTING
2 cans of coconut milk (chilled in the fridge overnight)**
A couple of drops of good quality vanilla extract
Instructions
CAKE

Pre heat oven to 170C / 340F

Lightly grease two 7 inch pans with some coconut oil

Blitz the dates in a food processor and then add the banana until combined, add the oil and eggs and mix (be careful not to over mix)

Add the coconut flour, cinnamon and baking powder to the wet mixture and stir until combined.

Allow the mixture to sit for 10 mins for the coconut flour to expand.

Gently stir through the raspberries.

Pour the mixture equally into the two cake pans

Bake for approx. 45-50 mins

JAM

Add all the ingredients to a blender or food processor and blitz until you achieve the consistency you like. Transfer to a container and allow to set in the fridge for an hour. (If you want something sweeter you can add some honey)

FROSTING

Scoop out the thick coconut cream from the top of the coconut milk can

Add the vanilla and whisk until light and thick

Store in the fridge.

Once the cakes have cooled add a layer of the jam on top of one cake and top with the other. Cover with the whipped coconut and decorate as you wish.
Recipe Notes
**Whipped coconut cream doesn't work well with all brands of coconut milk. Make sure it has a high fat content. If you shake the tin of coconut milk and it you don't feel the liquid moving then this will work perfectly.   Nutritional information is an ESTIMATE only, calculated using an online nutrition calculator. 
Nutrition Facts
Healthy First Birthday Cake
Amount Per Serving (1 0f 16 slices form 7" pan)
Calories 181 Calories from Fat 119
% Daily Value*
Fat 13.2g20%
Cholesterol 69.8mg23%
Sodium 34.2mg1%
Carbohydrates 13.4g4%
Sugar 7.1g8%
Protein 4.1g8%
* Percent Daily Values are based on a 2000 calorie diet.