Granny's Five a Day Pie – A cottage pie packed with five different veggies (fruit). Perfect for fussy eaters.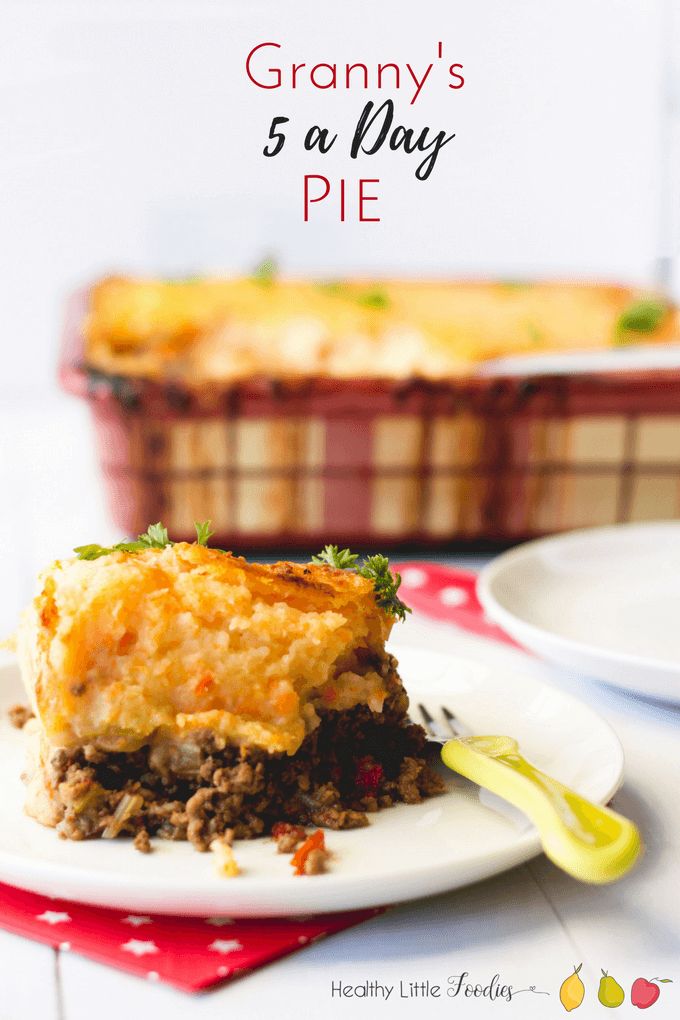 Finn's Granny is visiting for a couple of days and last night she made Finn her "Five a Day Pie." She named it Five a Day because it is packed full of hidden vegetables (and fruit). The base is made using minced lean beef, onion, celery, apple and red pepper. To the topping, mashed carrot is mixed into the potato and she served it with an extra portion of mixed veg!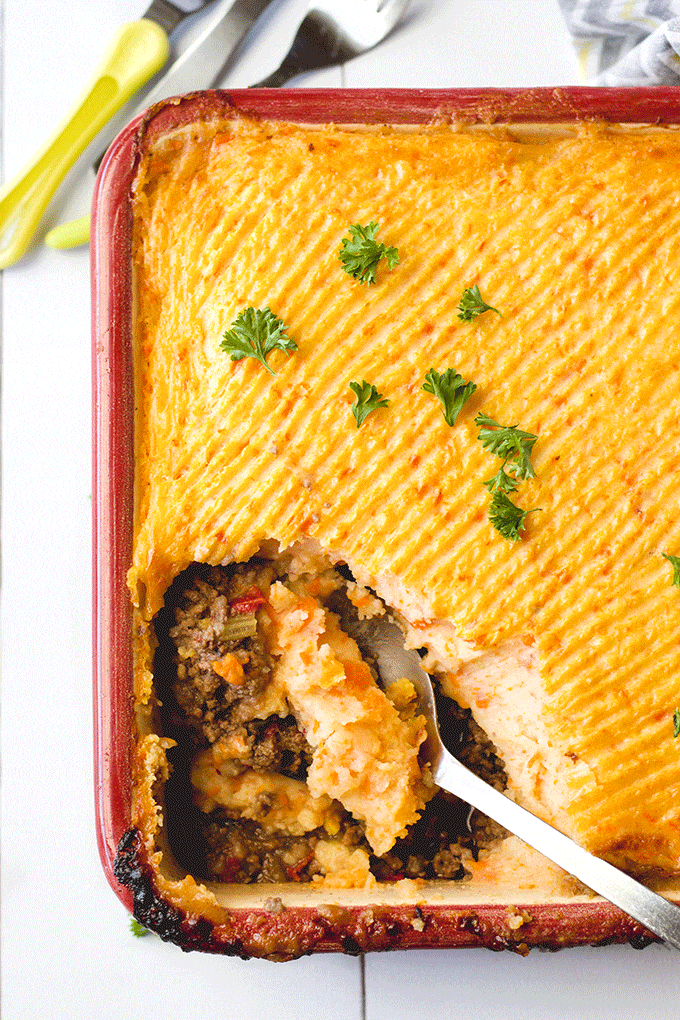 Although a serving of this pie doesn't actually give you or your child their five a day, it certainly does help towards it. Different fruits and vegetables contain different combinations of fibre, vitamins, minerals and other nutrients. Therefore you should aim to include a variety of fruit and vegetables to get the most benefit – this pie certainly serves up a variety!
Make one large pie or some smaller ones that can be frozen and enjoyed at a later date.
**This recipe was updated Jan 2017. The recipe had disappeared from the site and I was unable to relocate the original recipe. This may not be exactly the same as the original recipe but pretty close.
Looking for more healthy kid recipes?Sign up for my free recipe newsletter to get new family friendly recipes in your inbox each week! Find me sharing more kind-friendly inspiration on Pinterest and Instagram.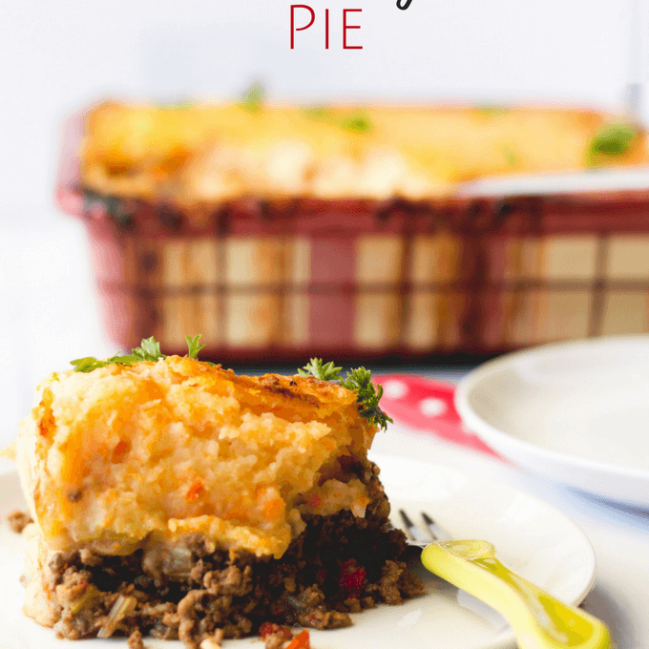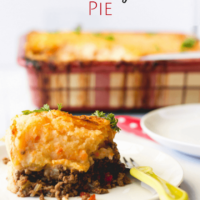 Granny's Five a Day Pie
A cottage pie packed with 5 different veggies (and fruit)
Hover over "serves" value to reveal recipe scaler
Ingredients
500 g beef mince
1 onion (halved and finely sliced)
1 celery stalk (finely chopped)
1 apple (finely chopped)
1/2 red pepper (finely chopped)
1 1/2 cups (375ml) chicken stock
200 g carrots (peeled and cut into 1cm chunks)
650 g potato (peeled and cut into rough chunks of approx 3-5 cm cubed)
1/4 cup (60ml) milk
20 g butter
1 egg
Instructions
Cook mince, on medium / high heat, in a wide based pan until lump free and brown.

Add onion, celery, apple and pepper and cook for a further 2 mins.

Add 1/2 cup of stock and stir. Cover and simmer for approx 45 mins, stirring occasionally making sure that the mince does not dry out.

Add a further 1/2 cup of stock and repeat simmering process.

Add a further 1/2 cup of stock and simmer for 30 mins with lid on and then remove lid for 15 mins.

Towards the end of cooking the mince, add the carrots and potato to a large pan and cover with water. Bring to the boil, cover and simmer until tender (approx 20 mins)

Drain the carrots/potatoes and mash.

Melt the butter and milk together and add to the carrots / potatoes and mash until smooth.

Transfer the mince to a oven proof dish (mine was a 1/2 litre capacity)

Top with the potato / carrot mash.

Beat the egg and brush the top of the mash

Bake in oven (180C / 350F) for 25 mins.