Cottage Pie - a meaty filling with a creamy mashed potato topping. A recipe passed down from my Mum and known in our house as "Granny's 5 a Day Pie", due to the selection of vegetables it contains!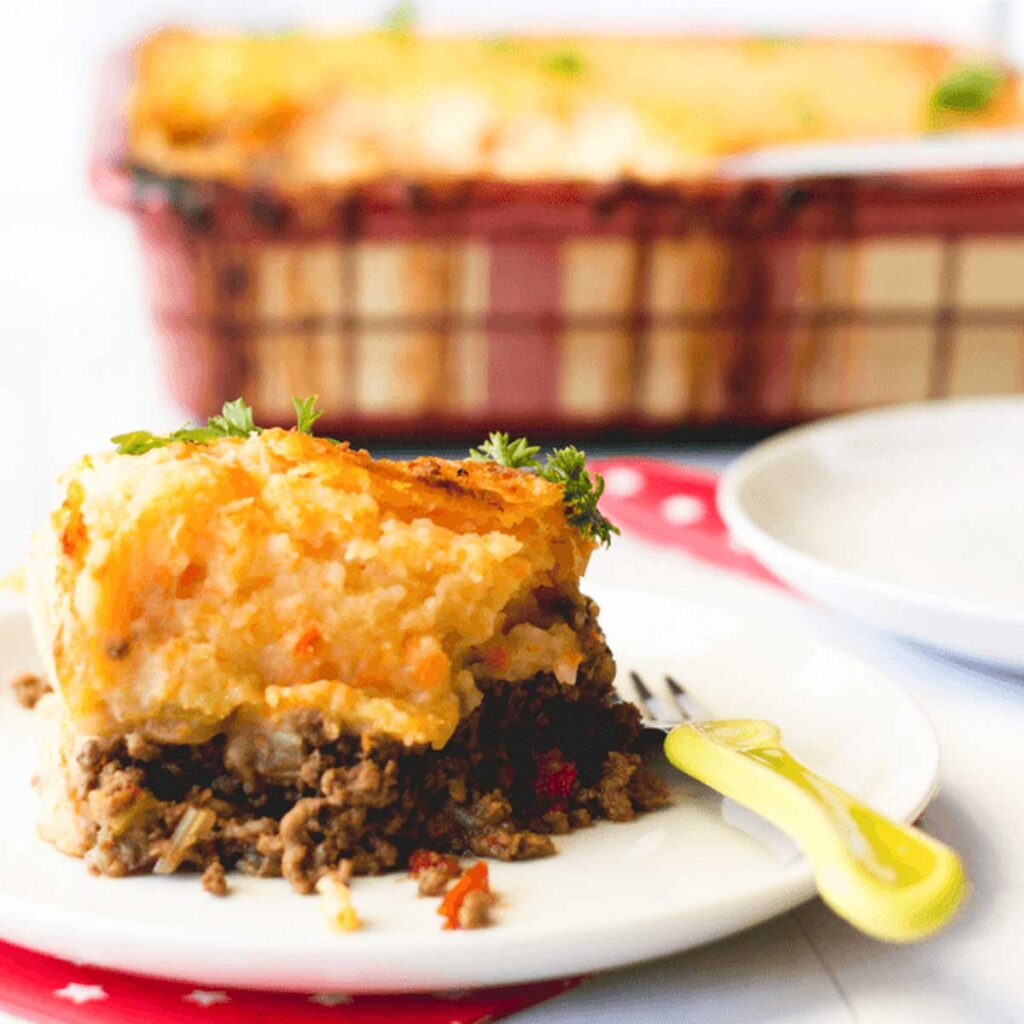 Why This is a Great Family Dish
Make-Ahead: Cottage Pie is a fantastic dish to make in advance. Have it all assembled and then store for up to 2 days in the refrigerator. It also freezes beautifully and you can bake from frozen. Perfect for busy weekday dinners.
5 Different Veggies/Fruit: Although it may not appear to have a lot of veggies/fruit, it does actually contain quite a few. Different fruits and vegetables contain different combinations of fibre, vitamins, minerals and other nutrients. Therefore you should aim to include a variety of fruit and vegetables to get the most benefit - this pie certainly serves up a variety!
Easy to Adapt: Pies like this are very flexible when it comes to adding vegetables. You can skip or add more depending on what you have available or to suit your family's taste buds
Great for Babies / Toddlers: Babies and young children love the soft texture of this pie and find it easy to eat. Use homemade stock if making for under 1s, to reduce sodium levels. You can even make a smaller dish up for little ones, before seasoning, and then season and assemble a larger dish for the rest of the family.
Ingredients
Cottage Pie is a traditional British dish made from two components - minced meat (ground beef) with a potato topping.
This version contains a couple of ingredients, not usually found in the meat filling of a Cottage Pie (apple and red pepper). They are added for extra goodness but also adds a lovely flavour and delicate sweetness that children seem to love. The recipe is flexible and you can choose to skip these or replace with other vegetables such as carrots, mushrooms or peas.
The topping is also slightly different. Usually just mashed potato, this topping involves mashing carrot with the potato, again for a nutritional boost.
To make it DAIRY FREE you can replace the milk with a plant based milk and the butter with olive oil.
Step by Step Instructions and Cooking Tips.
Making the Beef Filling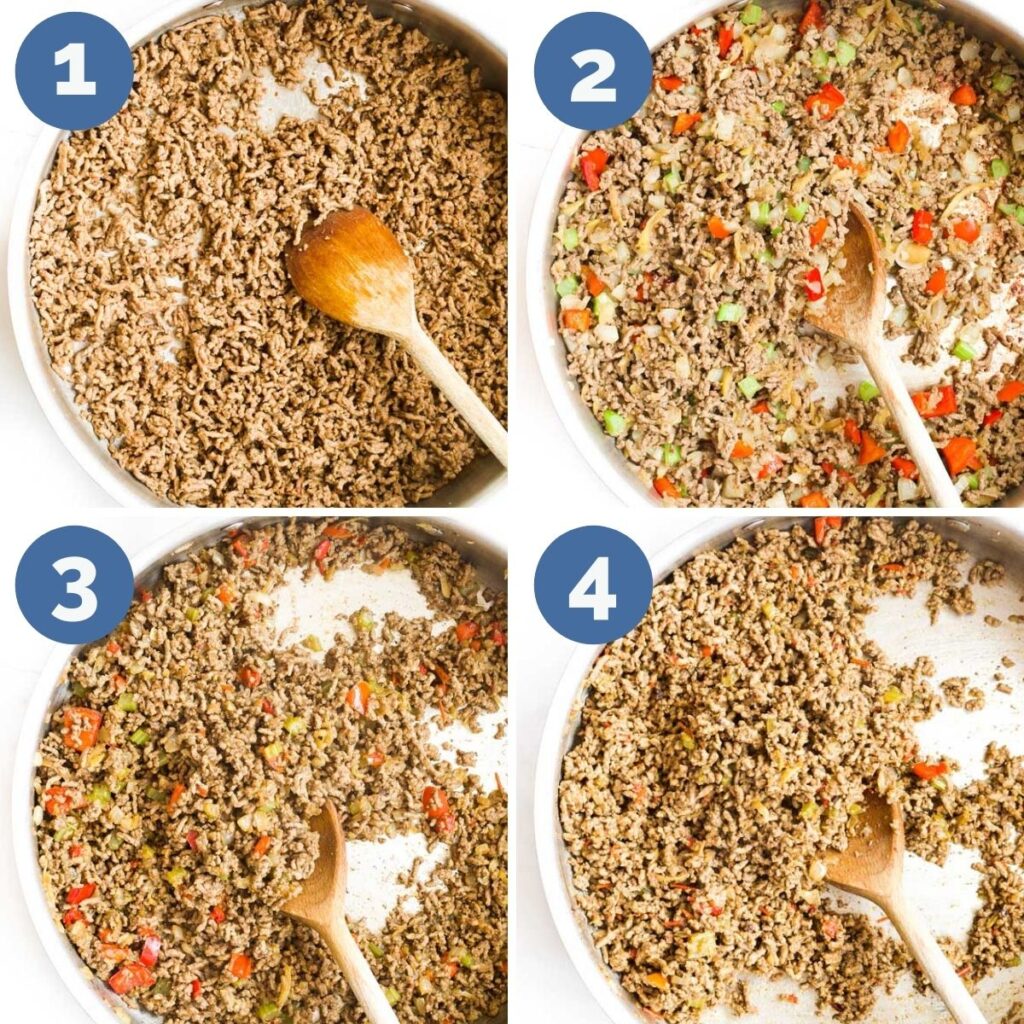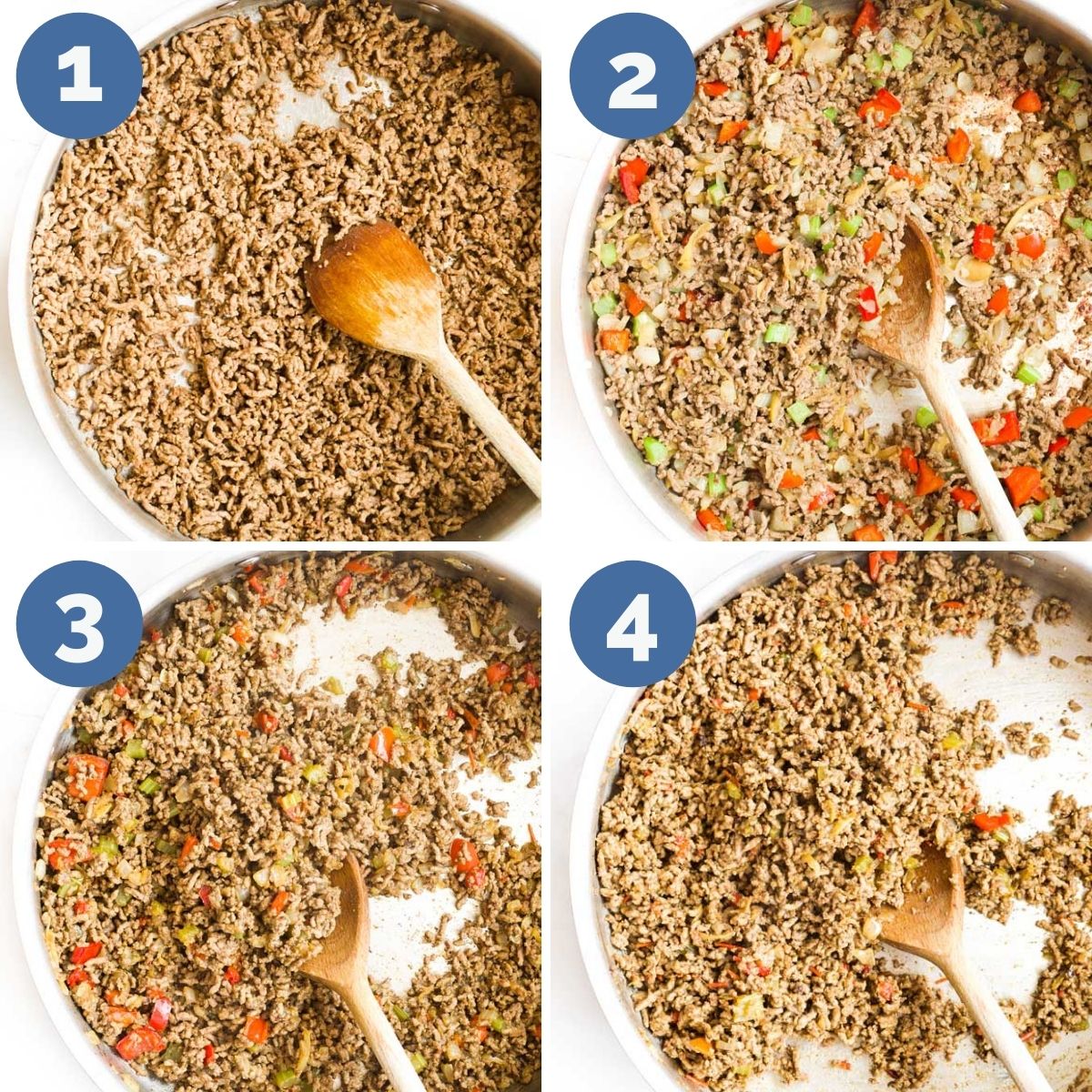 Brown the beef in a large skillet/pan over high heat until lump-free. You want your pan to be big enough to prevent overcrowding, as this can result in the ground beef (mince) stewing. If you feel your pan is on the small side then brown the mince in batches. Keep it moving so that it browns evenly but does not dry out. Break up the mince with a wooden spoon/spatula.
Add the vegetables (and fruit) and cook for 2 mins. They should be soft but not coloured
Add stock in batches and simmer, covered. Stir occasionally and check that the mince is not drying out, adding more stock when needed
Remove lid and continue to simmer. The filling should be reduced down enough to ensure you don't end up with a watery filling after baking the pie.
Making the Potato Topping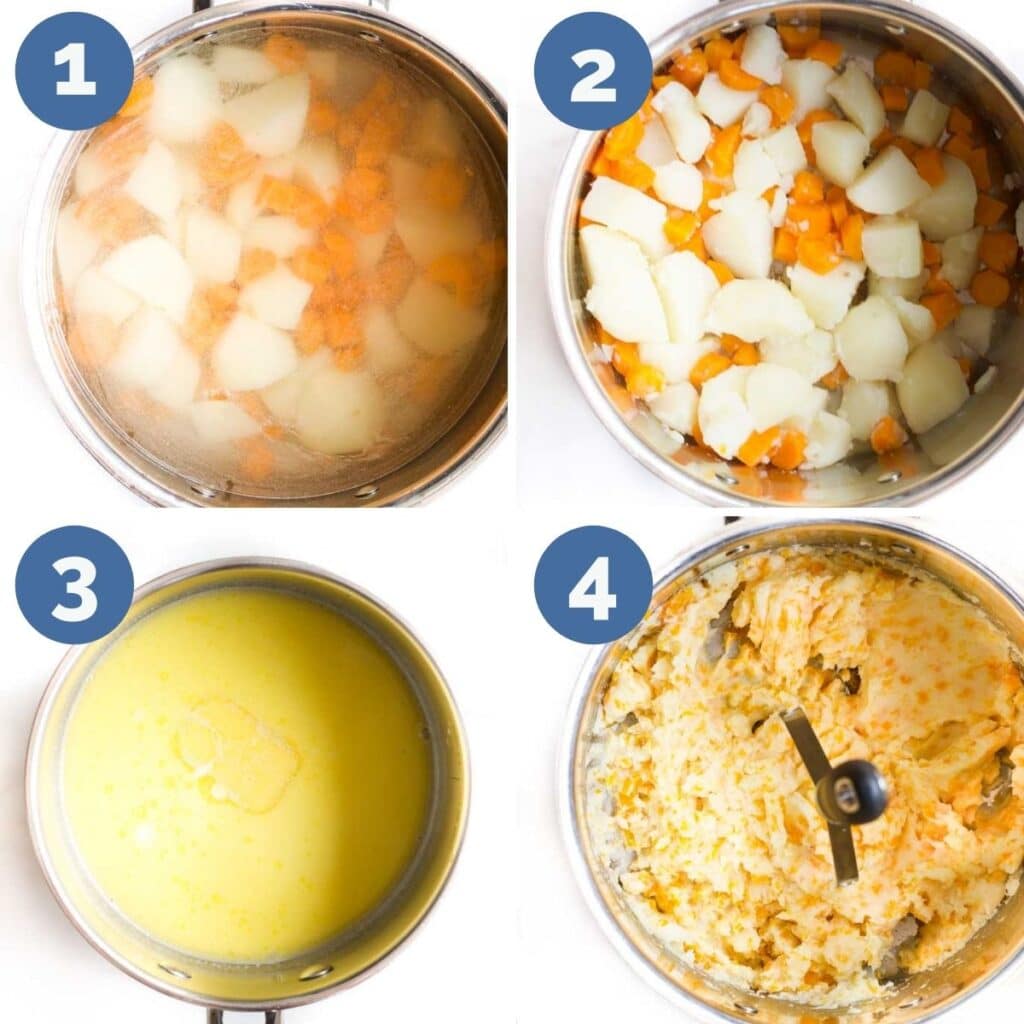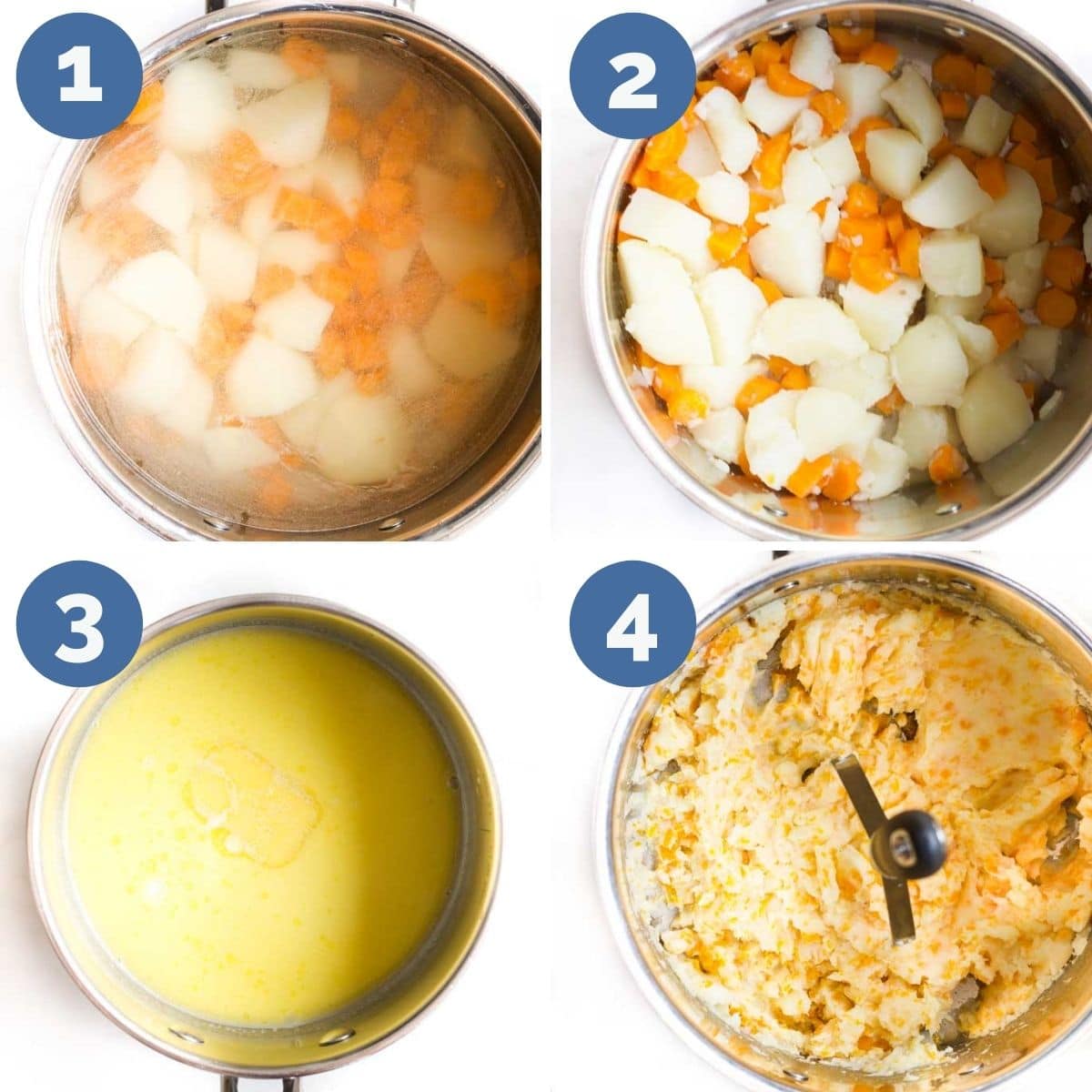 Add the carrots and potatoes to a large pan on water, cover and simmer until tender. For even cooking add to cold water. You need to cut the carrots a good bit smaller than the potato as they take longer to become soft.
Drain and return to pot. Shake briefly and allow to steam dry for around 30 seconds, this helps to release some of the moisture from the potatoes (excess water is the enemy of mash!)
Melt the butter with the milk. Adding warm milk/butter to the potatoes allows them to absorb more liquid and turn out creamier.
Slowly add the warm milk. Adding the milk, slowly in batches allows the starches to have time to absorb the liquid.
Assembling the Pie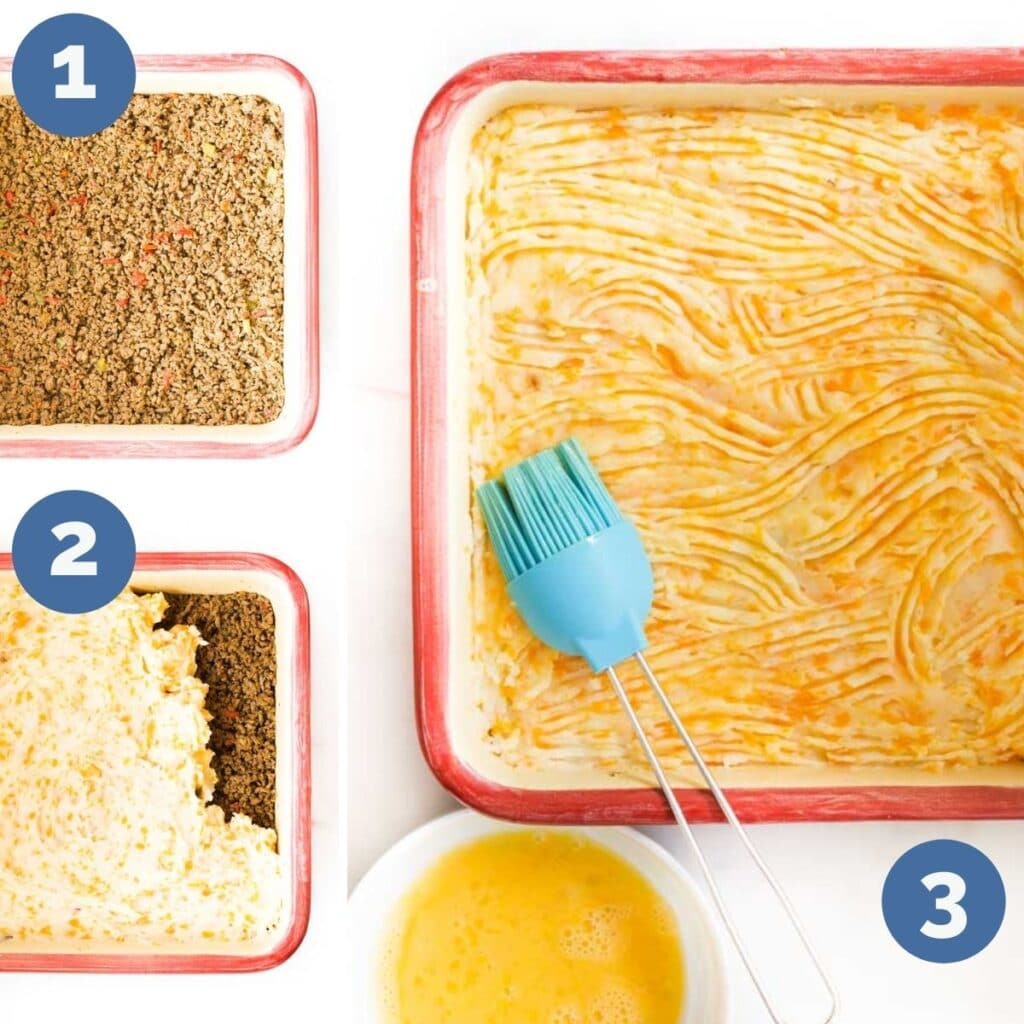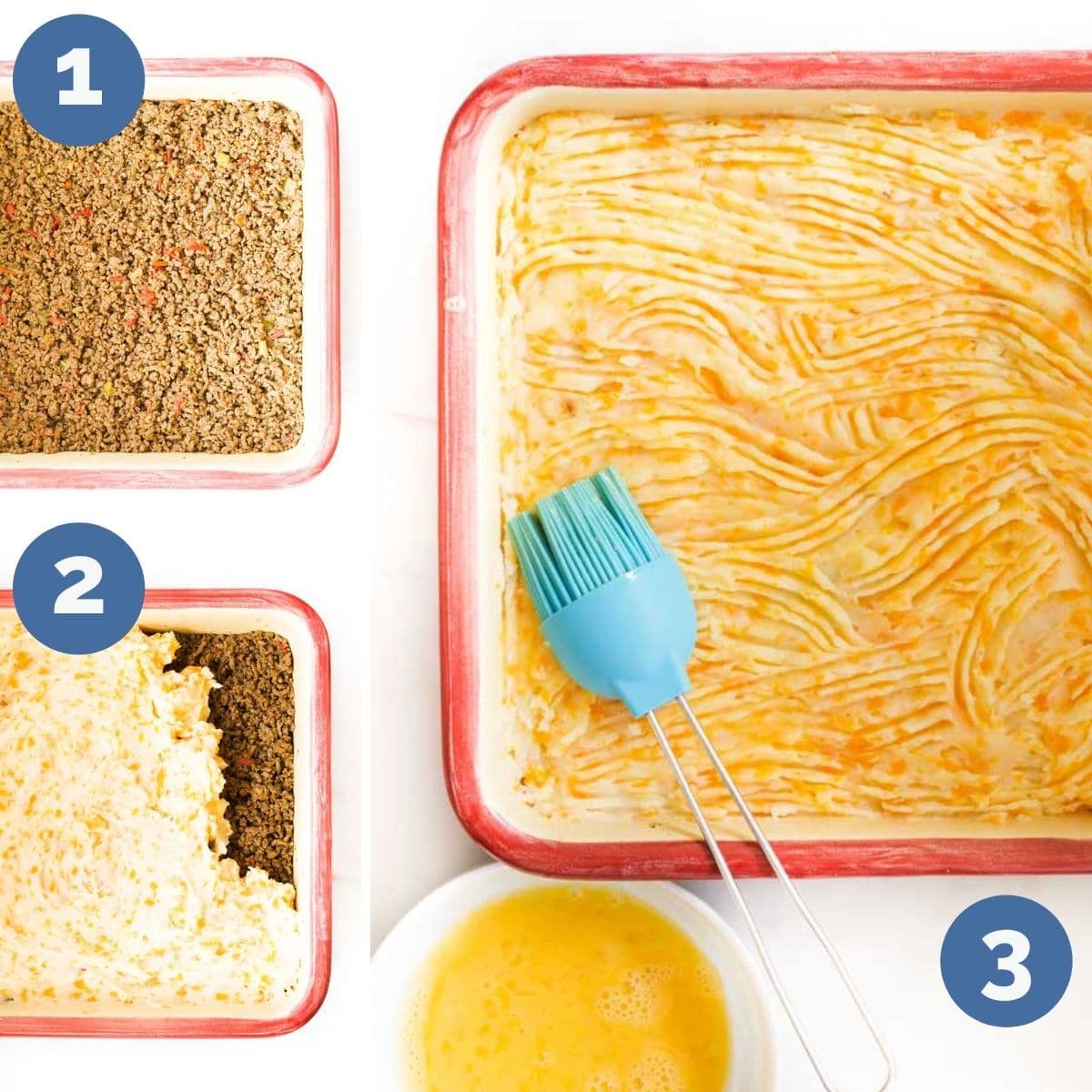 Transfer the mince to an ovenproof dish
Top with the potato/carrot mash, you want your mash to be hot for this, it will be a lot easier to spread.
Beat the egg and brush the top of the mash, this helps give the top layer a golden crust
What to Serve with Cottage Pie
Packed with meat and carbs, this pie is best served with a salad or a side of vegetables (e.g. broccoli, broccolini, green beans, peas or carrots)
Storage Instructions
REFRIGERATING - Assemble and keep refrigerated for 2 days before cooking.
FREEZING - Assemble the pie, chill and then freeze for up to one month. It can be cooked from frozen. To bake from frozen, cook at 160C / 320F for 1 hr-1 hr 20 mins until piping hot in the centre.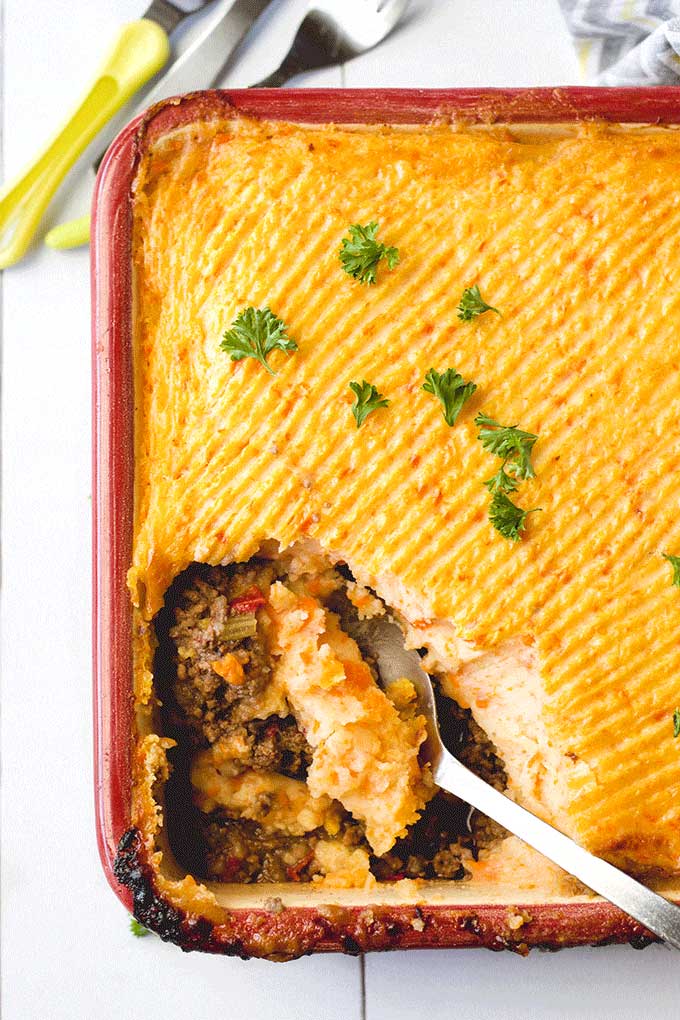 You May Also Like
Have you tried this recipe? I love receiving your feedback. Please rate and leave a comment below or tag me on Instagram @healthylittlefoodies
Looking for more healthy kid recipes?Sign up for my free recipe newsletter to get new family friendly recipes in your inbox each week! Find me sharing more kid-friendly inspiration on Pinterest and Instagram.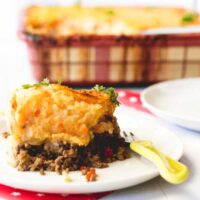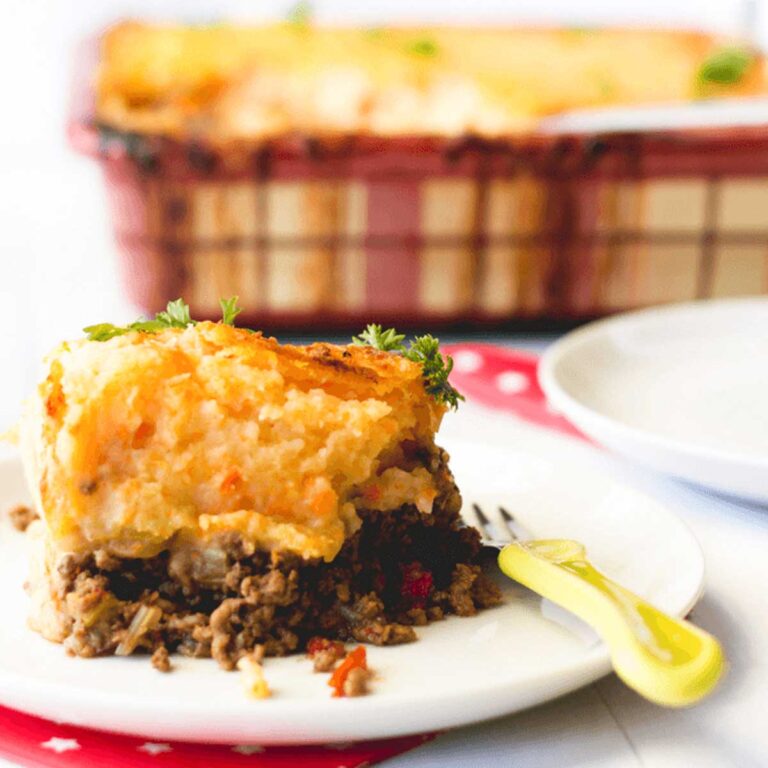 Cottage Pie
A rich meaty sauce with a creamy mashed potato topping
Prep Time: 15 minutes
Cook Time: 1 hour 30 minutes
Total Time: 1 hour 45 minutes
Serves:4
Hover over "serves" value to reveal recipe scaler
Ingredients
Meat Filling
500g (1.1lb) Ground Beef (beef mince)
1 Onion (finely chopped)
1 Celery Stalk (finely chopped)
1 Apple (finely chopped)
1 Red Pepper (capsicum) (finely chopped)
375ml (1½ cups) Chicken stock
Potato Topping
200g (7oz) Carrots (peeled and cut into 1cm chunks)
650g (1.4lb) Potato (peeled and cut into rough chunks of approx 3-5 cm cubed)
60ml (¼ cup) Milk
20g (1½ tbsp) Butter
Instructions
Meat Filling
Cook ground beef, on medium / high heat, in a wide based pan until lump free and brown.

Add onion, celery, apple and pepper and cook for a further 2 mins.

Add 1 cup of stock and stir. Cover and simmer for approx 20 mins, stirring occasionally making sure that the mince does not dry out (adding more stock if needed).

Add the remaining stock and simmer for 10 mins with lid on and then remove lid for 15 mins.
Potato Topping
Add the carrots and potato to a large pan and cover with water. Bring to the boil, cover and simmer until tender (approx 20 mins)

Drain the carrots/potatoes and mash.

In a small saucepan, melt the butter and milk together. Slowly add to the potato and carrots and mash until smooth
Assembly
Transfer the ground beef to an ovenproof dish (mine was a ½ litre capacity)

Top with the potato / carrot mash.

Beat the egg and brush the top of the mash

Bake in oven (180C / 350F) for 25 mins.
Recipe Notes
Nutritional Information is a ROUGH guide only, calculated using an online nutrition calculator. 
Nutritional facts
Calories: 459kcal | Carbohydrates: 18g | Protein: 26g | Fat: 31g | Saturated Fat: 13g | Cholesterol: 142mg | Sodium: 215mg | Potassium: 791mg | Fiber: 4g | Sugar: 11g | Vitamin A: 9563IU | Vitamin C: 45mg | Calcium: 79mg | Iron: 3mg
This post was first published Jan 2014, it has been updated to include process step photos.