This Beet and Berries Smoothie is a great way to introduce beetroot to your kids.
When I make smoothies I always like to add some form of veggies to them. Both my boys are fruit obsessed and so I feel that when I simply blend a whole heap of fruit I'm giving them no added benefits. Instead, I'm just encouraging them to consume even more than the large amount of fruit they already devour.
When I add some veggies, however, I always feel good knowing that the boys are getting some extra goodness from foods that they eat a lot less of. Although I'm lucky that Finn basically eats everything, Rory is a little pickier and vegetables aren't something that he would race to eat. In fact, they can often be found catapulted across the room! When blended with some sweet fruit, however, he is more than happy to eat (or drink) them up.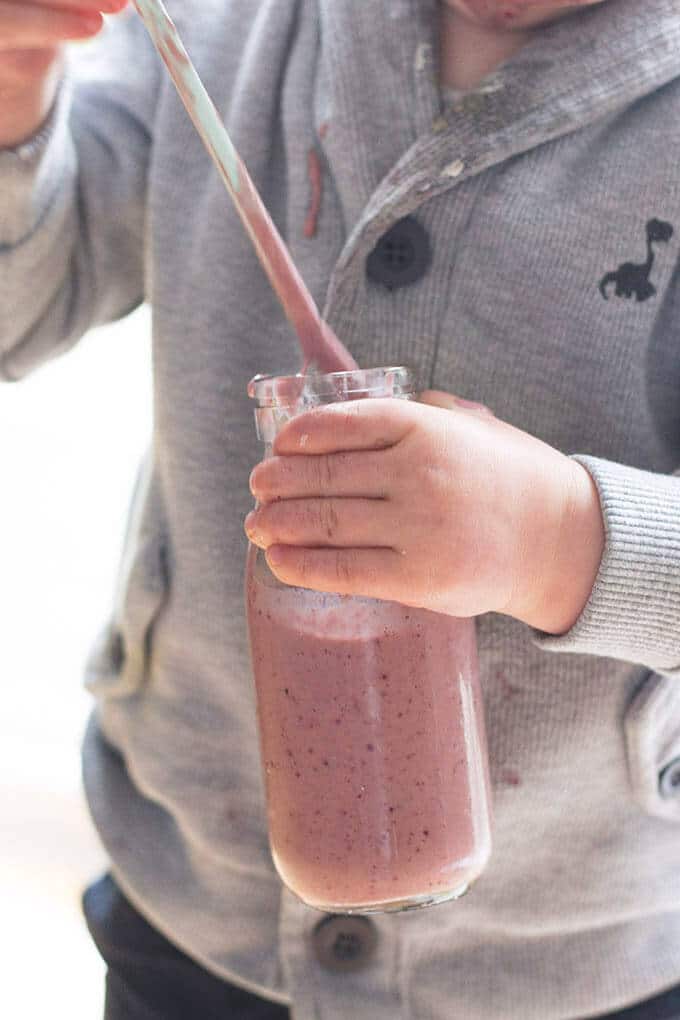 One of my favourite vegetables to add is beetroot. I love the colour that it gives and the sweet earthy taste. It may take a bit of getting used to, especially if your kid hasn't had beetroot often, and that is why I've only added half a beet to this Beet and Berries Smoothie. If your little one is happy to drink it then the next time you make it, up the recipe to a full beet. It will make your smoothie darker and more vibrant in colour and just as delicious.
I rarely make smoothies without adding a handful (or two) of spinach to them. Spinach is so mild tasting that you can easily get away with adding it. However, it does really affect the colour and may be off-putting to some kids. This is where beetroot is so good, it easily masks any green colour.
Get your kids to help you make the smoothie. Rory, although fussy at times, still enjoys helping and trying out all the ingredients (as you can see from his face!) Even though he screwed up his face at the beetroot and spinach I still showed him it going into the smoothie. This way he can see that it can be enjoyed in different ways and hopefully he is more willing to try them again when they aren't blended with sweet fruit.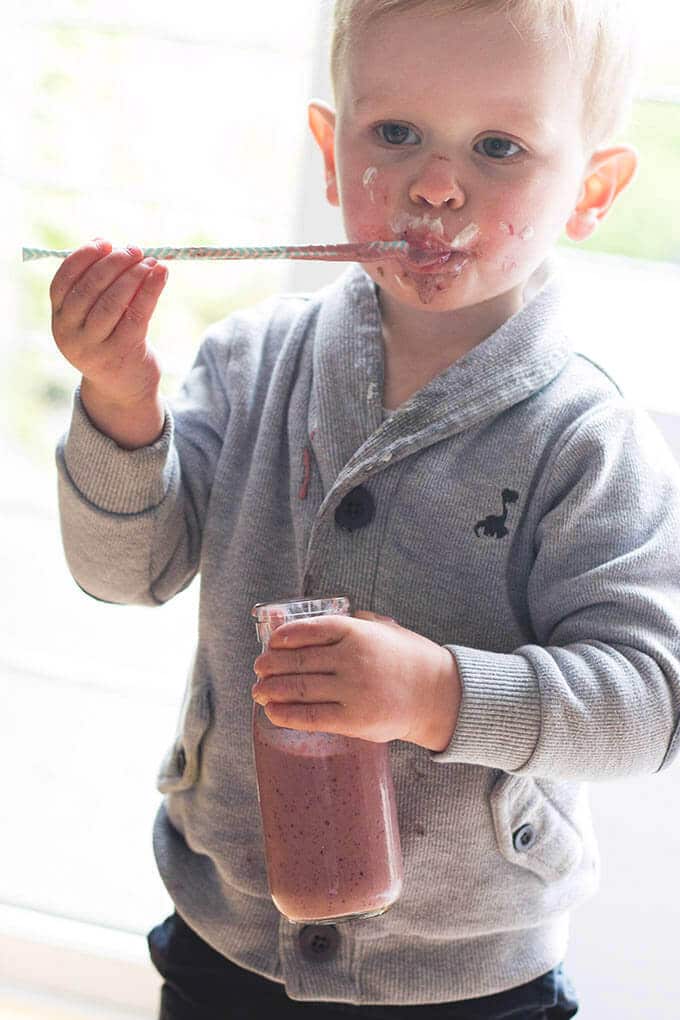 You May Also Like
Have you tried this recipe? I love receiving your feedback, please rate and leave a comment below or tag me on Instagram @healthylittlefoodies
Looking for more healthy kid recipes?Sign up for my free recipe newsletter to get new family friendly recipes in your inbox each week! Find me sharing more kind-friendly inspiration on Pinterest and Instagram.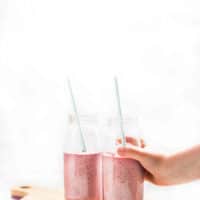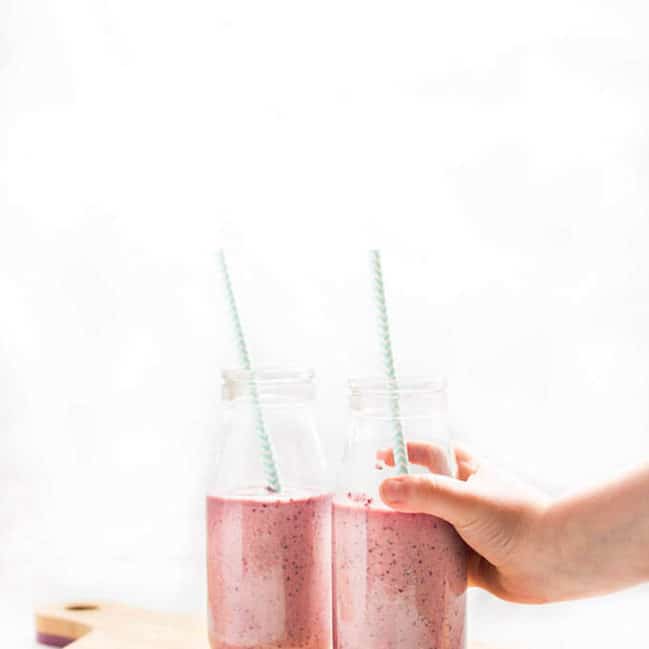 Beet and Berries Smoothie
A deliciously sweet smoothie with added veggie goodness.
Prep Time: 10 minutes
Total Time: 10 minutes
Serves:2
Hover over "serves" value to reveal recipe scaler
Ingredients
1/2 cooked beetroot (can use raw in some high speed blenders)
1/3 cup natural yoghurt
1/3 cup milk
1 frozen banana (cut into chunks)
1 cup frozen mixed berries
1 handful of spinach
Instructions
Add all ingredients to a blender and blitz until smooth. Add more milk if needed.
Recipe Notes
Nutritional Information is a ROUGH guide only, calculated using an online nutrition calculator. 
Nutrition Facts
Beet and Berries Smoothie
Amount Per Serving
Calories 154 Calories from Fat 27
% Daily Value*
Fat 3g5%
Saturated Fat 2g10%
Cholesterol 9mg3%
Sodium 65mg3%
Potassium 520mg15%
Carbohydrates 29g10%
Fiber 5g20%
Sugar 19g21%
Protein 4g8%
Vitamin A 1593IU32%
Vitamin C 13mg16%
Calcium 123mg12%
Iron 1mg6%
* Percent Daily Values are based on a 2000 calorie diet.