Mango Puree takes very little effort to make and can be used in a variety of ways. Why not try adding it to yoghurt, sweet or savoury dips/sauces, baked goods and smoothies.
Summer means mango season and if you find yourself with an abundance of them try making this delicious mango puree.
Jump to:
Ingredient Information (How to Choose a Mango)
When making mango puree, soft and ripe mangoes are the best.
When buying fresh mangoes, you want to look for ones that
Are free of nicks, bruises, and other blemishes.
Give slightly when you squeeze them and have a fruity aroma at the stem.
Step By Step Instructions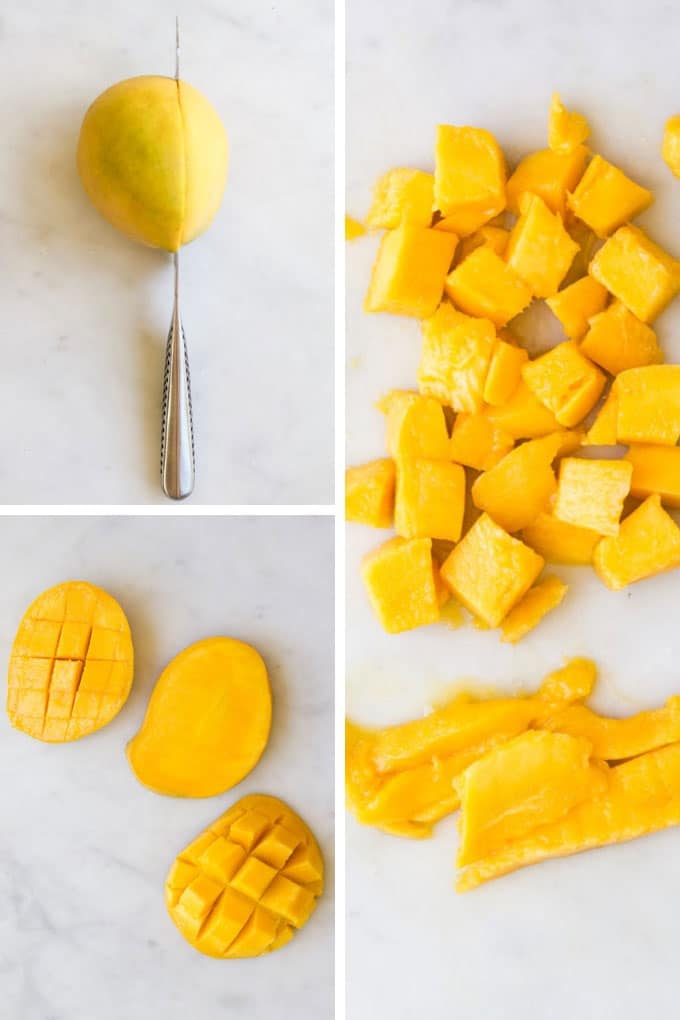 Use a sharp knife to slice the mango lengthways on either side of the stone.
Use the knife to make lengthwise and crosswise cuts in the two mango cheeks. Be careful not to cut through the skin.
Push the back side of the mango cheek up so that the flesh pokes out. Slice off the cubes and discard the skin.
Peel and cut off the remaining flesh from around the stone.
Add the flesh to a food processor and blend until smooth.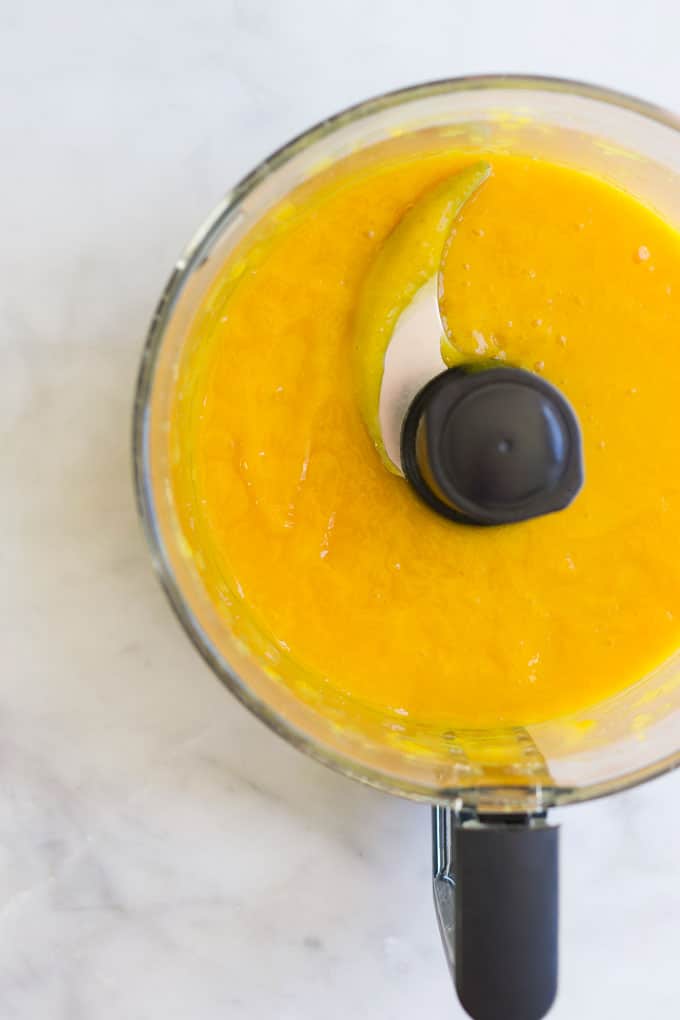 How to Make Mango Puree if You Do Not Have A Food Processor.
You can also make mango puree using a blender or stick blender. Just prepare your mangoes as above and blend.
If you do not have any equipment for blending / pureeing then you can also make the puree by hand, if your mangoes are ripe enough, it just takes a little more time.
Use a sharp knife to chop the mango very finely, continue to chop until the mango has turned into mush.
To achieve a smoother puree, push the mango through a sieve until all the mango has passed through
You can see from the photo below that all three methods produced a similar result.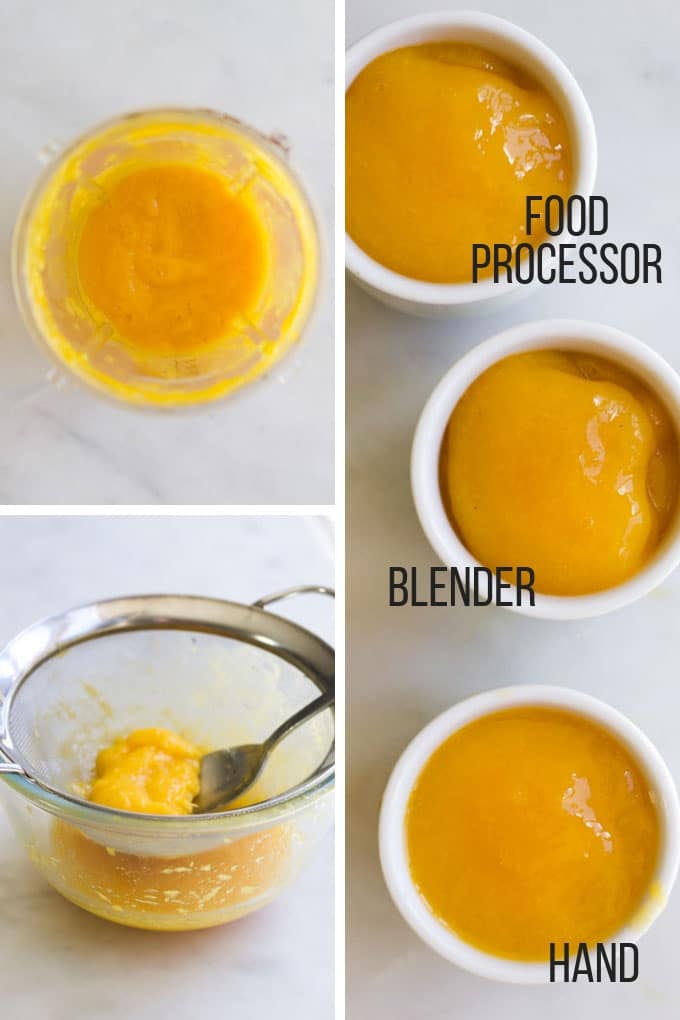 What You Can Use Mango Puree For
Mix into yoghurt - try this creamy mango yogurt
Add to Smoothies/milk/mocktails
A sauce for ice-cream/pancakes/waffles/desserts
Making Chia Jam
Adding to baked goods (muffins, bread, cakes)
In dressings, dips or sauces
In curries
Mango Puree for Babies
Mango puree can be enjoyed as it is or mixed with a range of other pureed or mashed foods. Some suggestions include....
Oatmeal (stirred pureed mango into cooked oatmeal for a new flavour)
As mangoes are high in vitamin C, they can help your baby absorb more iron from the foods he/she eats. (Source: NCBI) Try mixing a little mango puree with some iron-rich foods such as...
Chicken (cooked and pureed, mashed or shredded to a texture your baby is used to)
Red lentils (washed, cooked and pureed/mashed to a texture your baby is used to)
Fish (thoroughly deboned, cooked and pureed/mashed/flaked to a texture your baby is used to)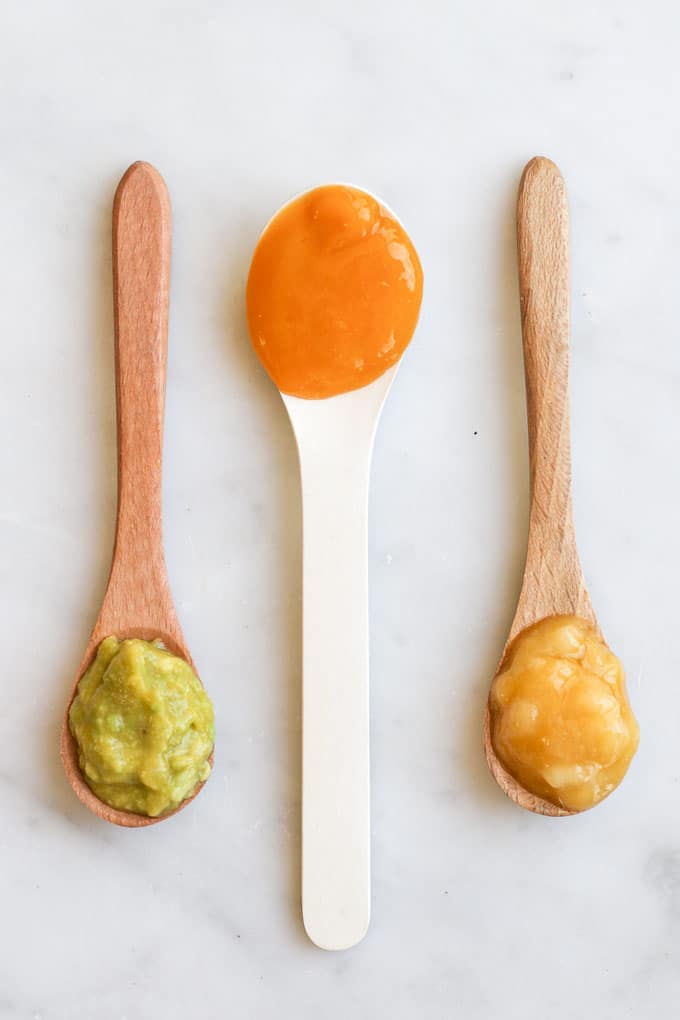 Storage Instructions
Refrigerate - Store the puree in an airtight container and refrigerate for up to 3 days.
Freeze - Pureed mango can be frozen for up to 3 months.
I recommend freezing the puree in small batches so that you only have to thaw out the amount needed for a specific recipe, or the tiny amount a baby will need.
Freezing the puree in flexible ice cube trays is an excellent way to do this. Fill each ice cube tray section nearly to the top, cover and freeze until frozen. You can then transfer the cubes to a freezable container/zip lock bag.
Do not re-freeze if the puree has been previously frozen.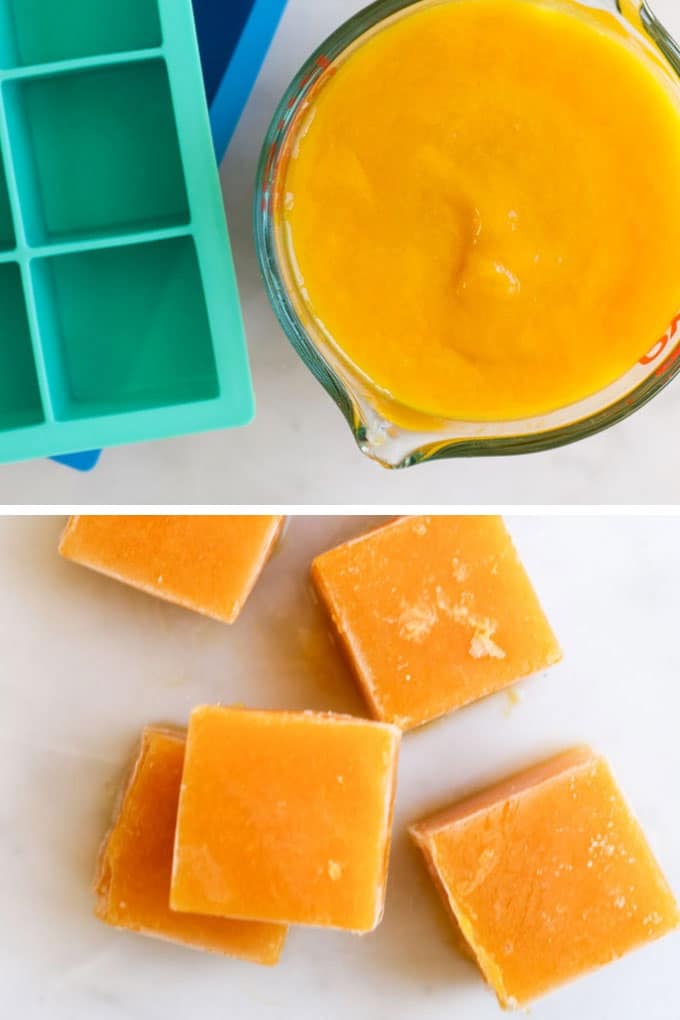 Other Puree Recipes...
Looking for more healthy kid recipes?Sign up for my free recipe newsletter to get new family friendly recipes in your inbox each week! Find me sharing more kid-friendly inspiration on Pinterest and Instagram.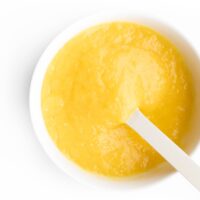 Mango Puree
Mango Puree can be used in a variety of ways. Use it to make delicious baby purees, in a variety of dips or dressing or add it to sweet and savoury meals.
Prep Time: 10 minutes
Total Time: 10 minutes
Serves:4
Hover over "serves" value to reveal recipe scaler
Ingredients
2 medium Mangoes *SEE NOTE 1
Instructions
Wash mangoes and remove the flesh *SEE NOTE 2.

Add the mango flesh to a food processor or blender and blend until smooth. *SEE NOTE 3
Recipe Notes
Mangoes should be ripe and soft to make good mango puree. 
Tips and photos on how to remove the flesh can be found in the post above.
 If you do not have a food processor or blender then you can puree by finely chopping the mango until you achieve a mush. See the above post for more detail.  
Nutritional information is a rough guide only, calculated using an online calculator. Facts will vary depending on the variety and size of mangoes used. 
Nutritional facts
Calories: 60kcal | Carbohydrates: 14g | Protein: 0g | Fat: 0g | Saturated Fat: 0g | Cholesterol: 0mg | Sodium: 1mg | Potassium: 168mg | Fiber: 1g | Sugar: 13g | Vitamin A: 1080IU | Vitamin C: 36.4mg | Calcium: 11mg | Iron: 0.2mg