Transport to a tropical island with this Mango Pineapple Smoothie. Super creamy, deliciously sweet and easy to make. Serve as a snack or a tasty breakfast.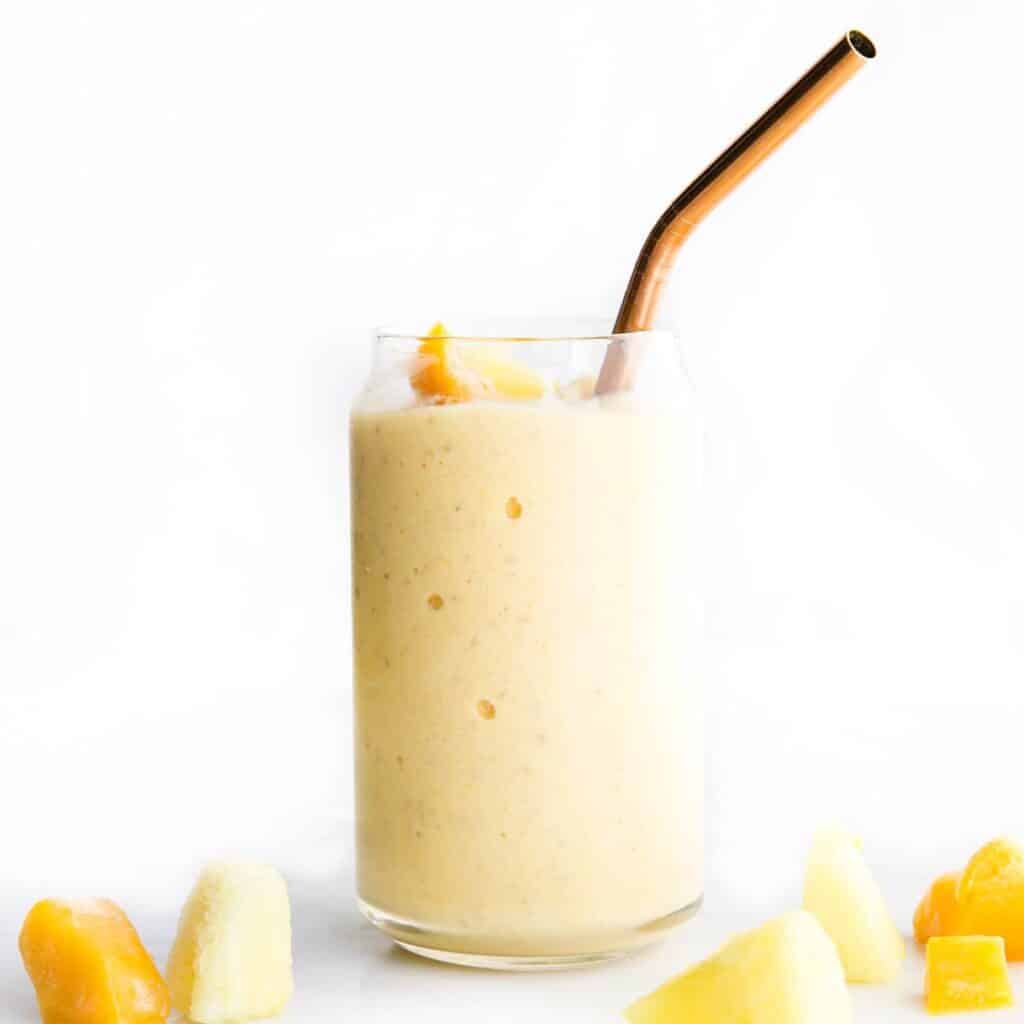 Reasons to Love this Smoothie
NUTRITION - Mango and pineapple provide the smoothie with fibre, vitamins and minerals. The yogurt and milk add protein to keep you satisfied for longer. Chia seeds provide an added boost of protein, omega-3 fats and antioxidants.
EASY - Simple ingredients blended together in under 5 mins.
DELICIOUS - Kids and adults alike are sure to love the thick, frosty texture and sweet, tropical flavour.
Watch How to Make it (Video)
Ingredient Information with Alternative Suggestions
This mango and pineapple smoothie recipe is pretty simple yet also flexible. It can be easily adapted to suit dietary requirements or taste preferences.
FROZEN MANGO & PINEAPPLE
Adding frozen fruit gives the smoothie the thick, milkshake like texture. If you use fresh the smoothie will be thinner so try to add at least one frozen fruit. If you have fresh fruit that needs used, chop into chunks and place on a lined baking sheet. Freeze for 30 mins and then transfer to zip lock bags and freeze until needed.
ORANGE
Adds extra sweetness and fruity flavour.
YOGURT
Has probiotics to help support gut health and adds a creamy rich layer to the smoothie. Can be skipped and replaced with a little more milk.
MILK
Any milk will work but keep in mind that different kinds of milk have different protein contents. If you are looking for a higher protein smoothie be mindful of this. Dairy milk, pea milk and soy milk are highest in protein.
Coconut milk pairs well with tropical flavours however if you use full-fat canned coconut milk it can seperate in a very cold smoothie like this.
CHIA SEEDS
Added for its nutritional benefits (they are a rich source of protein, omega 3 and antioxidants), they also help thicken the smoothie. Can be skipped if preferred.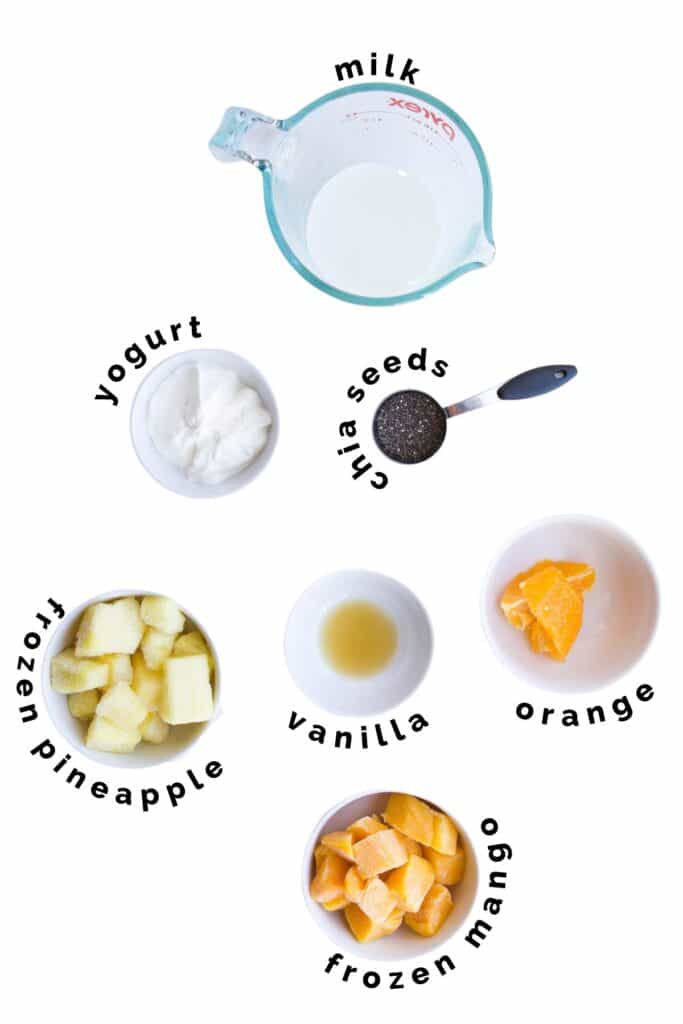 Nutritional Boosts
Looking for ways to further boost the nutrition of this pineapple mango smoothie? Why not try adding..
Frozen cauliflower - If you add a little you can't really taste it and can add to the creaminess of the smoothie.
Sweet Potato - A spoonful of cooked sweet potato will add nutrition and also helps add creaminess.
Spinach - A small handful won't really be detected taste-wise (but will change colour to green.)
Flax Seed - Add a tablespoon for added omega 3 fats and fibre.
Nut Butter - Add a tablespoon for creaminess and nuttiness as well as an extra boost of nutrients.
Bee Pollen - Blend in a tablespoon or sprinkle on top of your smoothie for added vitamins, minerals and antioxidants.
Hemp Seeds - Add a tablespoon for added protein, healthy fats and a nutrient boost.
Oats - A tablespoon or two of oats will make the smoothie heartier and more filling.
How to Make It (Process Shots)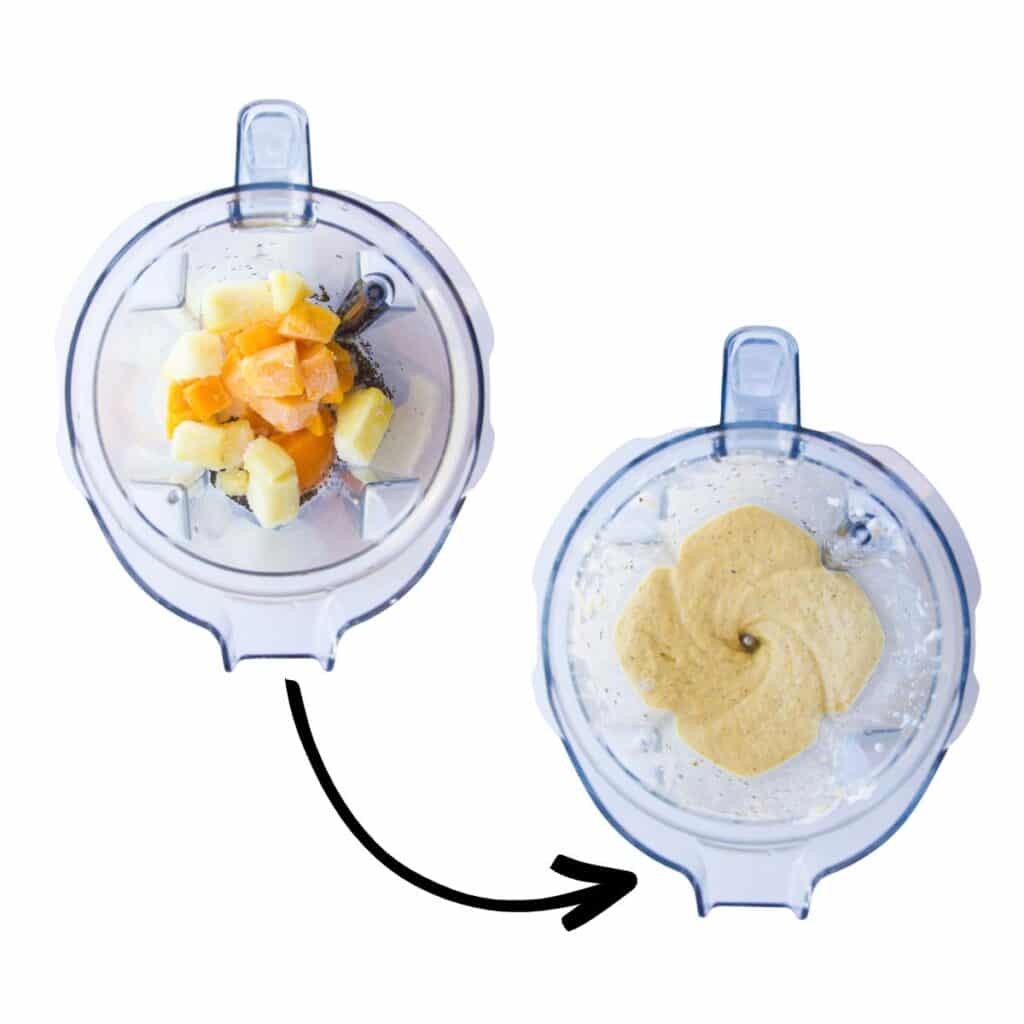 Place all ingredients in a blender. Add the liquid first to stop the fruit getting stuck under the blades.
Blend until smooth. Taste and adjust if necessary
Smoothie Making Tips
Use the right equipment: A high-speed blender, designed to pulverise, is needed to work with the frozen mango and pineapple. If you don't have a powerful blender then you may want to use fresh or semi-frozen fruit so it will blend better (the smoothie won't be as thick and creamy).
Ingredient Order: The order you add your ingredients can make a difference in how easily your smoothie will blend. You want the liquid and easier to blend fruit (orange) at the bottom, nearest the blade to prevent the frozen fruit from getting stuck under the blade. In some blenders, this will involve you adding them first and in others (where you have to screw on a lid with a blade and flip), you will have to add them last.
Vary the Speed: Using the pulse function at the start of blending can help the ingredients to circulate. Start at a low speed and work your way up to a high speed. If you have a tamper (like with a Vitamix) then use it to push the ingredients down to the blade.
Smoothie too thick? Add a small amount of milk until desired consistency is reached.
Smoothie too thin? Add more frozen fruit. Frozen bananas can really help thicken the smoothie.
Not sweet enough? Extra pineapple, ripe banana, or a date can add sweetness or alternatively add a little sweetener such as honey or maple syrup (do not add sweetener for under 2s).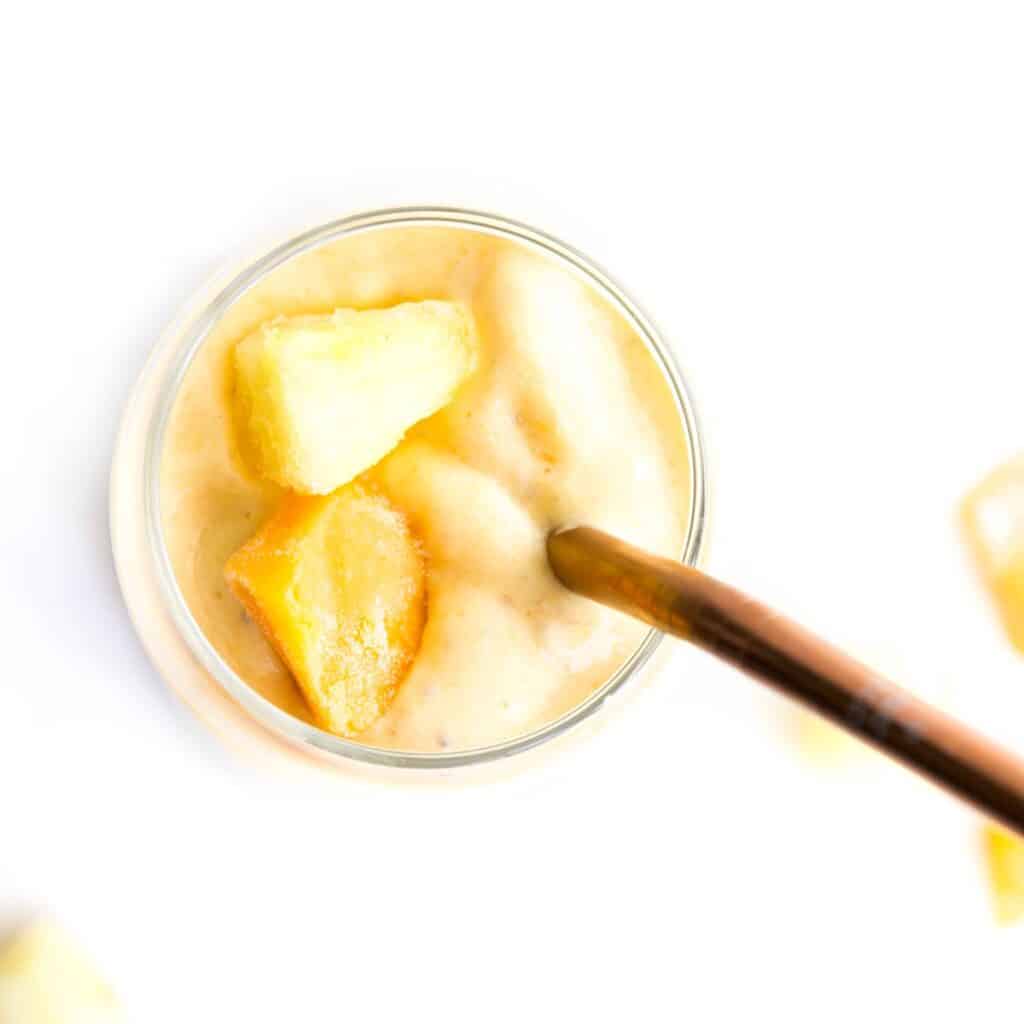 More Smoothie Recipes to Try
Looking for more healthy kid recipes?Sign up for my free recipe newsletter to get new family friendly recipes in your inbox each week! Find me sharing more kid-friendly inspiration on Pinterest and Instagram.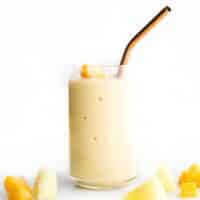 Mango Pineapple Smoothie
A thick and creamy smoothie with tropical flavours.
Prep Time: 5 minutes
Total Time: 5 minutes
Serves:2
Hover over "serves" value to reveal recipe scaler
Ingredients
1 cup / 140g Frozen Mango, cubed
1 cup / 140g Frozen Pineapple, cubed
½ small Orange, peeled
¼ Cup (60g) Greek Yogurt
½ cup (125ml) Milk (of choice)
½ tablespoon Chia Seeds
½ teaspoon Vanilla Extract
Instructions
Add all the ingredients to the blender (see note 1) and pulse to break up the frozen fruit. Start on a slow speed and gradually increase the speed to high. Blend on high until all ingredients are fully blended.

Taste and adjust texture and taste if needed (add more milk if too thick, sweetener for sweetness etc)
Recipe Notes
The order you add your ingredients can make a difference in how easily your smoothie will blend. You want the liquid at the bottom, nearest the blade
You can use milk of choice, dairy and dairy-free milk both work. Note - full-fat canned coconut milk can split in this cold smoothie
Chia seeds are added for extra nutrition. You can miss them out or replace it with other nutritional boosts (detailed in the post above)
Nutritional Information is a ROUGH guide only, calculated using an online nutrition calculator. 
Nutritional facts
Calories: 163kcal | Carbohydrates: 28g | Protein: 7g | Fat: 3g | Saturated Fat: 1g | Polyunsaturated Fat: 1g | Monounsaturated Fat: 1g | Trans Fat: 0.01g | Cholesterol: 9mg | Sodium: 37mg | Potassium: 390mg | Fiber: 4g | Sugar: 23g | Vitamin A: 959IU | Vitamin C: 72mg | Calcium: 158mg | Iron: 1mg