Looking for a quick meal to serve tonight? This delicious Vegetable Fried Rice can be whipped up in less than fifteen minutes and can easily be adapted to suit your little one's taste buds.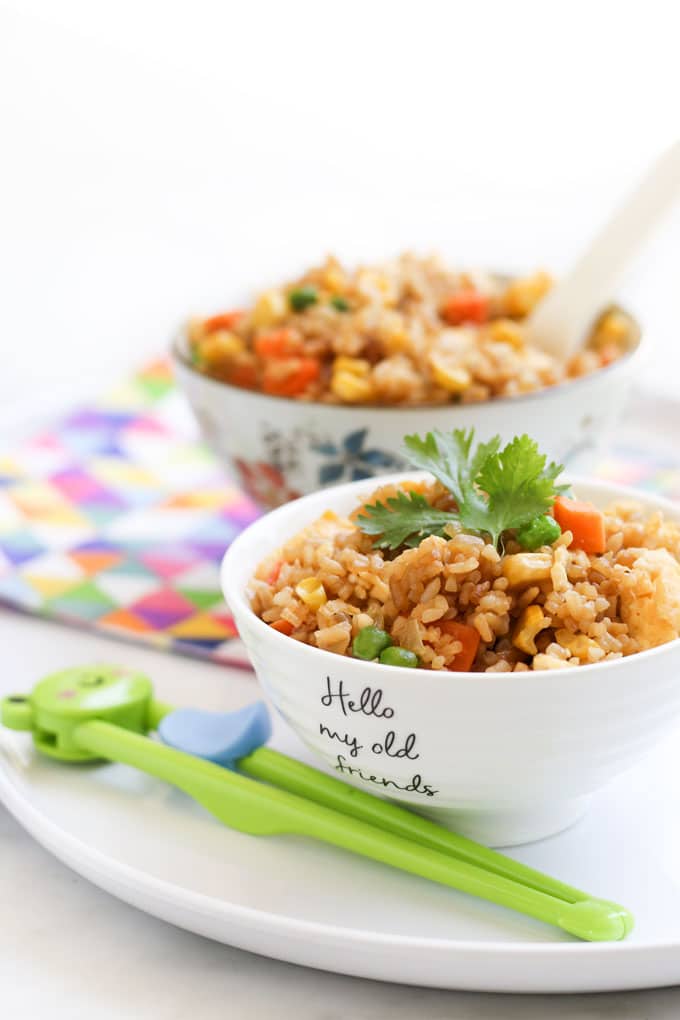 Do you freeze leftover rice? If you don't, then I recommend that you start now. I always freeze leftovers and often make extra to purposely freeze.
Why? Because it is great to have for when you need to make a meal quickly and you have very little in the house to work with.
Fried rice works best with cooked rice that has been chilled overnight or frozen (and thawed). Start freezing leftover rice so that you can enjoy fried rice any time the craving hits!
What Type of Rice is Best for making Vegetable Fried Rice?
As I mentioned above, you want to use chilled rice or thawed frozen rice. This is because the rice grains dry out making it ideal for fried rice. You don't want to use freshly cooked rice as it is too sticky and will make your fried rice too gluey.
The rice variety is also important. In these pictures, I used jasmine rice but long grain, basmati and brown rice all work. I do not recommend that you use short grain rice such as sushi rice, risotto rice or paella rice.
Rice Safety
Uncooked rice can contain spores of Bacillus cereus, a bacterium that can cause food poisoning. The spores can survive when rice is cooked. If the cooked rice is left standing at room temperature the spores can grow into bacteria and multiply.
Once you have cooked your rice, cool the rice as quickly as possible (within an hour).
Keep your rice for no more than a day in the fridge
Thaw frozen rice in the refrigerator, do not allow it to thaw on the countertop.
When you reheat the rice make sure the rice is piping hot all the way through
Do not reheat the rice more than once.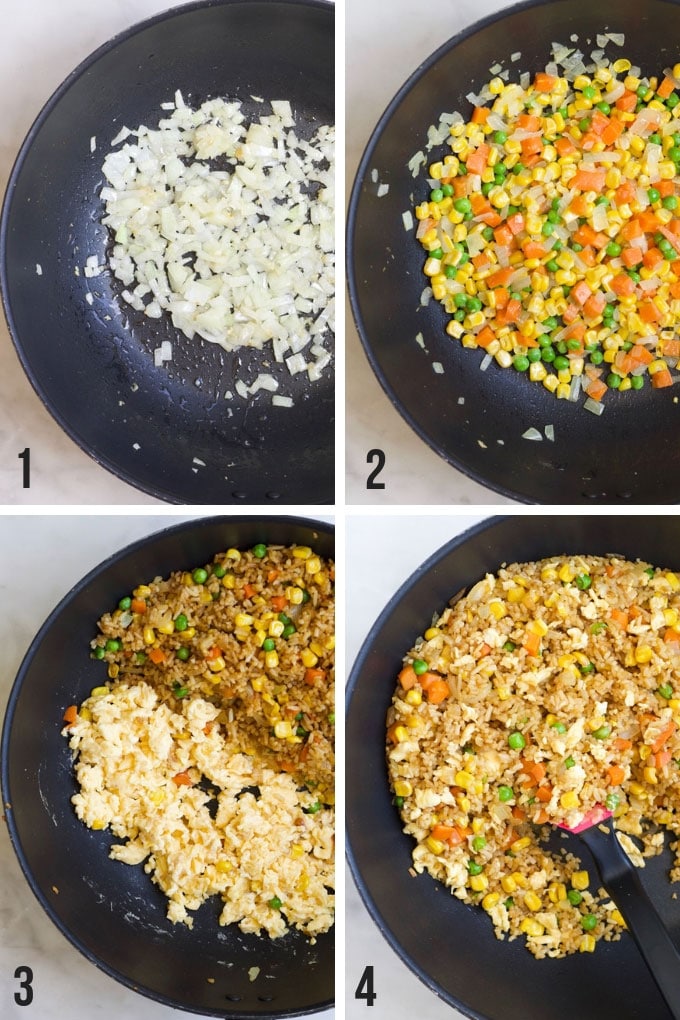 Ingredients and how to adapt the recipe.
I used frozen vegetables in this recipe, a mix of carrots, sweetcorn and peas. You can, of course, use any mix of frozen vegetables or fresh vegetables. I often use a mixture of both depending on what I need to use up in the fridge.
Add some red capsicum (bell pepper) and use a red onion to make this even more colourful. I call it Rainbow Rice when I do this. Sometimes giving a dish a fun name can make all the difference to whether your kids will eat it or not.
You do not have to add the egg, it still tastes delicious without it. Just miss it out.
Soy sauce is high in sodium and I personally would not recommend you add it if serving this dish to a baby. Babies' developing kidneys can't handle too much salt, and it can make them seriously ill.
If serving a baby or toddler you can remove their portion before adding the soy sauce. The ginger, garlic and sesame oil should provide enough flavour for them. You could also add some chopped herbs, such as coriander (cilantro.)
There are many varieties of soy sauce on the market. I used a regular/ light Chinese soy sauce. Check the ingredient list before you buy, they aren't all created equally. I like to buy a brand that doesn't have a long ingredient list. I used Kikkoman Soy Sauce which only has four ingredients - Water, soy beans, wheat and salt.
You can buy salt reduced soy sauce, which usually contains around 45% less sodium. However, the ingredient lists are longer and often include added sugar and food acids.
If you are looking for a gluten and soy free alternative then you can replace the soy sauce with coconut amino sauce. It is much lower in sodium, milder and sweeter but still has the umami flavour.
Additional Add-Ins
Vegetable fried rice is so adaptable and a range of add-ins work well.
I often add...
Cooked Chicken
Ham
Pork
Prawns (shrimp)
Cashew nuts
Pineapple
Ham and Pineapple (I call this Hawian Fried Rice, again the kids love the name!)
Other Rice Recipes
Looking for more healthy kid recipes?Sign up for my free recipe newsletter to get new family friendly recipes in your inbox each week! Find me sharing more kid-friendly inspiration on Pinterest and Instagram.
Vegetable Fried Rice
This delicious Vegetable Fried Rice can be whipped up in less than fifteen minutes and can easily be adapted to suit your little one's taste buds.
Prep Time: 5 minutes
Cook Time: 10 minutes
Total Time: 15 minutes
Serves:4
Hover over "serves" value to reveal recipe scaler
Ingredients
1 tablespoon Oil
2 Garlic cloves, minced
1 teaspoon Ginger, minced
½ Onion, finely chopped
240g (2 cups) Frozen vegetables *SEE NOTE 1
310g (2 cups) Cooked and chilled rice *SEE NOTE 2
2 tablespoon Soy Sauce *SEE NOTE 3
½ tsp Sesame Oil
3 Eggs, whisked
Instructions
Heat oil in a wok or large skillet, over high heat.

Add the onion, garlic and ginger, reduce the heat and cook for around 1-2 minutes.

Add the vegetables (from frozen is fine) and cook until defrosted and water has evaporated. (around 2 minutes)

Add the rice, soy sauce and sesame oil and cook for a further 1-2 minutes.

Move the rice to one side of the pan and pour the egg into the other side. Stir continuously to scramble the egg, until fully cooked through. *SEE NOTE 4

Stir the egg into the rice and serve.
Recipe Notes
You can use any mix of frozen vegetables or fresh if you prefer.
Chilled day old or defrosted frozen rice works best. Long grain, jasmine, basmati and brown rice all work well. For more information please read the rice section above.  Always make sure to defrost your rice in the refrigerator and to thoroughly heat through when cooking. 
I recommend removing a portion of the rice, before adding the soy sauce, if serving a baby/toddler. I used a regular/ light Chinese soy sauce in this recipe. If you are looking for lower sodium, soy free and gluten free alternative then you could replace the soy sauce with Coconut Amino Sauce. Please read the soy sauce section above for more information.
In my Chinese cooking course, I was taught to move the rice all around the edge of the wok and scramble the eggs in the centre. However, I find it easier to scramble at the side. You can use whatever method you find easiest.
Nutritional information is a rough estimate only, calculated using an online calculator. 
Nutritional facts
Calories: 245kcal | Carbohydrates: 32g | Protein: 9g | Fat: 7g | Saturated Fat: 1g | Cholesterol: 122mg | Sodium: 558mg | Potassium: 111mg | Fiber: 0g | Sugar: 4g | Vitamin A: 180IU | Vitamin C: 1.5mg | Calcium: 32mg | Iron: 1mg