These super easy Puff Pastry Tarts taste amazing and are a great way to expose children to a range of vegetables. A flexible recipe that is easy to adapt to suit taste or to the ingredients you have available.
My youngest has declared that he doesn't like snow peas, however, it would seem that when they are surrounded by golden, flaky pastry he apparently loves them! Exposure is the key and now that he has enjoyed this, previously disliked, vegetable in one way he will hopefully be more accepting to them when served in other ways.
Maybe you too can have success with presenting new or disliked vegetables via a puff pastry tart!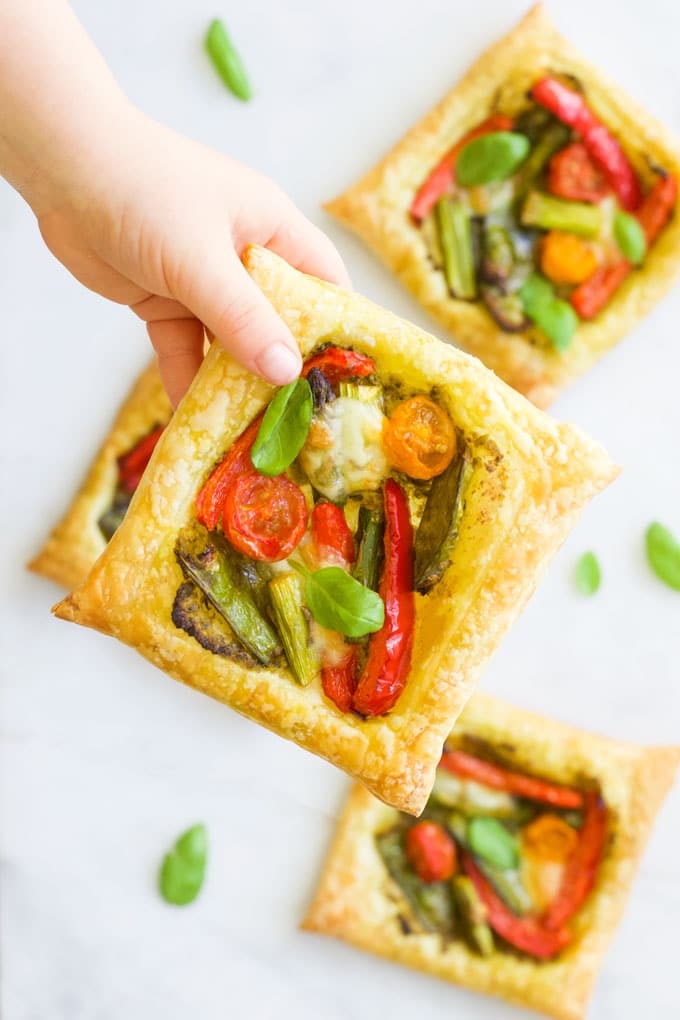 HOW TO MAKE PUFF PASTRY TARTS
Today I am sharing the recipe for the tarts I made when photographing this post but, to be honest, I rarely make the same tart twice. That is what is so good about this recipe, you can basically dump a range of ingredients on puff pastry squares, cook and enjoy! (within reason!)
I often roast a ton of vegetables at the start of the week to add to salads, meals, lunchboxes, snacks etc. I find when they are already prepared and cooked, we are much more likely to reach our veggie intake goals. This is another great use for the pre-roasted vegetables, and because you have done the prep work in advance, it makes this a super quick and easy lunch option.
If you don't have any roasted vegetables to hand you will have to prepare them before assembling your tarts. Most vegetables will need cooking time before they are added to the tarts. For the pictured tarts, I roasted some asparagus, snow peas, tomato and capsicum (bell pepper).
ASSEMBLING THE TARTS
I'm no pastry chef so I choose the easy route of using (defrosted) frozen puff pastry sheet. My sheets were 24.5cm x 24.5cm ( 9.5 x 9.5 inches in size)
Cut the pastry sheet into 4 equal squares and place on a baking tray. Using a small knife, score (do not cut all the way through the pastry) the edges to create a border (see picture below step 1)
Spread pesto inside the squares (pesto is optional but provides great flavour. You can use other spreads, see below for examples) Don't add too much, you don't want the pastry to get soggy. I find around ½ a teaspoon perfect.
Top with roasted vegetables and mozzarella.
Bake for 20 mins.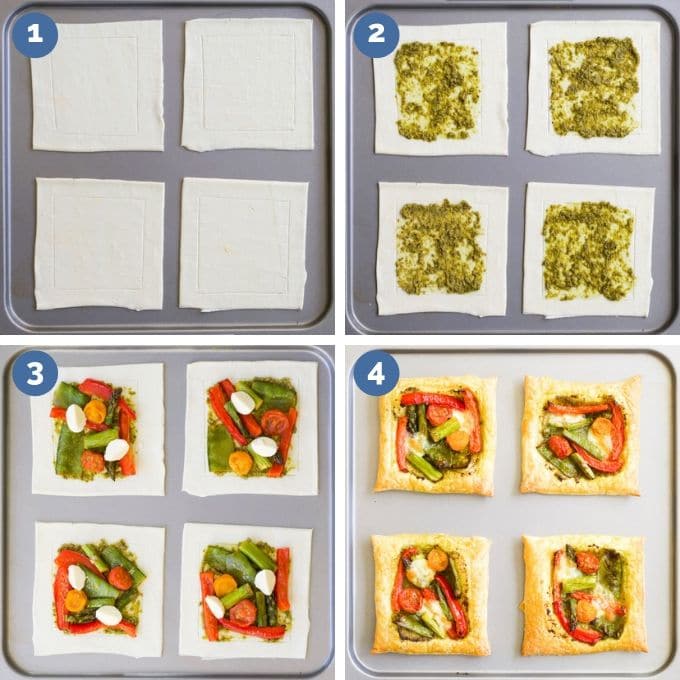 PUFF PASTRY TART FILLING IDEAS
The filling possibilities really are endless, play around and let me know what you (or your kids) create. Below I have listed some ideas to get the creative juices flowing!
VEGETABLES
Onions (Caramelized onions work great)
Mushrooms (sauteed)
Spinach (sauteed until wilted)
Sweet Potato (sliced or cut into small cubes and pre-roasted)
Pumpkin (cut into small cubes and pre-roasted)
Eggplant/Aubergine (thinly slice and grill (broil), roast)
Artichoke (use pre-cooked artichoke hearts)
Beetroot (pre-cooked and sliced)
Zucchini/Courgette (use peeler to make ribbons, no need to pre-cook)
SPREADS
Other varieties of pesto (red pesto, kale pesto etc)
Hummus
Cream Cheese / Ricotta Cheese mixed with lemon and fresh herbs
OTHER TOPPINGS
Cheese (cheddar, parmesan, mozzarella, feta, brie, goats cheese etc)
Olives
Smoked salmon, ham, shredded chicken etc
Pine nuts
Fresh/dried herbs
Of course, the filling ideas don't need to stop at savoury options. You can also try a range of sweet toppings using different fruits (e.g apple and cinnamon, mixed berries, strawberry etc)
COOKING WITH KIDS
This is a fantastic recipe for getting your kids involved in the kitchen. Scoring the pastry gives your children a great guideline for where they should spread and fill their pastries.
Provide your children with a range of cooked vegetables, herbs, cheeses and toppings that they can choose from. Let them get creative and design their own tart. Turn it into a Master Chef competition where you taste and rate the different creations.
CAN YOU MAKE PUFF PASTRY TARTS AHEAD OF TIME?
If I want to be organised ahead of time I usually pre-roast the vegetables and prep the pastry to step 1 (see above picture). That way it only takes minutes to assemble before cooking in the oven.
The tarts are best fresh from the oven. But if you want to bake them ahead of time, let them cool completely before storing in an airtight container. My boys are both happy to eat these tarts cold, they might not be quite as crispy, but they still taste great.
You may also like
Have you tried this recipe? I love receiving your feedback, please rate and leave a comment below or tag me on Instagram @healthylittlefoodies.
Looking for more healthy kid recipes?Sign up for my free recipe newsletter to get new family friendly recipes in your inbox each week! Find me sharing more kid-friendly inspiration on Pinterest and Instagram.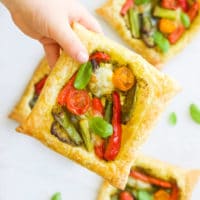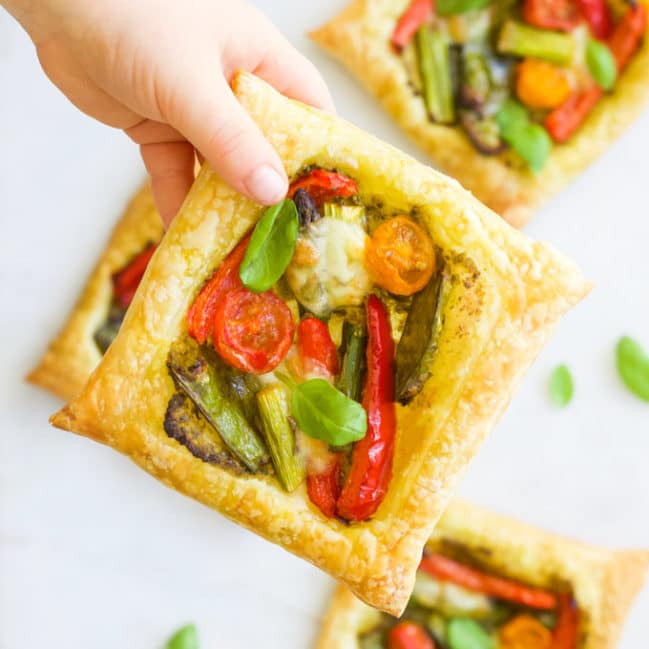 Puff Pastry Tarts
These Puff Pastry Tarts taste amazing and are a great way to expose children to a range of vegetables. A flexible recipe that is easy to adapt to suit taste or to the ingredients you have available. 
Prep Time: 10 minutes
Cook Time: 30 minutes
Total Time: 40 minutes
Serves:4
Hover over "serves" value to reveal recipe scaler
Ingredients
6 Asparagus Spears
8 Cherry tomatoes, halved
8 Snow Peas, topped, tailed and halved
½ Capsicum (Bell Pepper, Cut into thin strips
½ tbsp Olive Oil
1 Sheet (166g) Frozen Puff Pastry (defrosted) Mine was 24.5 x 24.5cm (9.5"x9.5")
2 tsp Pesto
2 (total weight 20g) Cherry Bocconcini, cut into quarters
Instructions
Pre heat oven to 200C / 390F

Cut the asparagus spears into 3cm pieces, discarding the end 3cm. Place in a mixing bowl along with the tomatoes, snow peas and capsicum. Toss in the olive oil.

Place the prepared vegetables onto a baking tray and spread. Bake for 10 mins. Remove from oven and set aside.

Cut the pastry sheet into four equal squares and then place on a baking tray, leaving a space between each.

Using a small knife score (making sure not to cut all the way through the pastry) the edges to create a border approx 1-2cm in from the edge (picture shown in above post)

Using the back of a spoon, spread the centre of each square with pesto, staying within the score lines

Pile a little of the vegetable mixture onto each pesto covered tart 

Divide the bocconcini equally between each tart.

Bake for 15-20 mins until the pastry is golden and crispy and the cheese has melted.
Nutritional facts
Calories: 283kcal | Carbohydrates: 22g | Protein: 5g | Fat: 20g | Saturated Fat: 5g | Cholesterol: 2mg | Sodium: 135mg | Potassium: 179mg | Fiber: 2g | Sugar: 2g | Vitamin A: 885IU | Vitamin C: 29.3mg | Calcium: 36mg | Iron: 1.9mg