Flakey on the inside and crispy on the outside, these fish goujons are easy to make, kid-friendly and can be served in a variety of ways. Commercially bought fish fingers may be a quick and easy option but making your own not only tastes better, it allows you to know exactly what you are eating and provides a great opportunity to get your kids in the kitchen.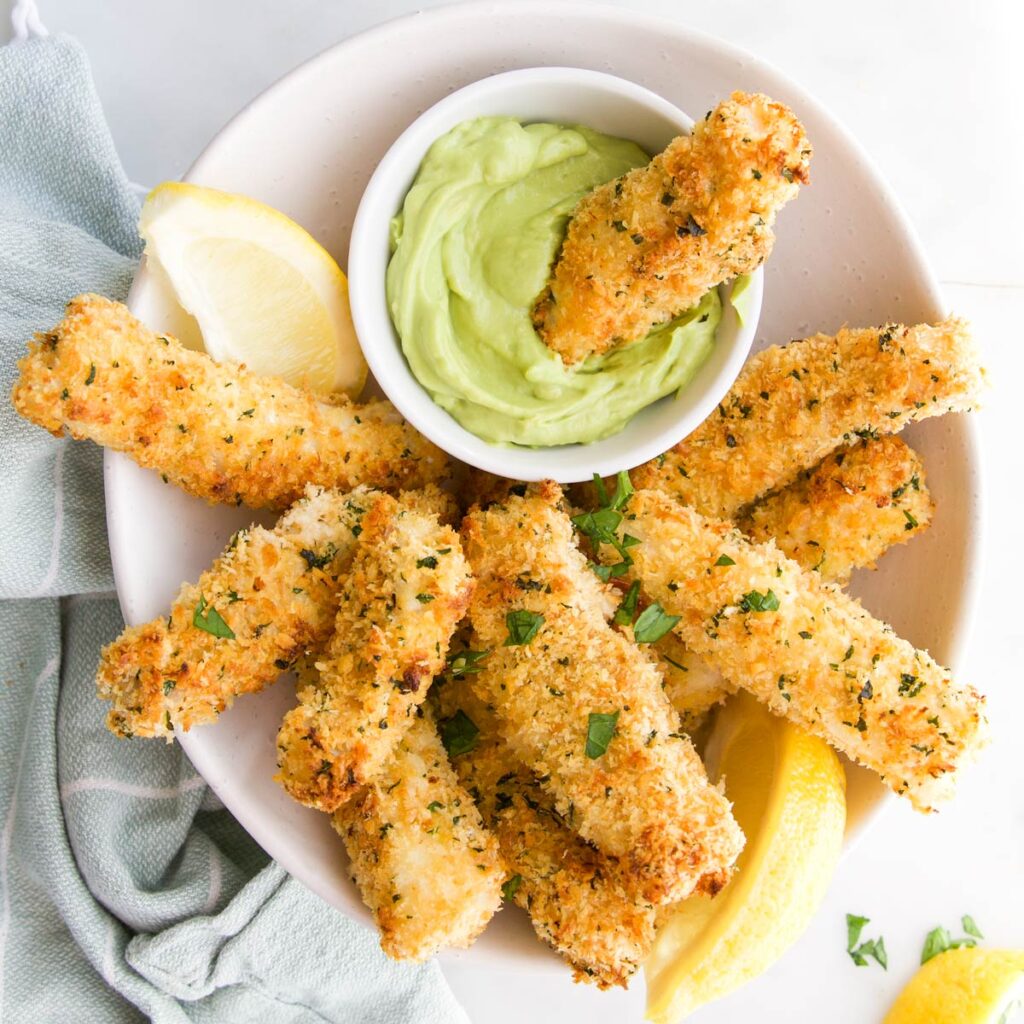 Reasons to Love these Fish Goujons
KID FRIENDLY
NUTRITIOUS
FREEZER FRIENDLY
GREAT FOR GETTING KIDS IN THE KITCHEN

Watch How to Make Them
Ingredient Information (with alternative suggestions)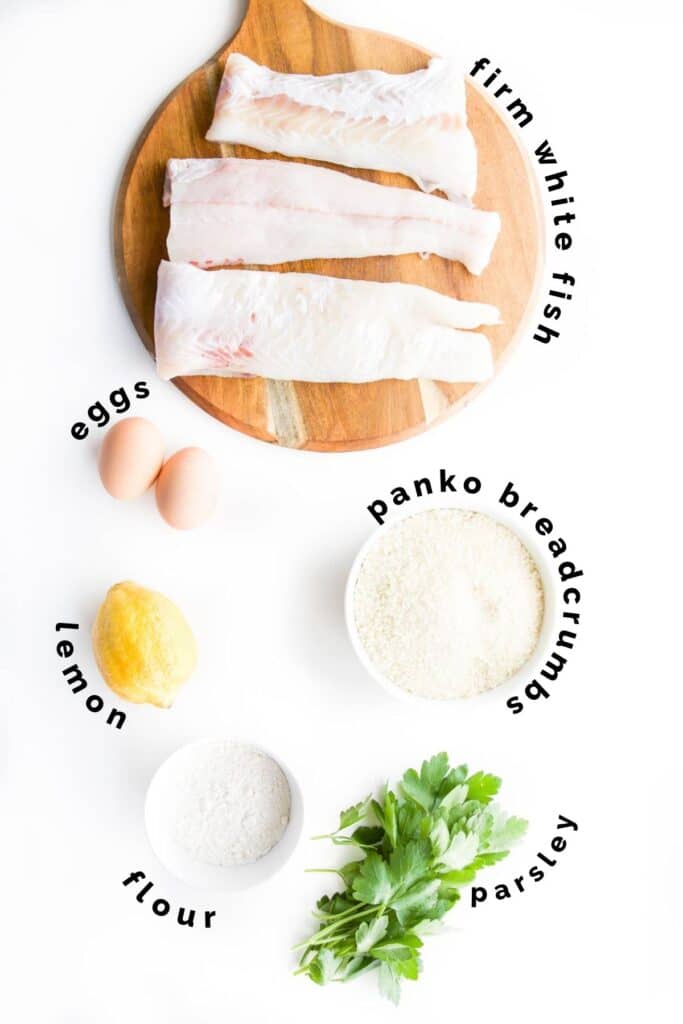 FISH: Use a firm white fish, most varieties will work well.
Examples Include: ling (pictured), flathead, cod, catfish, basa, barramundi, tilapia, lemon sole etc
FLOUR: The flour helps to soak up any additional moisture from the fish. It acts as a primer to help the egg and breadcrumbs cling to the fish.
Gluten Free? Use rice flour, cornstarch or another gluten free flour.
EGG: Helps the breadcrumbs stick to the fish. When the egg proteins cook and solidify, the breadcrumbs are secured onto the food.
Egg Free? Try replacing the egg with Dijon mustard (will give a bolder taste), cream, oil or yogurt.
BREADCRUMBS: Not only do the breadcrumbs create a delicious crunch exterior, they also act as an insulator to prevent the fish from drying. Use panko or fine breadcrumbs depending on preference.
Gluten Free? Use you favorite gluten-free breading mi or try blended/finely crushed rice cakes or crispy rice cereal.
LEMON & PARSLEY: Added for flavour. Can be skipped or the breadcrumbs can be flavoured with other herbs, dried herbs, spices or parmesan cheese.
Process Shots and Cooking Tips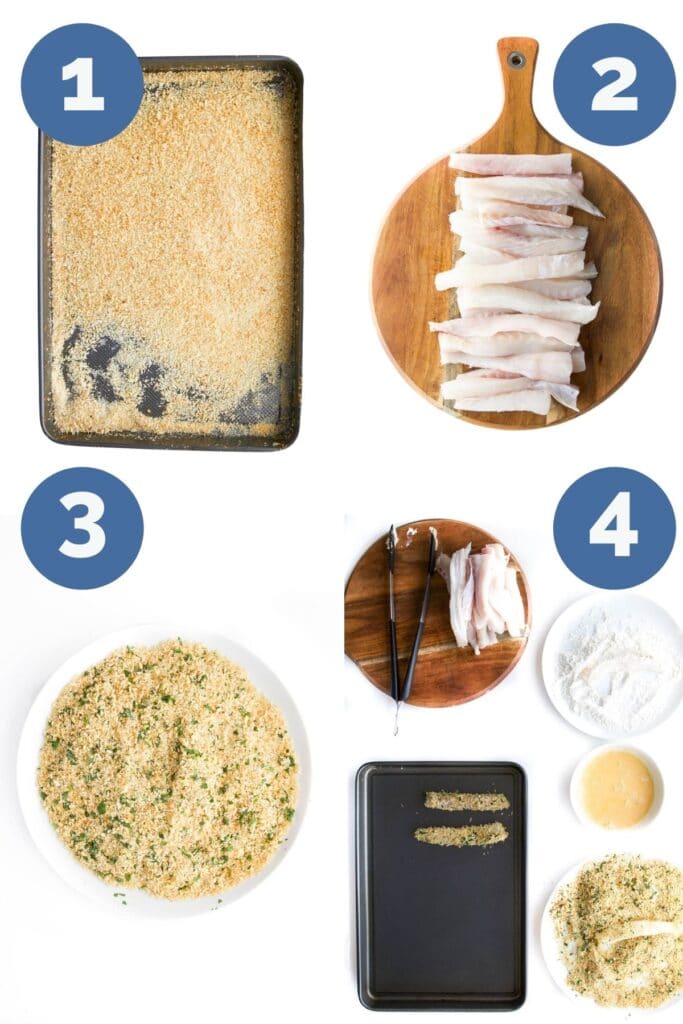 Toast breadcrumbs: This is an optional step and is for aesthetics only. Taking an extra few minutes to toast the breadcrumbs means your finished fish goujons will be gorgeously golden. This is a tip I learned from Recipe Tin Eats and is now something I always do before crumbing fish or chicken. If choosing to fry skip this step.
Cut fish into fingers: This can be done as the breadcrumbs toast. Cut the fish fillets into fingers around 1.5cm thick by 10 cm long ( ⅗"x4") They may seem long when raw, but the fish will shrink during cooking.
Flavour breadcrumbs: Add chopped parsley, lemon zest and salt (do not add salt if making for baby / toddler) to the breadcrumbs and stir until combined.
Coat Fish: Coat each fish stick in the flour, dip in the egg and finally role in the breadcrumbs.
Cook: You can either choose to pan fry or bake the fish goujons. Frying is quicker (if making a small batch) but much more labour intensive. Baking takes around 15 mins and you can cook all the sticks at the same time.
Cooking with Kids
Cooking with kids isn't always easy and it is often simpler just to cook alone. However, it is such an important part of encouraging and developing adventurous and healthy eating habits.
I love recipes, like these fish fingers, that involve dipping and coating. I can give both kids a job and it actually helps me out. With one boy coating in flour, the other dipping in the egg it means I can dip in the breadcrumbs without having clumps of the mixture on my fingers.
Serving Suggestions
VEGGIE BOOST: As parents we are always trying to add extra vegetables to our own and our children's diets. Why not try serving these fish sticks with an avocado dip, some carrot fries and a side of peas or air fryed cauliflower / broccoli.
FRIES: Fish and chips are a classic combo. Serve with some oven chips, sweet potato wedges or carrot fries.
DIPS: Kids love to dip, if your children are new to fish or learning to like it, serving with their favourite dip just might win them over. If they aren't fussy avout what type of dip it can be a great way to actually add nutrition (e.g a yogurt dip or vegetable based dip)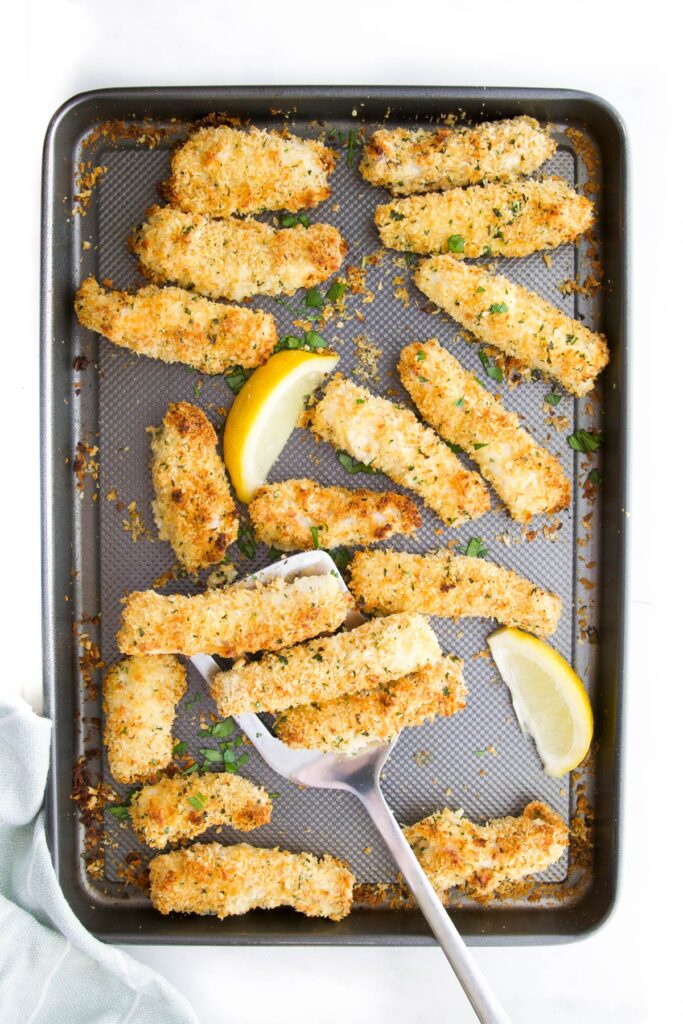 Storage Instructions
The cooked goujons don't keep well and dry out if reheated. They are best eaten straight away or frozen once assembled
Freeze on a baking tray/plate as soon as they have been breaded. Once solid, transfer to a freezer bag/container for up to two months. Bake from frozen, 15 min.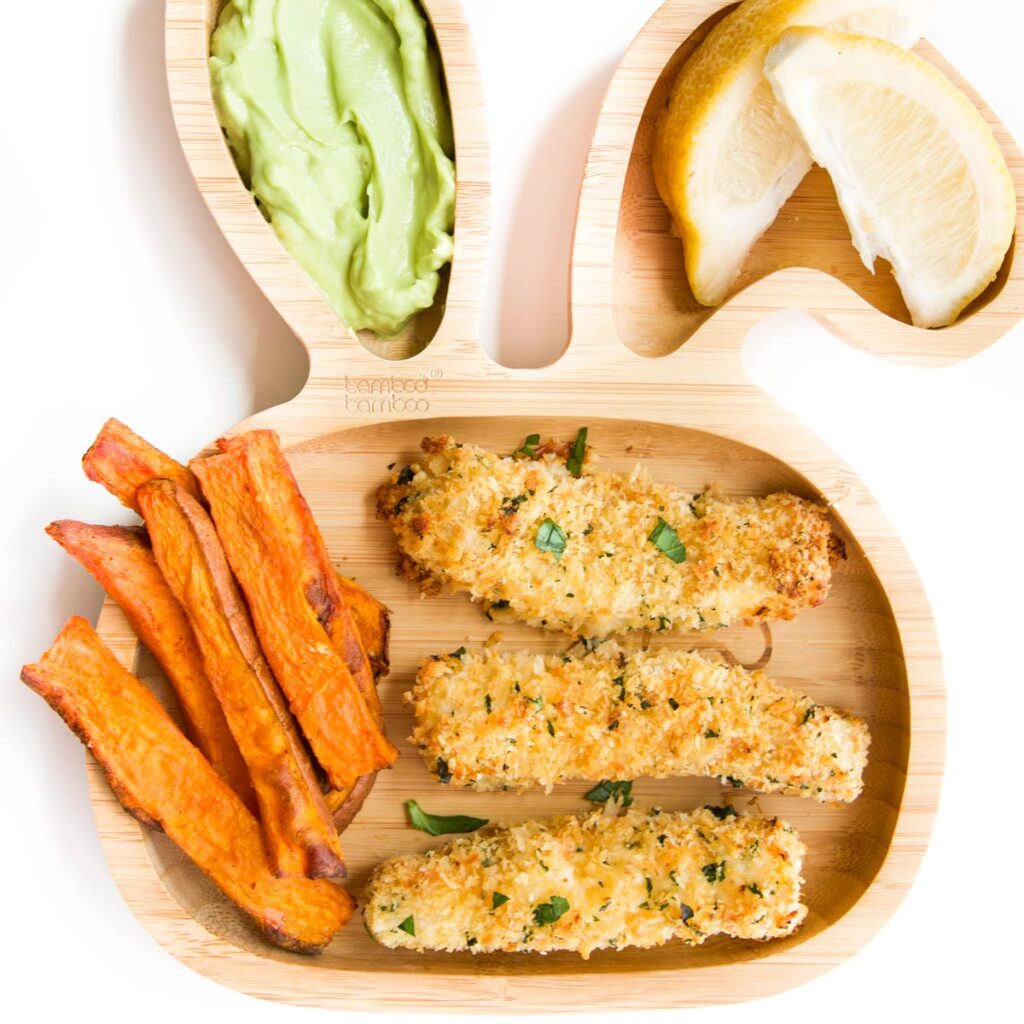 Frequently Asked Questions
What are fish goujons?
Fish goujons are strips of fish that are coated in breadcrumbs and typically deep-fried. In this recipe, I have given instructions for baking/pan-frying. Similar to fish fingers/fish sticks (USA) but less uniform in shape. 
Can you use frozen fish?
Yes, most frozen white fish should work fine. Just make sure to thaw completely and pat dry. If too wet the coating will not stick/stay on.
Are these suitable for babies?
Fish is one of the more common food allergens, and these fish goujons also contain gluten and egg (other common allergens). You should only serve these to a baby (6 months +) once these allergens have been introduced safely.
Do not add the salt and make sure to check the fish carefully for bones.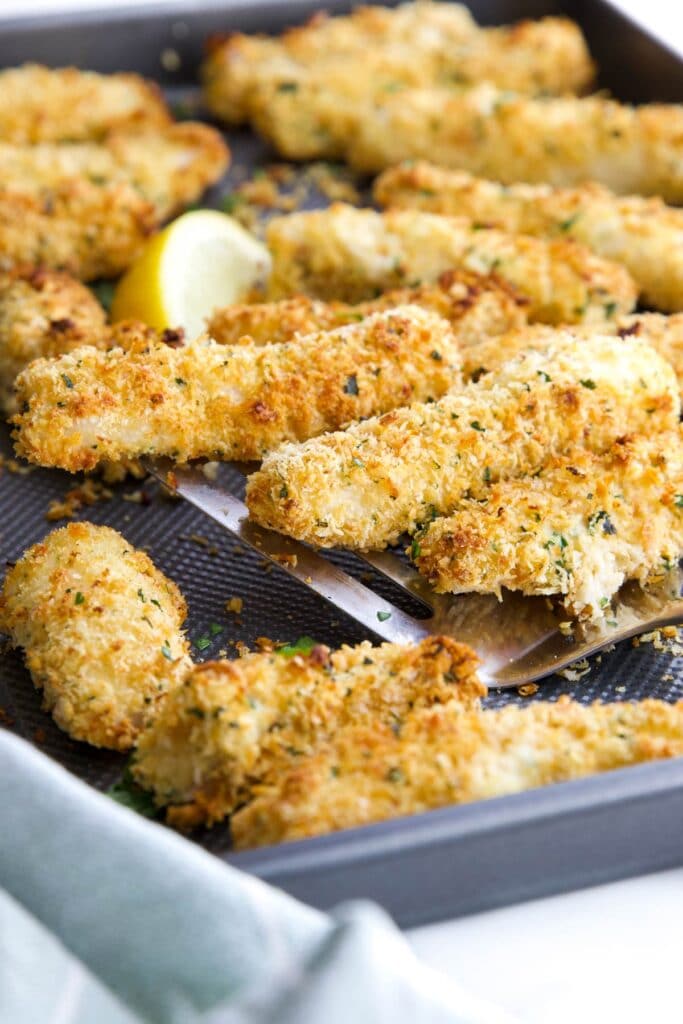 You May Also Like
Have you tried this recipe? I love to read your feedback, please rate and leave a comment below or tag me on Instagram @healthylittlefoodies
Looking for more healthy kid recipes?Sign up for my free recipe newsletter to get new family friendly recipes in your inbox each week! Find me sharing more kid-friendly inspiration on Pinterest and Instagram.
Fish Goujons
Flakey on the inside and crispy on the outside, these fish goujons are easy to make, kid-friendly and can be served in a variety of ways.
Prep Time: 20 minutes
Cook Time: 10 minutes
Total Time: 30 minutes
Serves:6
Hover over "serves" value to reveal recipe scaler
Ingredients
80g (1½ cups) Panko breadcrumbs
600g (1.3lb) Firm white fish fillet
2 tablespoon Chopped parsley
1.5 teaspoon Lemon Zest
½ teaspoon Salt (Do not add if making for baby/toddler)
45g (⅓ cup) Flour
2 Eggs
Instructions
Pre-heat oven to 180c/350f (skip this step if frying)

Spread breadcrumbs on a baking tray. Spray with oil and bake for around 3-5 minutes, until golden. Increase oven to 220°C / 425°F (skip this step if frying) and oil a baking tray or line with parchment paper.

Pat fish dry and cut into strips approx. 1.5cm x 10 cm / ⅗" x 4" 

Prepare breading station: Place flour in a shallow dish/plate. Place the egg in a separate shallow bowl and whisk. Combine the bread crumbs, lemon zest, parsley and salt and place on a third plate/shallow dish.

Place fish strip into the flour and roll to coat. Then dip into the egg and finally into the breadcrumb mixture to coat. Place on the prepared baking tray (if baking) or plate (if frying). Repeat until all fish is coated.
Baking Instructions
Spray fish goujons with oil and bake for 13-15 minutes or until crispy on the outside.
Pan Fry Instructions
Heat half the oil in a frying pan over a medium heat. Add half* the fish to the pan and cook the fish approx 2-3 mins, turning until cooked through. Repeat with the remaining oil and fish.

Serve straight away.
Recipe Notes
FISH: Use a firm white fish, most varieties will work well. (e.g ling (pictured), flathead, cod, catfish, basa, barramundi, tilapia, lemon sole etc) BREADCRUMBS: Panko is optional, you can use your preferred breadcrumb. Baking them for around five minutes before coating is optional but allows you to achieve a more uniform, golden colour when baking the fish.  FRYING: Depending on your pan size you will need to fry in 2,3 or 4 batches. Try not to overcrowd the pan Nutritional information is a ROUGH guide only, calculated using an online nutrition calculator. (Calculated using baking method)
Nutritional facts
Calories: 108kcal | Carbohydrates: 16g | Protein: 4g | Fat: 3g | Saturated Fat: 1g | Polyunsaturated Fat: 1g | Monounsaturated Fat: 1g | Trans Fat: 1g | Cholesterol: 55mg | Sodium: 313mg | Potassium: 63mg | Fiber: 1g | Sugar: 1g | Vitamin A: 192IU | Vitamin C: 2mg | Calcium: 36mg | Iron: 1mg
*This recipe was originally posted in June 2017. It has been updated to include baking and pan-fried instructions, new photographs, cooking tips and a recipe video. Click for the avocado dip recipe that was originally included within the post.