These delicious Chickpea Pancakes are fantastic for babies, toddlers, and big kids too. They are a healthy and tasty, protein-packed finger food with added vegetable goodness.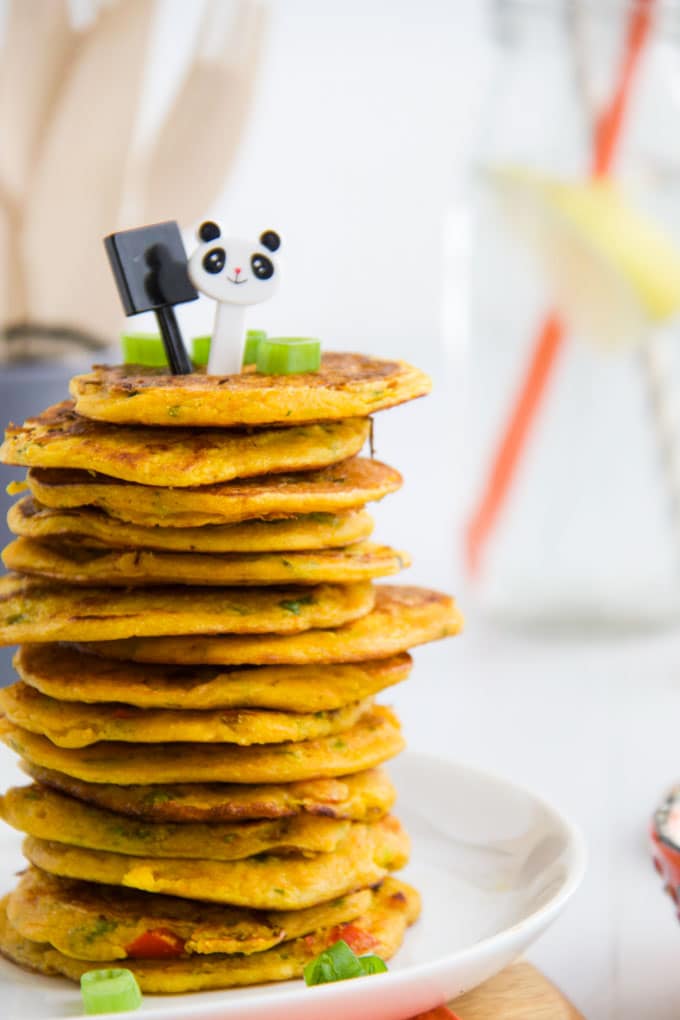 Feeding your baby/child a healthy diet isn't always easy but if you have to factor allergies into the equation then everything just gets that little bit harder. I am often contacted by parents reaching out to me for allergy friendly recipes.
One of my most viewed recipes is my lentil pancakes and I think the main reason they are so popular is that they are gluten, dairy and egg free. These Chickpea Pancakes tick the same allergen friendly boxes and I know they will be just as popular! (fingers crossed ;))
What is Chickpea Flour?
Chickpea flour, also known as gram flour, garbanzo bean flour or besan, is simply finely milled chickpeas. It is a great source of protein, fiber, and vitamins and is naturally gluten-free.
It is a dense flour and a good, gluten-free, binder making it fantastic for using in fritters. Mixed with other flours, it is great to use when making quick bread, muffins, and cakes.
Where to buy Chickpea Flour
You can buy chickpea flour in many supermarkets now, I usually find it in the health aisle or the Asian food aisle. You can also pick it up in health stores or in Asian food markets.
Alternatively, you could try making your own, using dried chickpeas. I have never tried making it but here are some instructions if you fancy giving it a go.
Making Chickpea Pancakes - Tips and Recipe Notes
Batter Ingredients: You can make chickpea pancakes with just chickpea flour and water. Chickpea flour does, however, have an earthy flavour that can be a little overwhelming for kids (and adults) and may take a little bit of time to get used to. So, to the batter, I have added:

Grated Veg: I added grated vegetables, not only for nutritional purposes but also for flavour. The carrot adds a bit of sweetness that works well with the batter.
Herbs and spices: To help balance out the flavour, I have added herbs and spices. You can alter the amounts to suit taste. I recommend exposing your baby to spices from the beginning.
Of course, what you choose to add to the batter is optional and you can tailor the recipe to suit your child's flavour preferences.

Batter Consistency: You may have to vary the amount of water you use slightly. Try frying one first, it should crisp up well and bubbles should form on top. I have included photos (above & below) but it is hard to tell the consistency in a photo. You will get a feel for the right consistency.
Oil: The amount of oil you use will depend on the pan you use. I recommend using a nonstick pan and you will find you need very little oil. You can use a spray oil to reduce the amount needed.
Pancake Size: I made small tablespoon pancakes, perfect for babies and kids. Once I add the batter to the pan, I spread out the mixture a little, using the back of a spoon, to make the pancake thinner. If you prefer, you can make a larger, crepe style pancake.
Heat: The trick to creating these pancakes is to get the correct temperature. You want to get a high enough temperature to crisp up the pancake but you need to be careful not to burn them. I found a medium-high heat worked well.
When to Flip: Once you start seeing pin holes (see below picture) on top and you can easily slide a pancake flipper under the pancake, you are ready to flip.
Eat Warm: Although my kids were happy to eat these cold, I definitely recommend eating them straight away / warm.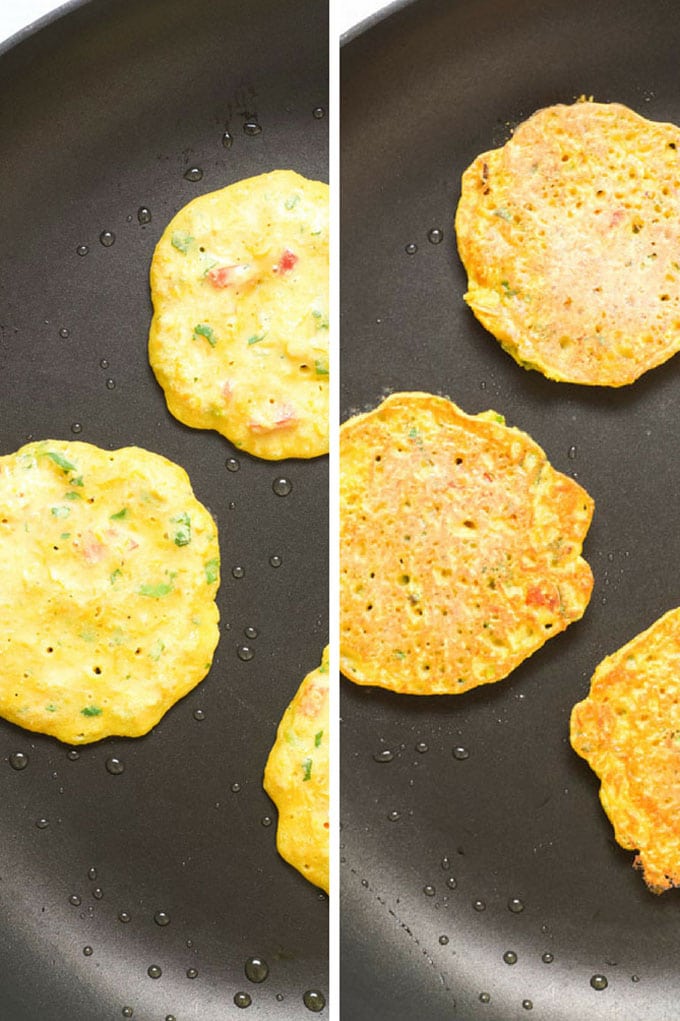 When and What to Serve Chickpea Pancakes With.
Made with wholesome ingredients, chickpea pancakes are delicious and filling at any time of the day.
Breakfast: To reach our vegetable intake target we should really start the day with some veggies. These pancakes are a great way to start the day right. I'd serve them along with some chopped fruit and maybe some yoghurt for dipping.
Lunch: I've made the pancakes small in this recipe but you can easily make a large, crepe style, pancake and use it as a wrap.
Dinner: My kids love these served with curry or a meal that has a lot of sauce to dip them in.
Have you tried this recipe? I'd love to know what you think! Please rate and leave a comment below or tag me on Instagram or Facebook.
Looking for more healthy kid recipes?Sign up for my free recipe newsletter to get new family friendly recipes in your inbox each week! Find me sharing more kid-friendly inspiration on Pinterest and Instagram.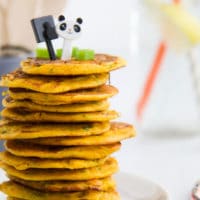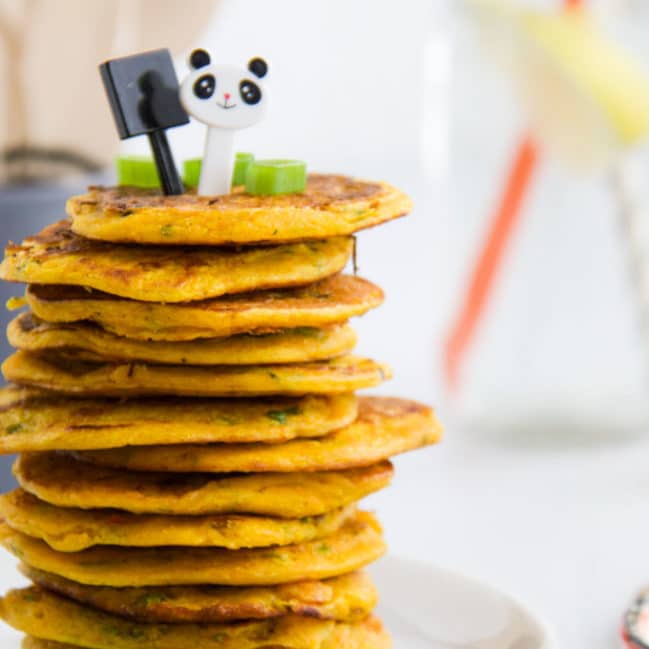 Chickpea Pancakes Recipe
These delicious Chickpea Pancakes are healthy, tasty and protein-packed with added vegetable goodness.
Prep Time: 10 minutes
Cook Time: 15 minutes
Total Time: 25 minutes
Serves:23 small pancakes
Hover over "serves" value to reveal recipe scaler
Ingredients
1 cup (120g) Chickpea Flour
1 ½ cups 375ml Water
2 tablespoon Olive Oil *See Note 1
1 Carrot, finely grated
¼ Red Capsicum (bell pepper), finely chopped
1 Spring Onion, finely chopped
¼ teaspoon Turmeric
¼ teaspoon Cumin seeds
2 tablespoon Chopped Coriander (cilantro)
¼ teaspoon Salt *See Note 2
Instructions
In a mixing bowl add the chickpea flour and then slowly add the water, whisking continually, to form a smooth, lump-free batter. Set aside.

In a frying pan, heat ½ tablespoon of the oil over a medium-high heat. Add the carrot, pepper, onion, turmeric and cumin seeds. Reduce the heat to medium-low and cook until softened (around 4-5 mins)

Add the carrot mixture to the chickpea batter along with the chopped coriander and salt (if using). Stir until fully combined.

Heat a non stick frying pan over a medium-high heat. When hot add a drizzle of the olive oil (or alternatively use a spray oil). Add a tablespoon of the batter to the pan and use the back of your spoon to spread it out a little (to make them thinner) Repeat to fill the pan. (*See Note 3)

Cook for around 2 minutes on each side (this will vary depending on the pan, heat and how thin your pancake is). You want to look for bubbles forming (see above picture) and your pancakes should be able to be flipped easily.

Remove pancakes from the pan and repeat with the remaining mixture.
Recipe Notes
The amount of oil you need will depend on your pan. I find I can use very little when using a non-stick pan, a light spray is usually enough. 
I do not normally add salt to my recipes but I do feel that the salt greatly enhances the recipe. This is optional and for taste only. Leave out if cooking for a baby. 
If you prefer you can make a larger, crepe style pancake with this mixture. (They make a great, gluten-free wrap) Use a ladleful of the mixture and spread to cover the pan. Cook for approx 4 mins on each side. 
Nutritional information is a ROUGH guide only, calculated using an online nutrition calculator. The facts are based on one pancake using one tablespoon of mixture. 
Nutritional facts
Calories: 32kcal | Carbohydrates: 3g | Protein: 1g | Fat: 1g | Saturated Fat: 0g | Cholesterol: 0mg | Sodium: 31mg | Potassium: 55mg | Fiber: 0g | Sugar: 0g | Vitamin A: 490IU | Vitamin C: 1.9mg | Calcium: 4mg | Iron: 0.3mg