These low sugar Chickpea Cookies are high in fibre, packed with goodness and are egg, dairy and nut-free.
You may think making cookies from chickpeas is a little on the crazy side but don't dismiss these before you try them!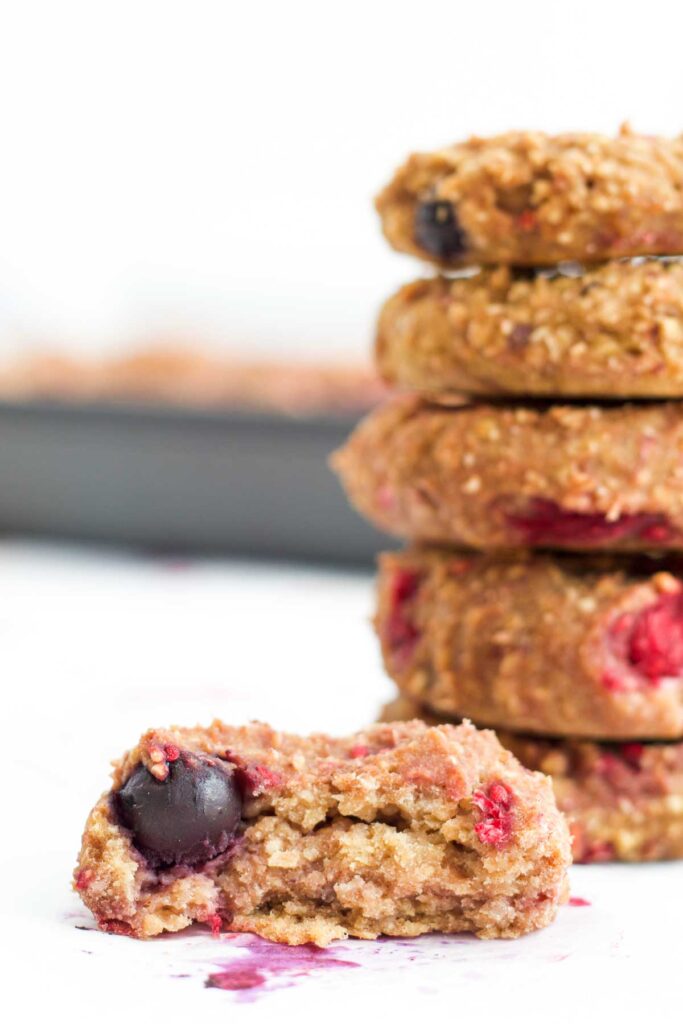 5 Reasons to Love Chickpea Cookies
NUTRITION: If you are craving something sweet and indulgent then these aren't for you. However, if you are looking for a healthier cookie then these fit the bill. Low in sugar, high in fibre and filled with goodness.
DIET / ALLERGY FRIENDLY: Great for those following a vegan diet or who have allergies. These chickpea cookies are free from wheat (but not gluten-free due to oats), dairy, eggs, and nuts.
EASY TO MAKE: A great recipe for little ones to make in the kitchen. Fantastic for showing different ways chickpeas can be used and it is egg-free, meaning they can try as much of the mixture as they like!
LUNCHBOX FRIENDLY: These chickpea cookies are nut-free, low-sugar and high-fibre making them a fantastic lunchbox addition.
FREEZABLE - Store them in the freezer to take out for the lunch box/snacks as needed.
Ingredient Information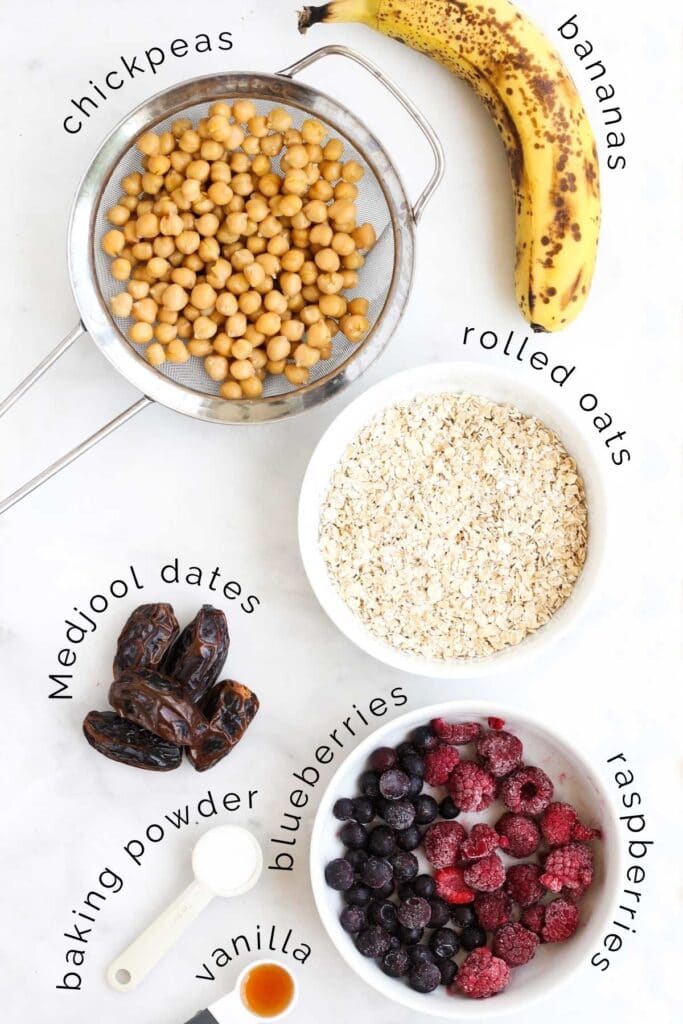 Canned chickpeas: Canned chickpeas are used to keep it simple (look for no added salt). You can use dried chickpeas but just factor in the soaking time.
Oats: The oats are blended in a food processor so you can use rolled oats or quick oats. Do not use steel cut oats.
Bananas: Use ripe bananas as the sweetness is needed.
Medjool Dates: You can use any dates but make sure they are soft or they will not blend properly. If your dates are a little dry soak them in boiling water for a couple of minutes before blending.
Process Shots and Cooking Tips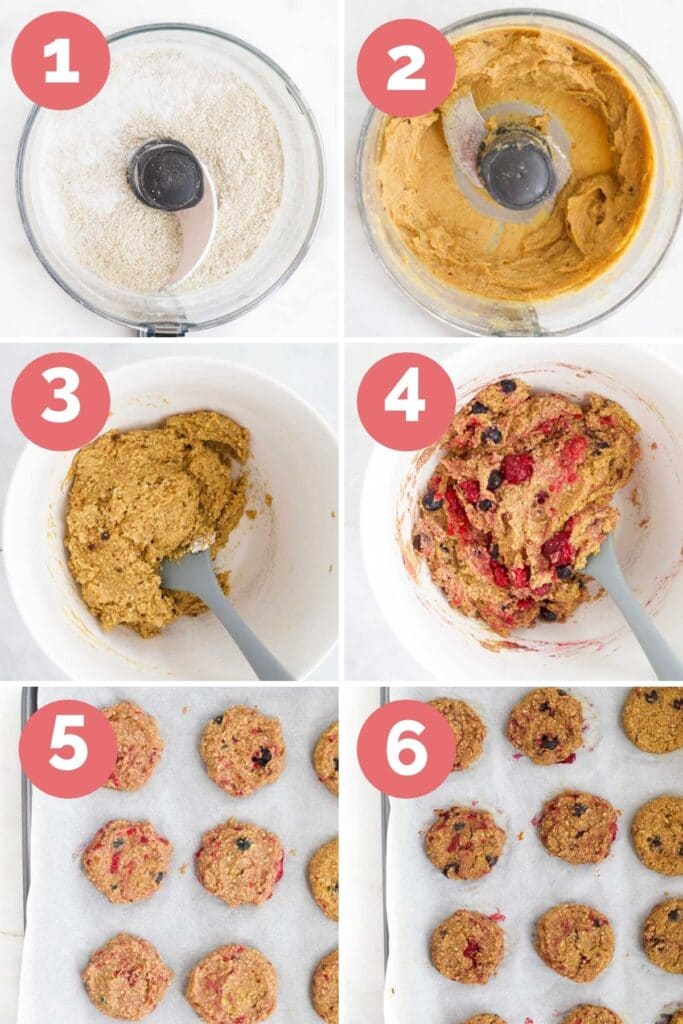 Blend Oats until you achieve a course flour consistency. Add the baking powder, stir and set aside.
Blend dates, banana, chickpeas and vanilla to form a sticky sweet paste. This make take a minute or too depending on how well your dates break down. (dates should be soft before blending)
Combine wet and dry ingredients - add the chickpea mixture to a mixing bowl and stir through the oats until just combined.
Stir through berries breaking up any larger berries.
Form Cookies: Roll tablespoons of the mixture into balls and flatten to form a cookie shape. Top tip - the mixture is moist and sticky, it really helps to wet your hands when forming the cookies.
Bake for 15 mins.
Storage Instructions
These cookies have a higher water content than traditional cookies. For this reason they will not store at room temperature for long. The cookies are best stored in the freezer.
Room Temperature: Allow to cool, transfer to an airtight container and store for up to a day.
Freezer: Allow to cool, transfer to an airtight container (seperate each layer with baking paper) and freeze for up to 2 months.
Frequently Asked Questions
Are these cookies suitable for babies?
If making for a baby I would recommend reducing the amount of dates used, to reduce the sugar content.
Can you taste the chickpeas?
I don't believe you can. The raspberries and blueberries give great flavour bursts and the sweetness of the banana and dates mask the chickpea flavour. If you are worried you can add more sweetness by adding extra dates or some sugar /sweetener.
You may also like...
Looking for more healthy kid recipes?Sign up for my free recipe newsletter to get new family friendly recipes in your inbox each week! Find me sharing more kid-friendly inspiration on Pinterest and Instagram.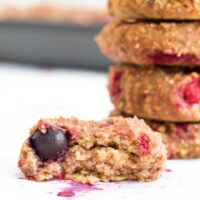 Chickpea Cookies
These fruity chickpea cookies are high in fibre, packed with goodness and are egg, dairy and nut-free.
Prep Time: 10 minutes
Cook Time: 15 minutes
Total Time: 25 minutes
Serves:17 cookies
Hover over "serves" value to reveal recipe scaler
Equipment
Food Processor

Baking Tray (sheet)
Ingredients
70g (¾ cup) Rolled Oats
1 tsp Baking Powder
400g (15oz) Can Chickpeas Rinsed, drained and patted dry. (Drained weight 240g)
1 Ripe Banana
2 teaspoon Vanilla extract
6 Medjool Dates Dates should be soft, see notes.
55g (½ cup) Frozen raspberries
30g (¼ cup) Frozen blueberries
Instructions
Pre heat oven to 180c /350 F / Gas 4 and prepare two baking trays with baking paper

Add the oats to a food processor and blend until a course flour consistency is achieved. Add to a mixing bowl and stir through the baking powder.

Add the chickpeas, banana, vanilla and dates to the food processor and blend until the dates are broken down and a smooth paste is achieved.

Add the paste to a mixing bowl and stir through the oats until combined. Add the berries and gently stir through. Break down any larger berries into the mixture.

Scoop out 1 tablespoon of the mixture and roll into a ball, place on the prepared baking sheet and press down to form a cookie shape. Repeat (makes approx. 17)

Bake for 15 mins.
Recipe Notes
DATES: The dates need to be fresh/soft or they will not blend properly. If your dates are on the dry side, soak them in boiling water for a few minutes before blending. You can adjust the number of dates used (use less if making for a baby, more if you want a sweeter cookie)   Nutritional Information is a rough GUIDE only and is calculated using an online nutrition calculator. 
Nutritional facts
Serving: 1g | Calories: 62kcal | Carbohydrates: 13g | Protein: 2g | Fat: 1g | Saturated Fat: 1g | Sodium: 40mg | Potassium: 150mg | Fiber: 2g | Sugar: 7g | Vitamin A: 21IU | Vitamin C: 2mg | Calcium: 24mg | Iron: 1mg
*This post was previously published Feb 2017. It has been updated to provide more information and process shots. The recipe has also been tweaked due to reader feedback. If you would like the original recipe please email me and I can send you it.