Fruity Chickpea Cookies – A healthy high fiber, high protein cookie sweetened only with fruit.
Chickpea Cookies? Yes, you read correctly, I've put chickpeas in a cookie and my boys love them. Please don't dismiss these before you try, I promise they ae good and they get the big thumbs up from both my 5 year old and my 2 year old!
Finn started school this week and so I have all of a sudden been thrown into the world of lunch boxes. I had a little taster of it while he attended pre school but now that he needs a lunch box five days a week I have been thinking a lot more about healthy lunch box ideas that are quick and easy and meet the school criteria of being nut free.
I plan to add, very soon, a section to this site all about lunch boxes. I will include the lunch boxes I have prepared, lunch box recipe ideas and more information about the lunch boxes I use. In the meantime you can see these ideas on my instagram. (Updated: Find the lunch box section here)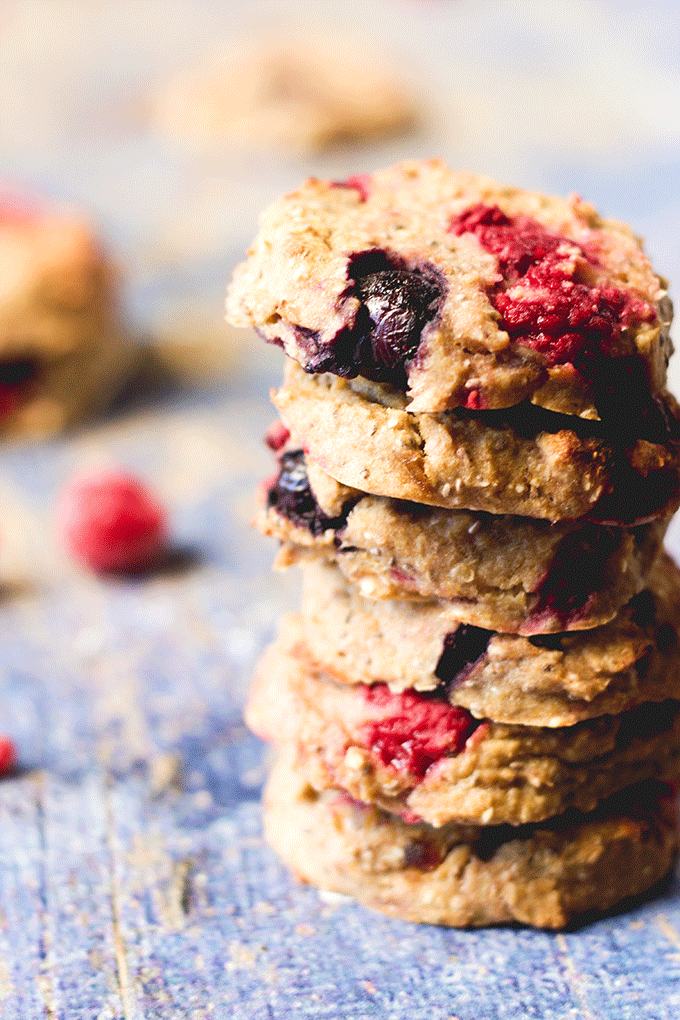 These fruity chickpea cookies are the first recipe I have developed with the lunch box in mind. I can't believe how many of my recipes contain nuts or peanut butter. I think I may have an addiction! Although I think some peanut butter and some crunchy nuts would taste great in these cookies I really wanted something that I could throw into the freezer to take out for the lunch box when needed.
If you are looking for something sweet and indulgent then these aren't the cookies for you. After all they are chick pea cookies with no added sugar! However, if you are looking for something healthy, high in fibre, protein and packed full of goodness then these fit the bill exactly. If your kids don't need a lot of sweetness then these are perfect. The raspberries and blueberries give great flavour bursts but if you think that these would benefit from a little more sweetness then you can always up the dates or add a little sweetener of choice.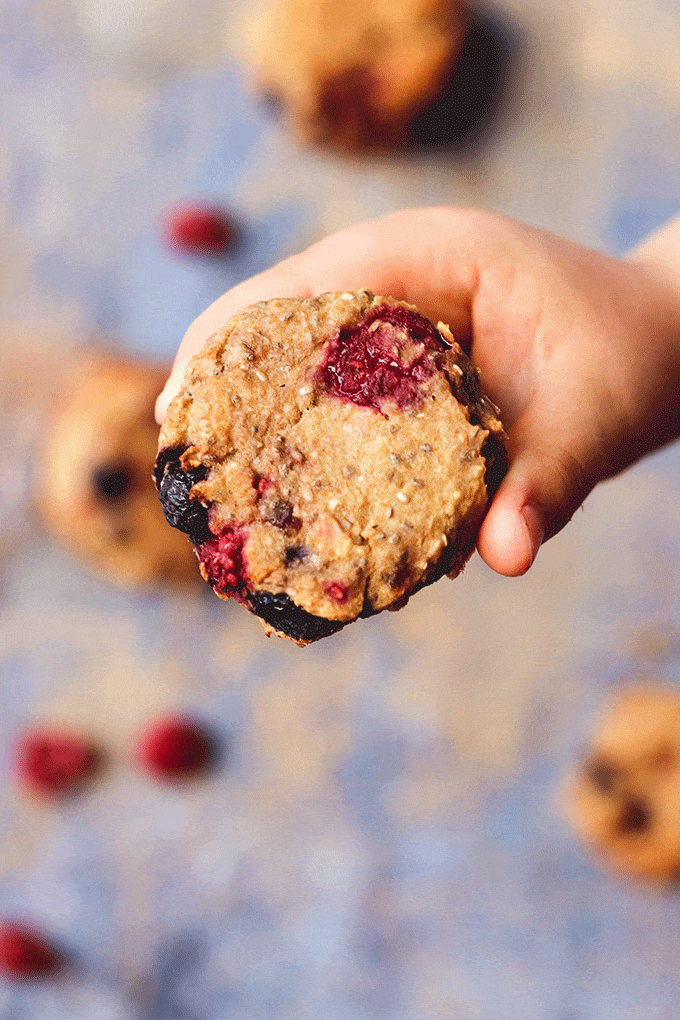 You May Also Like
Veggie Chickpea Sticks
Sweet Potato & Chickpea Curry
Sweet Potato Brownies
Have you tried this recipe? I love receiving your feedback, please rate and leave a comment below or tag me on Instagram @healthylittlefoodies
Looking for more healthy kid recipes?Sign up for my free recipe newsletter to get new family friendly recipes in your inbox each week! Find me sharing more kind-friendly inspiration on Pinterest and Instagram.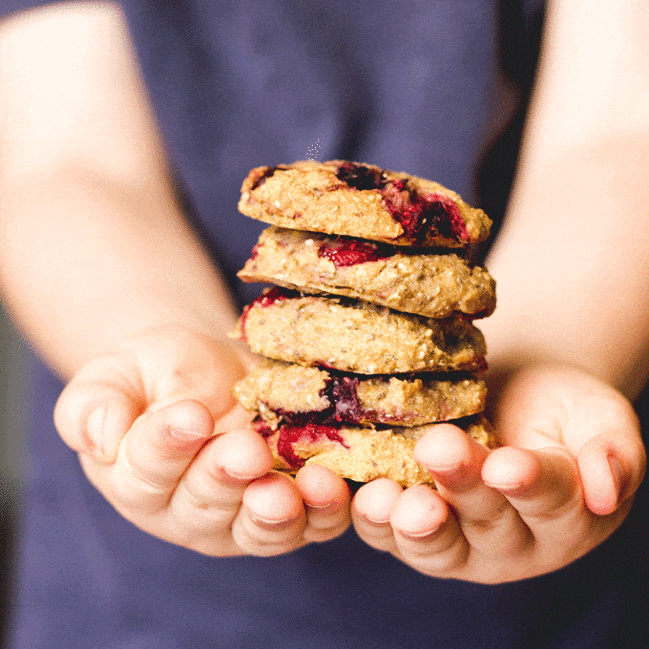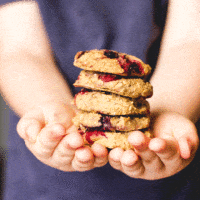 Fruity Chickpea Cookies
Healthy cookies made from chickpeas, chia seeds and fruit. No refined sugar and sweetened only with fruit.
Prep Time: 10 minutes
Cook Time: 15 minutes
Total Time: 25 minutes
Serves:12 cookies
Hover over "serves" value to reveal recipe scaler
Ingredients
2 tbsp chia seeds
80 ml (1/3 cup) water
1/2 tsp vanilla extract
400 g can chick peas (drained and thoroughly washed)
1 small ripe banana
95 g (1/3 cup) apple puree
70 g (3/4 cup) rolled oats
25 g (5 small) dates**
75 g (1/2 cup) frozen raspberries
45 g (1/4 cup) frozen blueberries
Instructions
Pre heat oven to 180c /350 F / Gas 4 and prepare two baking trays with baking paper / re usable baking sheets.

Combine the chia seeds, water and vanilla extract together in a bowl.

Add the chickpeas, banana, apple puree, oats and dates to a food processor and blitz until smooth. Add the chia seed mixture and pulse until combined.

Remove blade and stir through the raspberries and blueberries.

Form table spoon sized cookies onto the baking sheet.

Bake for 15 mins.
Recipe Notes
** You may wish to add more dates / sweeter of choice if you are looking for a sweeter cookie. Nutritional Information is a GUIDE only and is calculated using an online nutrition calculator. 
Nutrition Facts
Fruity Chickpea Cookies
Amount Per Serving (1 g)
Calories 107 Calories from Fat 12
% Daily Value*
Fat 1.3g2%
Sodium 45.9mg2%
Carbohydrates 19.3g6%
Sugar 4.6g5%
Protein 3.6g7%
* Percent Daily Values are based on a 2000 calorie diet.