Cauliflower Base Mini Pizzas are a great way to add some extra veggies into a kid favourite dish.
I have seen and heard about using cauliflower as a pizza base for several months now. I have made Cauliflower Base Mini Pizzas a few times recently and have adapted my recipe each time. I have finally got a recipe that combines well and has a good flavour. I used cauliflower, egg, cheddar cheese and dried herbs. However, if you prefer, you could substitute the cheddar for mozzarella.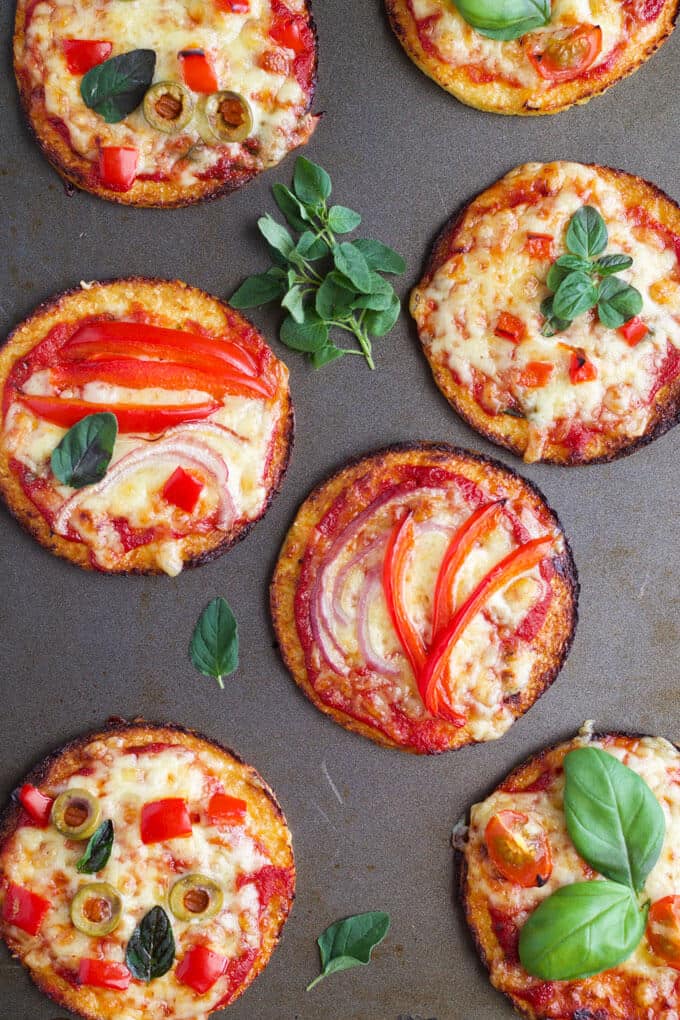 Using cauliflower as a base allows me to add more vegetables into Finn's (and my own) diet. If you have a fussy eater, that really doesn't like vegetables, then this is a great way to sneak them into your kids meal. (Hopefully successfully.) Cauliflower is packed with rich nutrients and it is a good source of vitamin C, K and the B vitamins.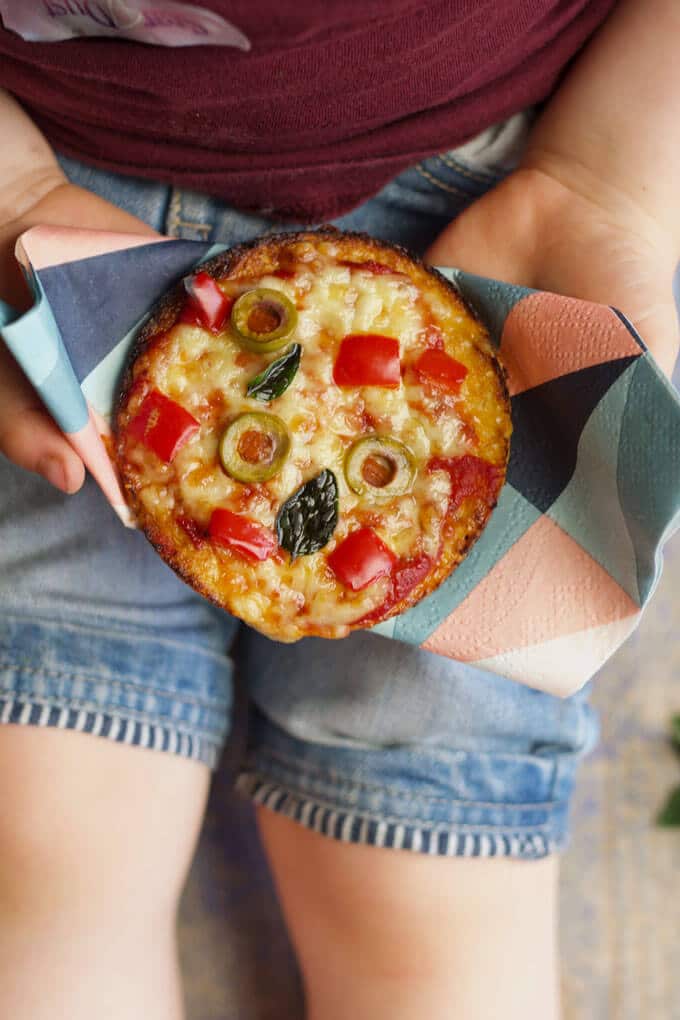 I love meals that Finn can get involved in and this one is perfect. I set up a table with the pizza sauce, a selection of vegetables and some grated mozzarella. Then I basically left him to it.
After sampling everything I laid out, Finn then just picked up handfuls of each vegetable and threw them on each base! It worked though and they tasted delicious! We will definitely be having cauliflower base mini pizzas again!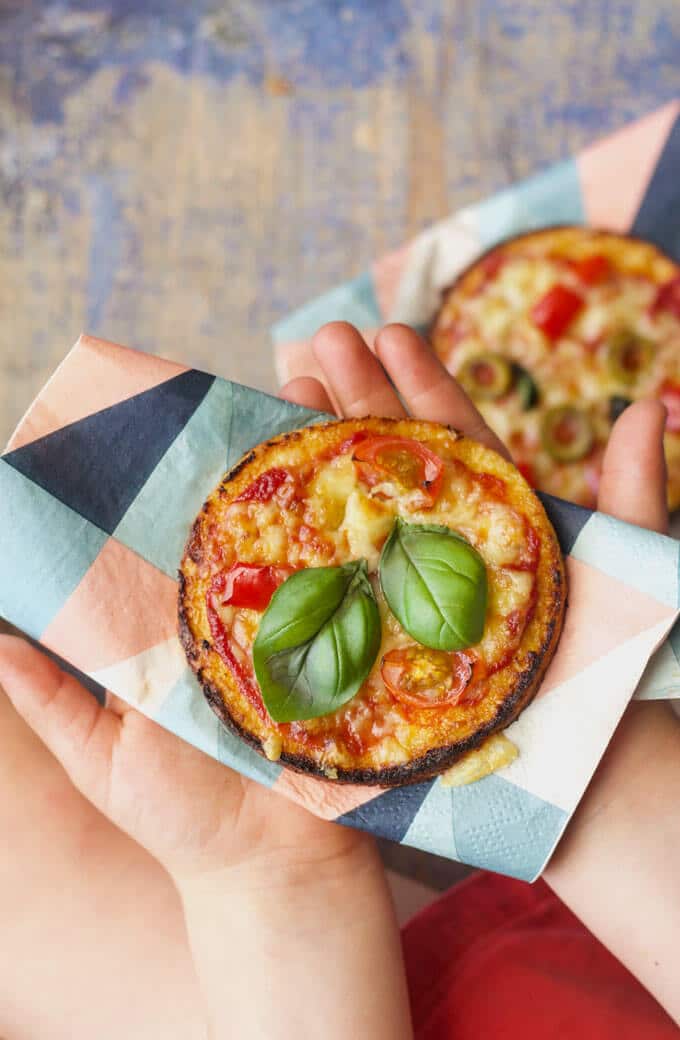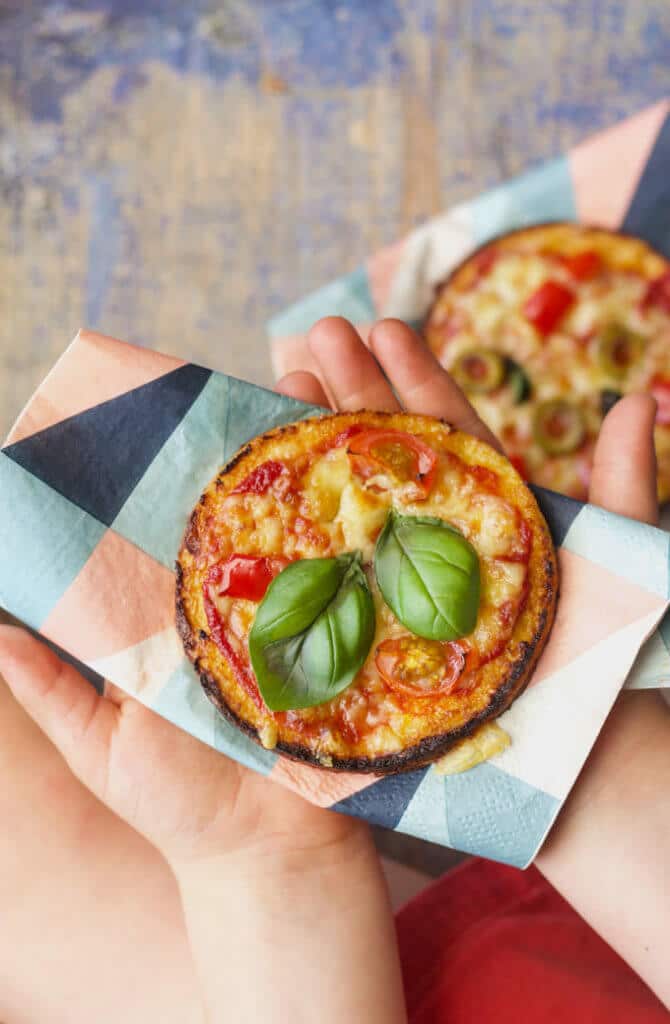 If you love these pizzas then why not try my sweet potato base pizzas or my aubergine base pizzas!
Looking for more healthy kid recipes?Sign up for my free recipe newsletter to get new family friendly recipes in your inbox each week! Find me sharing more kind-friendly inspiration on Pinterest and Instagram.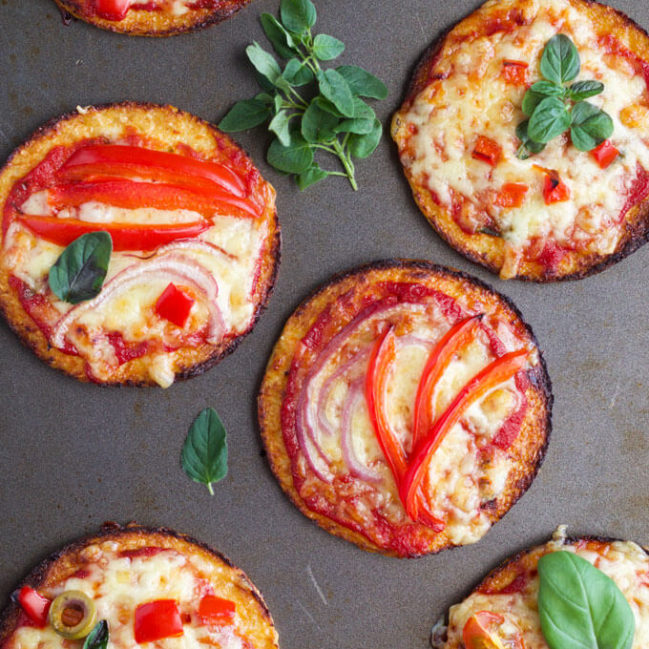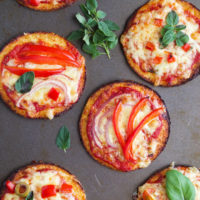 Cauliflower Base Mini Pizzas
Mini pizza bases made from cauliflower, egg, cheese and herbs.
Prep Time: 20 minutes
Cook Time: 35 minutes
Total Time: 55 minutes
Serves:9
Hover over "serves" value to reveal recipe scaler
Ingredients
1 small head of cauliflower
1 cup grated cheddar cheese (70g)
2 eggs
1/2 tsp dried basil
1/2 tsp dried oregano
1/3 cup pizza sauce (Link to recipe below)
toppings of your choice
Instructions
Pre heat oven to 220C / 425F / Gas 7 and line a baking sheet with baking paper.

Chop the cauliflower head into florets and add to the food processor. Pulse until you achieve a rice / couscous consistency. (Alternatively grate the cauliflower)

Place the pulsed cauliflower in a large bowl, cover and microwave for 7 minutes. Allow to cool.

Add the cheese, eggs and herbs to the cauliflower and mix until combined.

Using a presentation ring / mould of desired size form mini pizza bases (I made 9) (If you do not have a ring/ mould then you can free form them by making balls and patting them down.

Bake for 15 mins until golden brown.

Top each base with pizza sauce and desired toppings

Bake for a further 5-10 mins until the cheese is melted and toppings slightly roasted