Cauliflower cheese, tender cauliflower florets covered in a kid-friendly, creamy cheese sauce.
When the kids have after-school activities, I like to have a tasty dinner prepared in advance. Cauliflower Cheese fits the bill perfectly. I usually make it in the morning and just pop it in the oven when we get home.
WHY MAKE CAULIFLOWER CHEESE?
With so many children, (and adults), not eating their recommended serves of vegetables, we want to make sure vegetables are loud and proud in all our meals. Cauliflower cheese does exactly this.
It is a great dish for either
Introducing cauliflower to our little ones or
Serving cauliflower in a different way (to children that may have rejected the vegetable in the past.)
Cauliflower is a very nutritious vegetable. It contains many nutrients, is high in fibre and is a good source of antioxidants. The cheese and milk, in the sauce, are sources of calcium and protein and will help keep our kids feel fuller for longer.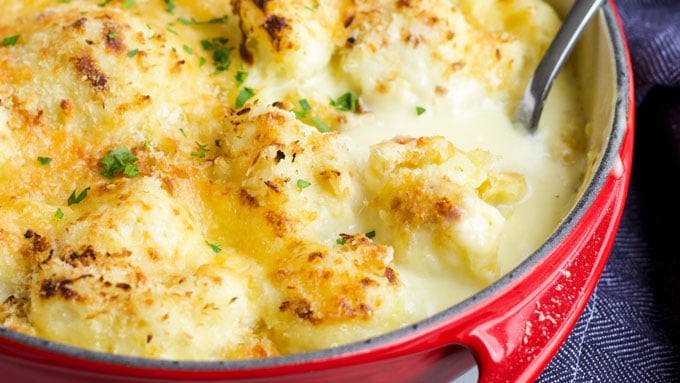 CAULIFLOWER CHEESE COOKING TIPS
CAULIFLOWER
You want to boil the cauliflower until it is tender, but still fairly firm (around 4- 5 minutes). Test with a knife, the cauliflower should cleave to the knife, if it slips off, you have overcooked it. It will still be ok to use but the dish may be more watery which can cause your sauce to split.
Make sure to drain the cauliflower really well to ensure the finished dish is not watery. I often drain and then pat dry with a clean dish cloth. This is especially important if you plan to make in advance or freeze.
WHITE SAUCE
Take your time and do not rush your sauce.
When making the roux, (mixing the flour with the butter), stir it for 2 minutes before you start adding the milk. This is important to ensure your sauce doesn't taste like raw flour.
Add the milk gradually. Continuous stirring /whisking and adding the milk slowly is the secret to a good sauce.
To test your finished sauce, dip your spoon into the sauce and then draw a finger through the coated spoon. If the sauce wipes clean, leaving an open space, then your sauce is done and is ready for the cheese to be added.
CHEESE
The cheese you use can make a big difference to the overall flavour of this dish. I recommend using a strong tasting mature cheddar. This provides the most flavour and you can, therefore, use less of it in the sauce.
Any good melting cheese will also work (e.g Colby, Tasty, Montery Jack) but seek out the most mature versions so that you don't have to add so much to get the desired flavour. You can also add a tablespoon of freshly grated Parmesan if more flavour is needed.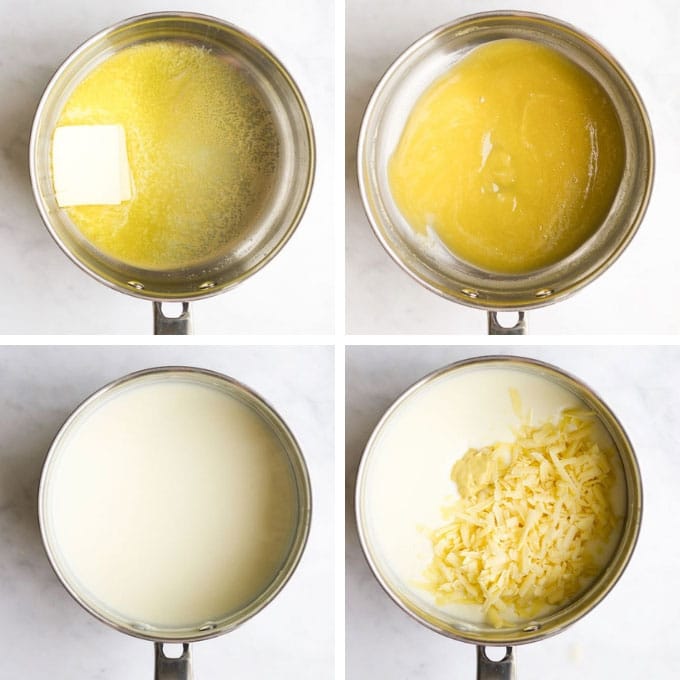 WHAT TO SERVE WITH CAULIFLOWER CHEESE
Cauliflower cheese makes a great meal accompaniment. It is perhaps best known as a side dish for a Sunday roast, but it can be enjoyed in a variety of ways. Why not try it…
With roasted vegetables and sweet potato wedges – Up the vegetable content by roasting some vegetables and wedges at the same time you bake your Cauliflower Cheese
With fish, chicken or steak – It goes great with all these protein sources.
With a baked potato – The creamy cheese sauce and tender cauliflower make a great baked potato filling.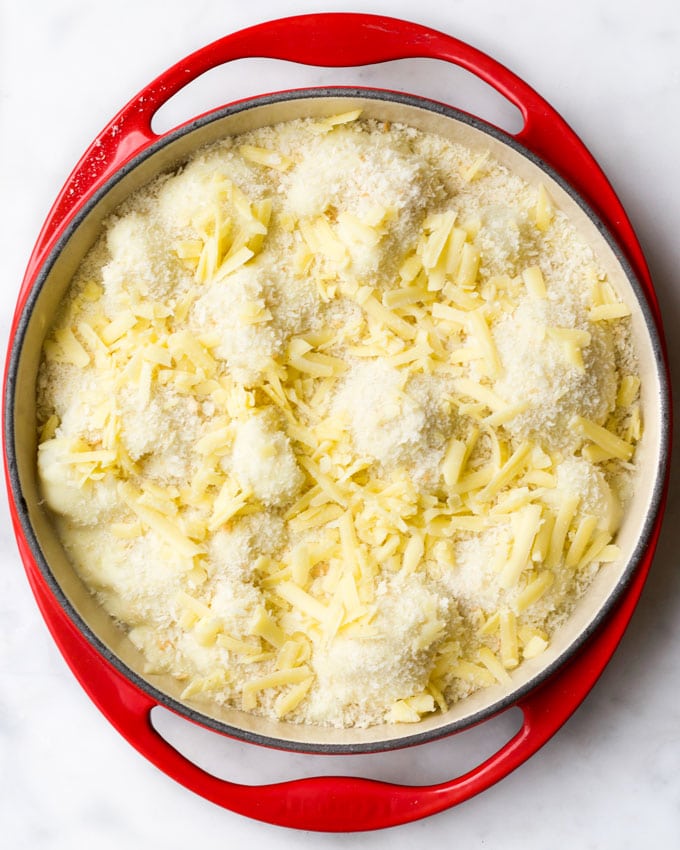 STORING & REHEATING CAULIFLOWER CHEESE
REFRIGERATE
Store leftovers in the refrigerator for up to two days and you can
Reheat in the oven until piping hot or
Heat it up in a pan/microwave until piping hot.
FREEZING
Taste wise, Cauliflower Cheese freezes well for 4-6 months. It can, however, become a little watery which in turn will affect the appearance and texture.
You can minimise this by
COOKING FROM FROZEN – Don't thaw the dish, top with the cheese/ breadcrumb mixture and cook from frozen. Place in a preheated oven at 180C / 355F for around 35-40 mins or until the top is brown and bubbling and the centre is piping hot.
NOT OVER COOKING THE CAULIFLOWER – When making Cauliflower Cheese for the freezer it is especially important that you do not overcook the cauliflower. It should cleave to the knife when you test it in the boiling water.
DRAIN THE CAULIFLOWER WELL – and it is also worth drying it in a clean tea towel. Ensuring there is no excess moisture is especially important when freezing.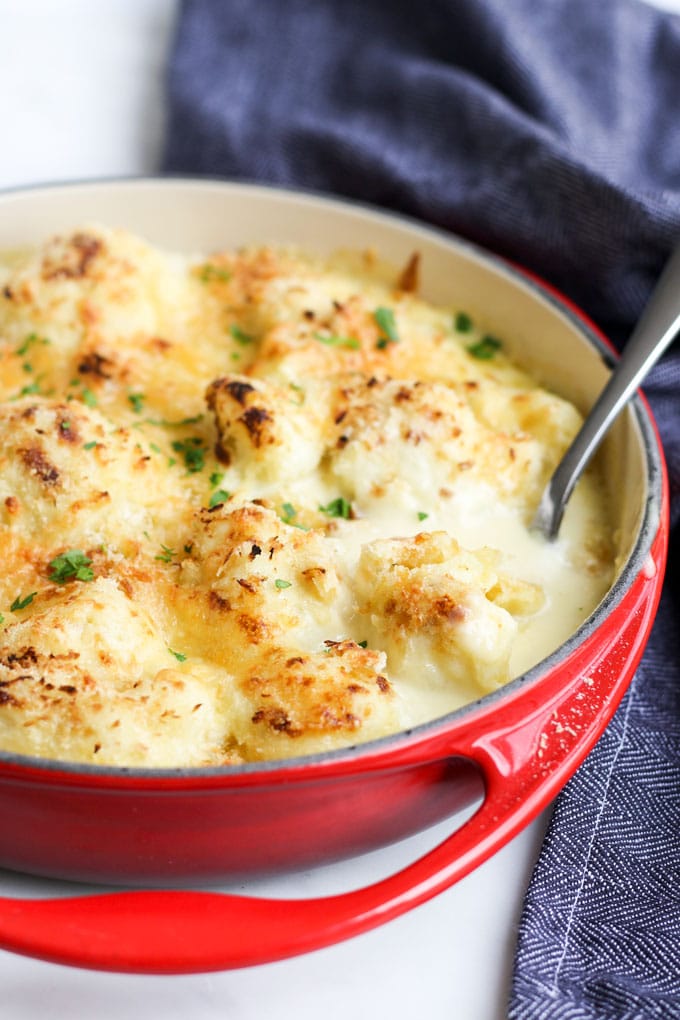 You may also like
Roasted Cauliflower with a Mango Dip
Have you tried this recipe? I'd love hearing your feedback. Please rate and leave a comment below or tag your pictures on Instagram.
Looking for more healthy kid recipes?Sign up for my free recipe newsletter to get new family friendly recipes in your inbox each week! Find me sharing more kind-friendly inspiration on Pinterest and Instagram.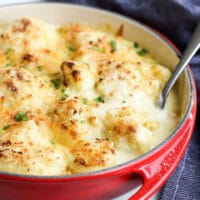 Cauliflower Cheese
Cauliflower served in a creamy cheese sauce and baked until crispy on top. Can be enjoyed as a main dish, for lunch or dinner, or served as an accompaniment to a range of meals.
Prep Time: 15 minutes
Cook Time: 35 minutes
Total Time: 50 minutes
Serves:4 people
Hover over "serves" value to reveal recipe scaler
Ingredients
1 Large Cauliflower
55g (1/2 stick) Butter
36g (4 tbsp) Plain (all purpose) Flour
500ml (2 cups) Milk
1 tsp Dijon Mustard
115g (1 cup) Strong Mature Cheddar (grated) * SEE NOTE 1
25g (1/2 cup) Panko Breadcrumbs * SEE NOTE 2
Instructions
Remove the base and outer leaves from the cauliflower, break into florets and wash.

Place the florets into a pan of boiling water and boil for approx 5 mins, until tender. (*SEE NOTE 3)

Drain the cauliflower in a colander and set aside.

Meanwhile, make your sauce.Melt butter in a saucepan and add the flour to form a roux, stir continuously for about 2 minutes.

Add milk a little at a time, keep stirring/whisking continuously between each pour. Stir out any lumps before adding more milk. Continue adding the milk little by little until all the milk is incorporated and the sauce is thick and glossy.

Take off the heat and stir in the mustard and three-quarters of the cheese (reserving the rest for the topping.)

Place the cauliflower florets in a baking dish that is just large enough to hold the florets in one layer.

Pour the cheese sauce over the cauliflower and gently mix to ensure all the florets are covered

Cover with the breadcrumbs and remaining cheese. Pop under a hot grill (broiler) until the top is browned and bubbly. (*SEE NOTE 4 for heating instructions if making ahead of time)
Recipe Notes
I always use a mature cheddar to make a cheese sauce. I find it produces the best flavour. Any good melting cheese (e.g Colby, Tasty, Montery Jack) will also work but may not produce the same flavour.  Seek out the most mature versions so that you don't have to add so much to get the desired flavour.
Breadcrumbs are optional, they give a lovely crispy topping and makes the dish look visually more appealing. 
Test the cauliflower with a knife. The knife should go in easily but the cauliflower should cleave to the knife and not fall apart. 
 If you are making this dish ahead of time, to serve later in the day.  Cover the dish and store in the refrigerator until ready to serve (do not add the breadcrumbs and cheese for top at this stage). Preheat oven to 180C / 355F.  Cover the top with the cheese and breadcrumbs just before baking and bake for approx 30 minutes. The top should be brown and bubbling and piping hot in the centre.
If cooking for a baby/ young toddler you can reduce the amount of cheese you add, to lower the sodium levels. 
Nutritional Information is a ROUGH guide only, calculated using an online nutrition calculator. 
Nutrition Facts
Cauliflower Cheese
Amount Per Serving
Calories 401 Calories from Fat 225
% Daily Value*
Fat 25g38%
Saturated Fat 15g75%
Cholesterol 72mg24%
Sodium 453mg19%
Potassium 842mg24%
Carbohydrates 28g9%
Fiber 4g16%
Sugar 10g11%
Protein 17g34%
Vitamin A 835IU17%
Vitamin C 101.2mg123%
Calcium 410mg41%
Iron 1.8mg10%
* Percent Daily Values are based on a 2000 calorie diet.