This Sweet Potato Pizza Base is made from sweet potato, oats and egg. Enjoy it for breakfast, lunch or dinner.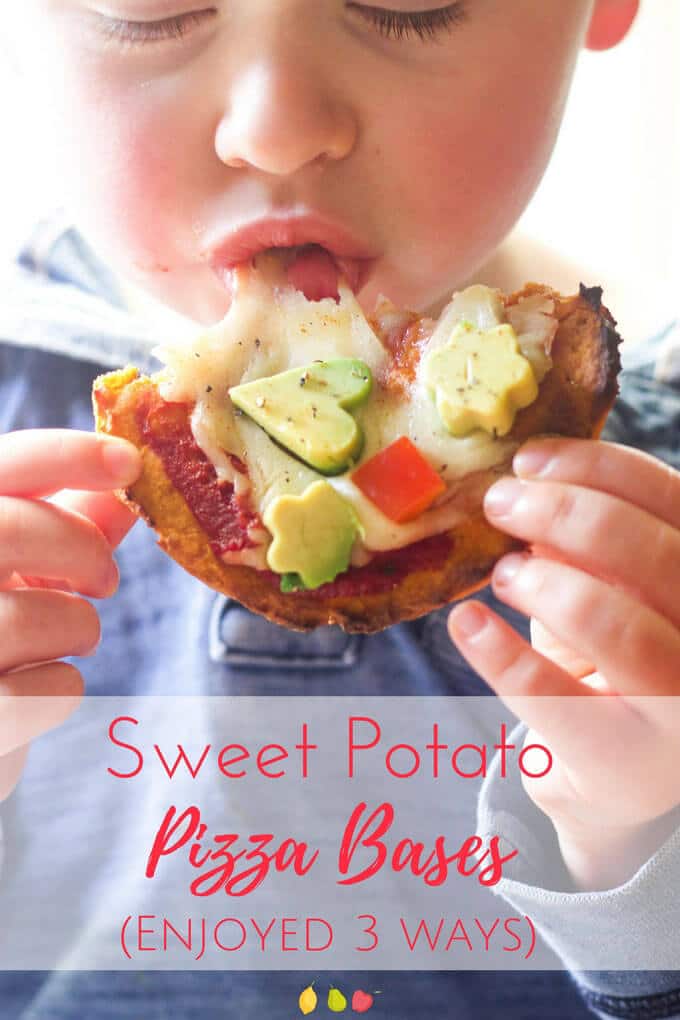 I have been meaning to try a sweet potato pizza base for ages, after all, sweet potato is one of the boy's favourite foods and something we eat most weeks. (Check out some of our favourite sweet potato recipes Asian Style Sweet Potato Noodles, Carrot and Sweet Potato Fries, Smoky Chickpea Loaded Sweet Potato Skins Sweet Potato Truffles)
Last week I tried making them for the first time and we have had them twice since (so I could work on tweaking the recipe.) Each time the boys have munched them down in no time. This is definitely a winning recipe for them and I love that it is a healthier alternative to regular pizza.
What I love about these bases are that they can be enjoyed in a variety of ways. They taste great as they are or with sweet or savoury toppings. Below I have detailed three alternative ways to enjoy them.
As a sweet breakfast.
The great thing about sweet potato is that it works so well in both savoury and sweet dishes, these pizza bases are no different. They taste amazing with peanut butter and banana or some greek yoghurt and fresh berries.
2. As a bread alternative at lunch
The bases make a great alternative to bread. Fill them with your kid's favourite sandwich filling and pop in the lunch box.
3. As mini pizzas
Get the kids to top the bases with some pizza sauce, cheese and their favourite pizza topping, I chop up a range of veggies and let them create their own.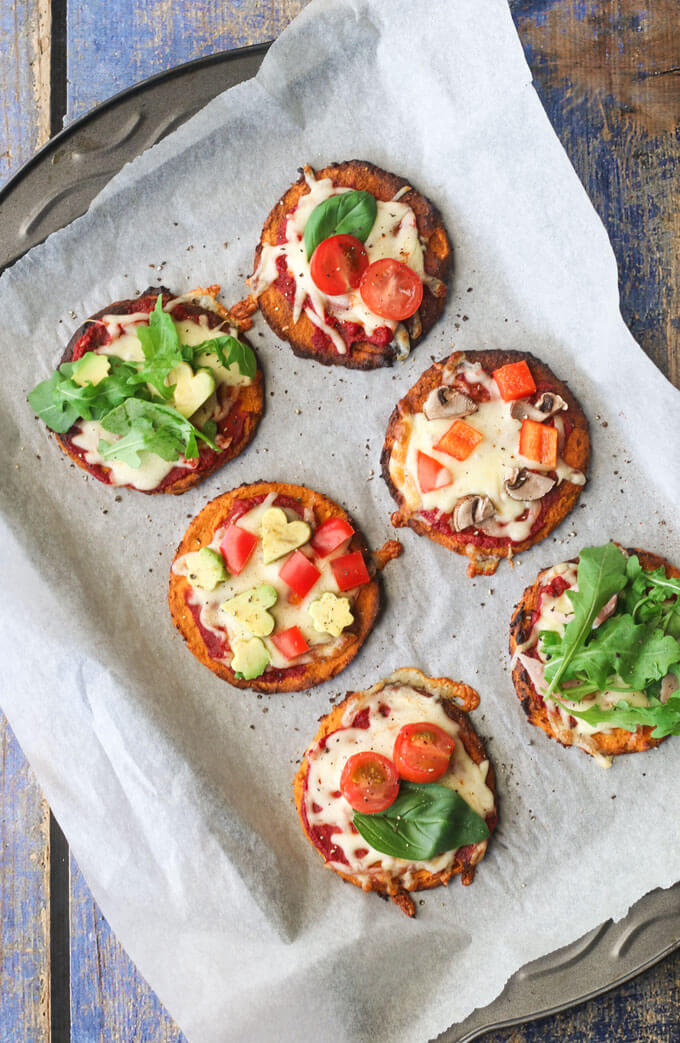 Looking for more healthy kid recipes?Sign up for my free recipe newsletter to get new family friendly recipes in your inbox each week! Find me sharing more kid-friendly inspiration on Pinterest and Instagram.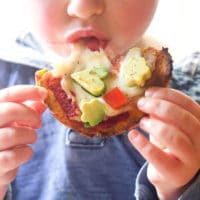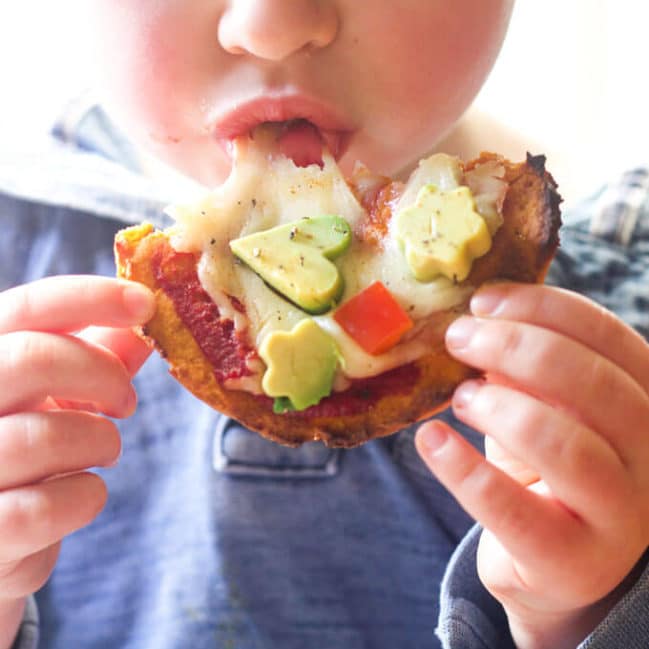 Sweet Potato Pizza Base
An alternative pizza base made from sweet potato, egg and oats. Can be enjoyed in a variety of ways.
Prep Time: 15 minutes
Cook Time: 35 minutes
Total Time: 1 hour 45 minutes
Serves:7
Hover over "serves" value to reveal recipe scaler
Ingredients
340g (1&⅓ cup ) Baked sweet potato, peeled and mashed (I baked 1 large sweet potato)
80g (⅔ cup) Oat Flour (Oats blitzed in processor until flour consistency)
1 egg
1 tablespoon Olive Oil
Instructions
Pre heat oven to 200c (400f) and line a baking tray with baking paper.

In a large mixing bowl mix all the ingredients together until combined. (The mixture should be the consistency of a thick batter)

Form small mini pizzas approx 0.5cm thick (or one large pizza if you prefer). I used a 10cm presentation ring to help make mine uniform in shape. The mixture made 7 10cm pizza bases.

Bake for 20 - 25 mins (for mini pizzas, a larger pizza base may take another 5-10 mins)

Top with yogurt and berries (for breakfast) or fill two rounds with your favourite sandwich filling. To make pizzas, top with your favourite pizza topping and place back in the oven for a further 5-10 mins.
Recipe Notes
Top your pizza base with topping/fillings of your choice.  Why not try topping them with greek yoghurt and berries, peanut butter and banana, pizza sauce, cheese and a range of pizza toppings or fill two pizza bases with your favourite sandwich filling.  Nutritional information is a ROUGH guide only, calculated using an online nutrition calculator. Facts are for the base only and do not include toppings. 
Nutritional facts
Calories: 117kcal | Carbohydrates: 18g | Protein: 3g | Fat: 4g | Saturated Fat: 1g | Cholesterol: 23mg | Sodium: 29mg | Potassium: 282mg | Fiber: 2g | Sugar: 3g | Vitamin A: 9370IU | Vitamin C: 9.5mg | Calcium: 28mg | Iron: 0.9mg