Deliciously Spiced Turmeric Roasted Cauliflower Served With a Sweet Curried Mango Dip.
Roasting is one guaranteed way that I can ensure my boys will eat all their veggies. Roasting mellows the flavour in vegetables and helps to release the natural sugars, making them more appealing to kids.
Roasted cauliflower, in my opinion, is the most child-friendly way to serve cauliflower in its natural state. Adding a dip enhances this kid appeal.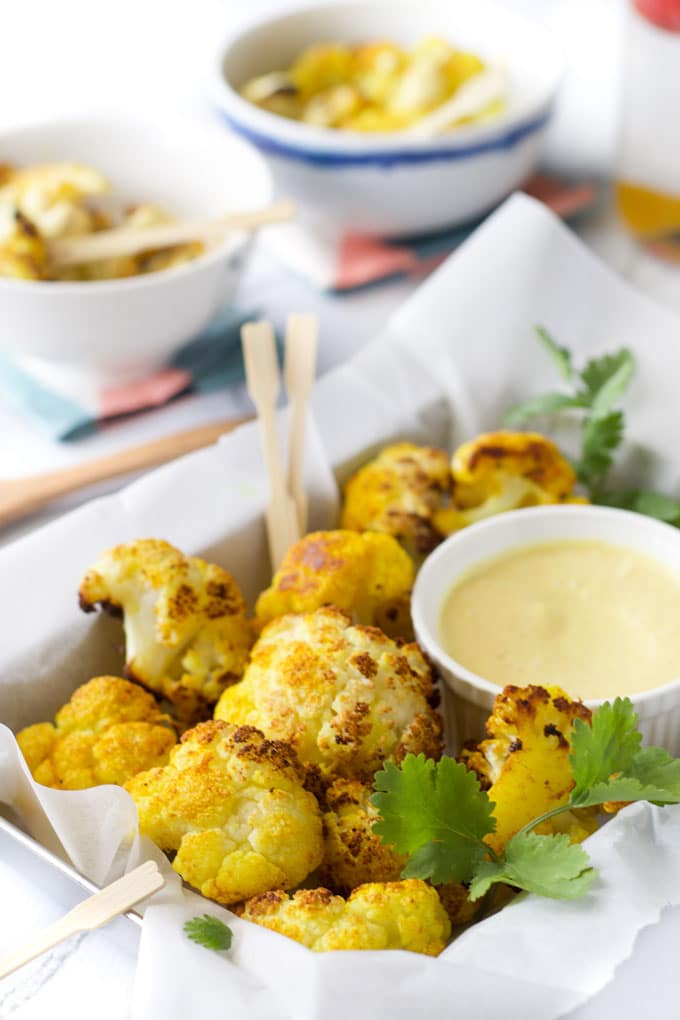 This turmeric roasted cauliflower dish is inspired by a Jamie Oliver recipe, that we love, from his Everyday Superfood Cookbook. My version has a similar flavour profile but is more of a finger food as opposed to a one-bowl meal. To make roasted cauliflower bites you will need to cut your cauliflower into florets.
The easiest way I find to do this is
to remove all the leaves before cutting the cauliflower
Cut the head in half and then half again to make four parts.
Doing this makes removing the stalk easy and the florets pull apart with little effort.
My first top tip, for making roasted cauliflower, is to try and make your florets equal in size. This isn't always achievable as some parts naturally crumble off and are smaller. However, I do like to cut the bigger florets into pieces that are roughly the same size. This allows for more even cooking and you won't be left with too many pieces that are over or underdone.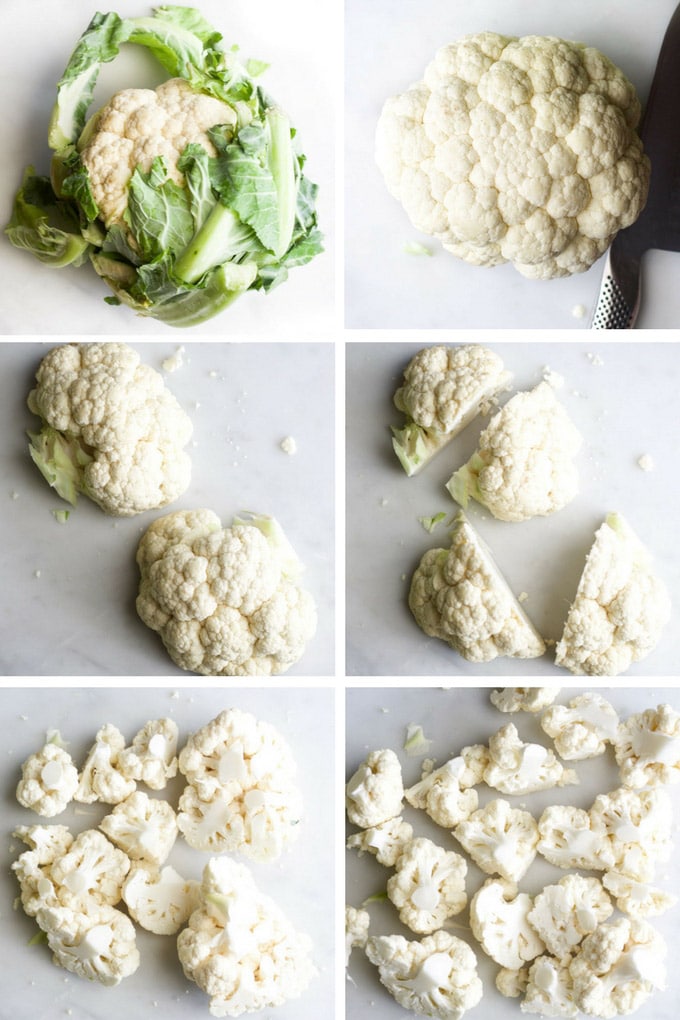 I have made roasted cauliflower many times and have always parboiled my cauliflower before roasting. Recently I wondered if this was an unnecessary step. After all, as busy parents, we want to eliminate preparation time and the number of pans we have to clean up. I decided to test this recipe both parboiled and roasted from raw. I was pleasantly surprised that you couldn't really tell the difference.
I'd say the parboiled version was slightly more tender, however, the difference, in my opinion, was minimal and from now on I will be roasting from raw. If you do decide to parboil, I usually boil for around 3-5 mins and then drain and pat dry before coating and roasting.
Once your cauliflower is cut into florets then place them on a lined baking tray for coating. I mix the oils and spices together and then pour over the cauliflower. My second top tip, for perfect turmeric roasted cauliflower, is to really keep tossing the cauliflower in the spiced oil to ensure they are evenly covered. The yellow turmeric in this recipe is great for seeing how well each floret is coated.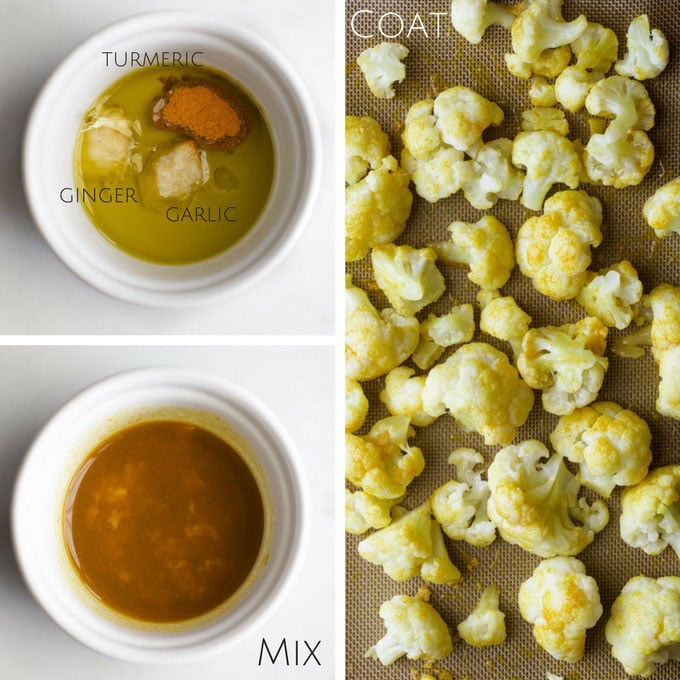 My final tip is to place the florets cut side down on your baking mat before roasting. Make sure the cauliflower is spread out and if the baking tray looks too crowded then split them into two trays. The outside cauliflowers usually crisp up the quickest, so half way through cooking move the florets around.
The dip for this dish is easily prepared, all the ingredients go into a blender and are blitzed until smooth. I toast the spices before adding to the blender, as suggested in Jamie's recipe. This is an extra step but I really do feel that it makes a difference. I have tried skipping the toasting and felt the dip was a little more harsh tasting.
*If your kids aren't used to spices then you may wish to half the amount of turmeric and curry powder you add to the dip.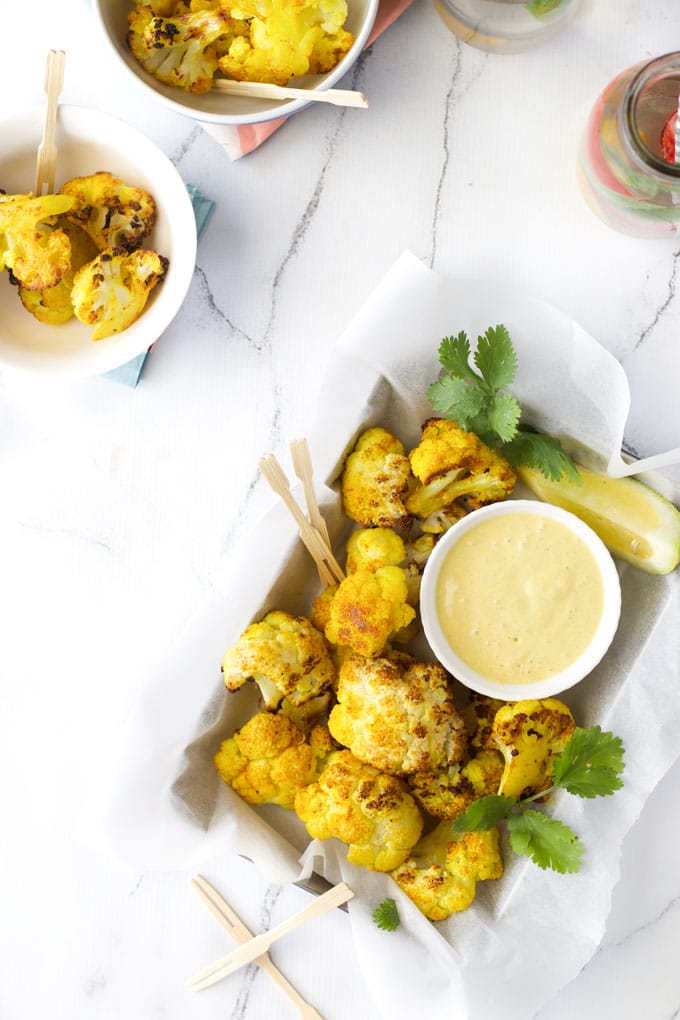 If your kids love this recipe then why not try my other kid-friendly cauliflower recipes.
Looking for more healthy kid recipes?Sign up for my free recipe newsletter to get new family friendly recipes in your inbox each week! Find me sharing more kid-friendly inspiration on Pinterest and Instagram.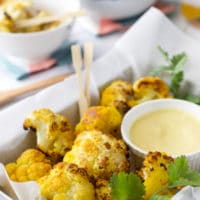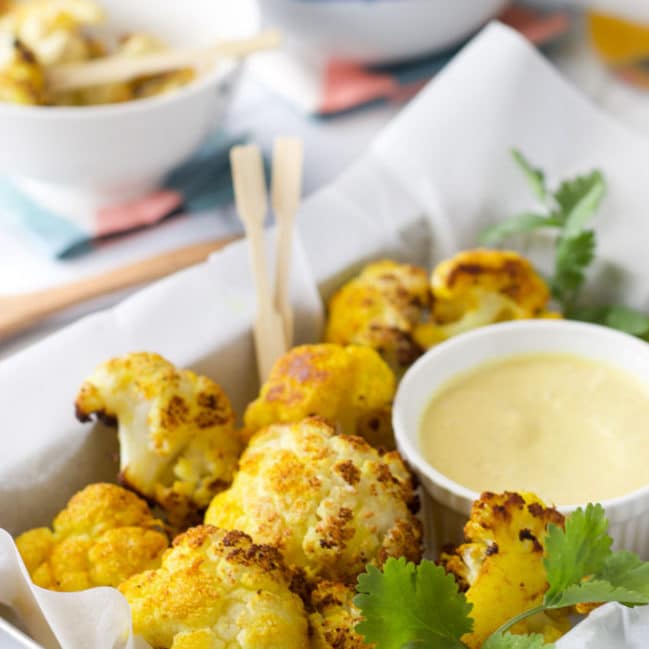 Turmeric Roasted Cauliflower with a Sweet Curried Mango Dip
Deliciously tender and crisp cauliflower with a tangy, sweet and spicy dip.
Prep Time: 15 minutes
Cook Time: 30 minutes
Total Time: 45 minutes
Serves:4
Hover over "serves" value to reveal recipe scaler
Ingredients
1 small (500g) Cauliflower (Cut into florets) *See tips above for cutting florets.
1.5 tablespoon Olive Oil
½ tsp Turmeric
½ tsp Minced Ginger
½ tsp Minced Garlic
½ tsp Turmeric
1 tsp Mild Curry Powder
3 Fresh coriander (cilantro) stalks only * See Note 1
½ tsp Minced Ginger
½ (100g) Large Mango, flesh only cut into small chunks
½ Lemon (juice of lemon)
½ cup 125g Natural Greek Yoghurt
Instructions
Pre heat oven to 200C / 400F and line a large baking sheet with baking paper / silicon mat.

In small bowl, add the oil, turmeric, garlic, ginger and mix. Place the cauliflower on the baking tray and toss with the oil mixture. Keep mixing until all the florets are covered.

Arrange the florets so that they are evenly spread out and the cut parts of the cauliflower are face down.

Roast until lightly browned (around 30 mins). Half way through cooking, move the florets around so they are evenly cooked. Use a fork to check if the cauliflower is done, it should easily pierce the cauliflower

While the cauliflower is roasting, make the sauce. Toast the turmeric and curry powder together in a dry pan on a low heat for a couple of minutes.

Add the spices to the blender along with the coriander stalks, ginger, mango lemon juice and half of the yoghurt.

Blitz until smooth and then stir in the remaining yoghurt. (You can add all the yoghurt to the blender but it will make your dip very thin)

Serve cauliflower along with the tip and enjoy!
Recipe Notes
I only add the stalks so the colour of the dip is orange. Adding the leaves will turn it green but it does tastes amazing. My boys are happy with either but I kept it orange in this recipe incase some kids are put off by the green colour.
Nutritional information is an ESTIMATE only and is calculated using an online calculator. Results will vary depending on brands, vegetable type and size. 
Nutritional information is for 1 portion when the recipe makes 4. It includes an equal share of the dip. 
Nutritional facts
Serving: 1of 4 portions | Calories: 130kcal | Carbohydrates: 13g | Protein: 5.7g | Fat: 7.4g | Cholesterol: 4.1mg | Sodium: 60.8mg | Sugar: 7.5g