Do you have issues getting your kids to eat their leafy greens? These Baked Kale Chips may just be the answer!
Baked Kale Chips? But they were so 2010 I hear you cry...
This may be true, and perhaps you are over the whole kale chip scene, but what I have to say is - Why let go of any recipe that could be the gateway to our kids loving leafy greens?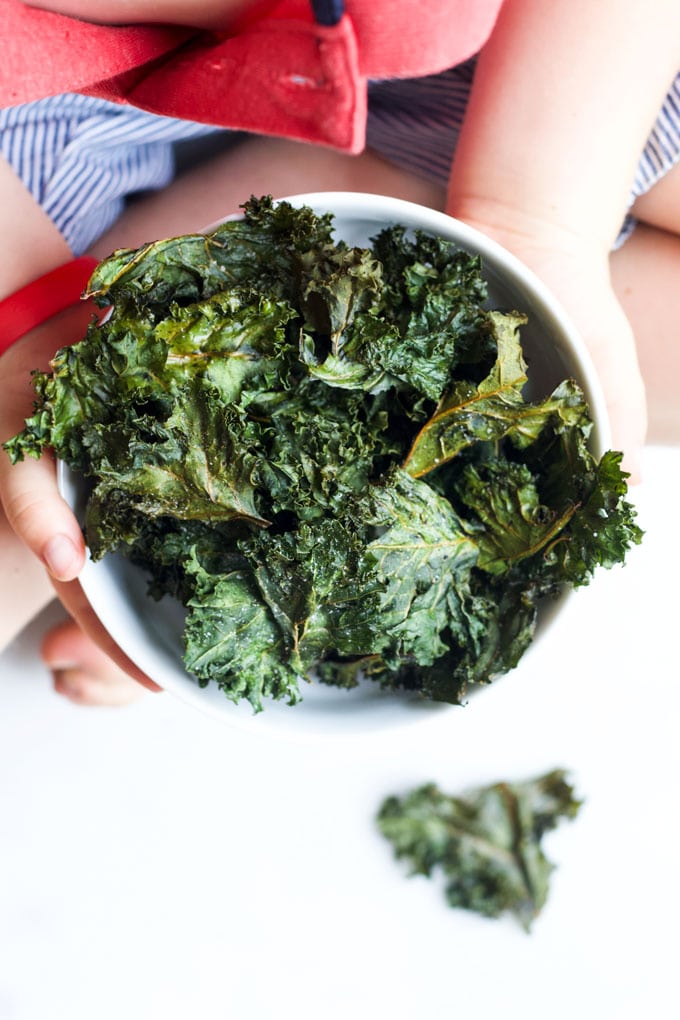 There aren't many crispy snacks that pack a nutritional punch like kale chips. Kale really is a powerhouse when it comes to nutrition. It is...
High in vitamins A (important for eyes and skin), K (important for blood clotting and healthy bones) & C (important for healthy gums & teeth, immune functions and wound healing)
Loaded with antioxidants, which may reduce the risk of several types of cancer
A good source of minerals (calcium, magnesium,  potassium & iron)
A good source of fibre and
A good source of folate.
I make kale chips often, on the boys' request.  They are light, crispy and melt in your mouth and if your kids are anything like mine, they will work their way through a whole bunch of kale in minutes!
However bake kale chips are easy to get wrong, I have had many failed attempts over the years, ranging from incinerated chips to undercooked and chewy chips. I now feel I have mastered the perfect kale chip and if you follow my tips, below, I'm sure you won't be disappointed.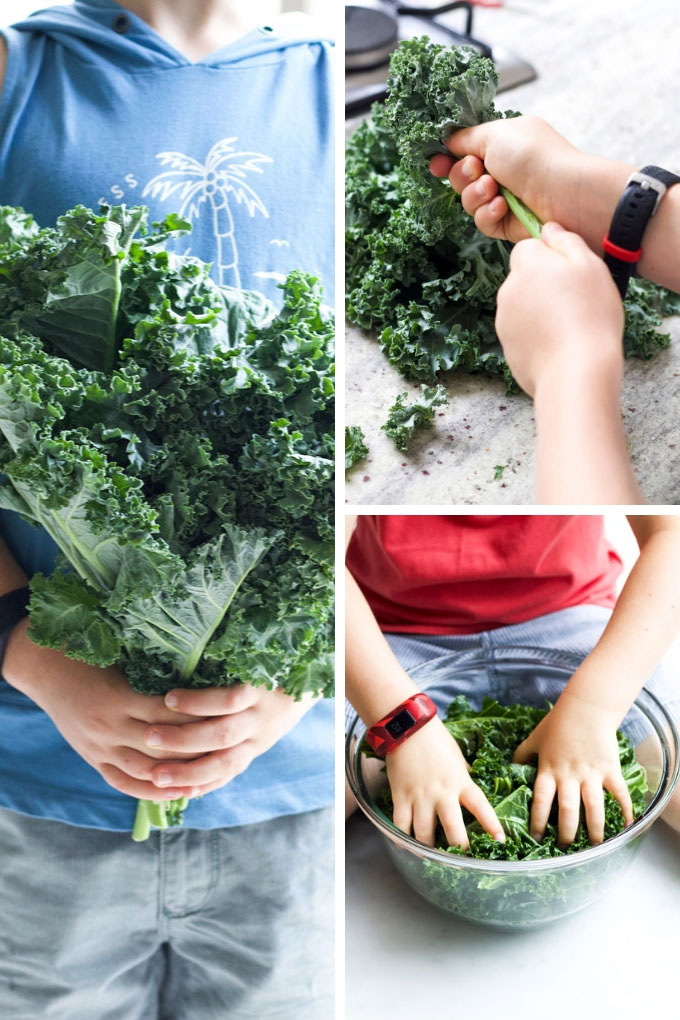 Baked Kale Chips - Cooking Tips
DRY KALE- After washing your kale it is really important to make sure that the kale is properly dry. If you start with wet kale it will steam instead of bake and you will never get that crispy finish.
REMOVE STEM - Remember to remove the stems before cutting it into pieces, no kid (or adult) wants to be chewing their way through a stem. The best way to remove the stem is to grab the base of one end of the stem and push along the stem to remove the leaves (See above picture). Don't let the stem go to waste you can save them to make your own vegetable stock.
LARGE LEAVES - Keep the leaves large as they will shrink during the baking process.
PROPERLY OIL - When oiling your kale, make sure you massage it into the leaves to get the oil into all tje creases. Be careful not to over oil your kale, you just want a light coating.
GIVE THE KALE SPACE - Overcrowding your baking tray will also cause your kale to steam. Don't throw a pile of kale on your baking sheet, spread the leaves out in a single layer.
LOW AND SLOW - To get perfectly uniformed, crispy kale chips, the key is to bake them for longer, at a lower temperature. Too high a temperature results in the thinner parts of the kale becoming brittle, brown and bitter and the thicker parts undercooked and chewy.
KEEP AN EYE ON YOUR KALE CHIPS - Keep a close eye on your kale, especially towards the end of cooking, they can quickly go from delicious, light and crispy chips to burnt and inedible.
CRISP UP TIME - Allow your kale chips to crisp up on the baking tray for a few minutes after they have come out of the oven.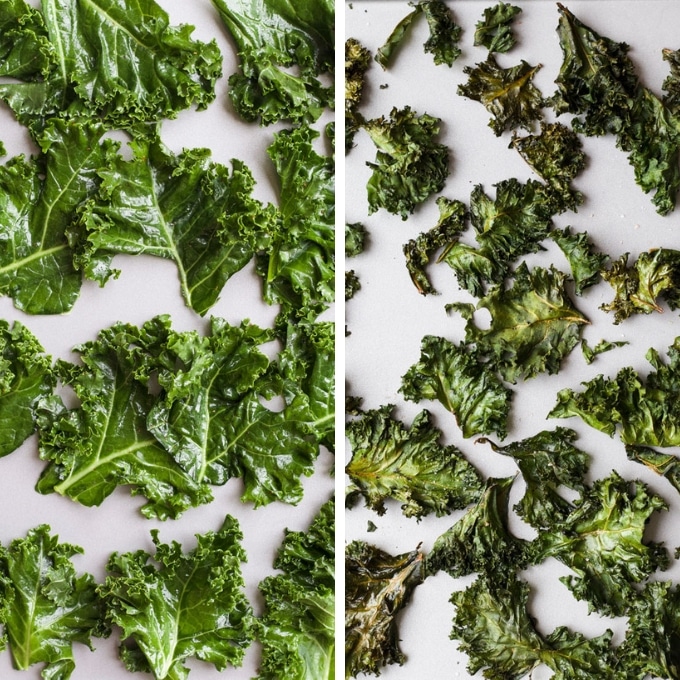 Baked Kale Chips Seasoning Ideas.
The other great trick to delicious kale chips is to season them up well.
I always add some salt to my kale chips, I feel they need it and, to be honest, I'm not sure if the boys would be so willing to eat them without it. You only need a little and I add it after baking. As always, be mindful of sodium levels when serving young children.
The recipe is versatile and can be modified to include whatever flavours or seasonings you desire.
Some ideas include
LEMON KALE CHIPS - add lemon zest to your oil and then squeeze some juice over the chips just before serving.
CHEESY KALE CHIPS - sprinkle the chips with freshly grated parmesan or some nutritional yeast before baking
CAJUN KALE CHIPS - add Cajun spices to your oil before coating the kale.
CURRIED KALE CHIPS - add curry powder to your oil before coating the kale.
PIZZA KALE CHIPS - Add mixed Italian herbs to your oil and sprinkle with grated parmesan before baking.
SESAME KALE CHIPS - Coat in sesame oil and sprinkle with sesame seeds
How to serve Kale Chips
Kale chips are a great snack but why not also try
Storing Baked Kale Chips
Baked kale chips are definitely best when fresh but leftovers can be stored, covered, at room temperature for 1-2 days.  I often add them to lunchboxes but if there is any humidity, they'll get limp pretty quick
Do not refrigerate or freeze.
You may also like
Have you tried this recipe? I love to hear your feedback, please rate and comment below or tag me on Instagram.
Looking for more healthy kid recipes?Sign up for my free recipe newsletter to get new family friendly recipes in your inbox each week! Find me sharing more kid-friendly inspiration on Pinterest and Instagram.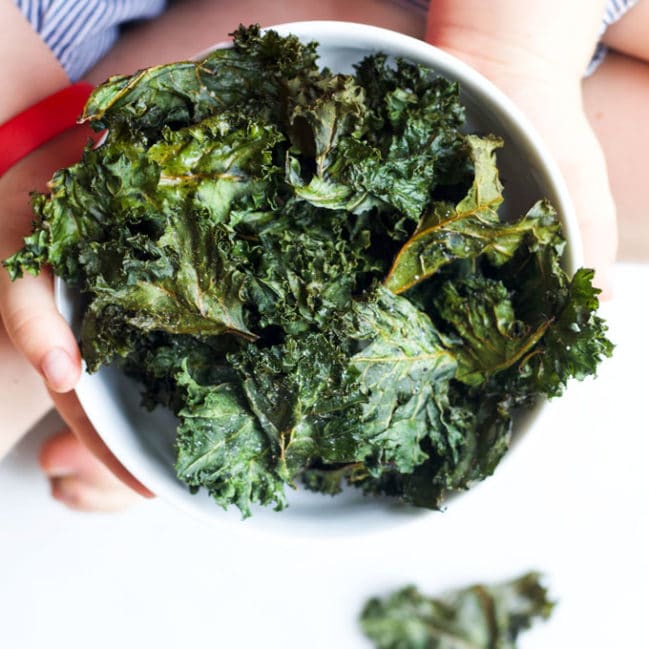 Baked Kale Chips
A delicious, crispy snack that packs a nutritional punch.
Prep Time: 5 minutes
Cook Time: 25 minutes
Total Time: 30 minutes
Serves:4
Hover over "serves" value to reveal recipe scaler
Ingredients
1 bunch Kale
1 tablespoon Olive Oil *See Note 1
Seasoning of choice (sea salt, smoked paprika, curry powder, nutritional yeast etc) See above for flavour suggestions.
Instructions
Pre-heat oven to 150C / 300F

Remove leaves from the stem of the kale and tear into pieces.

Wash and scrupulously dry the kale *SEE NOTE 2

Add kale to a mixing bowl along with oil and seasoning (optional) of choice. Toss and massage the leaves to ensure they are evenly and fully coated with the oil and seasoning.

Spread the kale, in a single layer, on two large baking trays. *SEE NOTE 3

Bake for 10 minutes. Rotate trays and bake for 10 to 12 more minutes or until chips are dry, crispy and evenly baked. Watch closely at the end of cooking as it can burn easily.

Remove from the oven and allow to sit on the baking tray for a few minutes to cool and crisp up further.
Recipe Notes
You can replace the olive oil with an oil of choice (e.g avocado oil/sesame oil/coconut oil)
It is important that the kale is really dry or it will not crisp up. 
Don't overcrowd the tray, keep the kale to a single layer without it touching too much. Overcrowding the tray will result in the kale steaming and not crisping up enough. 
Nutritional information is a rough guide only and is calculated using an online calculator. Nutritional facts are based on the recipe using olive oil and no seasoning
Nutritional facts
Calories: 46kcal | Carbohydrates: 2g | Protein: 1g | Fat: 3g | Saturated Fat: 0g | Cholesterol: 0mg | Sodium: 12mg | Potassium: 159mg | Sugar: 0g | Vitamin A: 3245IU | Vitamin C: 39mg | Calcium: 49mg | Iron: 0.5mg