These Homemade Baked Beans are a comforting side dish with a subtle smokey flavour. They are lower in salt and sugar than the commercial beans available, making them perfect for young children.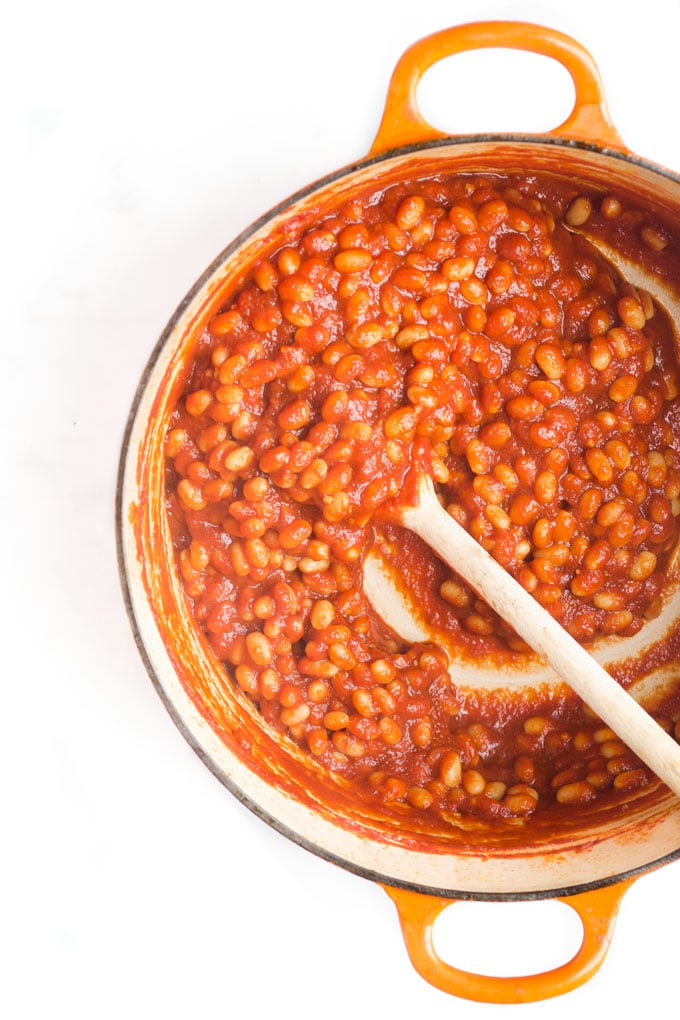 WHAT ARE BAKED BEANS?
Baked beans may mean a different thing, depending on where you are from in the world. Different countries use different beans, added flavourings and some even include the addition of foods such as bacon and sausage.
Having grown up in the UK, to me, the term refers to canned beans in a simple tomato sauce. I automatically think of the brand Heinz, although there are many other brands available.
When I lived in the USA, I remember having serious pregnancy cravings for Baked Beans. I bought an American brand but they were very different from what I was used to. The sauce was much sweeter and they had more of a barbecue flavour.
This homemade recipe is loosely based on the British version. Although the recipe doesn't taste exactly like the canned variety, it uses the same beans and they are cooked in a tomato-based sauce.
PROCESS SHOTS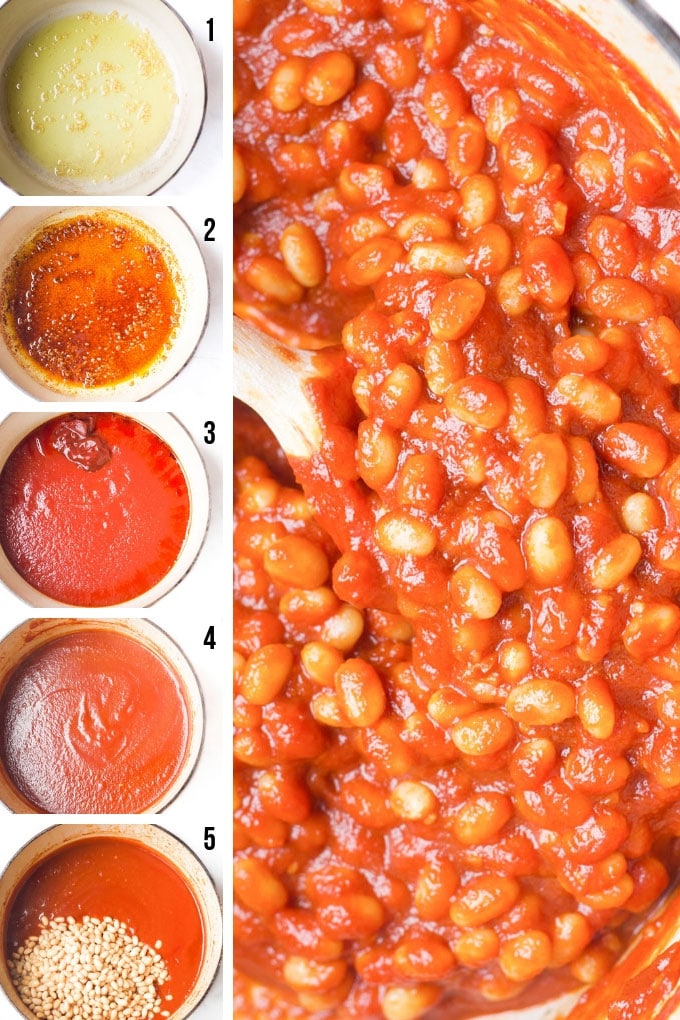 Despite the name, this dish is not baked, instead, it is made on the stovetop. It is simple to prepare but does take around thirty minutes to cook.
Saute garlic in a little olive oil
Add smoked paprika and stir
Add passata, tomato puree/paste, stock and stir
Simmer the tomato sauce for around 20 minutes (until the sharp taste of the tomato is gone and the sauce has thickened.
Add the beans and simmer for a further 10 mins.
INGREDIENT INFO
PASSATA is pureed and strained tomatoes. It is usually sold in tall glass bottles or cartons. It's 100% tomato and is a lot smoother than crushed tomatoes. You can find it in most UK and Australian supermarkets.
SMOKED PAPRIKA gives these beans a delicious sweet and smokey profile without adding much heat to the dish, (unless you purchase a hot, smoked variety) Don't substitute it with a different paprika, it won't taste the same.
BEANS - Most commercial canned baked beans are made using haricot, also known as navy, beans. Depending on where you live in the world, you should be able to buy these pre-cooked in cans or dried.

Canned Beans are more convenient, allowing you to make the recipe without having to soak and pre-cook your beans beforehand.
In the UK I was able to find them easily in cans in most major supermarkets. I have never found them canned in Australia.
You can substitute Navy (haricot) beans for Cannellini beans. They are a meatier version of navy beans and work well in the recipe but will obviously look different to commercial baked beans.
Dried Beans - If you can't find canned navy beans, but would still prefer to use this smaller bean, then you should be able to buy them dried from a bulk goods/scoop store.

Dried beans will need to be soaked overnight and then cooked, until soft, before you make this recipe.
BAKED BEANS & SUGAR
Canned versions of baked beans can contain a lot of added salt and sugar and this is the main reason I wanted to make my own.
I have deliberately not added any sugar and salt to this recipe as many parents doing baby-led weaning use my site.
I recommend you cook the sauce for at least 20 minutes to reduce the acidity. At the start of cooking the sauce can taste quite sharp. However, after it simmers away for 20-30 mins the sharpness reduces, the sauce thickens and it tastes delicious.
If you have older kids, and at the end of cooking you think the sauce still needs balancing, you can try adding a little sugar and salt, starting with a pinch at a time.
Other ways to add sweetness is to sauté some onion, celery and carrots. Puree them and add it to the sauce at the start of cooking.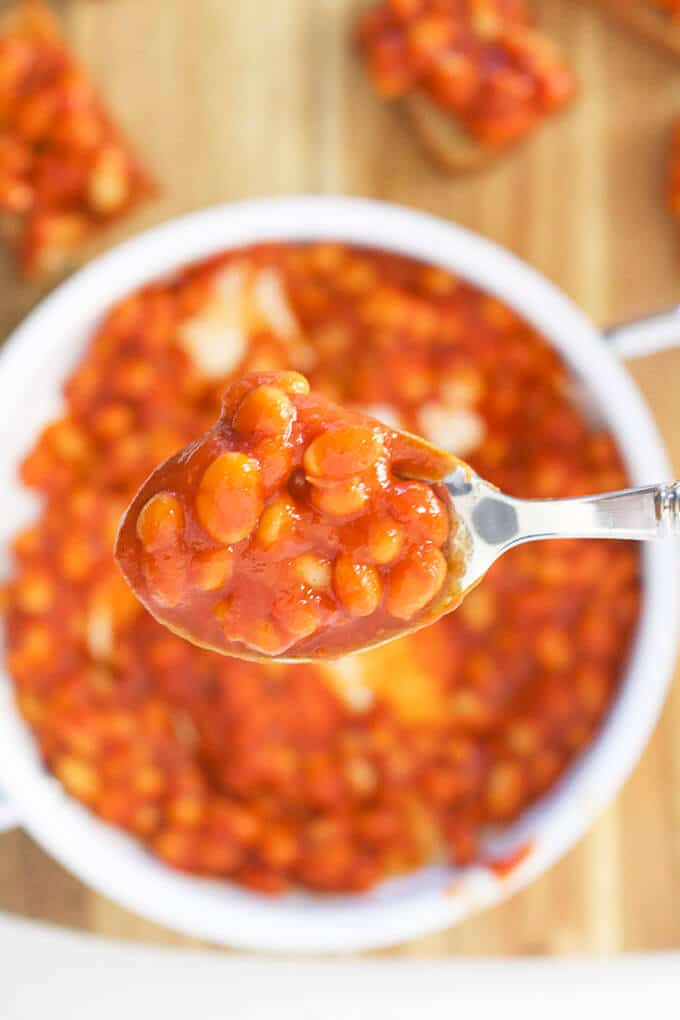 STORAGE INFORMATION
Refrigerate - Allow the beans and sauce to cool before transferring to a sturdy airtight container. Refrigerator for up to two days.
Freeze - Cool to room temperature before freezing. Place into a sturdy airtight container (or several small containers.) Leave a bit of space at the top of the container to allow for expansion. Freeze for up to 3 months.
Thaw in the refrigerator and re-heat on the stove top or microwave.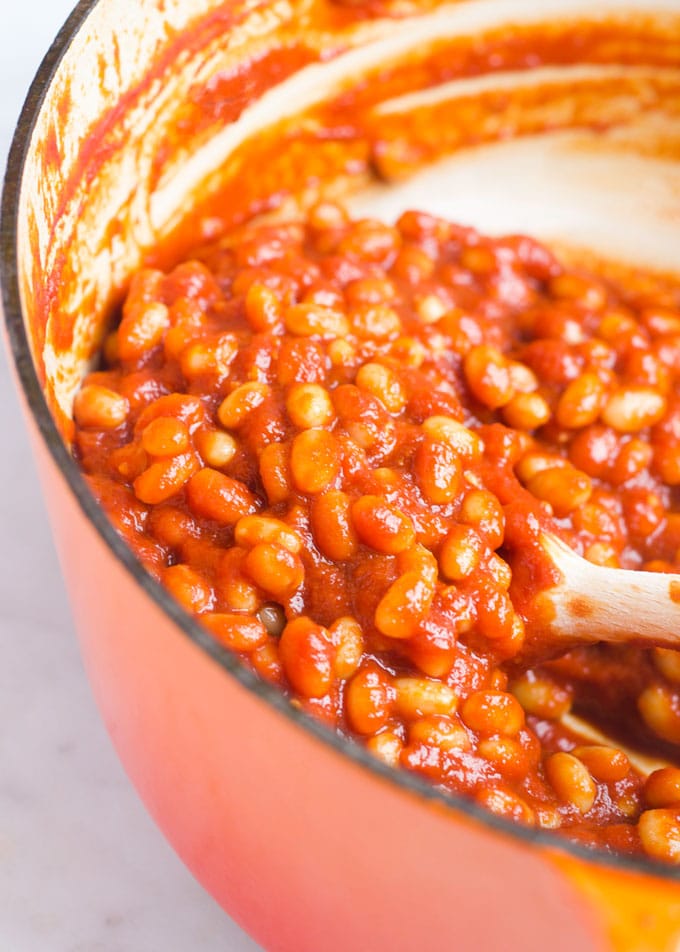 You may also like
Have you tried this recipe? I love hearing your feedback, please rate and leave a comment below or tag me on Instagram @healthylittlefoodies
Looking for more healthy kid recipes?Sign up for my free recipe newsletter to get new family friendly recipes in your inbox each week! Find me sharing more kid-friendly inspiration on Pinterest and Instagram.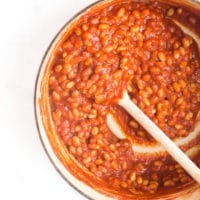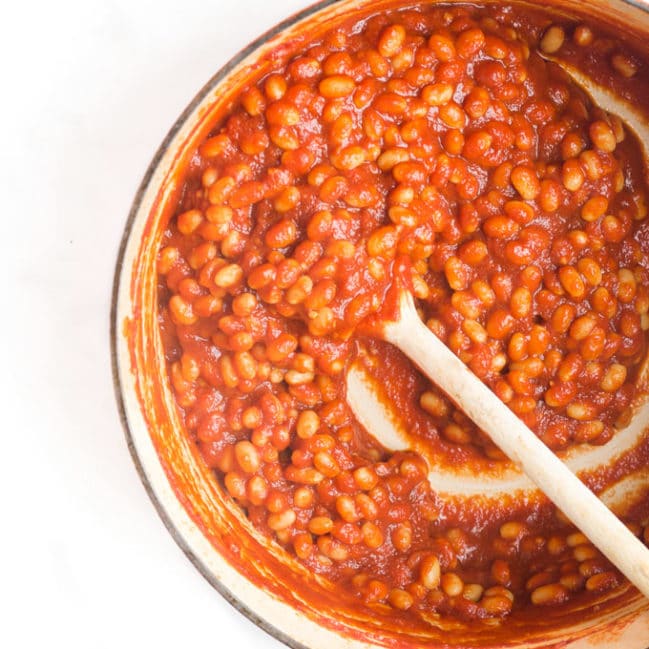 Healthy Baked Beans
Navy (Haricot) Beans cooked in a smokey tomato sauce.
Prep Time: 5 minutes
Cook Time: 35 minutes
Total Time: 40 minutes
Serves:3
Hover over "serves" value to reveal recipe scaler
Ingredients
1 tablespoon Olive oil
2 cloves Garlic, minced
1 - 2 teaspoon Spanish Smoked Paprika * See Notes
300g (1 ⅓ cups) Passata
1 tablespoon Tomato Puree (Tomato Paste)
60ml (¼ cup) Chicken / Vegetable Stock *See Notes
300g (10.5oz) Can Haricot (Navy) beans (drained weight 195g/ 6.8oz) * See Notes
Instructions
Heat oil in a sauce pan over a medium heat.

Add the garlic and allow to sizzle but be careful not to burn.

Reduce heat to low, add the smoked paprika and stir.

Add the passata, puree and stock and then simmer for around 20 mins (until the sharp taste of tomato has gone and the sauce has thickened.)

Add the beans and simmer for a further 10 mins.

Season to taste (SEE NOTES)
Recipe Notes
SMOKED PAPRIKA - Don't be tempted to substitute this with a different paprika, it won't taste the same.
CHICKEN / VEGETABLE STOCK - Use homemade chicken stock or very low salt stock if cooking for a baby / young child. You can also miss it out if you prefer. 
BEANS - If you can not find canned haricot/navy beans then you can replace them with cannellini or butter beans. Alternatively, you can buy dried navy beans but you will need to pre-soak and cook before using in this recipe. 
TASTE & SEASON - You may find you will want to balance out the flavour of the sauce (depending on the passata used) with a little salt and sugar. Start with a pinch and adjust to taste. (Do not add salt and sugar if cooking for a baby / young toddler) 
Nutritional Information is a ROUGH guide only, calculated using an online nutrition calculator. 
Nutritional facts
Calories: 171kcal | Carbohydrates: 25g | Protein: 7g | Fat: 5g | Saturated Fat: 0g | Cholesterol: 0mg | Sodium: 391mg | Potassium: 731mg | Fiber: 5g | Sugar: 6g | Vitamin A: 1250IU | Vitamin C: 12.9mg | Calcium: 52mg | Iron: 3.4mg