Super simple and ridiculously tasty; these chocolate covered blueberries are a fantastic snack or dessert and are sure to be a crowd pleaser.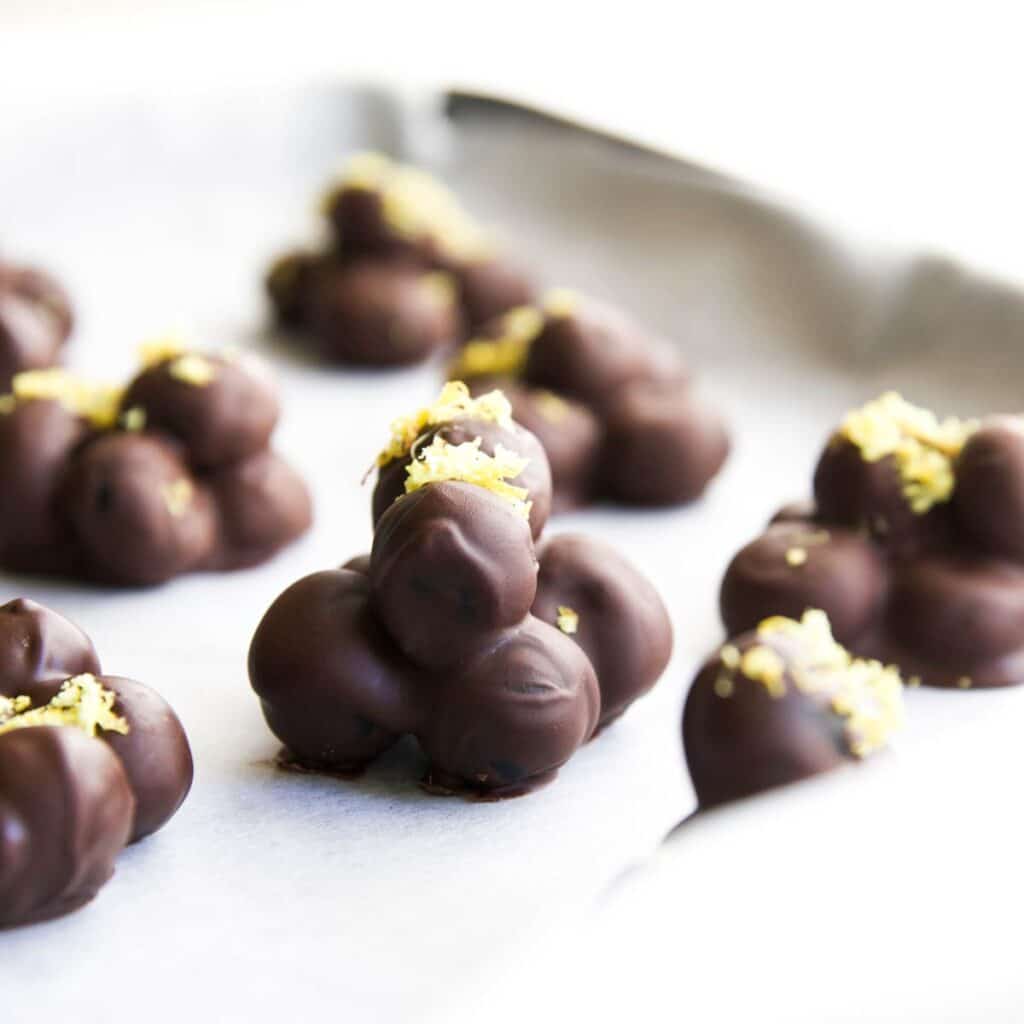 Reasons to Love this Recipe
They are the ultimate 5 min, simple ingredient dessert
Bite size, to suit all appetites
Easy to make and the perfect recipe for getting kids into the kitchen.
A healthier dessert option with all the goodness of blueberries
Watch How to Make them (Video)
Ingredient Information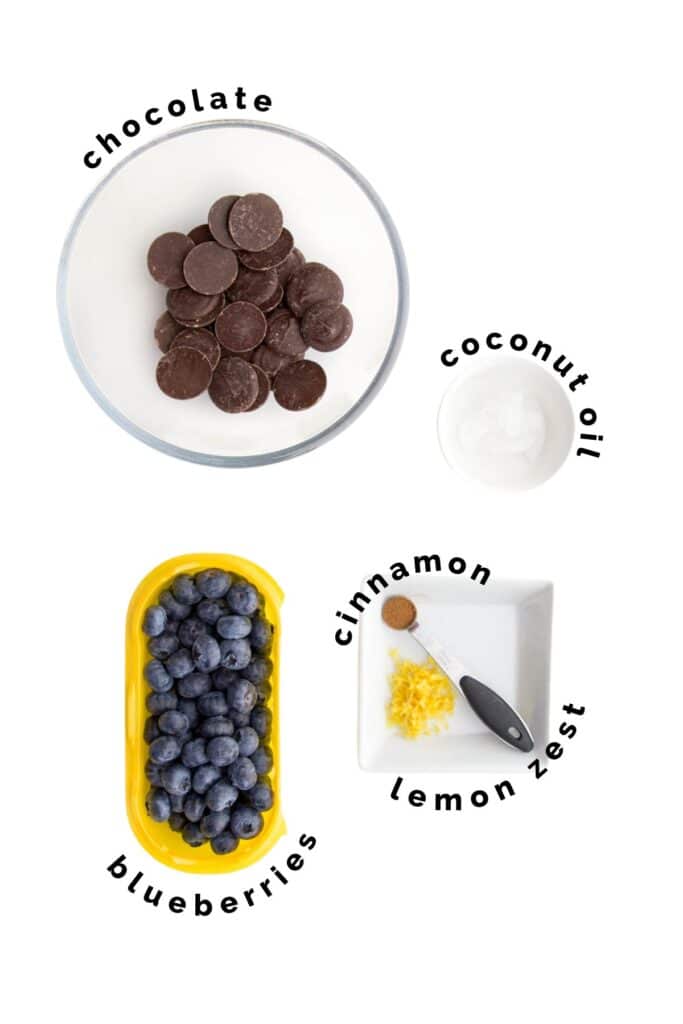 BLUEBERRIES: Make sure to use fresh, ripe blueberries. Frozen blueberries are too wet and may cause the chocolate to seize.

CHOCOLATE: This recipe uses dark chocolate but milk chocolate will also work. You can use chocolate chips, drops or a block/bar.

COCONUT OIL: Adding coconut oil to the chocolate helps the chocolate to melt more smoothly and makes it beautifully shiny. It also softens it a little so when you bite into the cluster, the chocolate doesn't crack and fall off. However, it isn't essential, you can skip it or replace with any neutral tasting oil.

CINNAMON: Cinnamon helps intensify the flavour of the blueberries. It is optional, skip if you wish.

LEMON ZEST: Blueberry and lemon go really well together. The lemon zest adds to the flavour and the appearance of these blueberry clusters. You can substitute with sprinkles, to make it fun for kids, or top with finely chopped nuts or shredded coconut.
Process Shots and Expert Tips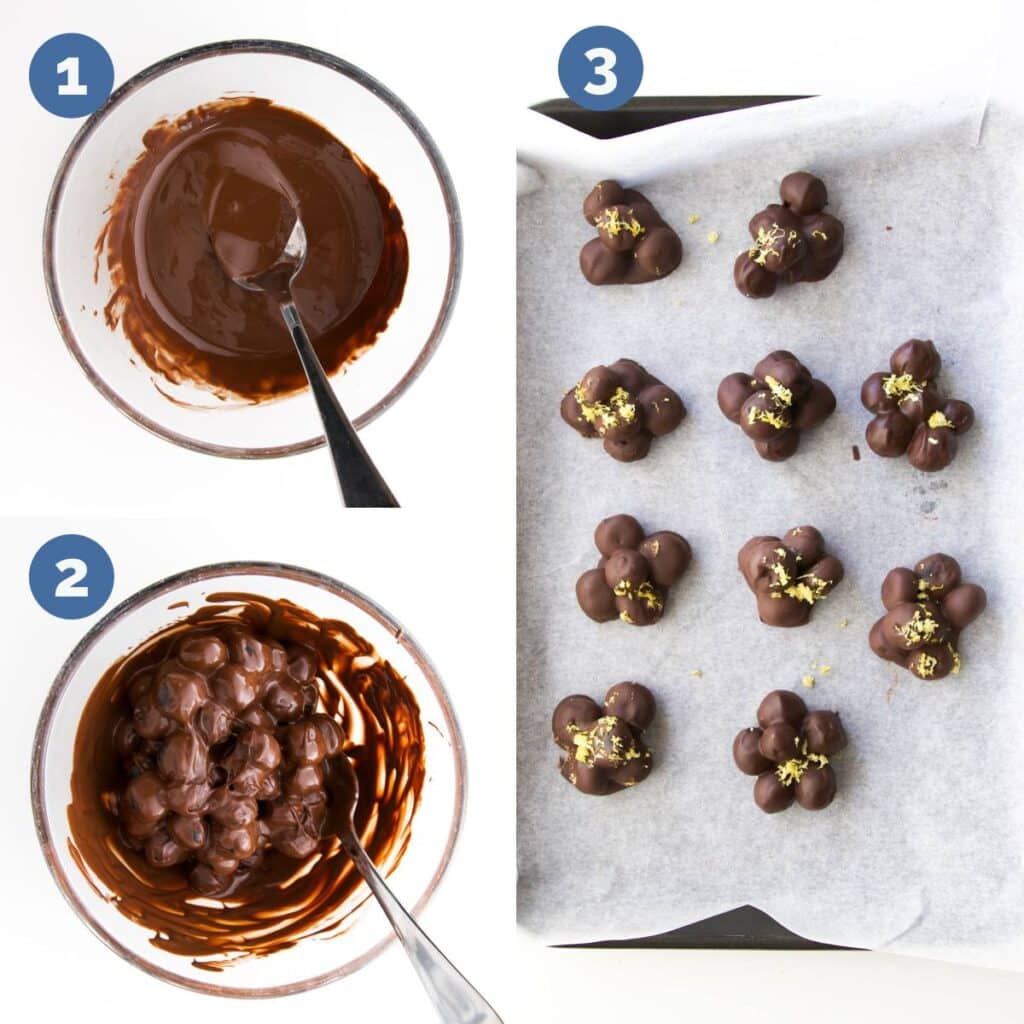 MELTING THE CHOCOLATE:

You can use a double boiler but I find the microwave easier.
If you are using a bar of chocolate make sure to break the chocolate up into similar sized pieces.
Place chocolate in a microwavable bowl with the coconut oil. Microwave, stirring the chocolate every 15 seconds until the chocolate is just melted. Timings will vary depending on microwave but I found it took around 30-45 seconds.
Be careful not to get any water into the chocolate (e.g. from a wet spoon), this will cause the chocolate to seize.
ADDING THE BLUEBERRIES:

Make sure the blueberries are FULLY DRY before adding to the chocolate. If there is any moisture the chocolate will seize.
Use ROOM TEMPERATURE blueberries. I've tried this recipe using blueberries straight from the fridge and found it caused the chocolate to harden too quickly resulting in one giant blueberry cluster!
Gently stir the blueberries into the chocolate, you don't want any of the blueberries to break.
FORMING CLUSTERS

Take a spoonful of blueberries and gently place on prepared baking sheet. 5-6 blueberries produces a good snacking sized cluster.
You may wish to coat individual blueberries or make smaller / bigger clusters.
Alternatively you may wish to pour the mixture onto the tray and spread out in one layer to make a chocolate blueberry bark.
Chocolate Blueberries for Babies
These chocolate covered blueberries are not recommended for babies and toddlers. The round shape and size of a blueberry makes it a choking hazard. They should be squished into a disc shape before serving to babies. In addition, it is better not to serve chocolate until closer to your child's second birthday because of the added sugar and caffeine.
Storage Instructions
REFRIGERATE: Store in airtight container and refrigerate for up to 3 days
FREEZE: Freeze on baking tray until solid, transfer to ziplock bag and freeze for up to 1 month.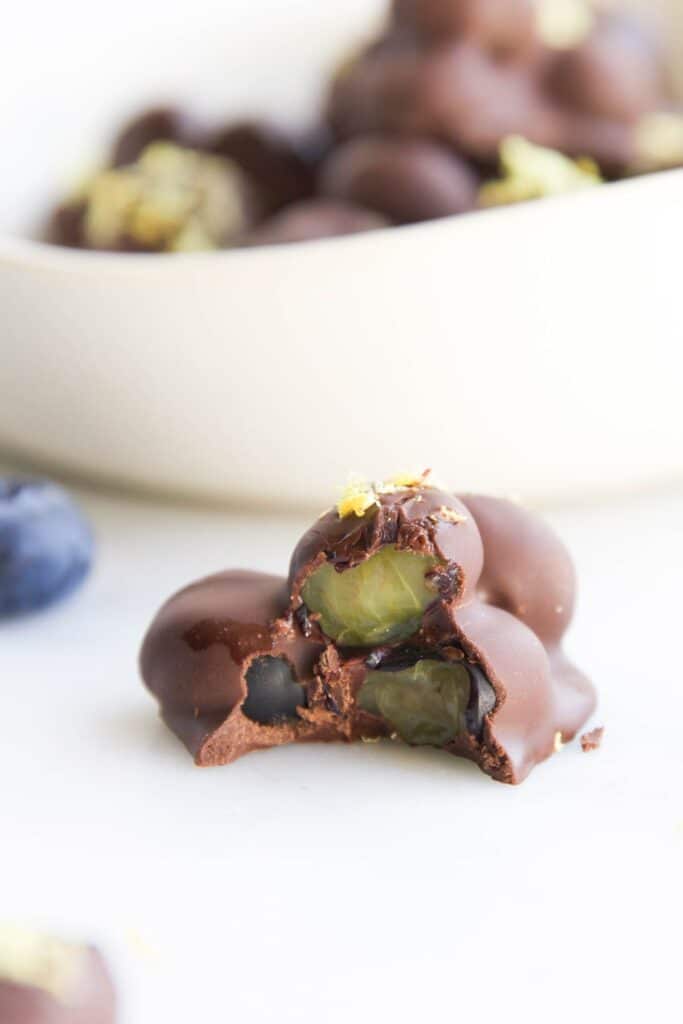 Love chocolate and fruit together? You may wish to try…
Looking for other ways to enjoy blueberries?
Looking for more healthy kid recipes?Sign up for my free recipe newsletter to get new family friendly recipes in your inbox each week! Find me sharing more kid-friendly inspiration on Pinterest and Instagram.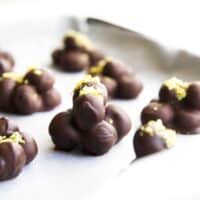 Chocolate Covered Blueberries
Sweet and juicy blueberries coated in luscious dark chocolate and formed into clusters.
Prep Time: 15 minutes
Cook Time: 1 minute
Total Time: 16 minutes
Serves:10 Clusters
Hover over "serves" value to reveal recipe scaler
Ingredients
80g (½ cup) Dark Chocolate
1½ teaspoons Coconut Oil
¼ teaspoon Cinnamon
125g (1 cup) Blueberries
1 Lemon, zest of
Instructions
Line a baking sheet with parchment/baking paper.

Place chocolate and coconut oil in microwave proof bowl. Microwave, stirring every 15-20 seconds until melted and smooth.

Stir in the cinnamon and then add the blueberries. Gently stir to fully coat the berries.

Take a spoonful of the chocolate blueberries (around 5-6 berries) and gently place on the prepared baking tray. Repeat until the mixture is used up.

Place in the refrigerator or freezer until set.
Recipe Notes
Make sure the blueberries are FULLY DRY before adding to the chocolate. If there is any moisture the chocolate will seize. Use ROOM TEMPERATURE blueberries. If the berries are too cold the chocolate will harden too quickly resulting in one giant blueberry cluster! If storing for later, place in a zip lock bag or airtight container and refrigerate for up to 3 days or freeze for up to 1 month. Nutritional Information is a ROUGH guide only, calculated using an online nutrition calculator.   
Nutrition Facts
Chocolate Covered Blueberries
Amount Per Serving
Calories 55 Calories from Fat 27
% Daily Value*
Fat 3g5%
Saturated Fat 3g15%
Polyunsaturated Fat 0.1g
Monounsaturated Fat 0.1g
Cholesterol 0.1mg0%
Sodium 9mg0%
Potassium 60mg2%
Carbohydrates 6g2%
Fiber 1g4%
Sugar 4g4%
Protein 1g2%
Vitamin A 8IU0%
Vitamin C 1mg1%
Calcium 25mg3%
Iron 0.1mg1%
* Percent Daily Values are based on a 2000 calorie diet.