This Sweet and Sour Quinoa involves cooking quinoa in pineapple juice, vinegar, ginger, garlic, tomato paste and soy sauce. The quinoa soaks up all the delicious flavours and truly tastes amazing! Try adding an egg and forming balls for baby-led weaning or lunchboxes.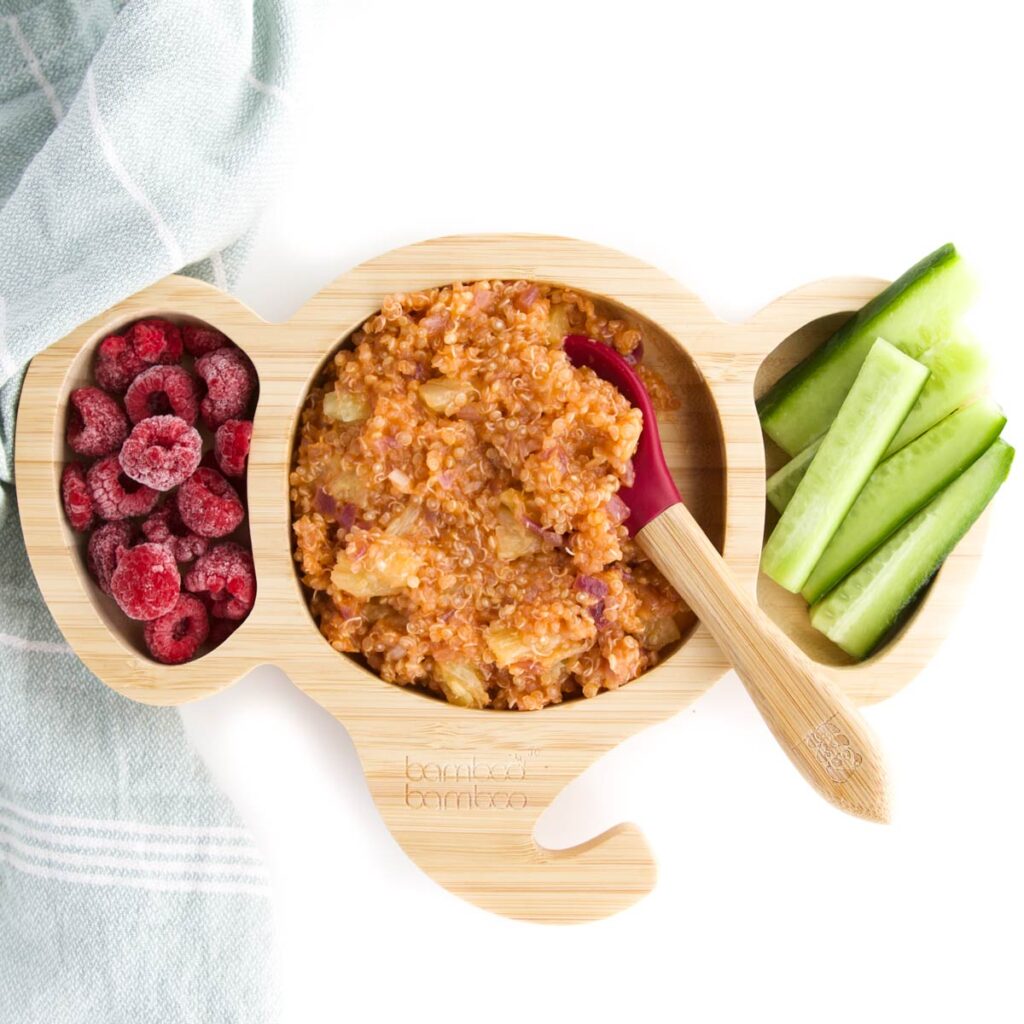 Reasons to Love Sweet and Sour Quinoa
TASTE: The tangy and sweet flavour masks the bitterness of quinoa, that many children (and adults) dislike.
ADAPTABLE: Serve as a side, along with fish or chicken, or turn into a main meal by adding a protein source (chicken, prawns, tofu all work great) and some extra vegetables. Alternatively, add an egg and form into balls, perfect for lunch boxes or as a finger food / snack.
ALLERGY FRIENDLY: Dairy free, egg free (unless forming balls), nut free and can easily be made gluten free by skipping the soy sauce or replacing with coconut aminos.
FREEZER FRIENDLY: Freezes well, especially the balls, making it a quick and easy lunch box item.
Watch How to Make It
Ingredients Information (with Alternative Suggestions)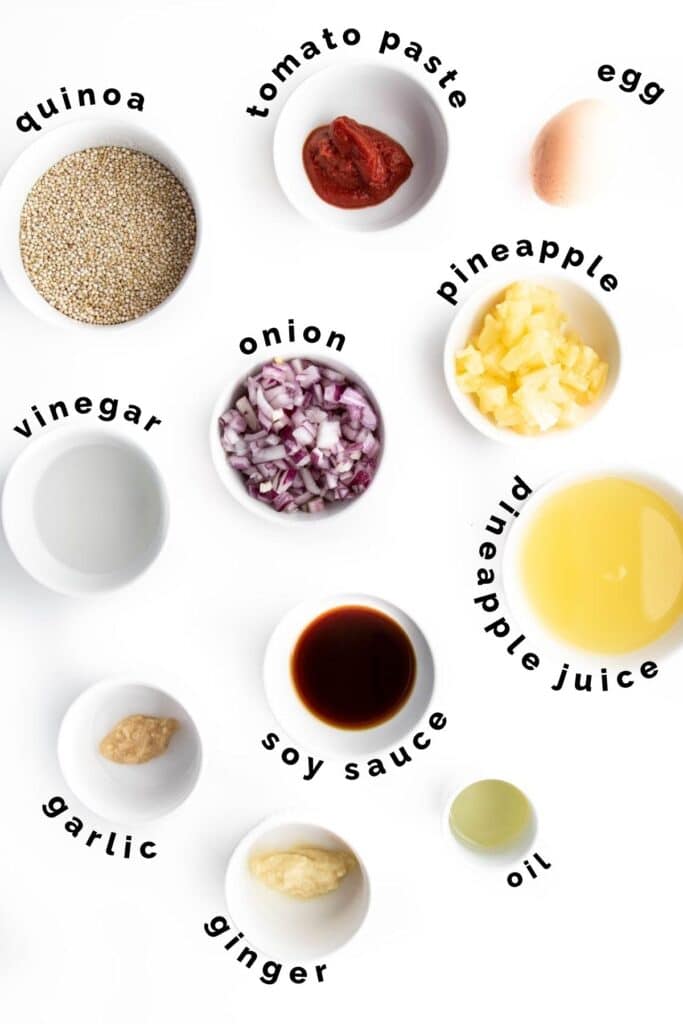 QUINOA - White quinoa has the most delicate taste and cooks up fluffier than other varieties of quinoa. For this reason, white quinoa is a popular choice for babies and also in dishes like this. That being said, tri colour quinoa also works great.
PINEAPPLE & PINEAPPLE JUICE – This provides the sweetness to the sauce. Use the juice from the can of pineapple.
SOY SAUCE – Adds saltiness to balance the sauce. If making for a young toddler you may wish to skip it to reduce sodium levels. If a family member has a soy/wheat intolerance/allergy then you can replace with coconut aminos.
WHITE WINE VINEGAR – Adds the sour flavour to the sauce. You can use your preferred vinegar.
EGG- Only needed if making quinoa balls, used for binding.
Process Shots and Cooking Tips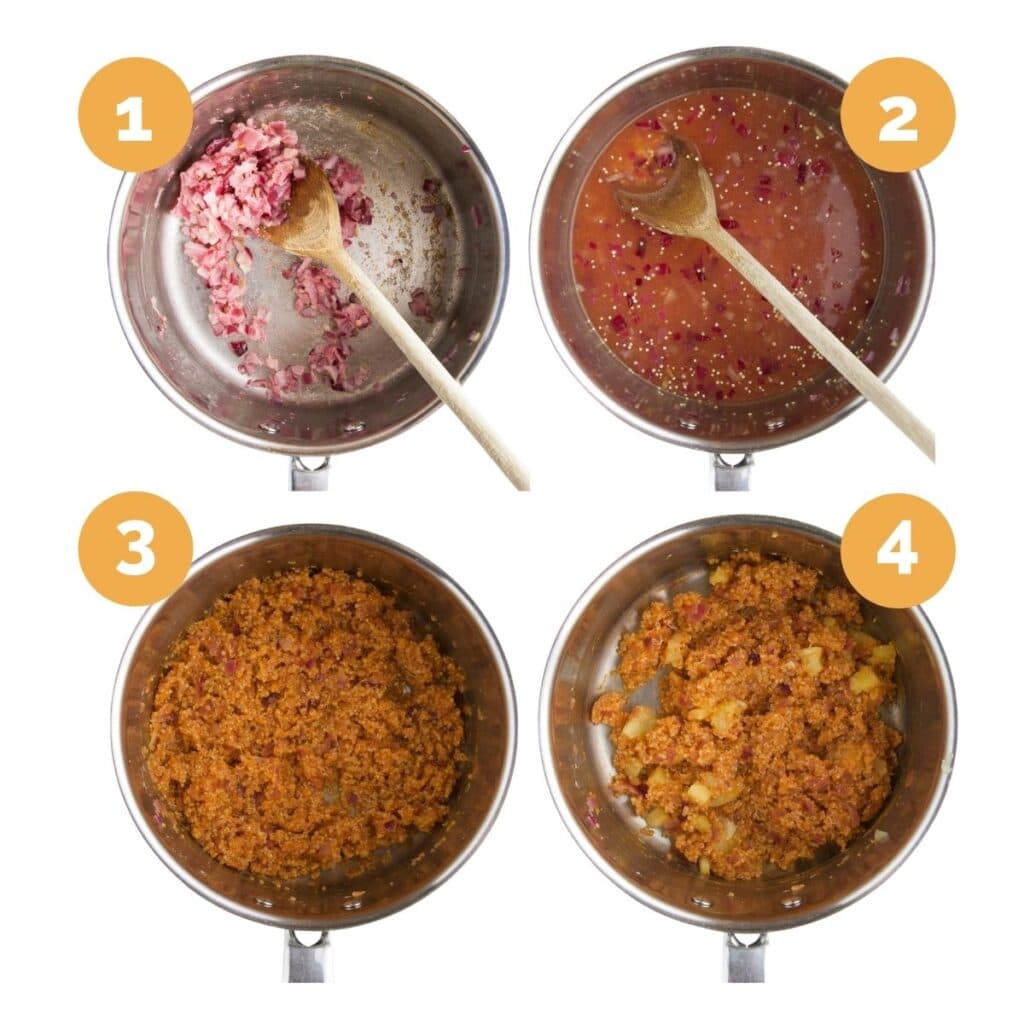 This quinoa is made in one pot and takes around 25 minutes to make. Much of that time is for simmering, requiring little "hands-on" work.
SAUTE: Start by sauteeing the onion, garlic and ginger. This helps to release the natural sweetness of the onion and provides a great flavour base.
COOK: Add all the remaining ingredients (apart from pineapple pieces) and bring to a boil. Once at a rolling boil, reduce the heat, cover and simmer for around 15 mins (until the liquid has absorbed).
REST: Fluff with a fork, replace the lid and allow the quinoa to sit for 5 mins.
ADD PINEAPPLE: Add the pineapple and stir through. Serve.
Making Quinoa Balls
If you are doing baby-led weaning, or looking for a lunchbox item, then quinoa balls are a great option and are easy to make.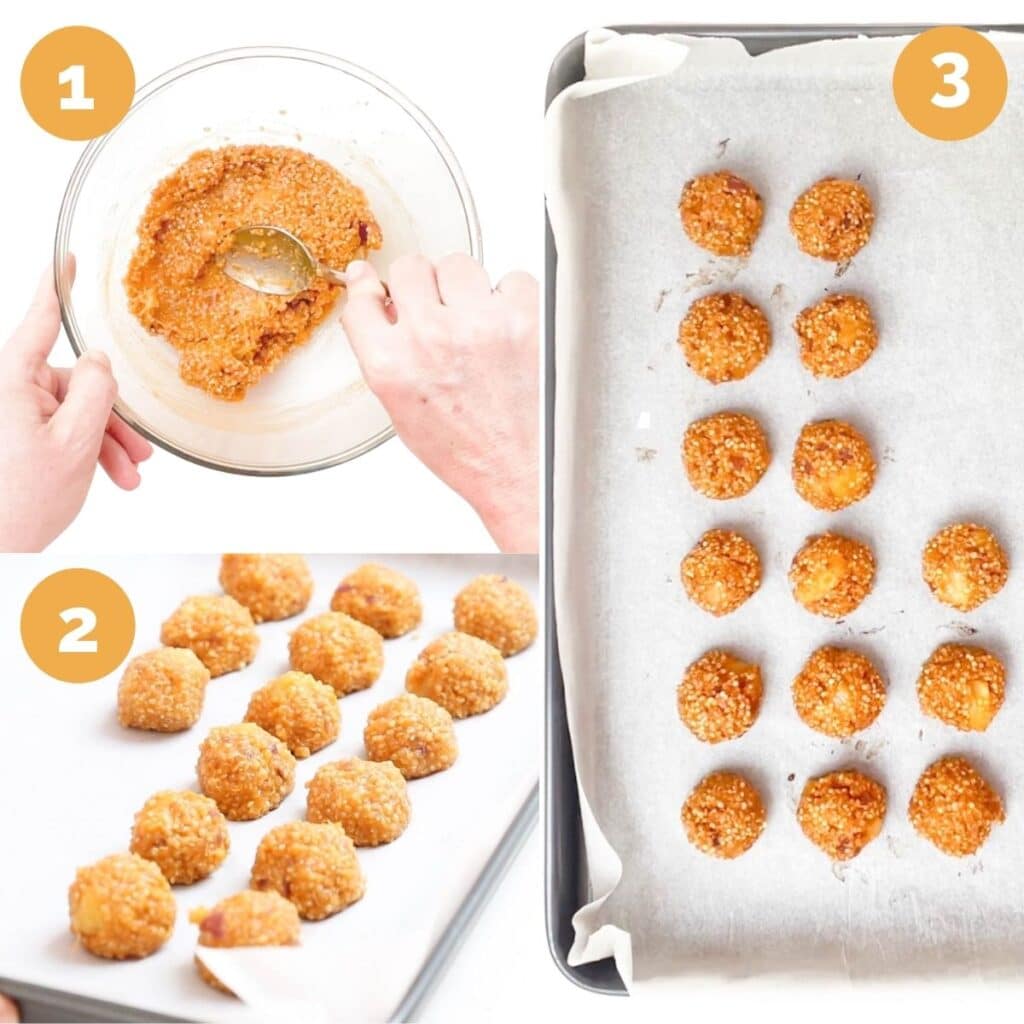 ADD EGG: Add a beaten egg and stir to combine.
FORM BALLS: Form into tablespoon sized balls.
BAKE: Bake for approx 25 min, until golden.
Storage Instructions
REFRIGERATE: Allow to cool, transfer to an airtight container and refrigerate for up to two days.
FREEZE: Allow to cool, transfer to an airtight container / heavy-duty freezer bag and freeze for up to two months.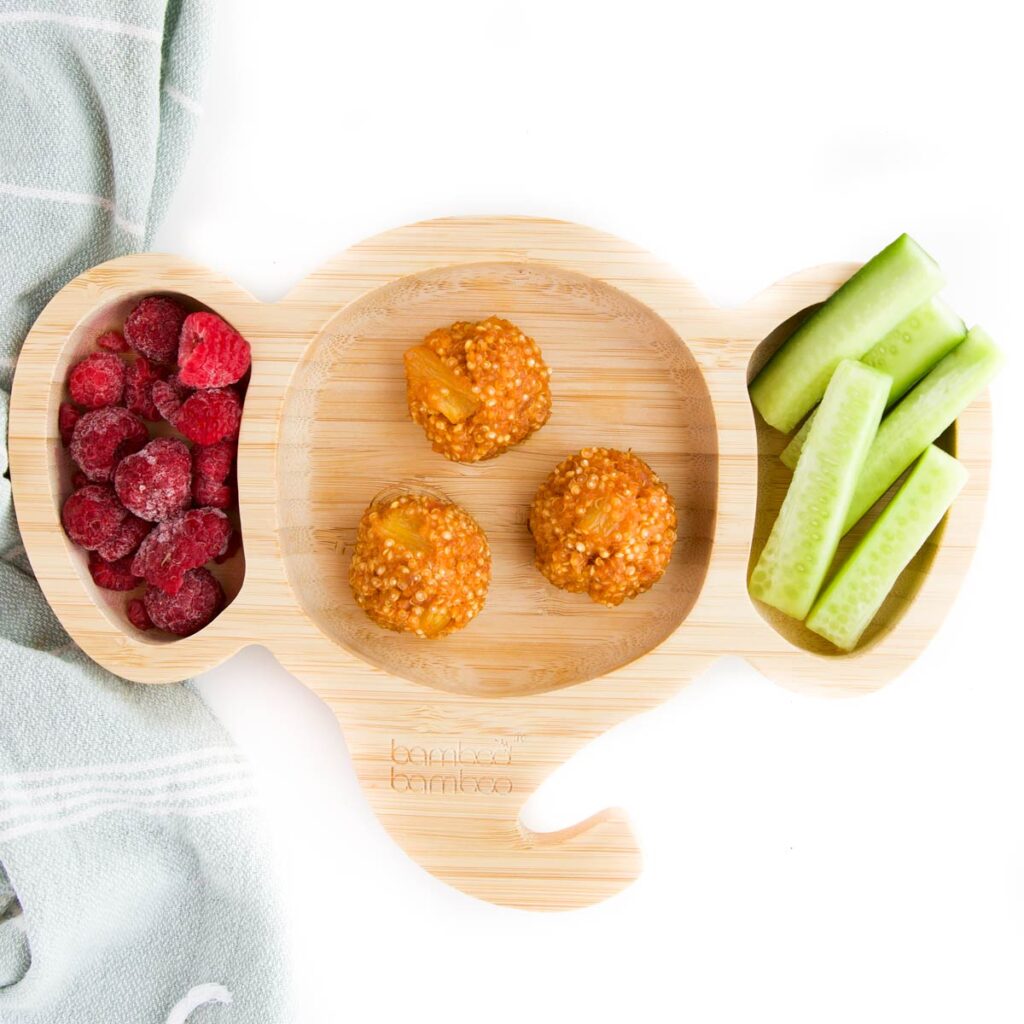 You May Also Like
Have you tried this recipe? I love receiving your feedback, please rate and leave a comment below or tag me on Instagram @healthylittlefoodies
Looking for more healthy kid recipes?Sign up for my free recipe newsletter to get new family friendly recipes in your inbox each week! Find me sharing more kid-friendly inspiration on Pinterest and Instagram.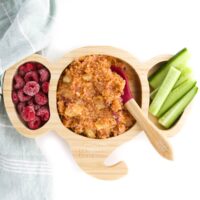 Sweet and Sour Quinoa
A flavoursome, kid friendly meal with the option to turn into balls for baby-led weaning or for lunchboxes.
Prep Time: 10 minutes
Cook Time: 15 minutes
Total Time: 25 minutes
Serves:2
Hover over "serves" value to reveal recipe scaler
Ingredients
1 tablespoon Oil
1 Red Onion ,finely chopped
2 Garlic Cloves ,minced
1 teaspoon Minced Ginger
2 tablespoon White Wine Vinegar
1 tablespoon Soy Sauce
1 tablespoon Tomato Paste
125ml (½ cup) Pineapple Juice
125ml (½cup) Water
100g (½cup ) Quinoa
100g (approx. 2 rings) Pineapple ,finely chopped
Instructions
Heat oil in pan over medium / high heat. Reduce heat and gently fry the onion until softened (approx. 5 mins). Add the garlic and ginger and fry for a further min.

Add the vinegar, soy sauce, tomato paste, pineapple juice, water and quinoa and then stir to combine.

Bring to a boil, reduce the heat to low, cover and allow to simmer for 15 mins, until the liquid has been absorbed.

Turn the heat off, fluff with a fork, replace lid and leave the quinoa to sit for a further 5 mins.

Stir in the chopped pineapple and serve
Quinoa Balls
Make quinoa as above

Pre heat oven to 180c/ 355f and line a baking tray with parchment paper / silicon mat.

Allow the quinoa to cool and then stir in the beaten egg.

Form tablespoon sized balls and place on prepared baking tray. (makes around 15 balls)

Cook in the oven for 20 mins, until golden and cooked through.
Recipe Notes
COOKING TIME: Allow a further 30 mins if making balls.  COOKING FOR BABIES: If making for a baby then you can leave out the soy sauce to reduce the sodium level or replace with coconut aminos. Make sure to chop the pineapple finely to avoid choking. Nutritional information is a ROUGH guide only, calculated using an online nutrition calculator. 
Nutritional facts
Calories: 378kcal | Carbohydrates: 55g | Protein: 12g | Fat: 12g | Saturated Fat: 2g | Polyunsaturated Fat: 3g | Monounsaturated Fat: 7g | Trans Fat: 1g | Cholesterol: 82mg | Sodium: 609mg | Potassium: 650mg | Fiber: 6g | Sugar: 15g | Vitamin A: 281IU | Vitamin C: 37mg | Calcium: 76mg | Iron: 4mg
*This recipe was first published in May 2016. It has been updated to include a video, process shots and new photos. The recipe remains the same but has been split to allow an option to make as a dish or as balls.