Quinoa Crusted Chicken Nuggets – A kid favourite made healthier.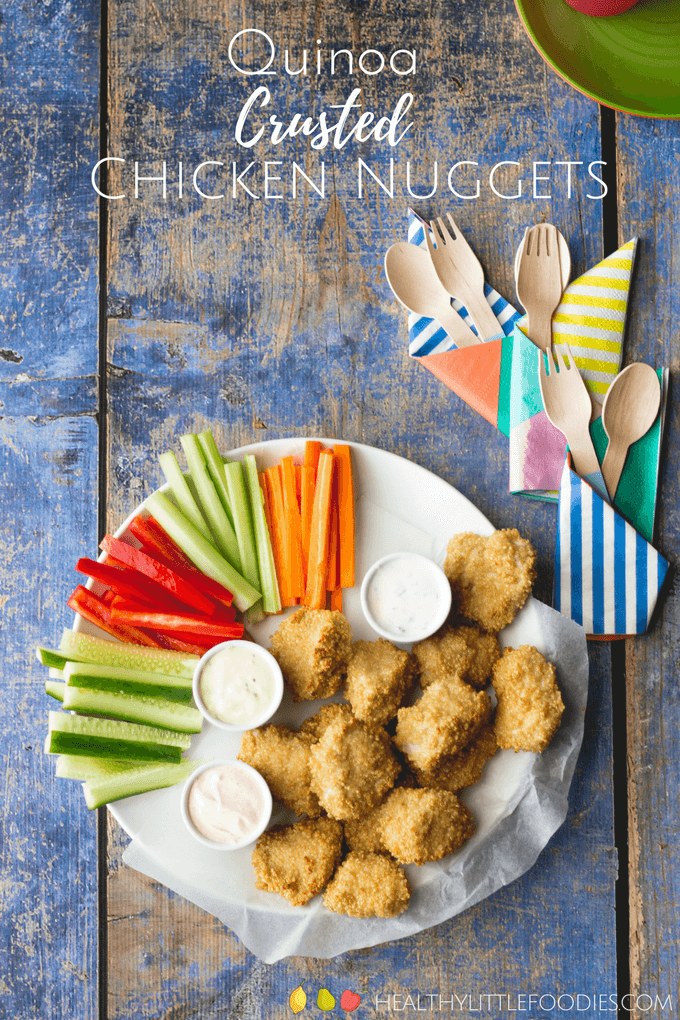 I'm not sure who loves these Quinoa Crusted Chicken Nuggets more, my husband or my kids. All I know is that they are very popular and that they don't hang around long.
When I first served these to Finn, he kept asking me if I was making "real" chicken nuggets. Ironically, by real, he meant highly processed nuggets that are usually deep fried. I replied that of course they were real chicken nuggets and he was absolutely delighted! He didn't complain when I served them so obviously they passed the real chicken nugget test.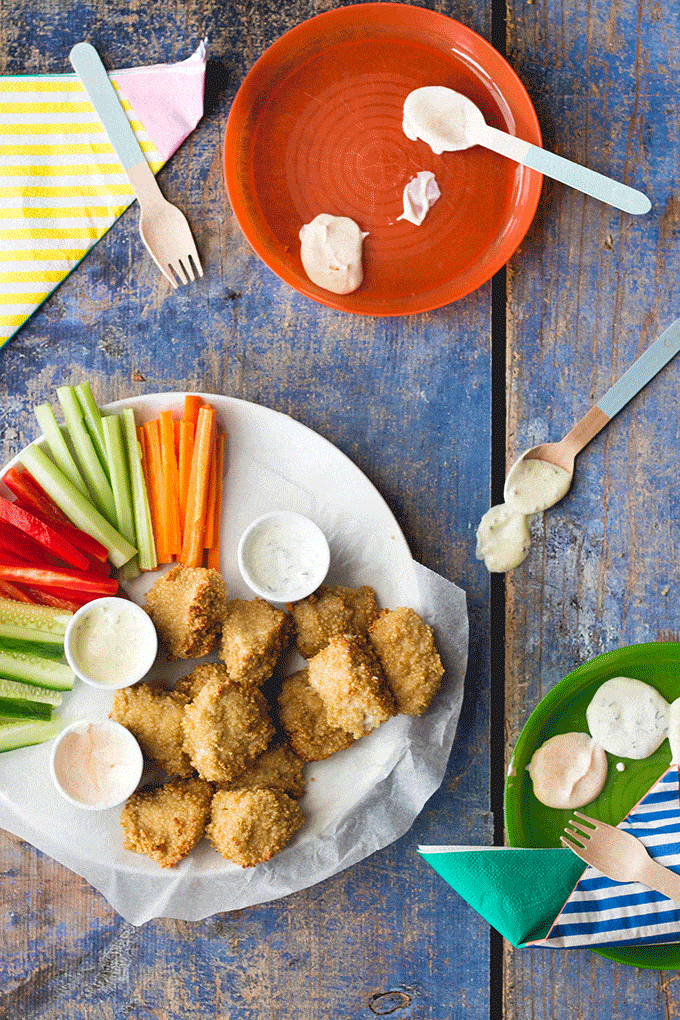 Quinoa crusted chicken nuggets are a great dish to make with the kids. I made these with both my boys. Rory (2), rolled all the nuggets in the flour and Finn(5), dipped them in the egg. I coated them in the quinoa. Normally I find I need to factor in extra time when the boys "help" prepare food but this time it was actually helpful. My hands didn't have clumps of eggy flour attached to them while I was coating the nuggets. Having someone do each step definitely helps.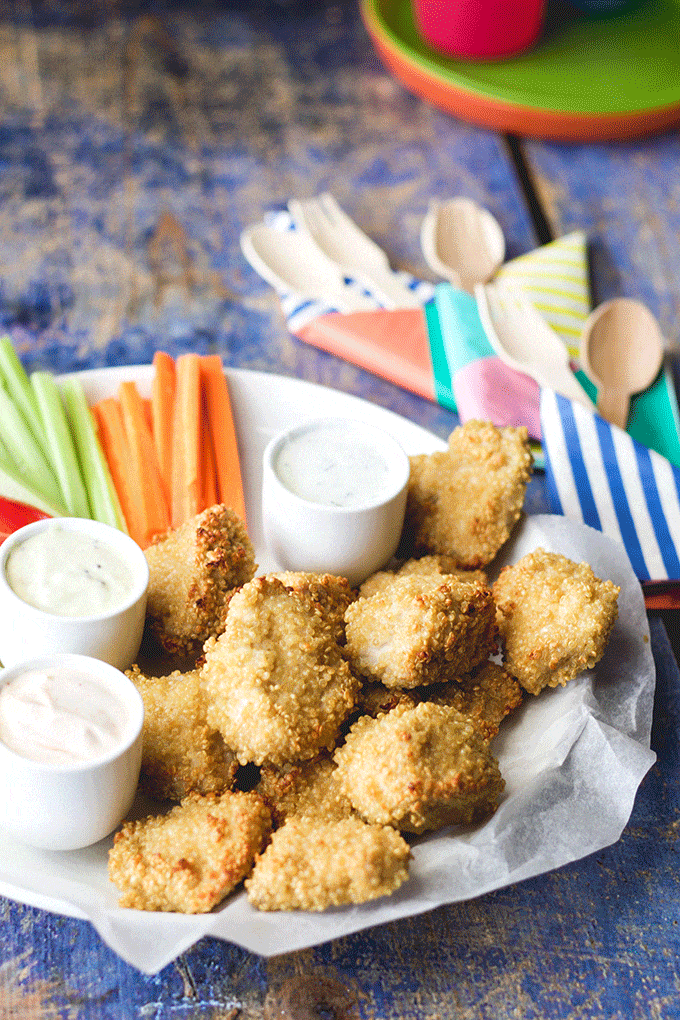 This works best with chilled quinoa, I just find that it coats better. So once you have cooked the quinoa pop it in the fridge or freezer to cool down. I like to cook the quinoa in chicken stock for extra flavour but you can easily use water if you prefer.
I used buckwheat flour to coat the chicken because I like it and I often get asked for gluten free recipes. Feel free to use a flour of your choice.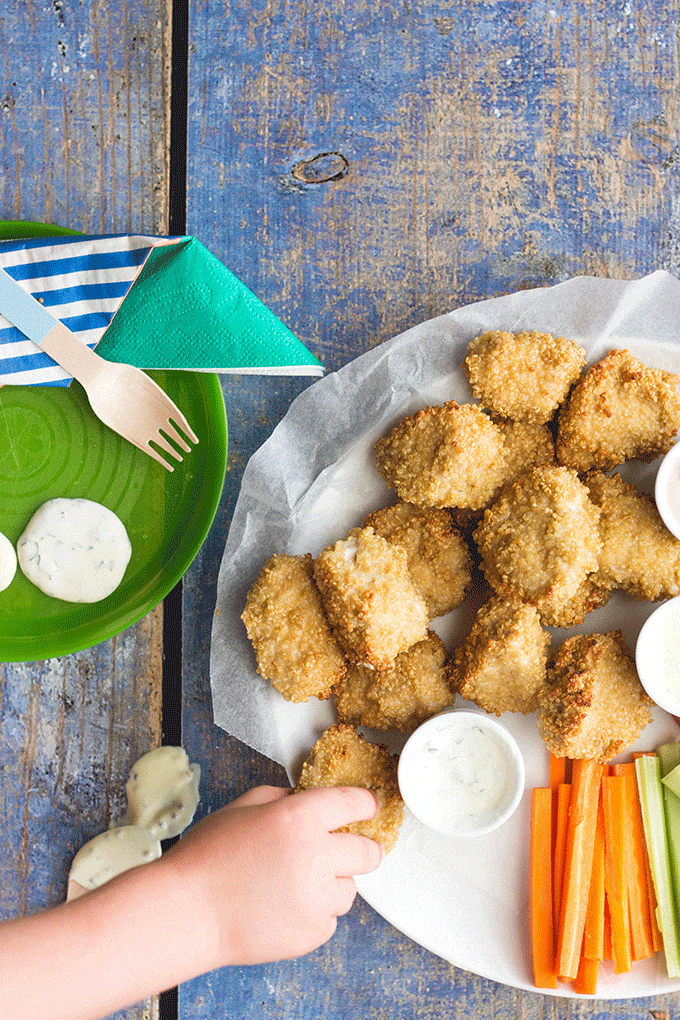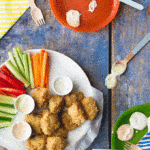 Quinoa Crusted Chicken Nuggets
A kids' favourite made healthier.
Ingredients
3/4

cup

quinoa

1 1/2

cup

chicken stock

(can use water if you prefer)

2

large chicken breasts

(650g) Cut into large chunks (around 8 per breast)

1/3

cup

(55g) buckwheat flour (or flour of choice)

2

eggs beaten
Instructions
Heat the chicken stock in a pan. Once at the boil add the quinoa, reduce the heat to low, cover and simmer for 15 mins. Remove from the heat and allow to sit for 5 mins with the lid still on.

Pre heat oven to 200c / 400f / gas 6

Remove quinoa from the pan and chill. (You want the quinoa to be cold for rolling the chicken in)

Dip the chicken pieces in the flour, then the egg and finally roll in the quinoa. Ensure the chicken is fully coated. Place chicken pieces on a prepared baking sheet.

Spray the chicken nuggets with cooking oil and bake until cooked through - 15 -20 mins (depending on size of the chicken pieces)