A lightened-up version of the take out classic, this healthy sweet and sour chicken is easy to make, family-friendly and ready in under 30 mins.
Children seem to love sweet and sour chicken but the takeaway classic is usually deep-fried and packed with sugar. Although this recipe is not sugar-free, the sugar content is greatly reduced with the sweetness coming from the pineapple juice and ketchup.
However, that's not the only reason to love this dish. It is also...
Easy to Make - The sauce takes minutes to make and then it is just a case of cooking it together with the chicken and vegetables.
Customizable - Carrots and bell pepper (capsicum) are noted in the recipe but you can add a range of veggies. (e.g snow peas, broccoli, asparagus). The deliciously sweet and tangy sauce may be a great way for children to try vegetables they wouldn't normally eat.
Jump to:
Ingredient Information (With Substitutes)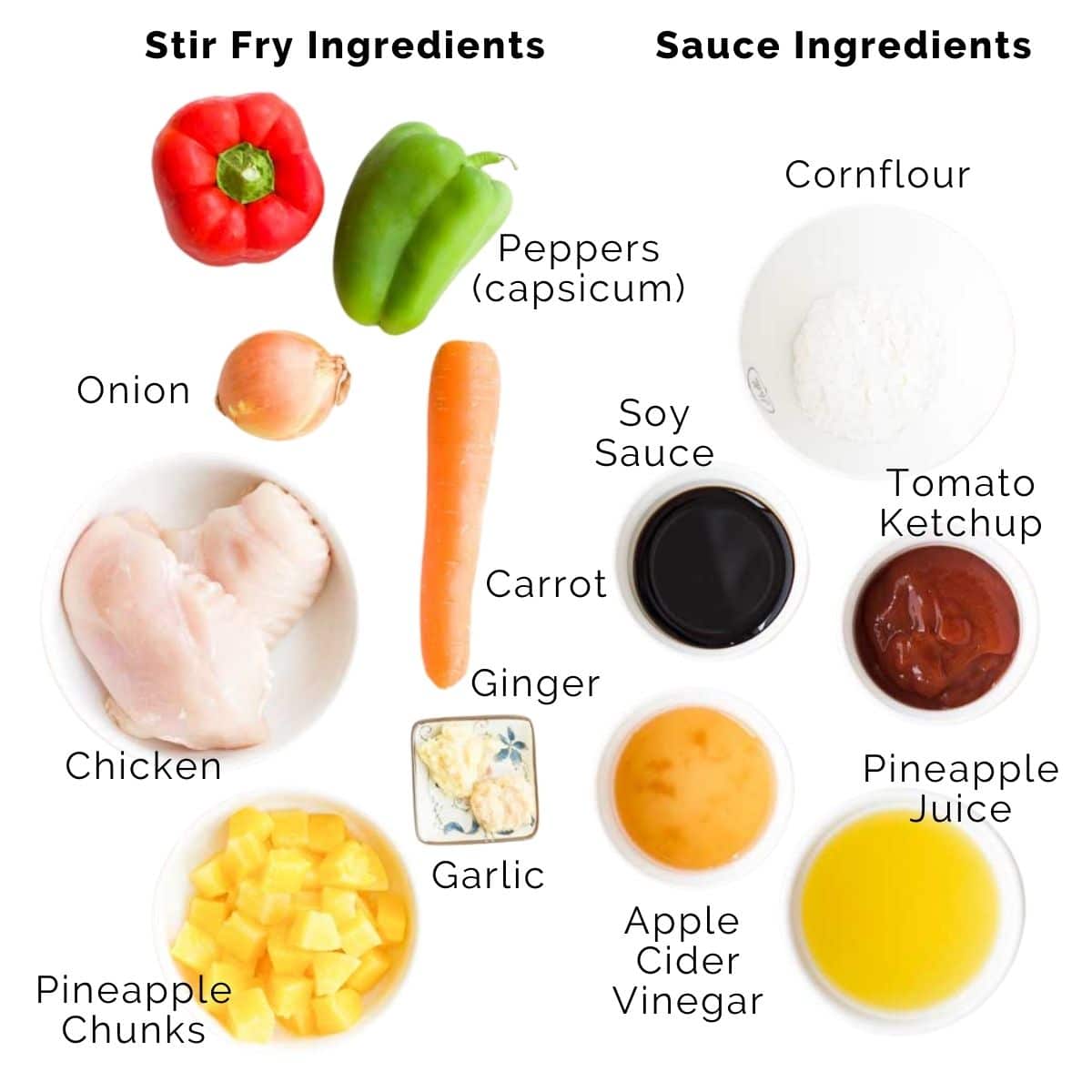 PINEAPPLE JUICE - This provides the sweetness to the sauce. Use the juice from the whole can of pineapple, equivalent to ½ cup (125ml)
SOY SAUCE - Adds saltiness to balance the sauce. If making for a young toddler you may wish to skip it to reduce sodium levels. If a family member has a soy intolerance/allergy then you can replace with coconut aminos.
APPLE CIDER VINEGAR - Adds the sour flavour to the sauce. You can use white wine/malt vinegar if you prefer.
TOMATO KETCHUP - Provides the red colour and extra sweetness. If you would prefer not to add ketchup you can replace with tomato paste, just reduce the amount to 1 tbsp. The sauce will not be as sweet.
CORNFLOUR - Used to thicken the sauce. The sauce will look pretty thin when mixed together but once simmered, it thickens and coats the chicken beautifully.
STIR-FRY INGREDIENTS: Use whatever veggies you have and feel free to switch up the chicken with prawns (shrimp), pork or tofu
Cooking Tips and Tricks
TENDER CHICKEN: Do your children sometimes find chicken breast dry and difficult to eat? One way to combat this is to tenderise the breast meat. In a mixing bowl add the chicken chunks and sprinkle with 1.25tsp of baking soda. Gently mix and refrigerate for around 20-30 mins. After this time, place the chicken pieces in a colander and rinse off the baking soda with water. Shake off the excess water and pat dry. You will be amazed at how soft the chicken is after doing this. Alternatively, you can replace the breast meat with thigh.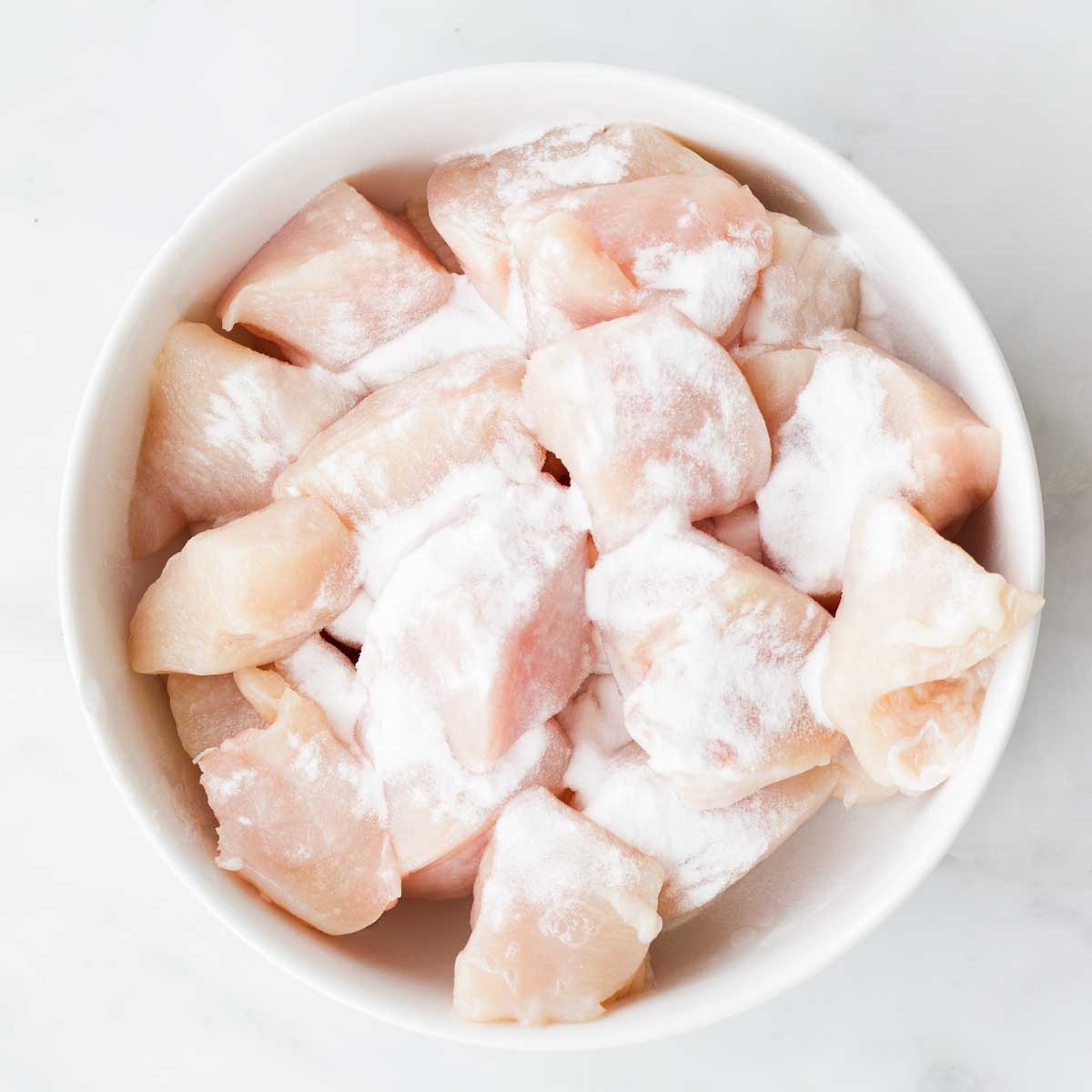 MAKE IN ADVANCE: You can chop the chicken and veggies in advance as well as mixing the sauce ingredients up. Then at dinner time you basically just have to throw it all together in a pan.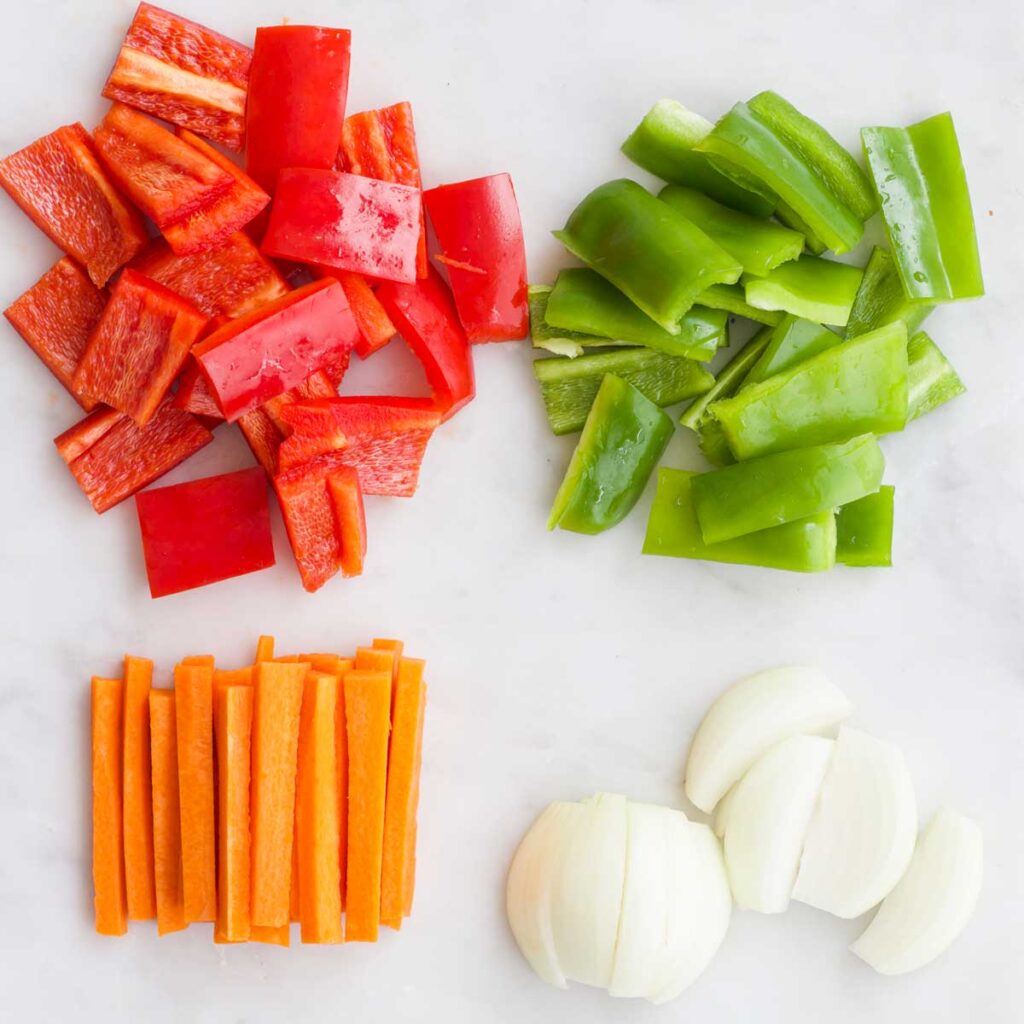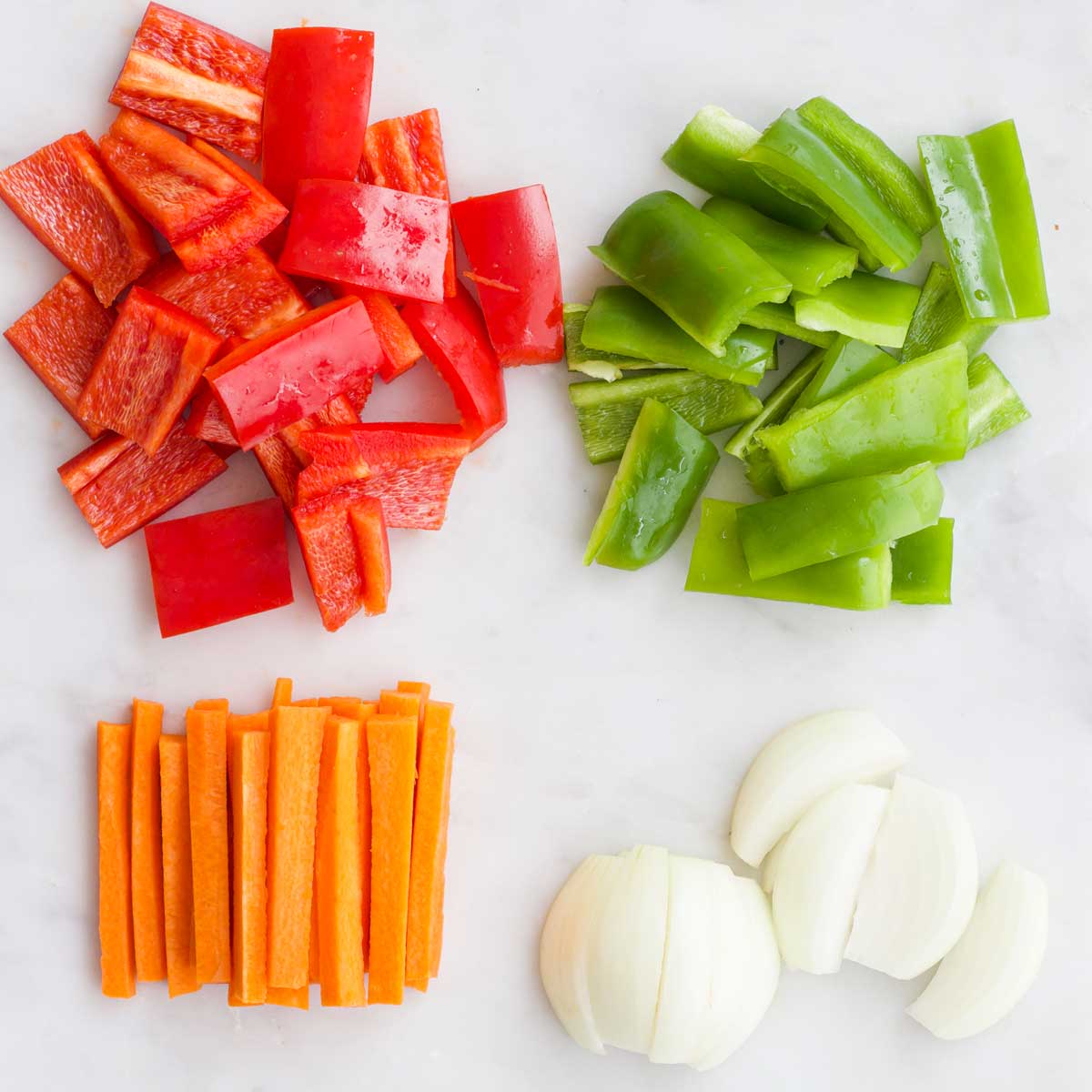 TASTE & ADJUST: As this is a healthier sweet and sour sauce recipe, it is not like traditional recipes. Most recipes contain ½ cup - 1 cup of sugar. This version seriously dials back on the sweetness. If you feel it is on the tart side feel free to add a touch of sugar or sweetener (I'd start with 1tsp and work my way up from there, just remember the pineapple chunks will add further sweetness).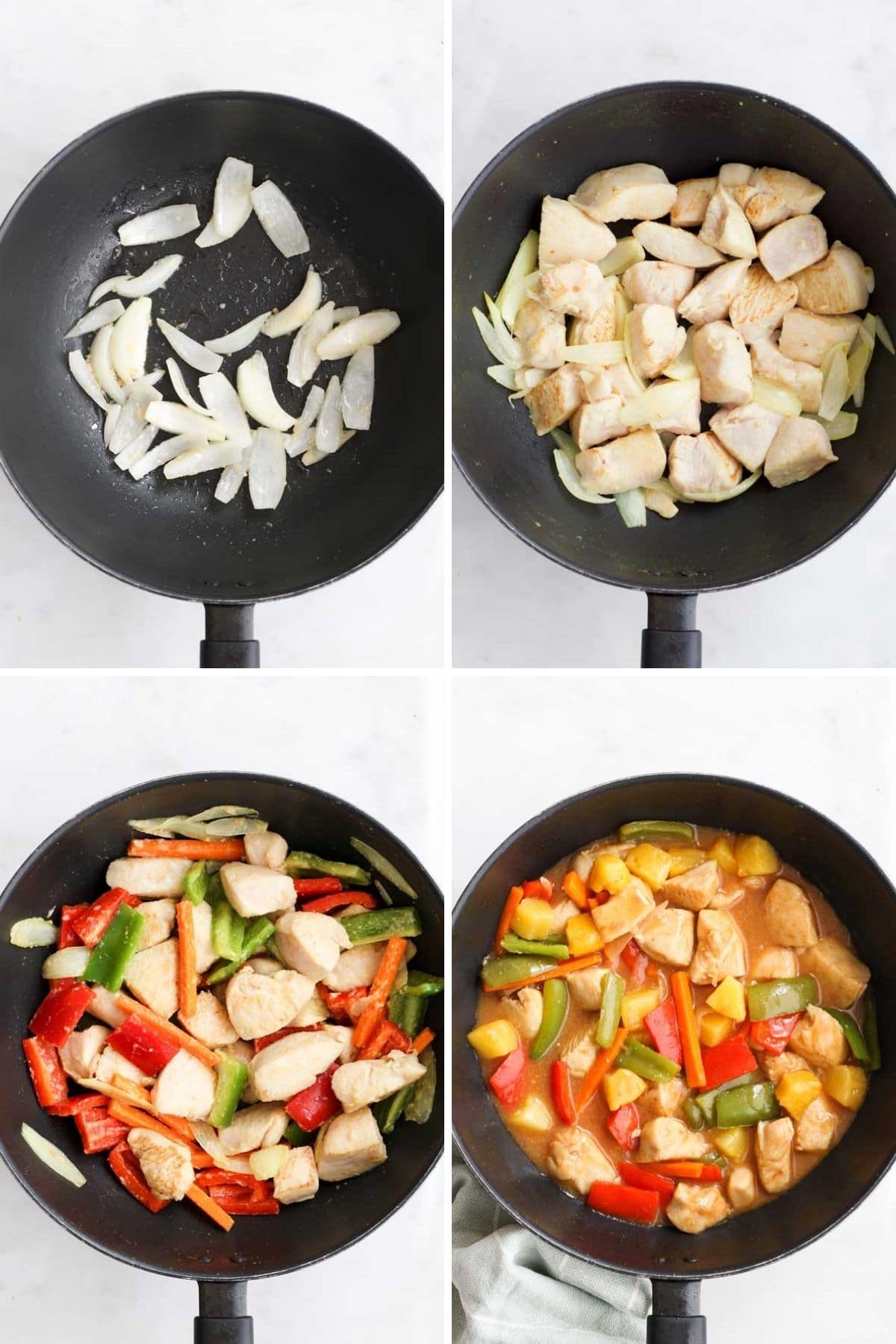 Serving Suggestions
Serve healthy sweet and sour chicken with rice of choice, noodles or, for an extra veggie boost, try serving with cauliflower rice.
Why not buy some kids' chopsticks. They are attached at the top to make it easier to operate and they will have a lot of fun using them!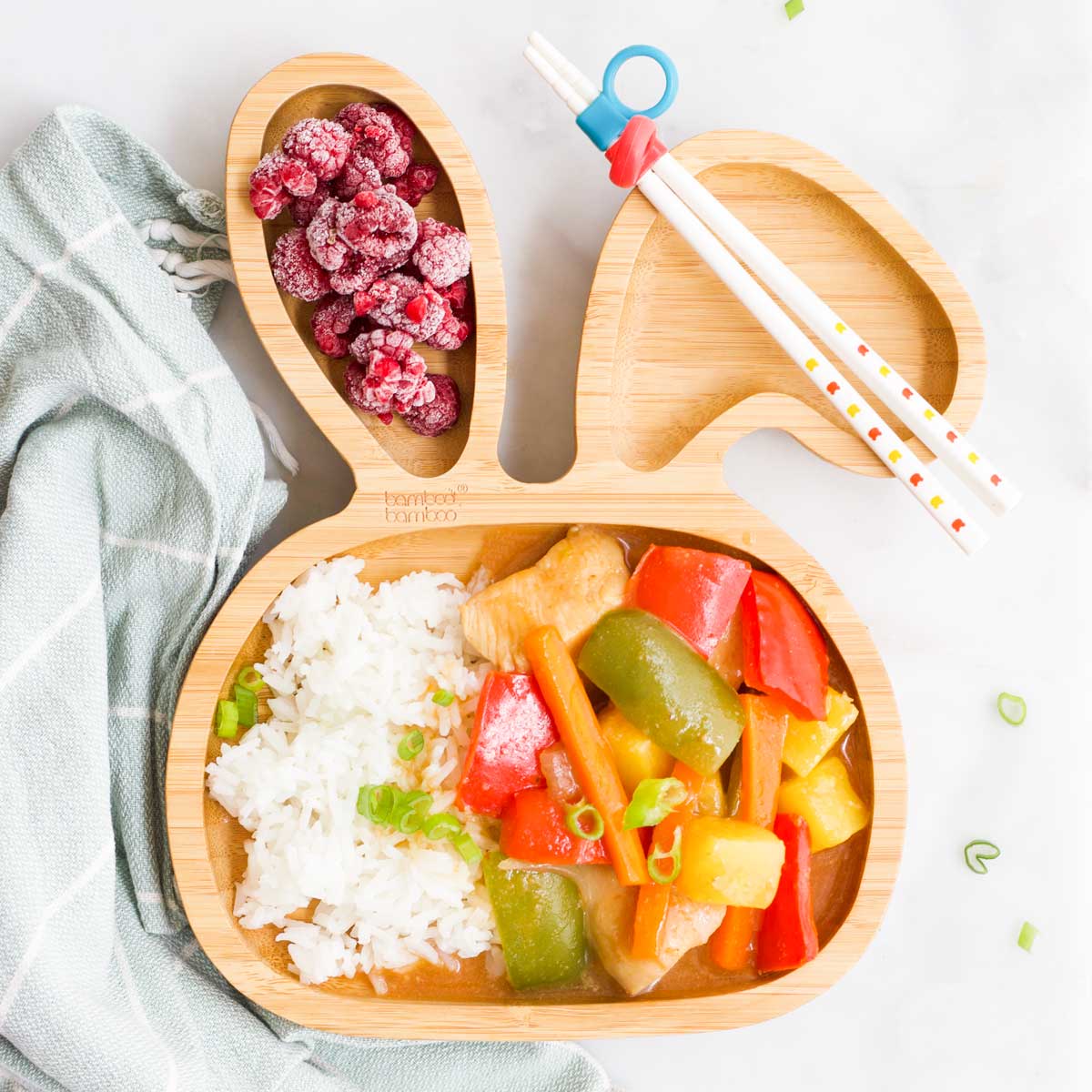 Storage Instructions
REFRIGERATE: Allow to cool, transfer to an airtight container and refrigerate for up to two days.
FREEZE: Allow to cool, transfer to an airtight container / heavy-duty freezer bag and freeze for up to two months.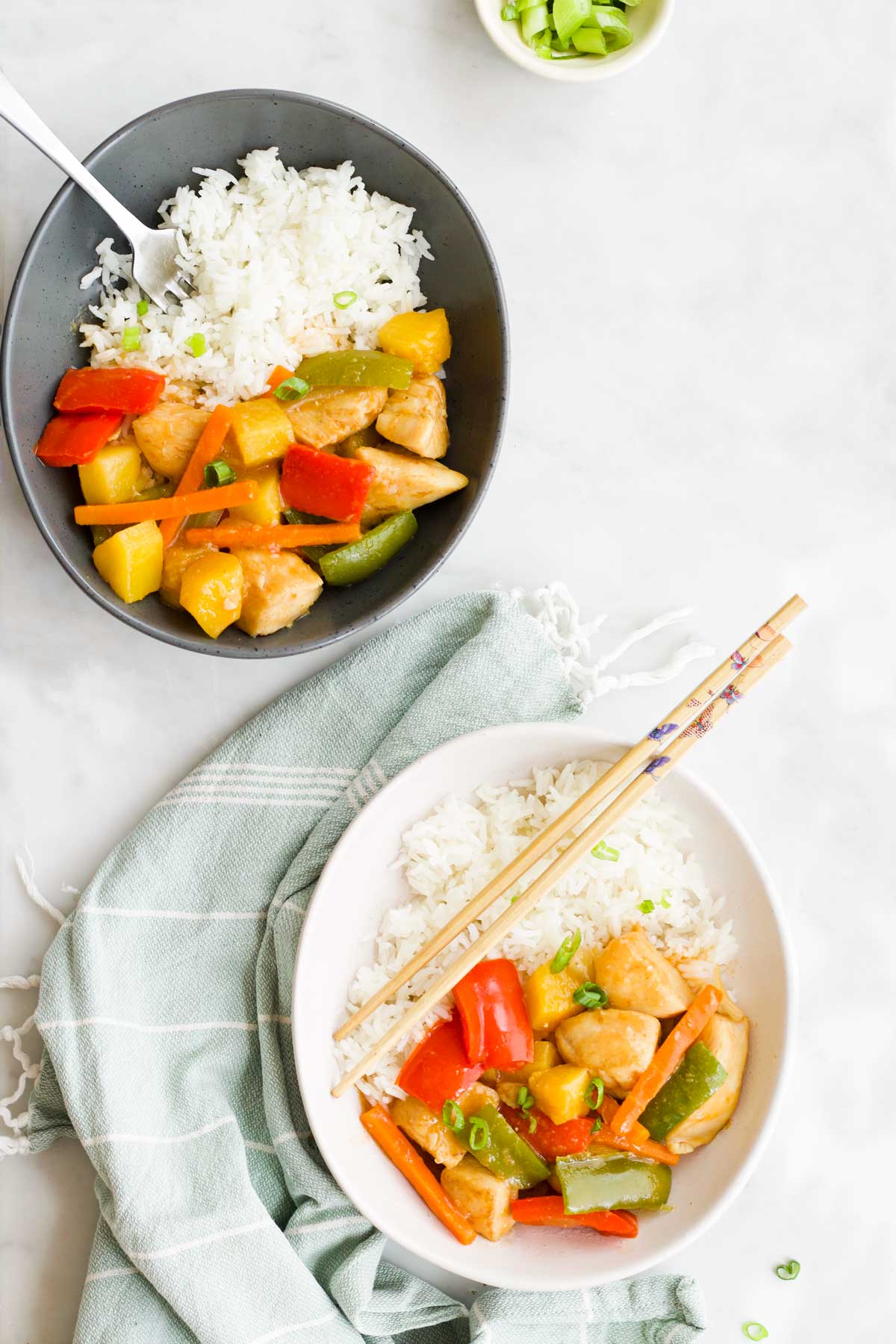 You May Also Like...
Looking for more healthy kid recipes?Sign up for my free recipe newsletter to get new family friendly recipes in your inbox each week! Find me sharing more kid-friendly inspiration on Pinterest and Instagram.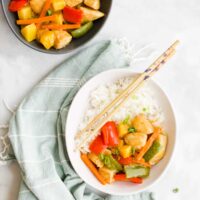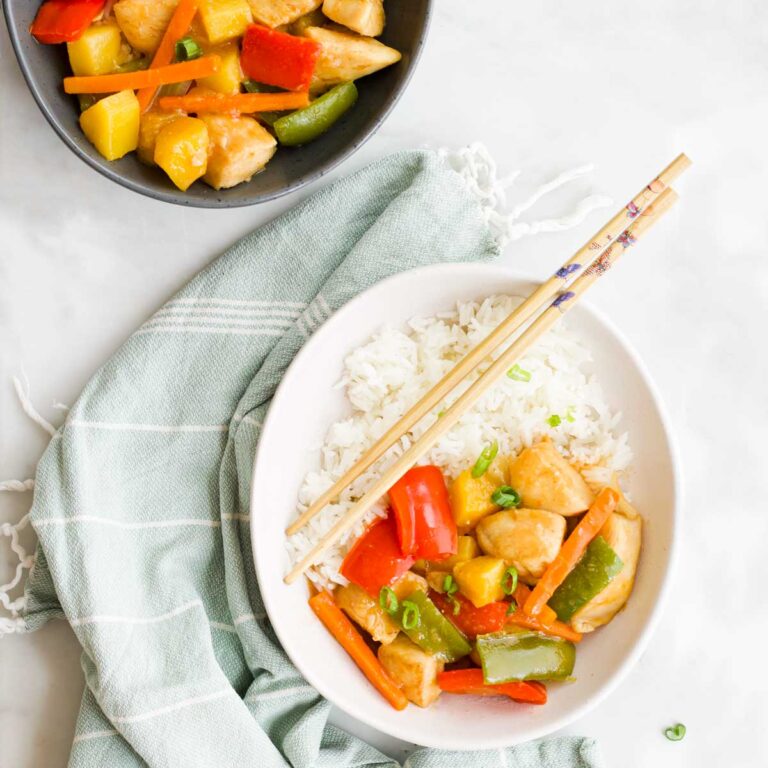 Healthier Sweet and Sour Chicken
A lightened-up version of sweet and sour chicken, dialling back on the sugar by using pineapple juice to sweeten.
Prep Time: 10 minutes
Cook Time: 10 minutes
Total Time: 20 minutes
Serves:4 people
Hover over "serves" value to reveal recipe scaler
Ingredients
Sauce
125ml (½ cup) Pineapple Juice (from the canned pineapple chunks)
2 tablespoon Apple Cider vinegar
1 tablespoon Soy Sauce light
2 tablespoon Tomato Ketchup (sauce)
Cornflour Slurry
3 teaspoon Cornflour / corn starch
6 teaspoon Cold water
Stir Fry
1 tablespoon Vegetable Oil
1 Onion (white or brown) halved and finely sliced
1 Minced Garlic
400g (13oz) Chicken Breasts cut into bite sized pieces (SEE NOTE 1)
2 teaspoon Minced Ginger
1 Carrot peeled and cut into matchsticks
2 Bell pepper / capsicum, any colour deseeded and chopped into 1inch pieces
432g (drained 272g) Can of pineapple chunks in natural juice (separated from the juice)
Instructions
In a small bowl, mix together the sauce ingredients.

In a separate bowl mix together the cornflour and water.

Heat oil in a wok (or skillet) over high heat. Add the onion and garlic and cook for 1 minute.

Add the chicken and stirfry until white (but still pink inside)

Add the ginger, carrots and bell pepper and stir fry for a further 2 minutes.

Add the sauce ingredient and stir until the sauce starts to boil. Add the cornflour slurry and bring to a simmer. Allow to simmer for approx 3 mins, until the sauce thickens.

Add the pineapple, stir through and serve.
Recipe Notes
NOTE 1: If you have time I highly recommend you tenderise the chicken breast before using, this will make your chicken extra soft (ideal for kids). Mix the chicken chunks in a bowl with 1 & ¼ teaspoon of baking soda. Refrigerate for 20 -30 mins. Rinse well in a colander to remove the baking soda and then shake/pat dry to remove excess water. If you prefer you can replace breast with thigh (no need to tenderise thigh)  SWEETNESS: This isn't your traditional sweet and sour sauce recipe. Most recipes contain ½ cup - 1 cup of sugar. Taste the sauce before adding to the pan. If you feel it is on the tart side feel free to add some sugar or sweetener (I'd start with 1tsp and work my way up from there, just remember the pineapple chunks will add further sweetness). Serve with rice or, for an extra veggie boost, try serving with cauliflower rice.  Nutritional Information is a ROUGH guide only, calculated using an online nutrition calculator. Information is for the sweet and sour chicken only and does not take into account what you serve it with (rice etc).
Nutritional facts
Calories: 249kcal | Carbohydrates: 24g | Protein: 23g | Fat: 6g | Saturated Fat: 1g | Trans Fat: 1g | Cholesterol: 64mg | Sodium: 452mg | Potassium: 745mg | Fiber: 3g | Sugar: 16g | Vitamin A: 4520IU | Vitamin C: 116mg | Calcium: 38mg | Iron: 1mg
*This recipe was originally published in December 2013. It has been updated to provide more information, process photos and has also had a slight recipe tweak. If you wish for the original recipe, please get in touch and I can email it to you.