These Roasted Parsnips are crispy on the outside, tender in the inside and their naturally sweet, nutty flavour is perfect for kids. 
HOW TO SELECT PARSNIPS
Size - Pick small to medium sized parsnips. The larger ones tend to have a woody, bitter core which you would want to remove.
Texture - Parsnips should be firm and free of soft spots. Avoid parsnips that are soft and limp.
Colour - Look for parsnips with even colouring, dark spots can indicate decay.
Appearance - Avoid parsnips that have lots of feathery threads on the end.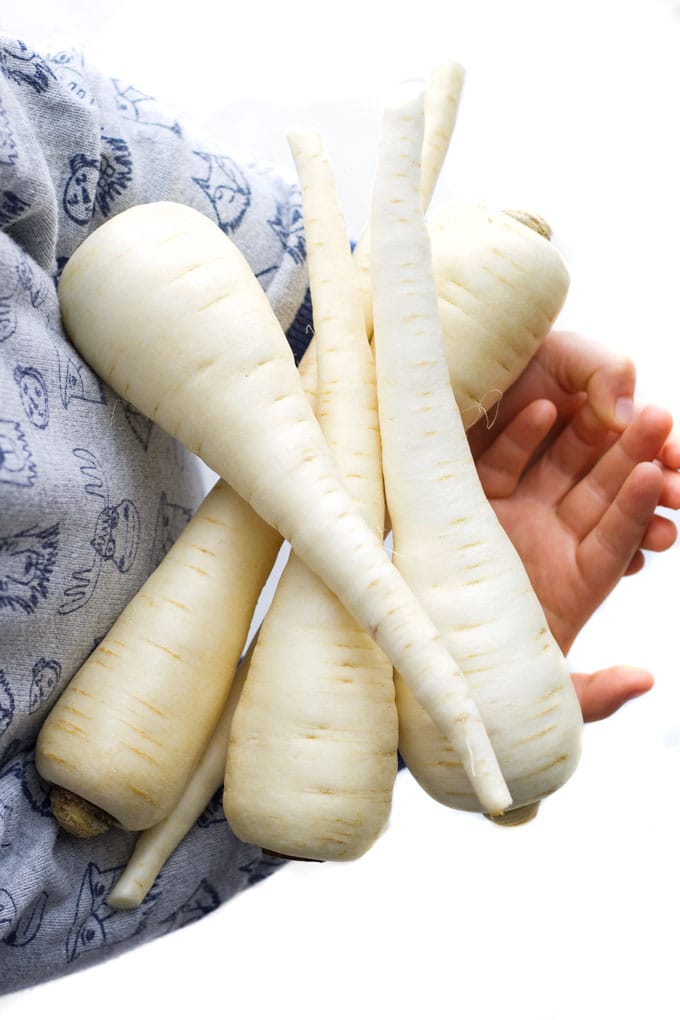 HOW TO PREPARE ROASTED PARSNIPS
Peel - I have always chosen to peel parsnips but it isn't necessary. If using larger parsnips then it is recommended but small, younger parsnips don't really need peeling and you can choose just to scrub them.
Chop - Chopping into large matchsticks is great for kids and babies. Don't be tempted to cut them too thin though, as they do shrink when cooked.

Start by cutting the parsnip in half to separate the thinner bottom from the thicker top.
Depending on the thickness of the bottom part you can leave as is or cut in half lengthways
Cut the larger top into thirds/quarters (depending on parsnip size) so that all the pieces are roughly the same size.
If using larger parsnips you may have to remove the woody centre.

Oil & Roast - As the parsnips are cut into matchsticks there is no need to parboil before roasting.

Add the chopped parsnips to a bowl and toss in oil to coat.
Place, in a single layer, on a baking tray. Do not overcrowd or the parsnips will steam and won't brown.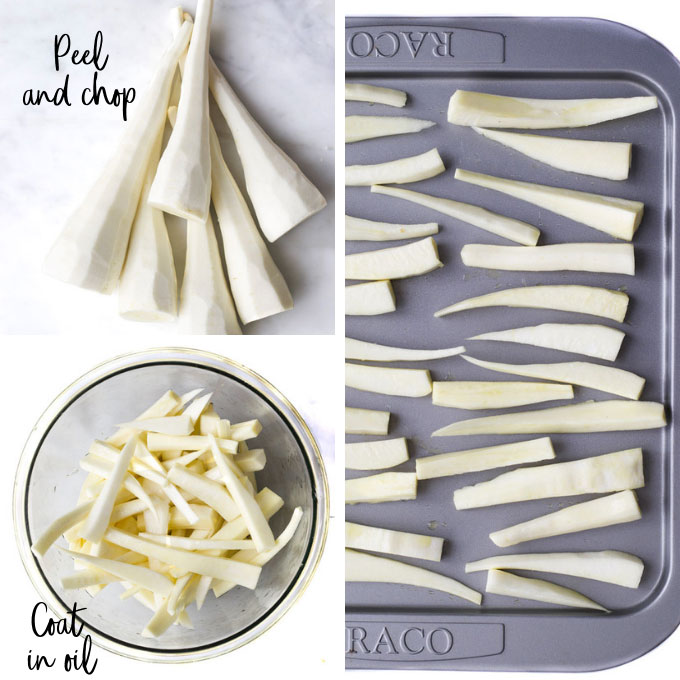 FLAVOURING ROASTED PARSNIPS
Recipes for roasted parsnips often involve coating the parsnips in some honey or maple syrup. Perhaps this is delicious on special occasions but, I believe, that they are sweet enough without the added sugar.
If you want to enhance the sweetness, without added sugar, you can always add a sprinkle of cinnamon, ginger or nutmeg.
Sumac or smoked paprika also work great with root vegetables. Add a teaspoon when coating the parsnips in oil.
Citrus is delicious with parsnips, try adding some orange or lemon zest.
Personally, I love roasted parsnips best when seasoned with salt and pepper and some freshly chopped rosemary.
ROASTED PARSNIPS FOR BABIES
Parsnips are a vegetable that is often overlooked for babies but their natural sweetness is very appealing to tiny tastebuds.
If you are doing baby-led weaning, or you are starting your baby on finger foods, roasting parsnips this way enhances their sweetness, makes them easy to pick up and they are deliciously soft inside. What more could a baby want?!
FREEZING
If you want to make a batch of parsnip fries in advance, follow the recipe up until the baking step. Bake only for the first ten minutes, and let cool completely.
Freeze on the baking sheet until frozen and then transfer to a freezable container or ziplock bag.
Freeze for up to 2 months. Bake for approx 15 minutes when you are ready to eat them.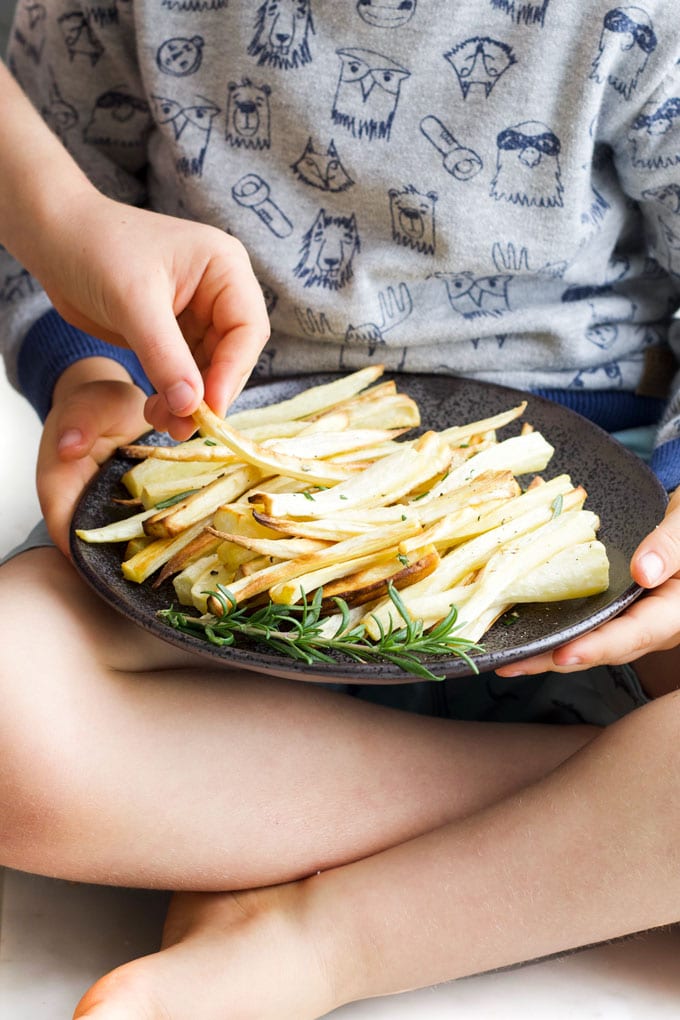 You may also like
Have you tried this recipe? I love to receive your feedback, please rate and leave a comment below or tag me on Instagram @healthylittlefoodies.
Looking for more healthy kid recipes?Sign up for my free recipe newsletter to get new family friendly recipes in your inbox each week! Find me sharing more kid-friendly inspiration on Pinterest and Instagram.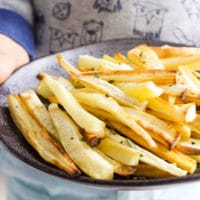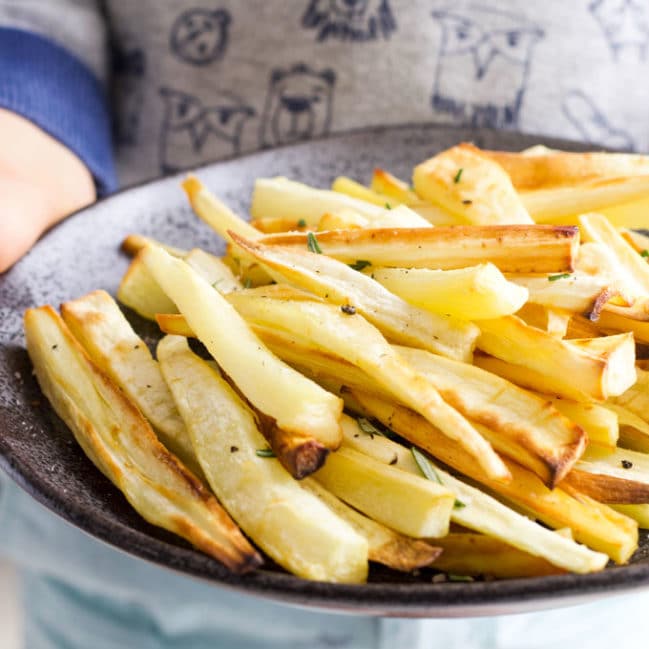 Roasted Parsnip
These Roasted Parsnips are crispy on the outside, tender in the inside and their naturally sweet, nutty flavour is perfect for kids.
Prep Time: 10 minutes
Cook Time: 30 minutes
Total Time: 40 minutes
Serves:4 people
Hover over "serves" value to reveal recipe scaler
Ingredients
900g (2 lb) Parsnips
2 tbsp Olive Oil
1 tbsp Freshly Chopped Rosemary (Optional, see note 1 for alternatives)
Instructions
Pre-heat oven to 210C (400F)

Peel the parsnips, chop off the top and trim the ends.

Slice into large match sticks, trying to keep the size as consistent as possible.

Add the parsnips to a large mixing bowl and toss in the olive oil. Add the rosemary (optional) and toss again.

Distribute the parsnips, over two baking trays, in a single layer. Make sure that the parsnips are not touching.

Bake for around 20 mins (until they start to brown), remove from oven, flip and then bake for a further 10-15 mins. (Until lightly brown and tender) *SEE NOTE 2

Season to taste (do not salt if serving to a baby)
Recipe Notes
If your child does not like rosemary then either miss it out or try adding

freshly chopped thyme
a little sumac, smoked paprika or cinnamon
mixing in some grated parmesan
grating a little lemon or orange zest once out of the oven. 

Keep a close eye on the parsnips at the end of cooking as they may start to burn. 
Nutritional information is a rough guide only, calculated using an online nutrition calculator. 
Nutritional facts
Calories: 231kcal | Carbohydrates: 40g | Protein: 2g | Fat: 7g | Saturated Fat: 1g | Cholesterol: 0mg | Sodium: 22mg | Potassium: 843mg | Fiber: 11g | Sugar: 10g | Vitamin C: 38.3mg | Calcium: 81mg | Iron: 1.3mg