If you are looking to make a quick meal then these rainbow pitta pizzas are perfect - Easy, fun and a great way to encourage children to try a range of vegetables.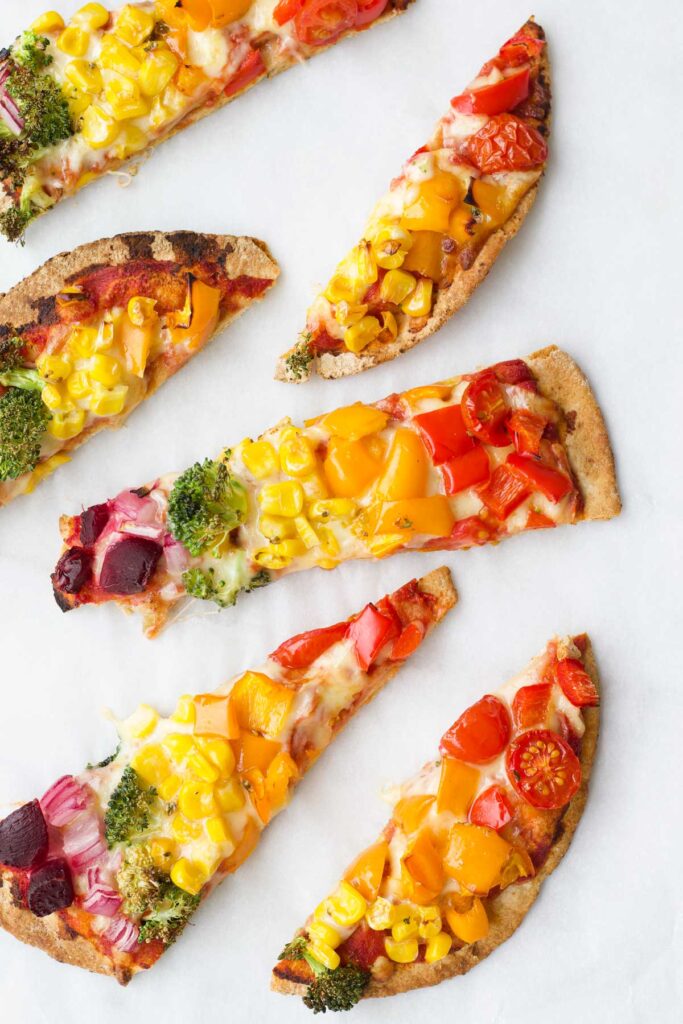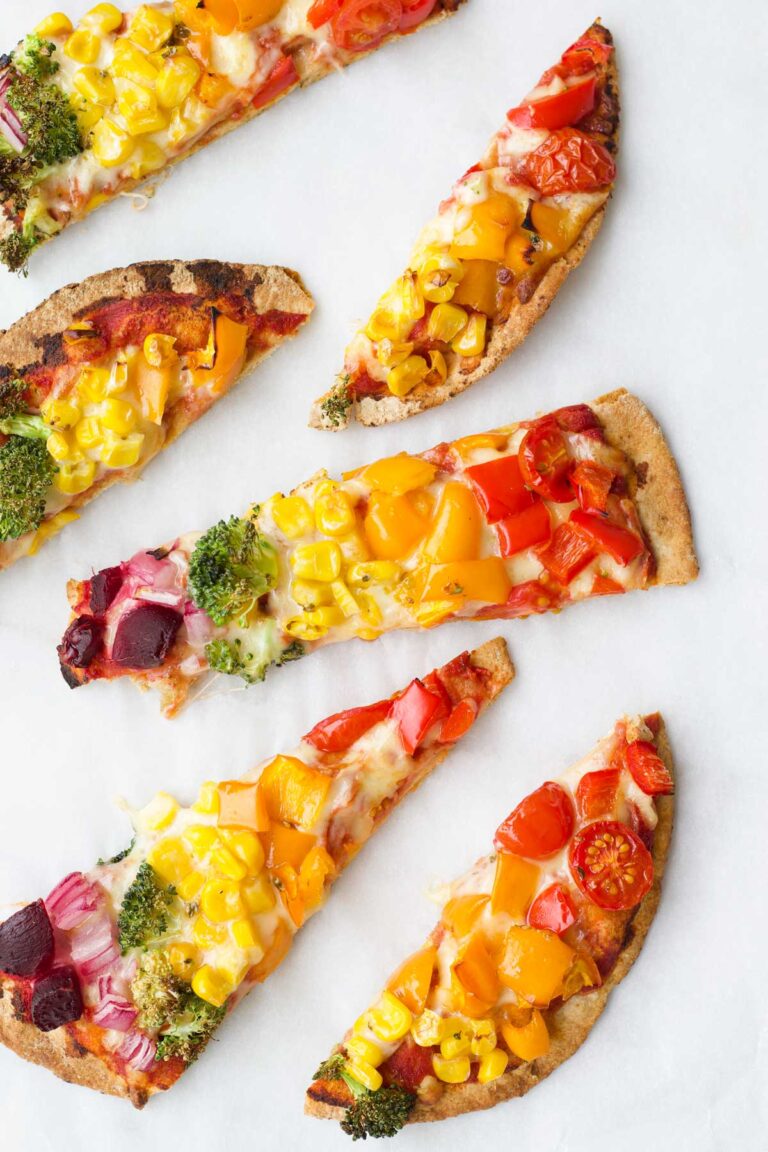 What's to Love About Pitta Pizzas
EASY: Making pizza with pitta bread as the base is an effortless. This makes them perfect for busy weeknights.
CHILD INVOLVEMENT: Because it is so easy, this is a fantastic recipe for getting the kids involved.
VEGETABLE EXPOSURE: Making rainbow pizzas are a good way to encourage children to try a range of vegetables.
CUSTOMISABLE: You provide the vegetables, your children should choose which to add. Don't pressurise your children into adding all the veggies, keep meal times stress free.
Ingredients (With Alternative Suggestions)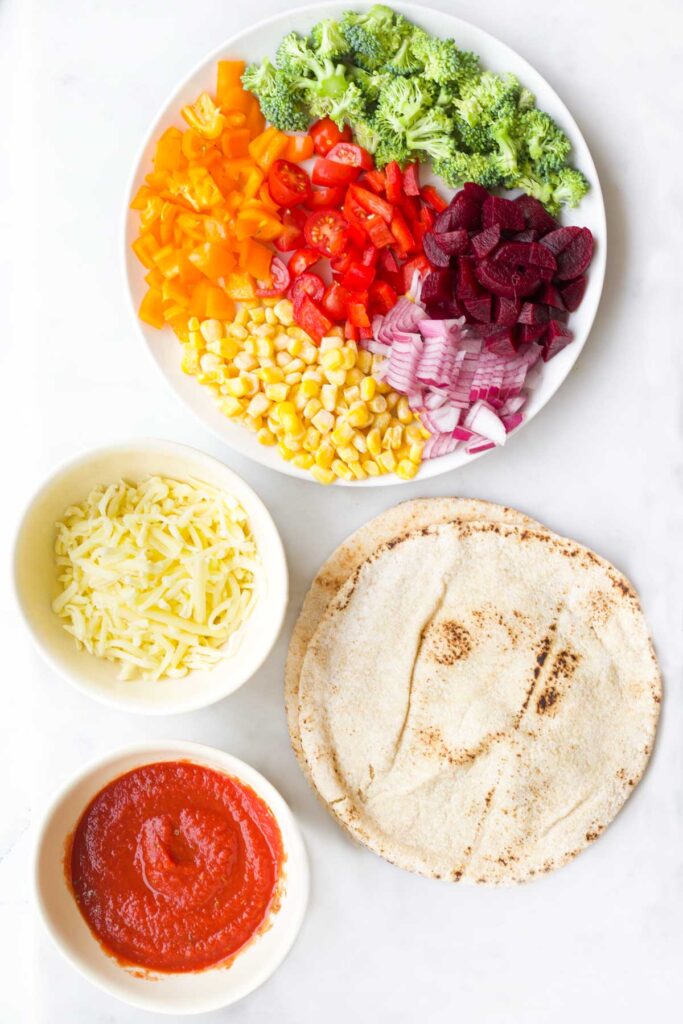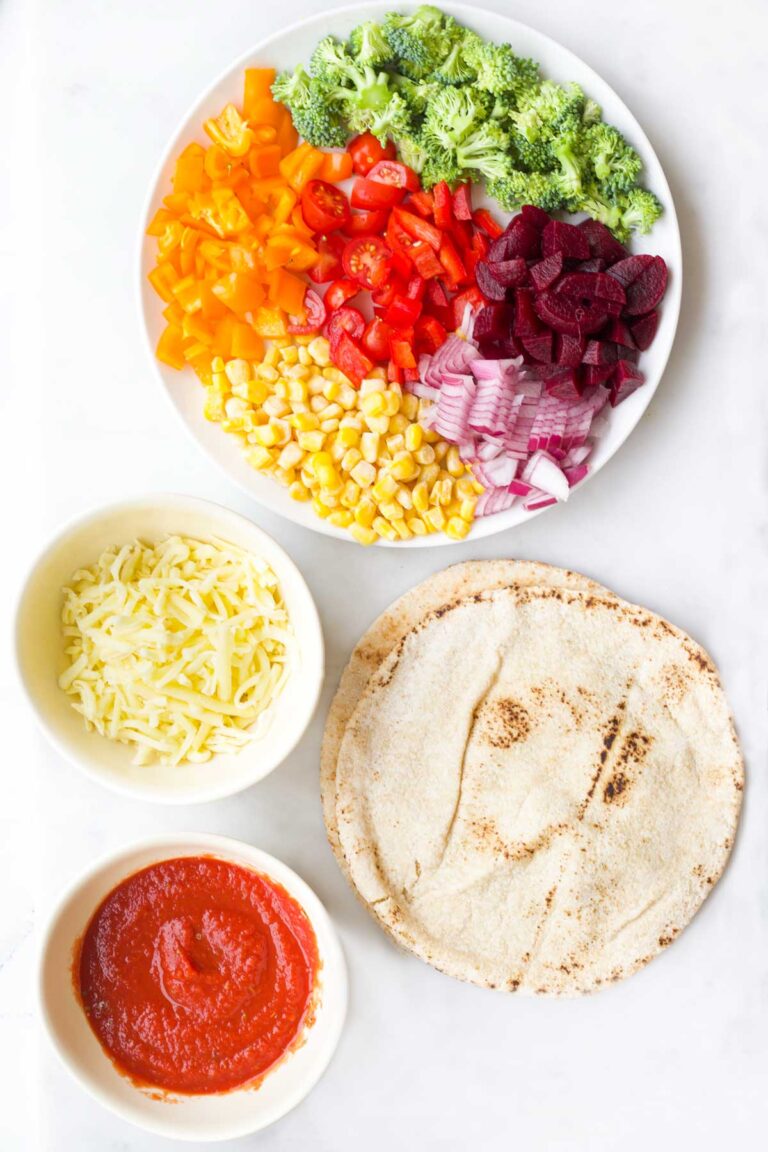 PITTA (PITA) BREAD: Pitta bread or pitta pockets both work.
PIZZA SAUCE: You can use homemade pizza sauce or store-bought. Alternatively, you can replace with passata or some tomato paste thinned down with a little water. Pesto also works well or even a simple olive oil base.
CHEESE: Use any good melting cheese or a mixture of cheeses. I used mozzarella.
TOPPINGS: You can make the pizzas with just about any vegetables you have on hand. Chop the veggies into small uniformly-sized pieces to allow them to cook properly. If you use root veggies, sweet potato or anything else that takes a while longer to cook, either pre-cook or grate.
Cooking Steps with Process Shots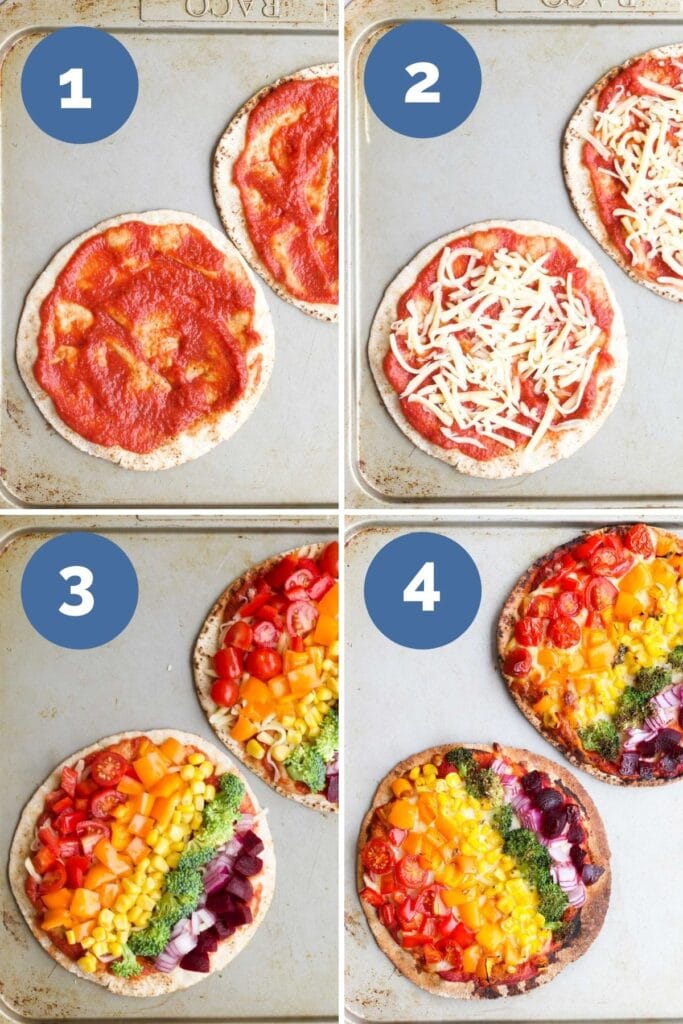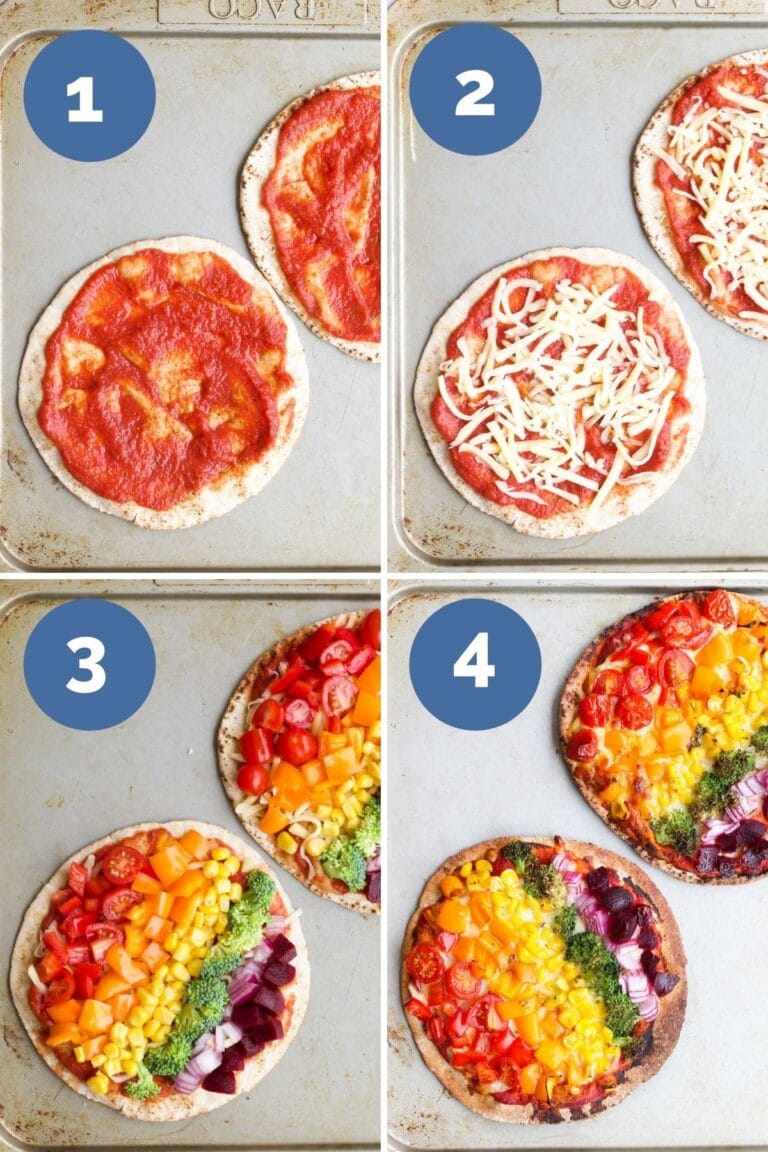 Spread pittas with pizza sauce
Sprinkle with cheese
Arrange the veggies. Create a rainbow look by placing the vegetables in rows or just sprinkle them on haphazardly.
Bake until the base is crispy, the cheese is melted and the veggies have softened.
Prepping Ahead
Pitta Pizzas are best eaten straight away and it is not recommended to assemble or cook in advance. However, you can prepare all the toppings in advance (make pizza sauce, chop vegetables, grate the cheese etc) to make assembly quick and easy.
Love Pizza? You may also like...
Looking for more healthy kid recipes?Sign up for my free recipe newsletter to get new family friendly recipes in your inbox each week! Find me sharing more kid-friendly inspiration on Pinterest and Instagram.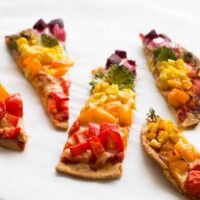 Rainbow Pitta Pizzas
Pitta bread topped with pizza sauce, cheese and a rainbow of vegetables. Baked until the base is crispy, the cheese is gooey and the vegetables are soft and tasty.
Prep Time: 10 minutes
Cook Time: 15 minutes
Total Time: 25 minutes
Serves:2
Hover over "serves" value to reveal recipe scaler
Ingredients
2 Wholemeal (Whole Wheat) Pitta (Pita) Breads
½ cup Pizza Sauce
½ cup Grated (Shredded) Mozzarella
3 cups Chopped Vegatables (Rainbow of Colours)
Instructions
Pre heat oven to 200c / 400F / Gas 6

Spread each pitta with the pizza sauce and sprinkle with cheese.

Place the veggies, in a rainbow pattern, on top of the cheese. 

Place pittas on a baking tray and bake for approx. 15 mins (until the vegetables are cooked, the base is crispy and the cheese has melted)
Recipe Notes
PITTA: You can use pitta bread or pitta pockets, pockets are smaller so amounts of sauce/cheese needed may be less.
PIZZA SAUCE: You can use store-bought or homemade pizza sauce. Alternatively passata (with some dried oregano added is nice) or ever tomato paste with a little water added to thin. 
CHEESE: Any good melting cheese will work. I used mozzarella.
VEGETABLES: Use any vegetables you like, if using root vegetables you will need to pre-cook or grate to ensure the vegetables are soft on the pizza. I used tomato, orange pepper (capsicum), sweetcorn, broccoli, red onion, pre-cooked beetroot.
Nutritional Information is a ROUGH guide only, calculated using an online nutrition calculator. Facts with differ depending on the brand of bread, cheese and types of vegetables used.
Nutritional facts
Calories: 208kcal | Carbohydrates: 43g | Protein: 8g | Fat: 2g | Saturated Fat: 1g | Cholesterol: 1mg | Sodium: 285mg | Potassium: 507mg | Fiber: 7g | Sugar: 7g | Vitamin A: 1441IU | Vitamin C: 77mg | Calcium: 40mg | Iron: 3mg
*This post was originally published in May 2014, it has been updated to include new photos, process shots, video and more detailed recipe information.