I've never really fully embraced the whole fun food art scene. I love looking and admiring the great creations from bloggers but I never really get creative myself. Perhaps it is because I'm lucky that both boys eat so well and I don't have to, or maybe it is because I always feel rushed getting food out to them. Patience is not one of their strengths!
At Christmas last year I got into making fun Christmas snacks for Finn. He really enjoyed making and eating them and so I've decided to get creative for halloween too, keeping it as healthy as I can.
This was a quick lunch that I made the boys. Hummus spread on toast with courgette ribbons and olive eyes. Little Mummy toast fingers! I don't think Finn actually knows what a Mummy is but he thought they were fun.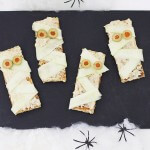 Mummy Toast (Healthier Halloween Snacks)
Ingredients
2

slices

of bread

Hummus

1

courgette

2

olives

(stuffed with p)
Instructions
Toast the slices of bread and cut off the crusts

Spread with some hummus and then slice in half

Peel the courgette to remove the skin and then peel into the flesh to obtain white "bandage" strips

Place the courgette strips on the toast to represent a Mummy

Slice the olives and place on the toast to represent the eyes.