These Healthy Halloween Smoothies can be enjoyed all year round. Simply draw a face on your smoothie jars to make them perfect for Halloween.
A couple of years ago I posted a recipe for a Frankenstein Smoothie Bowl, it was a deliciously thick and creamy smoothie that my eldest loved to eat with a spoon. This year I have decided to create a few other Healthy Halloween Smoothies and make them a little less thick, perfect for drinking through a straw.
To be honest, we aren't a massive Halloween family but the kids enjoy it and so I try to make a little effort. I love simple and healthy ideas and you really can't get much easier than this – transforming a simple smoothie into a Halloween treat by drawing a face on the jar! If you love quick and simple ideas just like this then check out some of these easy but fantastic healthy Halloween ideas from Eats Amazing and My Fussy Eater.
When I make smoothies I generally just throw ingredients in and add more liquid etc if needed, and this is exactly what I did for these Healthy Halloween Smoothies. I have given rough guidelines in the recipe cards, below, and you can also check out the video above. The main goal of each smoothie was for it to be the desired colour – A deep green for Frankenstine, a bright orange for the Jack O'Lantern, white for the Ghost and a deep blood red for the Blood Shot Eye.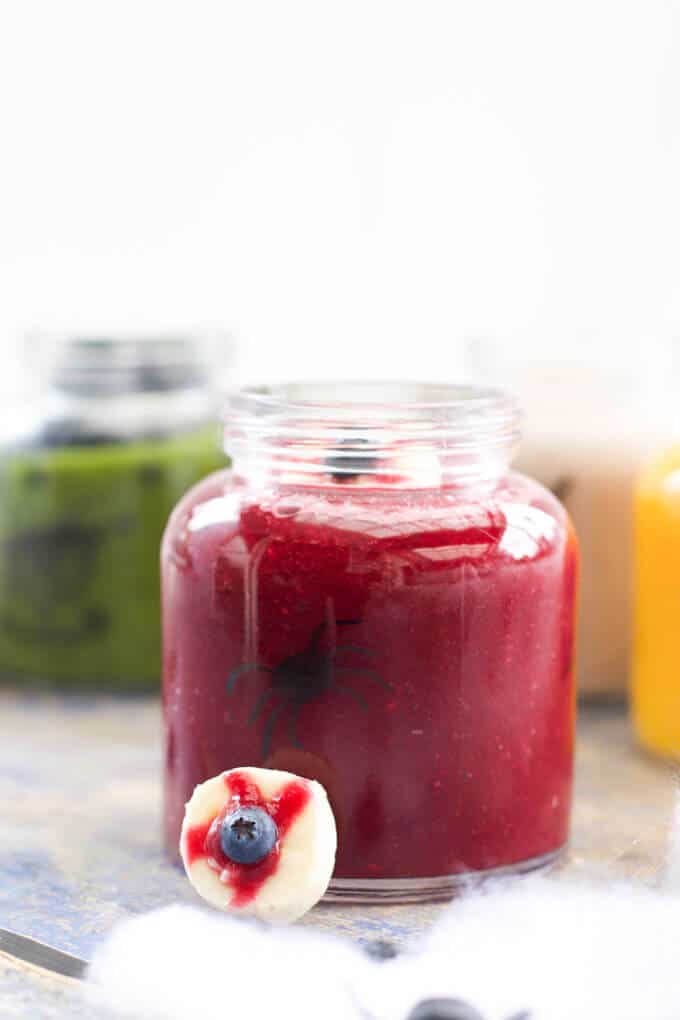 I added a veggie to each smoothie because I always like to do this. However, if your kids aren't used to vegetables in their smoothies you may wish to change the fruit to veggie ratio or perhaps add a little more sweetness. The spinach is needed to get the green colour for Frankenstein and the beetroot for the red in the bloodshot eye but you can miss out the cauliflower in the ghost smoothie and the carrot in the Jack O'Lantern if you wish.
Looking for more healthy kid recipes?Sign up for my free recipe newsletter to get new family friendly recipes in your inbox each week! Find me sharing more kind-friendly inspiration on Pinterest and Instagram.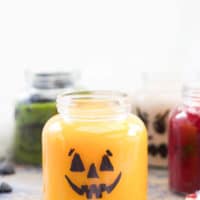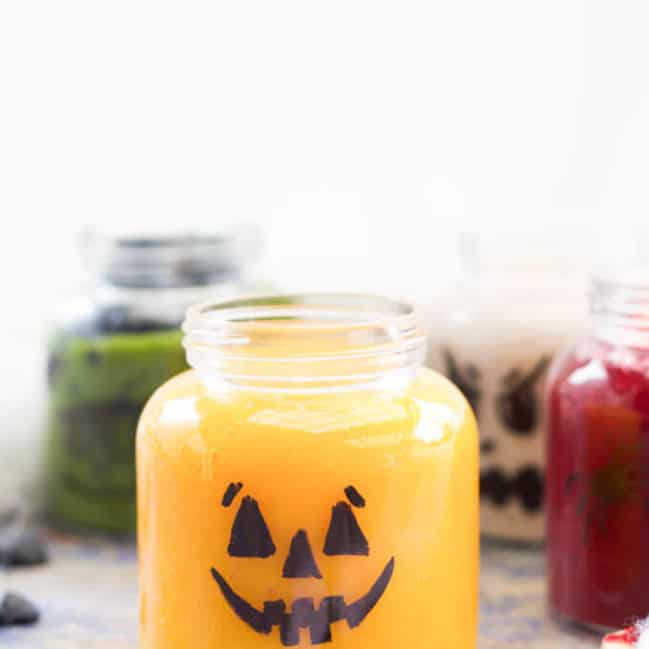 Halloween Themed Smoothies
A delicious smoothie with hidden carrot.
Prep Time: 5 minutes
Total Time: 5 minutes
Serves:3 (per smoothie)
Hover over "serves" value to reveal recipe scaler
Ingredients
Jack O'Lantern Orange Smoothie
½ cup Frozen Mango Chunks
2 Oranges
½ Carrot steamed
½ tsp ginger puree
¼ cup water (if needed)
Frankenstein Smoothie
2 Bananas (Frozen in Pieces)
½ cup Mango Chunks (Frozen)
1 handful Spinach
¼ cup Blueberries (plus extra blueberries to top)
¼ cup Water
Bloodshot Eye Smoothie
½ Beetroot (cooked and peeled)
1 Orange (peeled)
½ cup Raspberries (frozen)
1 Apple (cored and sliced)
1 handful Spinach
3 slices Banana (to top)
3 Blueberries (to top)
Ghost Smoothie
2 Bananas (frozen in pieces)
1 handful Steamed Cauliflower
1 handful Cashews (soaked overnight)
½ tsp Vanilla Extract
½ cup Milk
Honey or Maple Syrup (optional to taste)
Instructions
Jack O'Lantern Smoothie
Blend all ingredients in a high-speed blender until smooth. 
Frankenstein Smoothie
Blend all ingredients in a high-speed blender until smooth. 

Top with blueberries
Bloodshot Eye Smoothie
Blend all ingredients (except the banana and blueberries) in a high speed blender until smooth. 

Using a knife, scrap a tiny amount of the banana away in the centre. Add some of the smoothie and place the blueberry in the hole. Spread the smoothie out to represent bloodshot eyes (see pic / video for reference)
Ghost Smoothie
Blend all ingredients in a high-speed blender until smooth. 
Recipe Notes
Nutritional information is a ROUGH guide only, calculated using an online nutrition calculated. (Results are for the Jack O'lantern Smoothie.) 
Nutrition Facts
Halloween Themed Smoothies
Amount Per Serving
Calories 62 Calories from Fat 9
% Daily Value*
Fat 1g2%
Saturated Fat 1g5%
Sodium 9mg0%
Potassium 237mg7%
Carbohydrates 15g5%
Fiber 3g12%
Sugar 12g13%
Protein 1g2%
Vitamin A 2192IU44%
Vitamin C 57mg69%
Calcium 38mg4%
Iron 1mg6%
* Percent Daily Values are based on a 2000 calorie diet.