These Healthy Halloween Smoothies can be enjoyed all year round. Simply draw a face on your smoothie jars to make them perfect for Halloween.
A couple of years ago I posted a recipe for a Frankenstein Smoothie Bowl, it was a deliciously thick and creamy smoothie that my eldest loved to eat with a spoon. This year I have decided to create a few other Healthy Halloween Smoothies and make them a little less thick, perfect for drinking through a straw.
To be honest, we aren't a massive Halloween family but the kids enjoy it and so I try to make a little effort. I love simple and healthy ideas and you really can't get much easier than this – transforming a simple smoothie into a Halloween treat by drawing a face on the jar! If you love quick and simple ideas just like this then check out some of these easy but fantastic healthy Halloween ideas from Eats Amazing and My Fussy Eater.
When I make smoothies I generally just throw ingredients in and add more liquid etc if needed, and this is exactly what I did for these Healthy Halloween Smoothies. I have given rough guidelines in the recipe cards, below, and you can also check out the video above. The main goal of each smoothie was for it to be the desired colour – A deep green for Frankenstine, a bright orange for the Jack O'Lantern, white for the Ghost and a deep blood red for the Blood Shot Eye.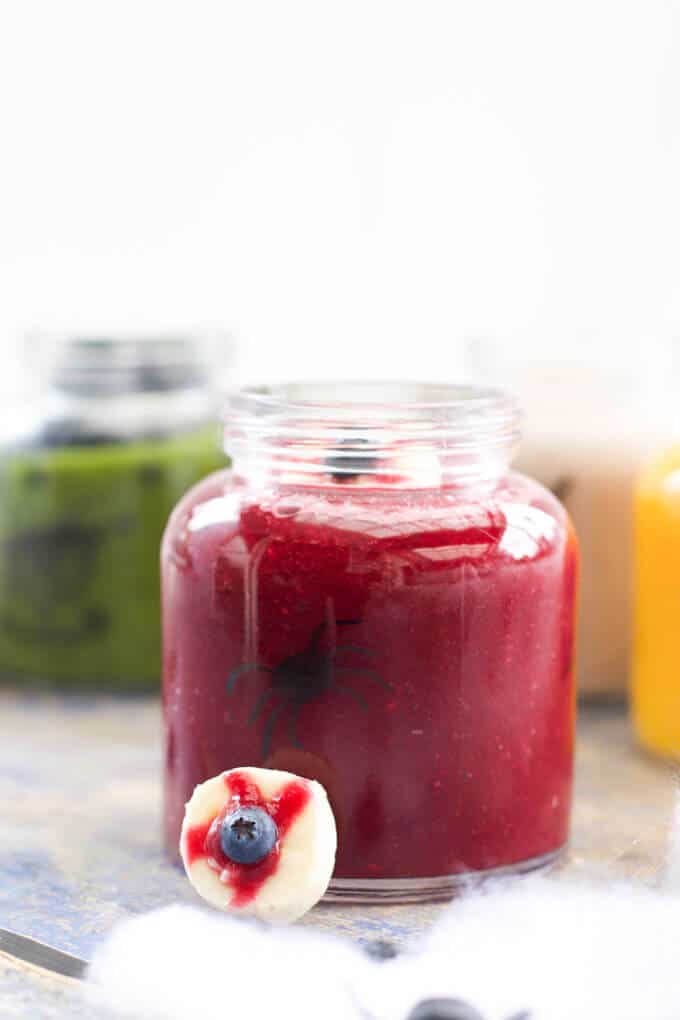 I added a veggie to each smoothie because I always like to do this. However, if your kids aren't used to vegetables in their smoothies you may wish to change the fruit to veggie ratio or perhaps add a little more sweetness. The spinach is needed to get the green colour for Frankenstein and the beetroot for the red in the bloodshot eye but you can miss out the cauliflower in the ghost smoothie and the carrot in the Jack O'Lantern if you wish.