This Coconut Lime Rice is incredibly delicious and easy to make. It has a beautiful creamy texture and the addition of lime and coriander/cilantro adds a tasty fresh touch.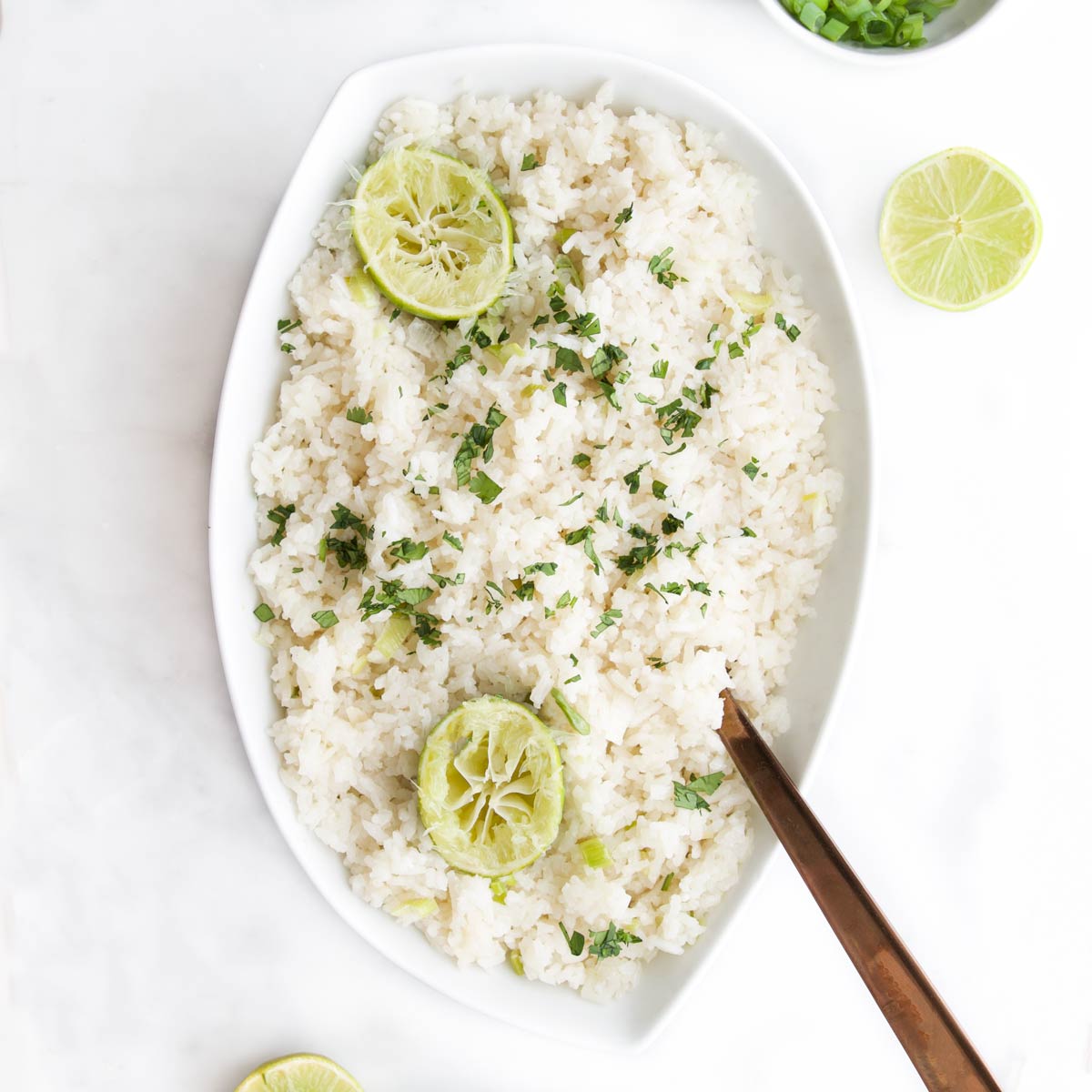 Jump to:
Reasons to Love this Recipe
Flavour: The coconut adds a lovely sweet taste and creamy texture while the lime provides a refreshing citrus flavour.
Versatile: Coconut lime rice can complement a wide range of dishes from curries to grilled fish.
Easy: With only a few basic ingredients and a straightforward cooking process this rice dish can be whipped up midweek in less than 30 mins.
Freezer Friendly
Video
Ingredient Information (with Alternative Suggestions)
For the full recipe, with ingredient amounts, scroll to the recipe card at the bottom of the post.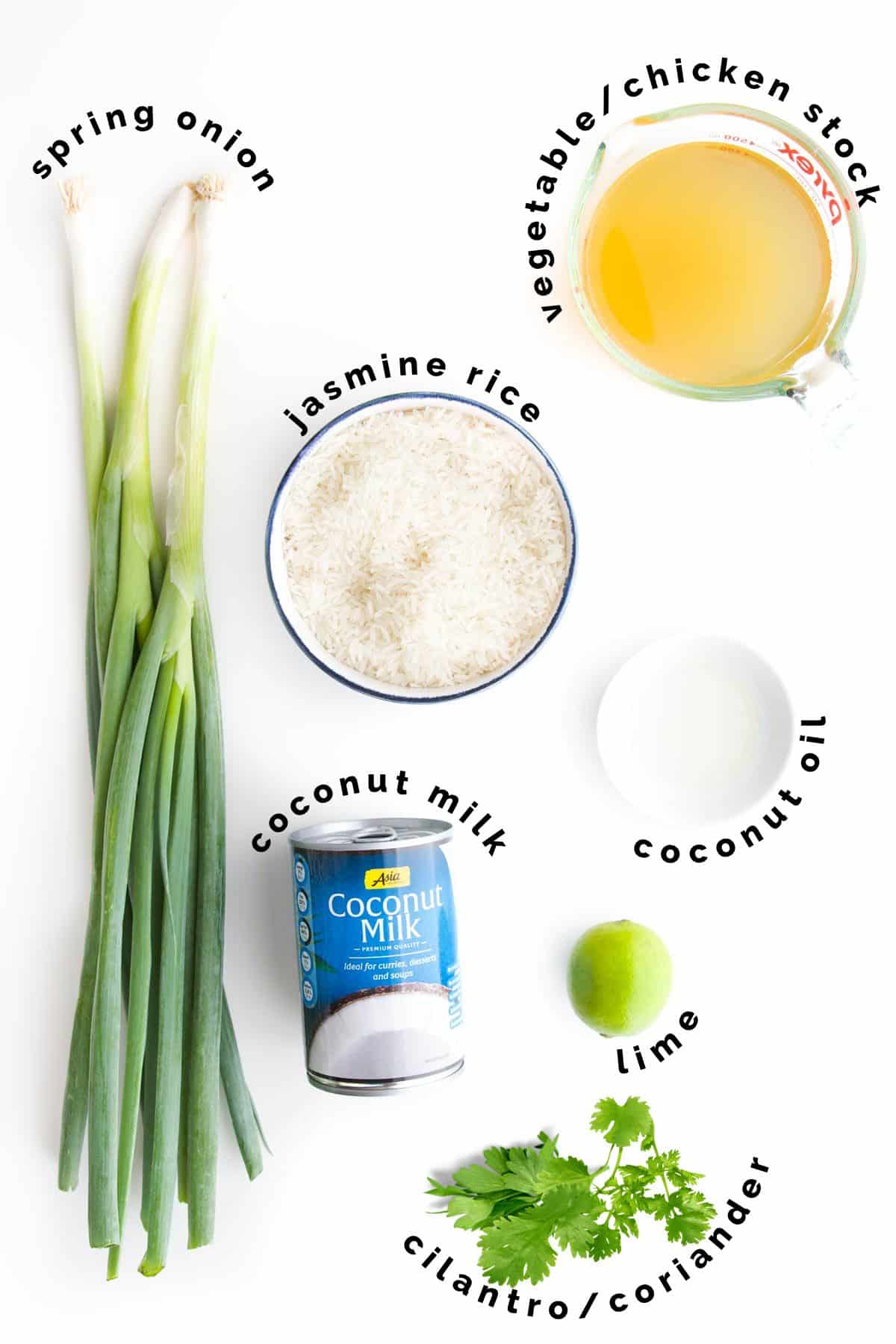 Jasmine Rice - I use Jasmine rice in this recipe as I feel it adds the best flavour. However, you can substitute it with Basmati or long-grain rice.
Do not use short-grain rice, such as risotto or sushi rice, as it is too sticky.
Spring Onion - Also known as scallion, green onion, or salad onion. I add it for flavour but it can be skipped if preferred.
Coconut Oil - Is used to cook the spring onion in and to coat the rice before cooking. You can substitute it with a neutral tasting oil.
Coconut Milk - I prefer to use full-fat coconut milk as I feel it results in a more indulgent flavour. However, if you prefer a lighter option, you can substitute with light coconut milk. Just note that the resulting rice may not be as rich in flavour.
Stock/broth - Coconut milk alone is too thick and needs diluting when cooking rice. I love the extra flavour that chicken stock or vegetable stock gives but it works just as well with water.
Lime - Lime juice is a great addition to coconut rice and really enhances the taste and texture. It provides a citrusy flavour that balances out the rich, creaminess of the rice.
Coriander (cilantro) - Chopped coriander adds a fresh flavour that complements the creaminess of the dish. It also adds a pop of green which can make the dish more visually appealing (to some!). Can be omitted if preferred.
Step By Step Instructions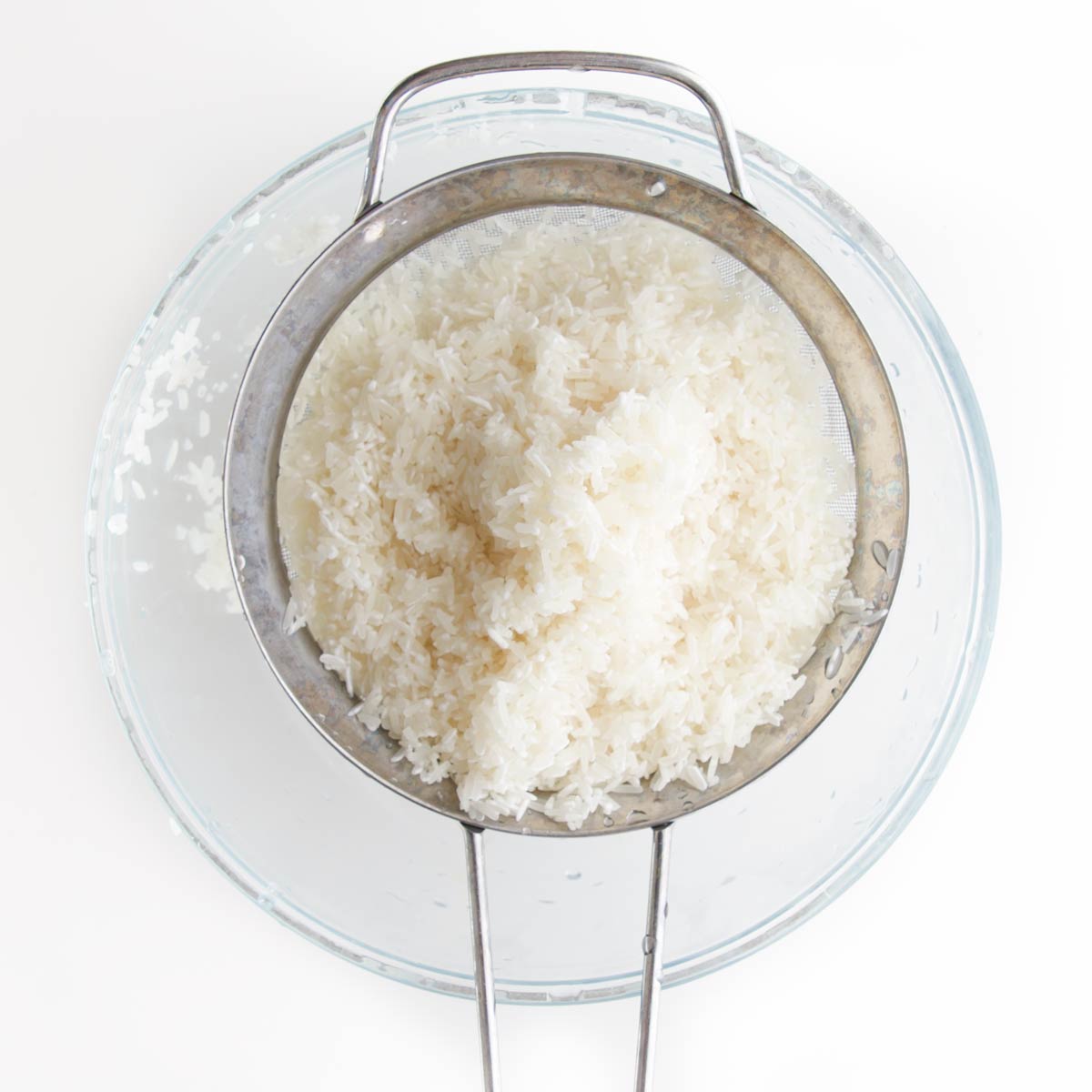 The first step to making coconut lime rice is to rinse the rice.
Although rinsing adds an extra step to the cooking process it is an important step to ensure your coconut rice turns out perfectly.
Rinsing rice removes excess starch and although it is not necessary when cooking regular white rice, it is crucial when making coconut rice because coconut milk is thicker than water and can make the rice sticky and gluey.
I recommend pouring your rice into a large bowl and filling it with water. Swish the rice around and then drain. Repeat this at least 4 times until the water is pretty clear.
While the water will not become entirely clear, I suggest erring on the side of over-rinsing rather than under-rinsing.
Once you have rinsed your rice you can start the cooking process.
Saute Onion - over gentle heat until soft.
Coat Rice in Oil - This helps to stop the rice from sticking as much when cooking and also adds to the coconut flavour.
Cook-Bring to a boil, then give it a good stir to scrape up any grains from the bottom to help prevent sticking. Reduce the heat to low and cover allowing to simmer for ..... mins. Avoid the temptation to stir the rice and additionally, resit the urge to lift the lid too often and let the steam escape. After cooking, let the rice sit covered and off the heat for 5 minutes to allow the moisture to distribute evenly throughout the grains.
Add Lime (and Coriander/cilantro) - Use a fork to fluff the rice, and then squeeze the juice of a lime and some freshly chopped coriander. Stir through.
Serving Suggestions
Coconut rice makes a great accompaniment to a range of cuisines - Thai, Carribean and Indian to name a few. Try serving the rice with
Alternatively, adapt the recipe to serve as a dish in its own right. In the past, I have added slow cooker shredded chicken, red pepper and chunks of mango to the rice and it has been devoured in seconds.
Recipe FAQs
My rice is too sticky and clumping together after cooking, how do I prevent this?
There are a few things you can do to make sure your rice isn't overly sticky and clumpy.
1) Make sure to rinse the rice thoroughly before cooking, to remove excess starch.
2) Cook the rice in a little oil, to coat it, before adding the liquid.
2) Avoid stirring the rice while it is cooking.
3) Once the rice is cooked, fluff with a fork to separate the grains and release any excess steam.

Can I serve this to a baby?
Rice can be introduced from 6 months +. However, it is important to note that rice contains small amounts of arsenic. Given that infants are particularly vulnerable to the harmful effects of arsenic exposure, it is crucial to limit their consumption of rice and rice products.
How do I store leftovers?
Once you have cooked your rice, cool down the rice as quickly as possible and refrigerate it.
Store in an airtight container and refrigerate for up to a day.
Freeze, in a freezable airtight container, for up to 2 months. Thaw frozen rice in the refrigerator, do not allow it to thaw on the countertop.
When you reheat the rice make sure the rice is piping hot all the way through and do not reheat the rice more than once.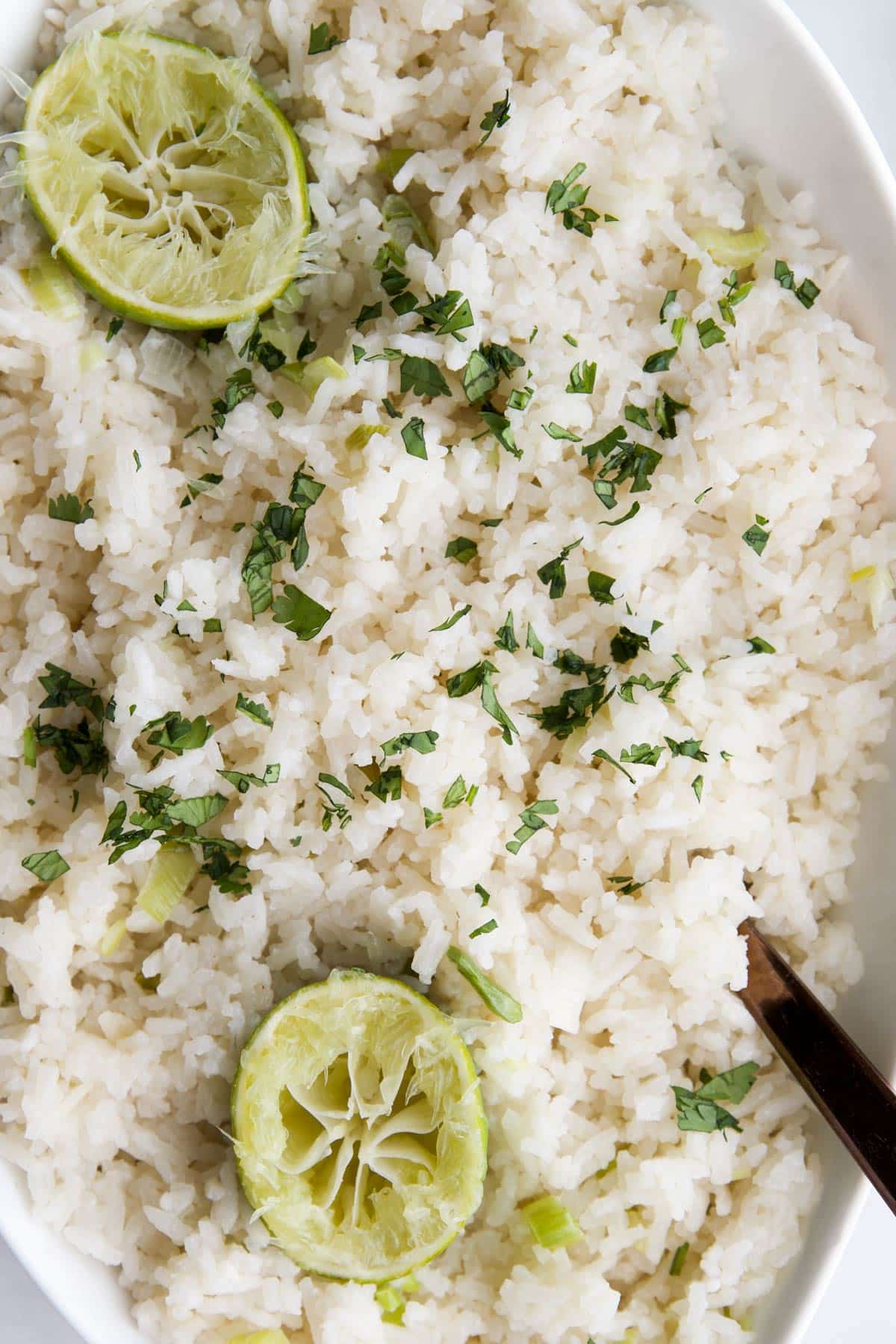 More Rice Recipes
Looking for more healthy kid recipes?Sign up for my free recipe newsletter to get new family friendly recipes in your inbox each week! Find me sharing more kid-friendly inspiration on Pinterest and Instagram.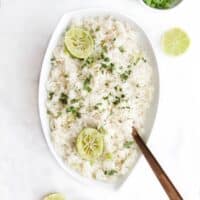 Coconut and Lime Rice
A delicious coconut rice recipe with the added freshness of lime and coriander/cilantro. Great for serving with, but not limited to, Caribbean or Asian dishes
Prep Time: 5 minutes
Cook Time: 25 minutes
Total Time: 30 minutes
Serves:6
Hover over "serves" value to reveal recipe scaler
Ingredients
2 cups (360g) Jasmine rice *See note 1
1 tablespoon Coconut oil
3 Spring onions, finely chopped *See note 2.
1 400ml / 13.5 fl oz can Coconut milk
1 ½ cups (375ml) Vegetable or chicken stock/broth *See note 3
1 Lime
2 tablespoon Coriander (Cilantro), finely chopped
Instructions
In a large bowl rinse the rice in 4-5 changes of water until the water runs pretty clear. Drain in a large fine mesh sieve. (See note 4)

Heat oil in a medium saucepan, add the spring onion and cook on a gentle heat for around 2 minutes (until soft)

Add the rice and make sure the grains are coated in the oil.

Add the stock/broth and coconut milk and bring to a boil.

Cover, reduce the heat to low and gently simmer for 15 - 19 mins, until all liquid is absorbed. (I find 17 min works perfectly but this will vary depending on stove )

Leave the pan covered, with the heat turned off, for a further 5 minutes.

Fluff with a fork and serve. Squeeze the juice of the lime and stir through with the coriander (cilantro).
Recipe Notes
You can replace jasmine rice with basmati rice or long-grain rice. Short-grain rice (such as risotto or sushi rice) will not work in this recipe.
Also known as salad onions, green onions, scallions, shallots depending on what part of the world you are from.
The stock/broth can be replaced with water. 
Rinsing rice removes excess starch and is crucial when making coconut rice because coconut milk is thicker than water and can make the rice sticky and gluey.
Nutritional information is a rough guide only, calculated using an online nutrition calculator. 
Nutritional facts
Calories: 389kcal | Carbohydrates: 53g | Protein: 8g | Fat: 17g | Saturated Fat: 15g | Sodium: 38mg | Potassium: 321mg | Fiber: 1g | Sugar: 1g | Vitamin A: 80IU | Vitamin C: 5.4mg | Calcium: 42mg | Iron: 3mg