This Coconut Rice has a beautiful creamy texture and the addition of lime gives a boost of flavour. Serve as an accompaniment to a range of meals or adapt the recipe to serve as a dish in its own right.
COCONUT RICE COOKING TIPS
Rice Variety – I used Jasmine rice in this recipe but you can substitute with Basmati or long grain rice. Do not use short grain rice, such as risotto rice, as it is too sticky.
Rinse Your Rice – Rinsing adds an extra step to the cooking process but it is definitely worth taking the time to do. Rinse the rice until the water runs clear, this removes the surface starch and will stop the rice from becoming too gummy as it cooks.
Coat Rice in Oil – This also helps to stop the rice from sticking as much when cooking and also adds to the coconut flavour.
Cook in Coconut Milk & Stock/Water – Simmer in a mix of coconut milk and stock/water, coconut milk alone is too think and needs diluting. I love the extra flavour stock gives but it works just as well with water.
Do not Disturb! – Bring to the boil and then reduce the heat to low, cover and allow to simmer for 15 mins. Don't be tempted to continually stir as this will activate the starches and make the rice gloopy. Don't lift the lid either, you don't want the steam to escape.
Allow to sit covered, off the heat, after cooking – In order for moisture to evenly distribute itself through the rice, allow to sit, covered, for 5 mins.
WHAT TO SERVE COCONUT & LIME RICE WITH
Coconut rice makes a great accompaniment to a range of cuisines – Thai, Carribean and Indian to name a few. Serve with stir-fries, curries, fish or chicken. Alternatively, adapt the recipe to serve as a dish in its own right. In the past, I have added shredded chicken, red pepper and chunks of mango to the rice and it has been devoured it in seconds.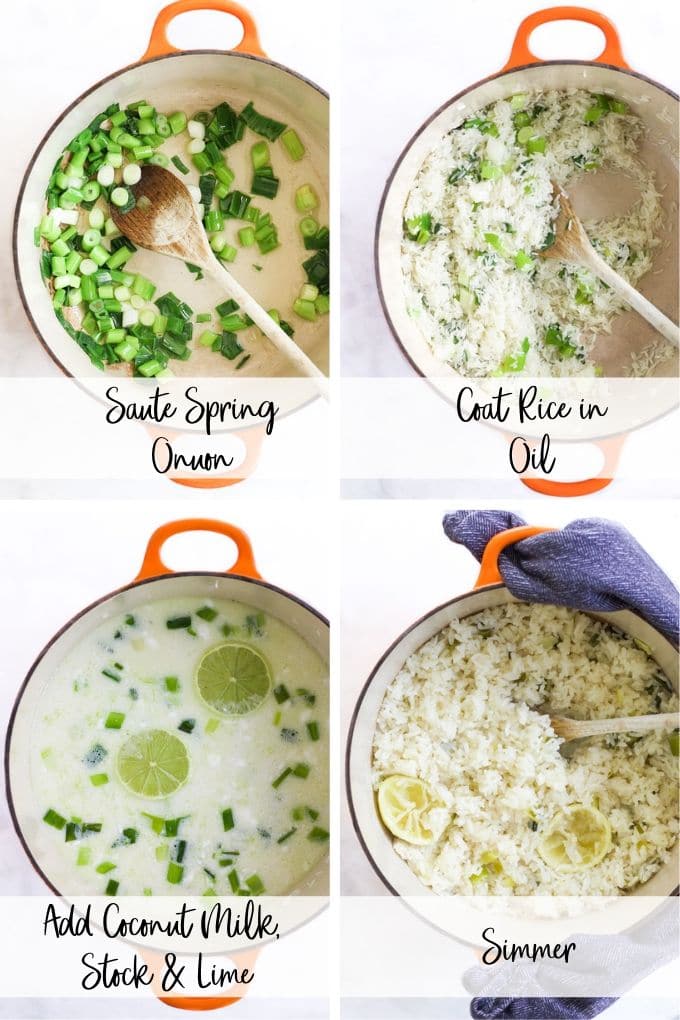 COCONUT RICE FOR BABIES
Coconut and lime rice is suitable for babies but just be mindful of the sodium content. Use homemade stock or water to cook the rice.
STORAGE AND FOOD SAFETY
Uncooked rice can contain spores of Bacillus cereus, a bacterium that can cause food poisoning. The spores can survive even when rice is cooked. If the cooked rice is left standing at room temperature the spores can grow into bacteria and multiply.
Once you have cooked your rice, refrigerate the rice as quickly as possible.
Store in an airtight container and refrigerate for no more than a day
Freeze, in a freezable airtight container, for 2-3 months.
Thaw frozen rice in the refrigerator, do not allow it to thaw on the countertop.
When you reheat the rice make sure the rice is piping hot all the way through
Do not reheat the rice more than once.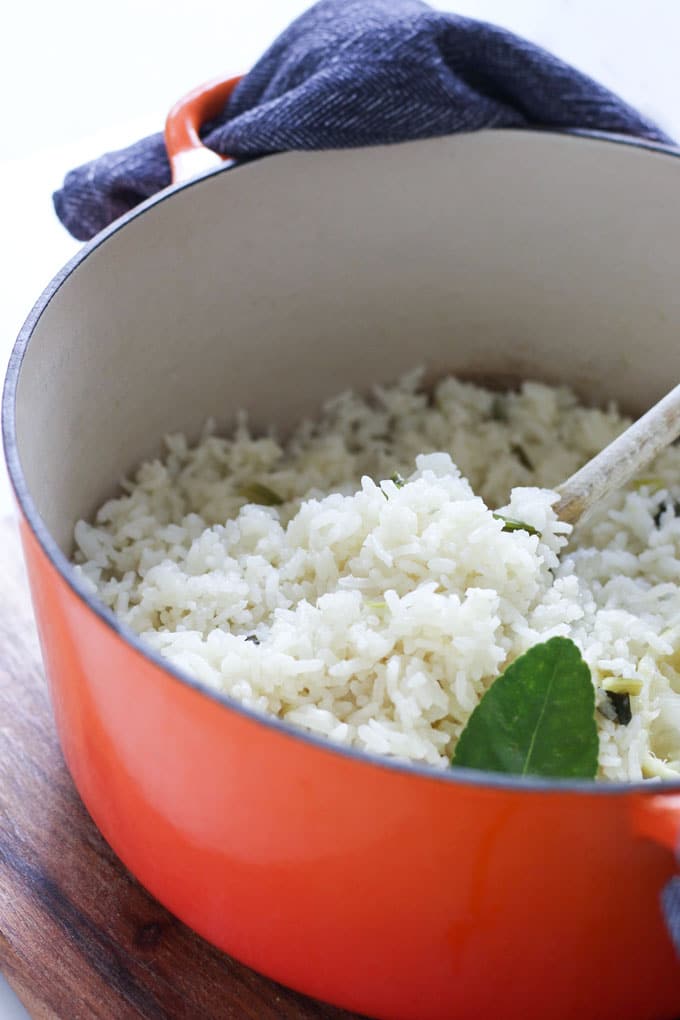 You may also like
Have you tried this recipe? I love receiving your feedback. Please rate and leave a comment below or tag me on Instagram @healthylittlefoodies
Looking for more healthy kid recipes?Sign up for my free recipe newsletter to get new family friendly recipes in your inbox each week! Find me sharing more kid-friendly inspiration on Pinterest and Instagram.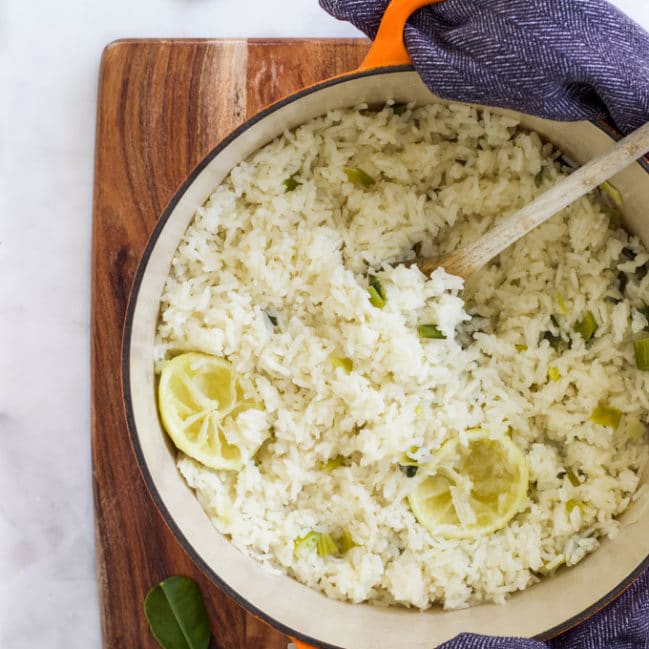 Coconut and Lime Rice
A subtly flavour rice perfect for serving with, but not limited to, Caribbean or Asian dishes
Prep Time: 5 minutes
Cook Time: 25 minutes
Total Time: 30 minutes
Serves:6
Hover over "serves" value to reveal recipe scaler
Ingredients
1 tbsp Coconut oil
4 Spring onions finely chopped *SEE NOTE 1
360g (2 cups) Jasmine rice *SEE NOTE 2
1 400ml / 13.5 fl oz can Coconut milk *SEE NOTE 3
500ml (2 cups) chicken stock *SEE NOTE 4
1 lime *SEE NOTE 5
Instructions
Wash rice until the water runs clear.

Heat oil in a pan, add the spring onion and cook on a gentle heat for around 2 minutes (until soft)

Add the rice and make sure the grains are coated in the oil.

Add the stock, coconut milk and zest of the lime. Half the lime and add both parts to the pan. Bring to a boil.

Cover, reduce the heat to low and gently simmer for 15 - 20 mins, until all liquid is absorbed. (I find 17 min works perfectly but this will vary depending on stove )

Leave the pan covered, with the heat turned off, for a further 5 minutes. Then remove the lime and squeeze the flesh into the rice dish.

Fluff with a fork and serve.
Recipe Notes
Also known as salad onions, green onions, scallions, shallots depending on what part of the world you are from. 
You can replace jasmine rice with basmati rice or long grain rice. Short grain rice (such as risotto or sushi rice) will not work in this recipe. 
Use full-fat coconut milk, reduced fat will not provide the same intensity in flavour. 
Use homemade chicken stock if making for a baby / young child. Alternatively, replace with water. 
Lime is optional but works really well with the coconut. The lime turns jammy when cooked in the milk and tastes delicious!
Nutritional information is a rough guide only, calculated using an online nutrition calculator. 
Nutrition Facts
Coconut and Lime Rice
Amount Per Serving
Calories 389 Calories from Fat 153
% Daily Value*
Fat 17g26%
Saturated Fat 15g75%
Sodium 38mg2%
Potassium 321mg9%
Carbohydrates 53g18%
Fiber 1g4%
Sugar 1g1%
Protein 8g16%
Vitamin A 80IU2%
Vitamin C 5.4mg7%
Calcium 42mg4%
Iron 3mg17%
* Percent Daily Values are based on a 2000 calorie diet.
This recipe was first published on Jan 2014. The recipe has remained the same but I have added more information, cooking tips and new photos.