Creamy, sweet and easy to make, this Banana Peach Smoothie is a winning snack or breakfast.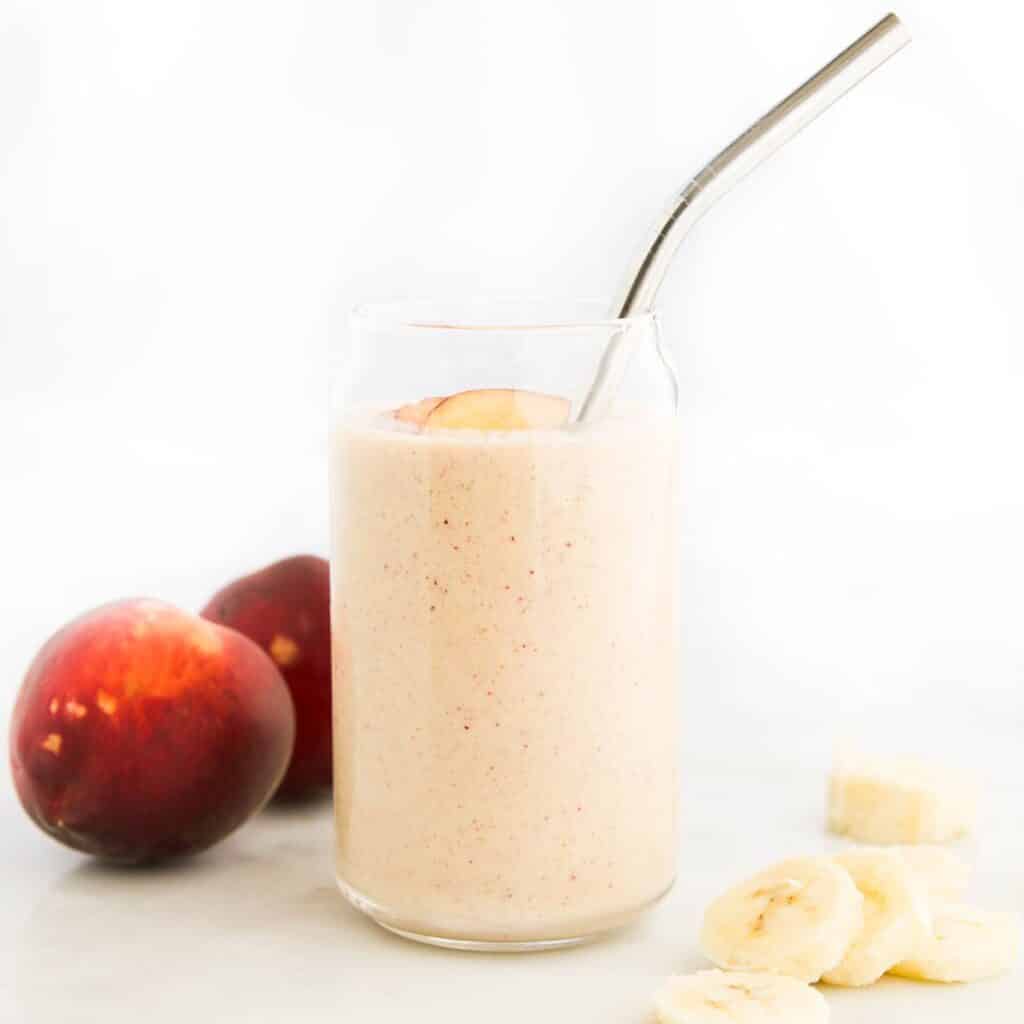 Reasons to Love This Smoothie
NUTRITION: The perfect blend of fruit, for fibre, vitamins and minerals, yogurt & milk for filling protein and chia seeds for some added omega 3 fats and antioxidants
TASTE: The sweet taste and creamy texture is sure to be loved by all ages.
EASY: Grab your ingredients, blend and enjoy.
ADAPTABLE: As with many smoothie recipes this recipe is easy to adapt to suit dietary needs (e.g sub dairy milk with plant based etc), taste or what you have available.
Watch How to Make It (Video)
Ingredient Information With Alternative Suggestions
FROZEN BANANA
You can either buy bags of frozen banana or chop fresh banana into chunks and place on a lined baking sheet. Freeze for around 30 mins and then transfer to zip lock bags and return to the freezer until needed.
Frozen banana gives the smoothie a thick and creamy texture. You can use fresh banana but the smoothie won't be quite as thick and creamy
PEACH
I used fresh peach but you can use frozen if you want to achieve a thicker, frosty like smoothie. Freeze slices using the same method as the banana.
GREEK YOGURT
Adds protein and a further creamy level to this banana peach smoothie. Can be replaced with a dairy free yogurt or a little extra milk.
MILK
Any milk will work but do take into consideration that different milks have unequal protein contents. If you are looking for a higher protein smoothie be mindful of this. Dairy milk and soy milk are both good higher protein options.
CHIA SEEDS
Are added for a nutritional boost and thickening qualities. Can be skipped or replaced with another nutritional boost (detailed below)
VANILLA
Adds sweetness and flavour. Can be skipped or replaced with a little cardamom, cinnamon or ginger.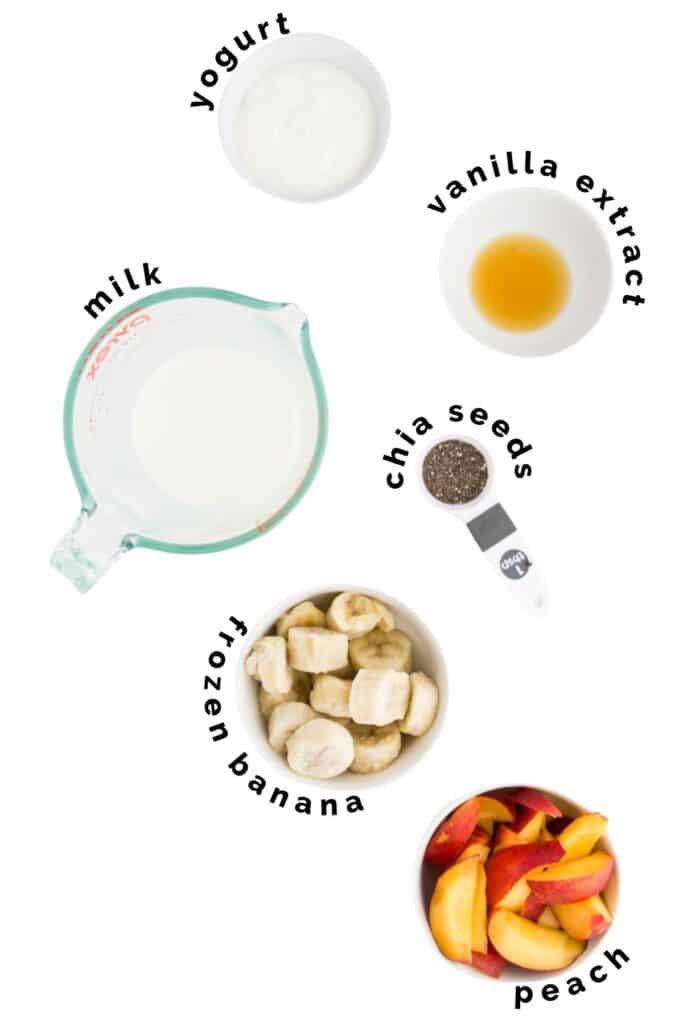 Nutritional Boosts
Want to added extra nutrition to your banana peach smoothie? Try adding a little of one of these….
Seeds such as chia, flax or hemp seeds will provide extra fibre, healthy fats, and protein.
Nut butters like peanut, cashew or almond butter will add healthy fats, protein and some essential minerals
Leafy Greens such as spinach or kale will help to provide a wide range of nutrients.
Frozen Cauliflower Rice is a great way to add some fibre, vitamin C & folate, 
Avocado is an excellent source of healthy fats and a will add a range of nutrients, including vitamins C, E, K, and B6, folate, and potassium
Silken Tofu is a great way to add extra protein, calcium, and iron.
How to Make It (Process Shots)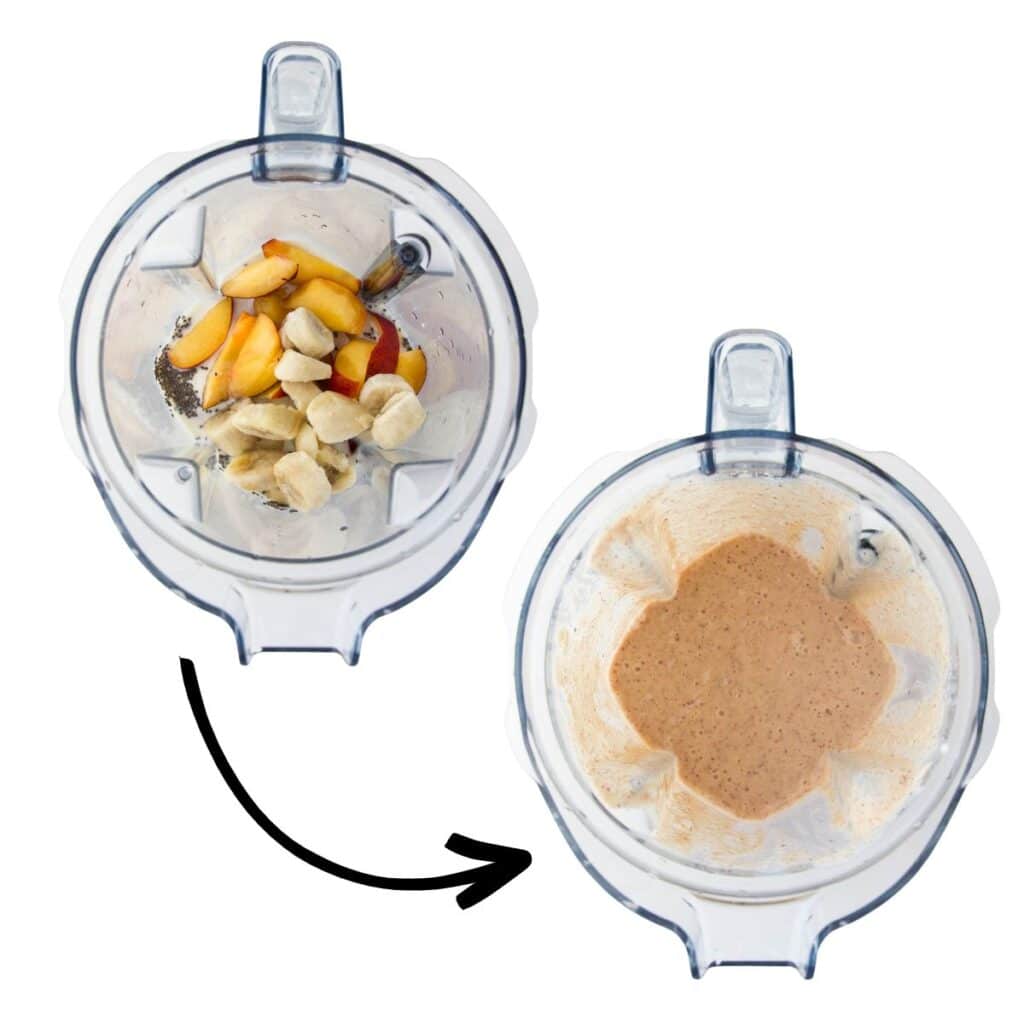 Add all ingredients to a high speed blender (liquids and easier to blend ingredients at the bottom, nearest the blade)
Blend until smooth, taste and adjust as needed (e.g add a sweetener, add extra liquid if too thick or more frozen fruit if too runny)
Top Tips for Smoothie Making
Use a HIGH speed blender: Use one that is designed to pulverise. Some blenders just can't cope with blending frozen fruit. If you find this is the case then you may have to use fresh fruit or semi frozen.
Easier Blending: Make sure the liquid and softer ingredients are at the bottom to prevent the frozen fruit getting stuck under the blade.
Vary the Speed: Start by pulsing to get the ingredients moving then switch to a low speed and work your way up to high.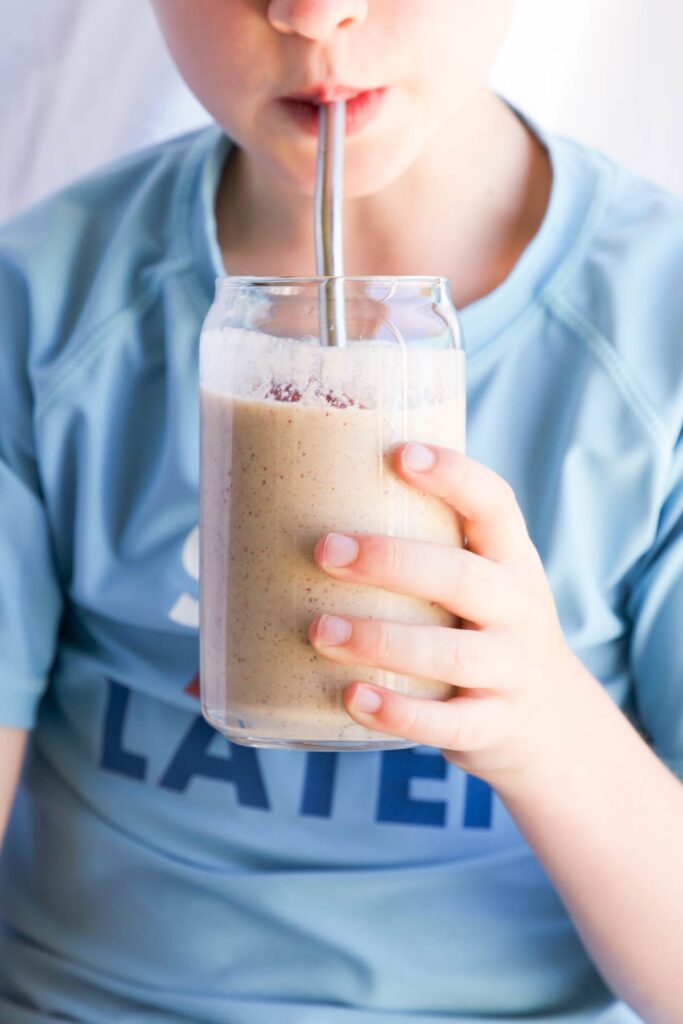 More Smoothies to Try…
Looking for more healthy kid recipes?Sign up for my free recipe newsletter to get new family friendly recipes in your inbox each week! Find me sharing more kid-friendly inspiration on Pinterest and Instagram.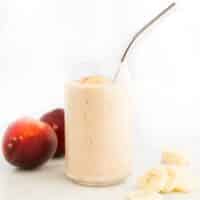 Banana Peach Smoothie
Sweet, creamy and easy to make.
Prep Time: 5 minutes
Total Time: 5 minutes
Serves:2
Hover over "serves" value to reveal recipe scaler
Ingredients
1 medium Banana, sliced and frozen
1 cup (150g) Peach Slices use frozen if you want a thicker, frosty-like smoothie.
¼ cup (60g) Greek Yogurt
½ cup (125ml) Milk Of choice
½ teaspoon Vanilla Extract
½ tablespoon Chia Seeds
Instructions
Add all the ingredients to the blender (see note 1) and pulse to break up the frozen fruit. Start on a slow speed and gradually increase the speed to high. Blend on high until all ingredients are fully blended.

Taste and make any adjustments if needed (more milk to thin, added sweetener if required etc)
Recipe Notes
The order you add your ingredients can make a difference to how easily your smoothie will blend. You want the liquid at the bottom, nearest the blade
You can use milk of choice, dairy and dairy-free milk both work. 
Nutritional Information is a ROUGH guide only, calculated using an online nutrition calculator.
Nutritional facts
Calories: 174kcal | Carbohydrates: 30g | Protein: 7g | Fat: 4g | Saturated Fat: 1g | Polyunsaturated Fat: 1g | Monounsaturated Fat: 1g | Trans Fat: 0.01g | Cholesterol: 9mg | Sodium: 51mg | Potassium: 501mg | Fiber: 4g | Sugar: 21g | Vitamin A: 512IU | Vitamin C: 10mg | Calcium: 139mg | Iron: 1mg