Easy to prepare with only five ingredients, these delicious Apricot Balls are a great portable treat.
Are Apricot Balls Healthy?
You can find various recipes for Apricot Balls on the internet and they differ vastly in ingredients. In this version, only natural ingredients are included.
These balls contain
Dried Apricots
Cashew Nuts
Unsweetened Desiccated Coconut
Chia Seeds
Lemon (rind and juice)
Although these apricot balls are healthier than many other recipes, they should still be considered an "occasional food".
There is no added refined sugar, honey or syrups etc but there is a high level of concentrated sugar in dried fruits and we have to be mindful of this. For this reason, I do not recommend these for under 2s.
Energy Balls that use dried fruit, like these Apricot Balls, are sweet and energy-dense. It is easy to eat large amounts at a time, which can result in excess sugar and calorie intake.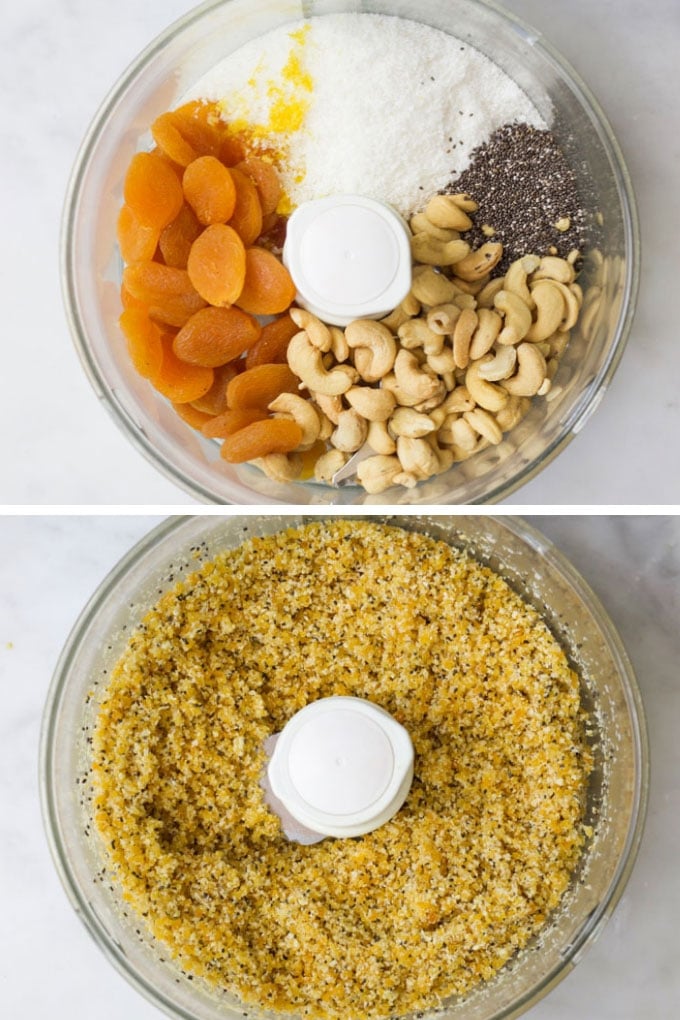 Making A Nut-Free Version
If you wish to make this recipe nut free then you can simply replace the cashew nuts with oats. I would reduce the amount to ¾ cup of oats. If the mixture is too dry then add a little more lemon juice and if you find it isn't holding together well then add 1tbsp of coconut oil.
Chia Seeds
If your child doesn't like the texture of chia seeds then you can miss them out. You can always blitz the mixture, remove a portion and add chia seeds at the end.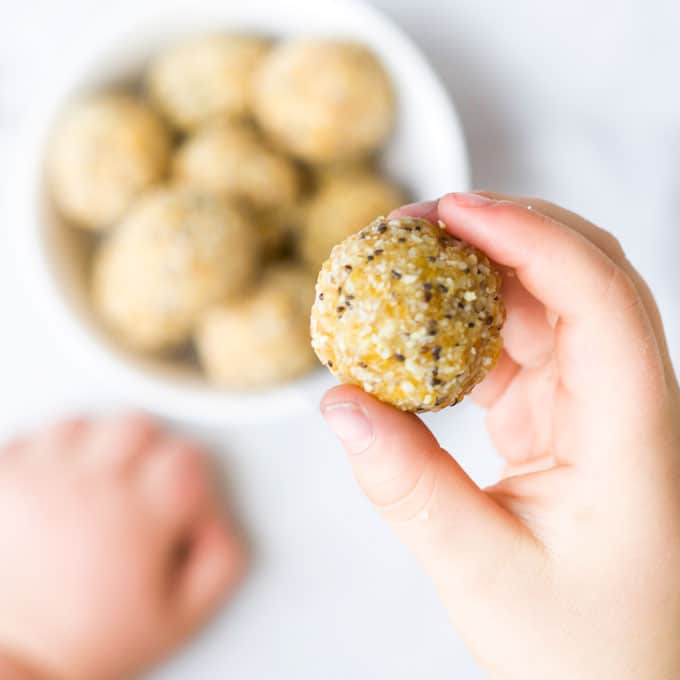 Get The Kids In The Kitchen...
These Apricot Balls are easy to prepare and that the kids can help at every step.
Like most energy ball recipes, this recipe is flexible and the ingredients don't have to be measured out precisely. So if you have an eagerly helpful kid or child that likes to taste at every stage, then this recipe is perfect!
As there are only five ingredients and they are quick to make, the recipe is also great for making with younger children with shorter attention spans.
Storing Apricot Balls
The best way of storing these balls is in the freezer. Keep them in an airtight container and they will be good for three months. They can be enjoyed straight out of the freezer.
Alternatively, you can refrigerate them in an airtight container for up to a week.
You might also like
Have you tried this recipe? I love receiving feedback, please rate and leave a comment below or tag me on Instagram.
Looking for more healthy kid recipes?Sign up for my free recipe newsletter to get new family friendly recipes in your inbox each week! Find me sharing more kid-friendly inspiration on Pinterest and Instagram.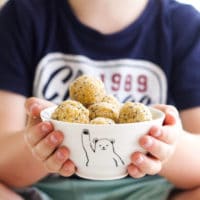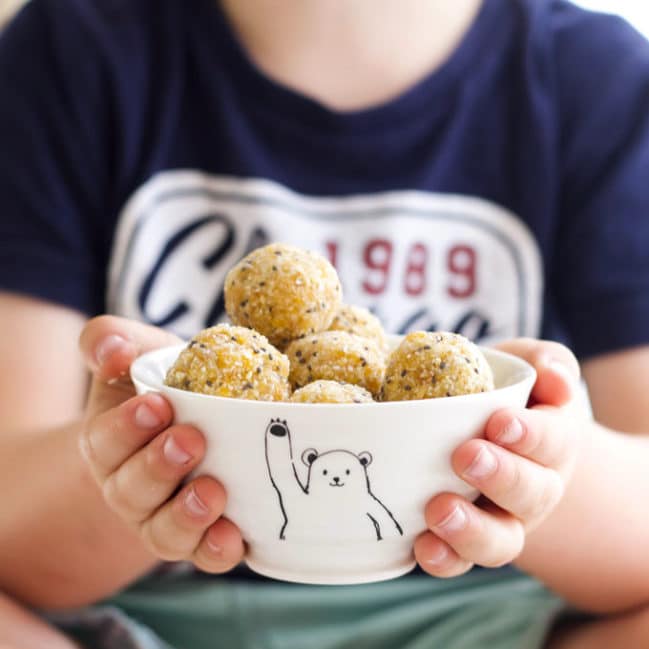 Apricot Balls
Easy to prepare with only five ingredients, these delicious Apricot Balls are a portable treat that the whole family can enjoy.
Prep Time: 15 minutes
Total Time: 15 minutes
Serves:25
Hover over "serves" value to reveal recipe scaler
Ingredients
190g (1 cup) Dried Apricots
130g (1 cup) Cashews
75g (1 cup) Unsweetened Desiccated Coconut
½ Lemon (zest and juice)
1 tablespoon Chia Seeds
Instructions
Place all ingredients into a food processor and process until the ingredients are broken down into a crumb.

Take a tablespoon amount of the mixture and roll into a ball. At first, you may think the mixture will not form into a ball but when you squeeze it together it stays. If you feel it needs more moisture you can add a little more lemon juice or water.

Continue to form tablespoon sized balls until the mixture is finished. I made 25 balls.

Freeze or refrigerate.
Nutritional facts
Calories: 69kcal | Carbohydrates: 7g | Protein: 1g | Fat: 4g | Saturated Fat: 2g | Cholesterol: 0mg | Sodium: 2mg | Potassium: 140mg | Fiber: 1g | Sugar: 4g | Vitamin A: 275IU | Vitamin C: 0.3mg | Calcium: 10mg | Iron: 0.7mg