Baked Pears are a delicious dessert for babies, children, and adults. Baking and spices enhance the natural sweetness of the pear meaning there is no need for sugar and sweeteners.
The weather has certainly got a little cooler, here in Sydney, and my fruit cravings have switched from
Freshly cut, delicious and juicy, tropical fruit to
Baked spiced, winter warming, fruits
Everyone who knows me appreciates that I am NOT a winter fan. However, I do love all the deliciously spiced winter foods and drinks.
Baked fruit is something I make often in the cooler months. I love how it fills the house with beautiful aromas and how wonderfully sweet the fruit turns when baked.
Pears are one of those fruits that have a short window of perfection. You wait and wait for them to ripen and then before you know it, they are past their best and all mushy inside.
The good thing about baked pears is that you don't have to wait for them to fully ripen, they just might take a little longer to bake.
You can't really get a simpler dessert than baked pears. They taste delicious on their own but can be enjoyed in many other ways too.
What to Serve Baked Pears With
Why not try serving baked pears with:
Yoghurt Top some greek yoghurt with the pears for a healthy and delicious dessert.
Oats Stir through porridge or top with granola for a delicious breakfast.
Ice-Cream For a more indulgent dessert, serve warm with some vanilla ice cream.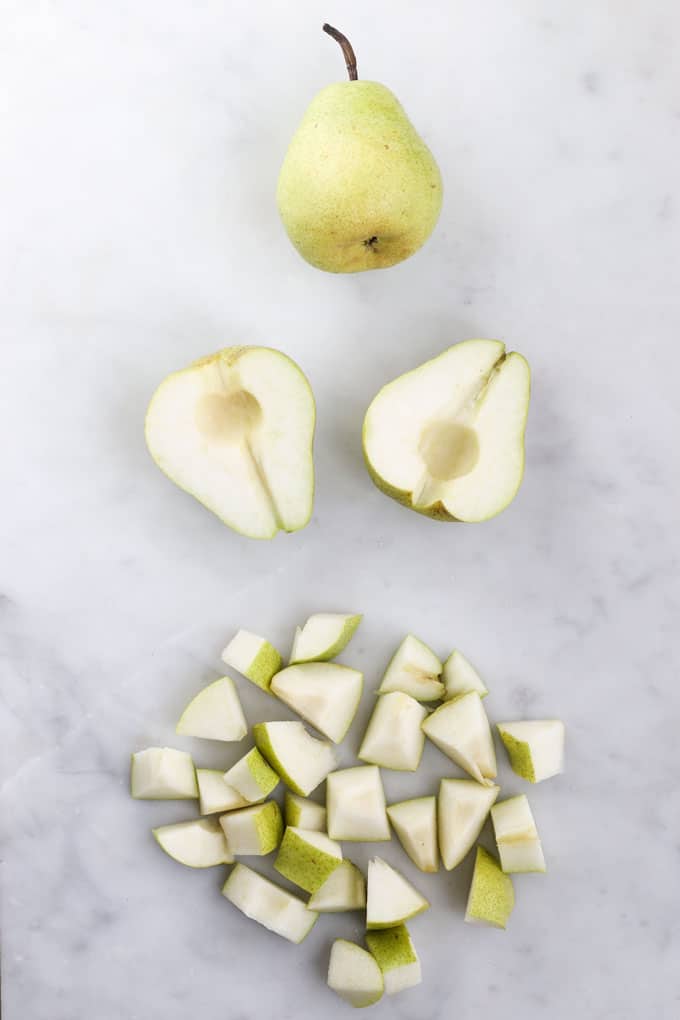 How to Prepare Pears for Baking
You can bake pears in different ways
halves
wedges
bite-size pieces
I like to bake them in bite-size pieces as I find this a great size to add to yoghurt, oats etc.
Cut the pear in half and remove the core. The easiest way to do this is to use a melon baller. The stalk is then easy to remove or cut out.
Cut into slices or bite-size pieces.
Toss the pears in spices. Spices that work well are

cinnamon,
ginger,
nutmeg,
clove,
cardamom,
allspice.
Baked Pears for Babies
Baked pears make a great puree for babies and can be mixed with a range of foods such as
other sweet fruits (e,g apple, banana, berries, mango.)
avocado
sweet potato
yoghurt
If you are doing baby-led weaning then baked pears are a perfect finger food. I baked them as fingers when my youngest was just starting out with food. Once he had developed his pincer grasp I cut them into the bite size pieces as pictured.
Picky Eaters
Baking fruit changes the taste and texture of fruit. If you have a child that doesn't like fresh fruit then try baking it . The enhanced sweetness and softer texture may win them over.
Have you tried this recipe? I'd love to know what you think, please rate and leave a comment below or tag me on Instagram or Facebook.
Looking for more healthy kid recipes?Sign up for my free recipe newsletter to get new family friendly recipes in your inbox each week! Find me sharing more kind-friendly inspiration on Pinterest and Instagram.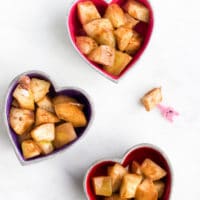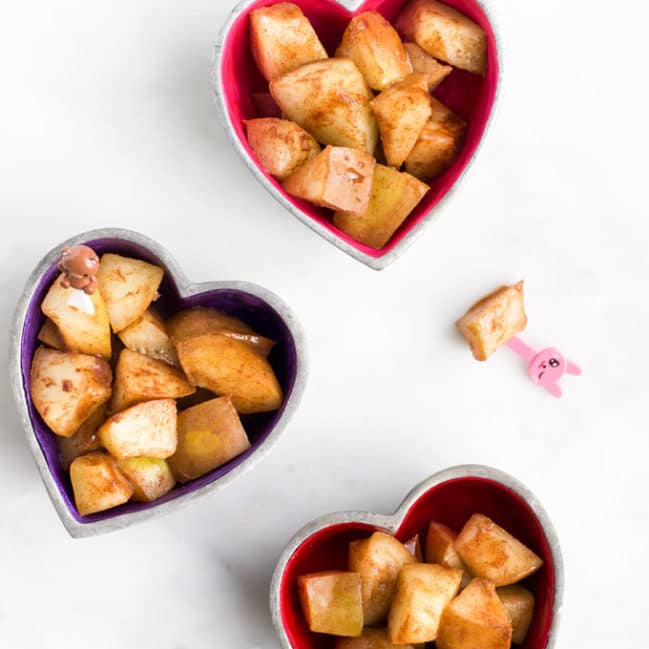 Baked Pears Recipe
With no added sugar or sweeteners, these baked pears are a healthy and delicious snack, breakfast or dessert.
Prep Time: 10 minutes
Cook Time: 40 minutes
Total Time: 50 minutes
Serves:4
Hover over "serves" value to reveal recipe scaler
Ingredients
4 Pears (Cored and chopped into pieces) *SEE NOTE 1
2 tsp Ground Cinnamon ** SEE NOTE 2
1/2 tsp Ground GInger ** SEE NOTE 2
1/4 cup Water
Instructions
Pre-heat oven to 180c / 350f

Add pears to a large baking dish and sprinkle with cinnamon and ginger. Toss the pears and add the water, toss again.

Cover with foil and bake for 20-40 minutes (*SEE NOTE 3), checking and stirring once or twice during cooking time.
Recipe Notes
The easiest way I find to chop a pear is to half, remove the core using a melon baller and then chop into bite-size pieces (see above image for illustration.) I don't peel the pear but you can if you prefer.
If you don't like cinnamon or ginger then try alternative spices such as cardamom, nutmeg, clove or allspice
The cooking time will vary depending on the ripeness of the pear. Cook until soft (or desired texture.) My pears were unripe and needed 40 mins. 
Nutritional information is a GUIDE only, calculated using an online calculator. Results will vary depending on pear variety and size. 
Nutrition Facts
Baked Pears Recipe
Amount Per Serving
Calories 105
% Daily Value*
Sodium 1mg0%
Potassium 206mg6%
Carbohydrates 28g9%
Fiber 6g24%
Sugar 17g19%
Vitamin A 45IU1%
Vitamin C 7.7mg9%
Calcium 29mg3%
Iron 0.4mg2%
* Percent Daily Values are based on a 2000 calorie diet.