This Chicken Chickpea Stew is delicious accompanied with crusty bread, stuffed into pita pockets or served with quinoa, rice, couscous or potatoes.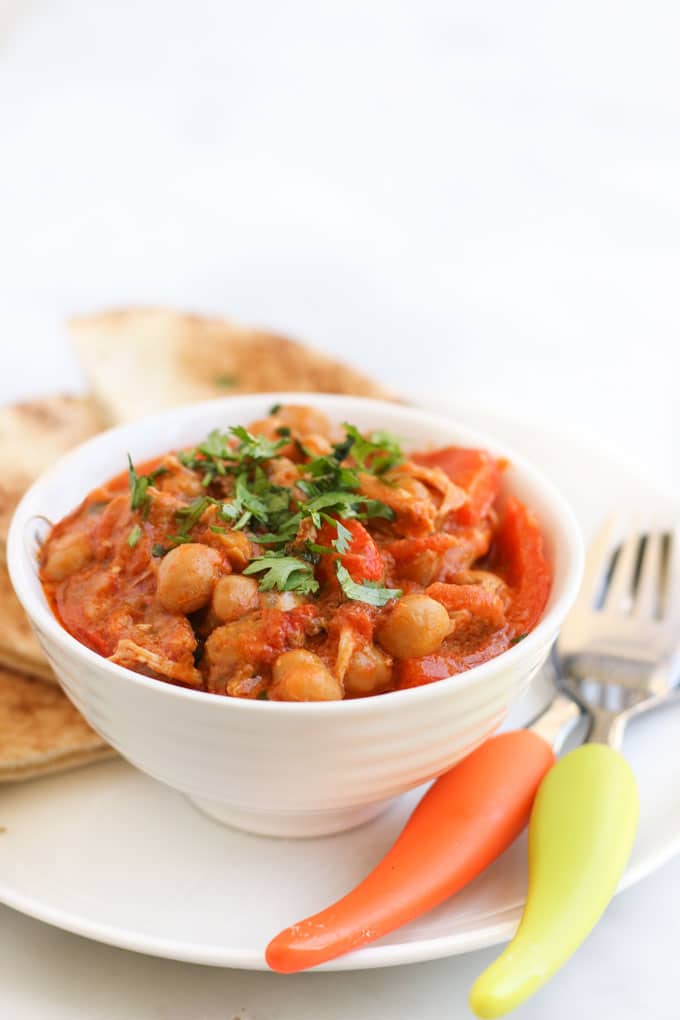 In my spice drawer, one spice reigns supreme: Smoked Paprika. Its distinct smokiness adds a delightful depth of flavour to a variety of dishes. From this hearty Chicken Chickpea Stew to these crispy Sweet Potato Wedges, and this smoked paprika dip, this versatile spice enhances them all. Don't miss out on trying it in these mouthwatering sweet potato and chickpea patties, just one of the many recipes where it shines.
If you haven't tried smoked paprika, then I recommend you add it to your spice rack. Unless it says it is hot (or Picante) it is likely to be sweet. My kids love the sweet and smoky taste it brings to a dish.
I first published this recipe in Nov 2013 and have updated it with new photos and an improved recipe.
The original recipe used breast meat but I now always use thigh. The texture of the thigh works better and cooking them in the stew, with the skin and bone in, provides much more flavour.
I believe thighs are a child-friendly cut of chicken. When my kids were younger they often struggled with breast meat, finding it a little dry and harder to eat. They much preferred thigh meat, and still do, especially when cooked this way.
Browning the thighs first, provides delicious juices to saute the onion and capsicum in. Make sure to use these juices, the flavour it provides is worth it.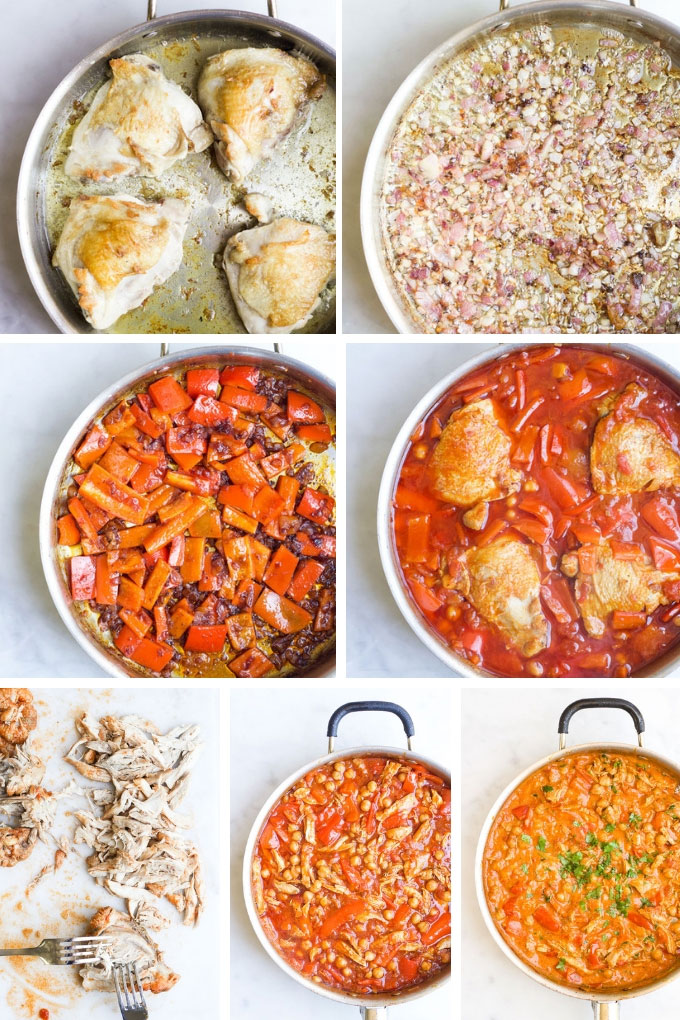 Chicken Chickpea Stew Alternative Ingredient Suggestions
If you really don't like thigh meat then you could replace it with skin on/ bone in chicken breasts, that way you won't lose the added flavour that the skin and bone provides.
If you want to increase the veggie content of this stew then you could add some chopped celery and carrot, along with the onion, or stir through some spinach towards the end of cooking.
If you, or a family member, are dairy free or you simply don't like sour cream, then you can just miss it out. I often make this without the sour cream and it is equally as delicious.
As the sour cream is added at the end of cooking, you can remove a portion/portions for those that don't like / can't eat dairy and add it to the remaining portions.
I have always added lots of herbs and spices to my kids' meals, right from when they were babies. Don't shy away from adding flavour to baby and kids food. They are great for adding flavour, especially when you need to keep sodium levels low.
Just as smoked paprika is my most loved spice, my adored herb would have to be coriander (cilantro). I am, however, aware that it does have quite a strong and distinctive taste that not everyone likes it (including my youngest).
If you, or a family member, is not keen then just omit the coriander or replace it with some freshly chopped parsley.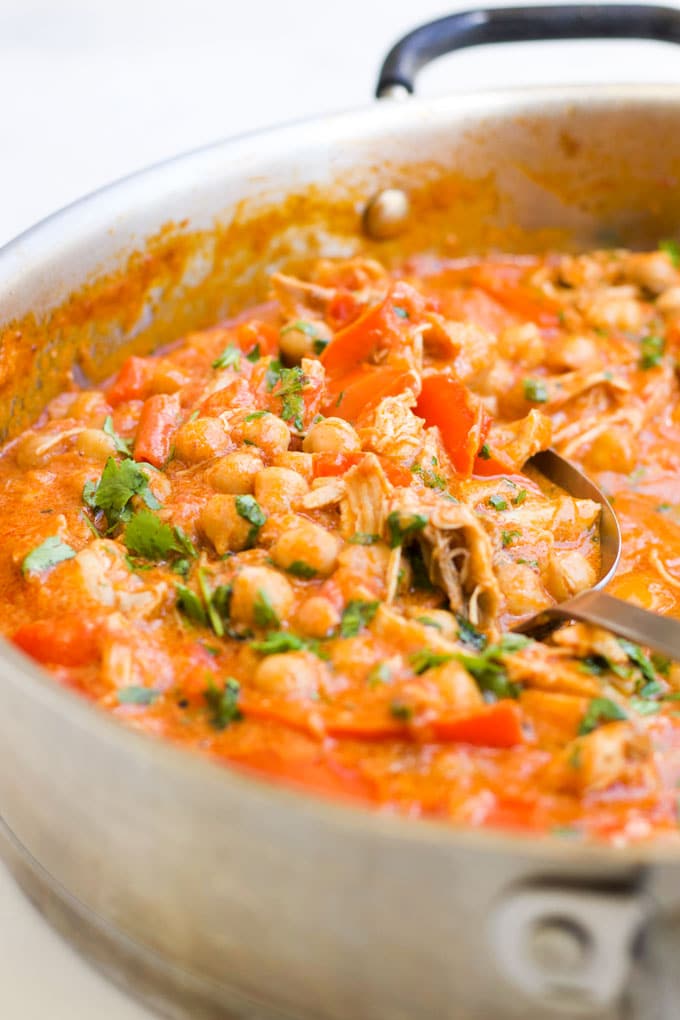 You may also like
Looking for more healthy kid recipes?Sign up for my free recipe newsletter to get new family friendly recipes in your inbox each week! Find me sharing more kid-friendly inspiration on Pinterest and Instagram.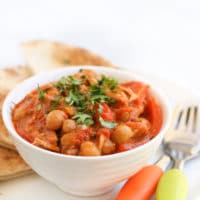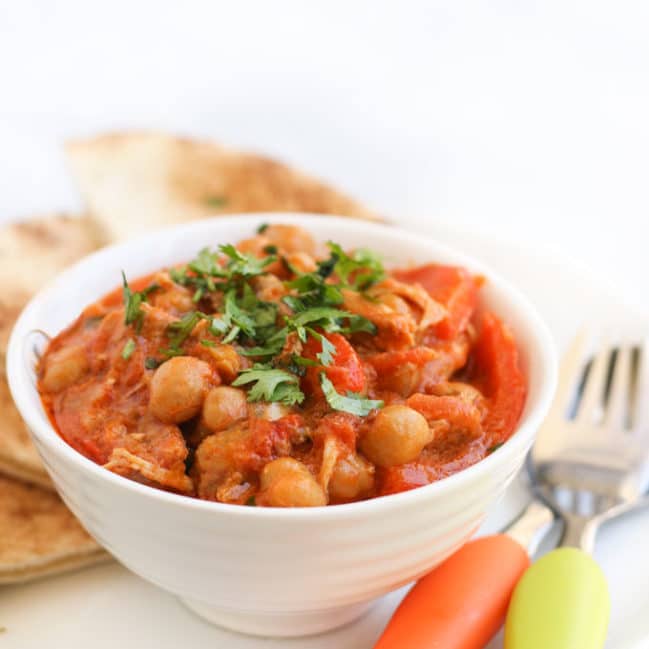 Chicken and Chickpea Stew
A delicious, one pot, family meal with an irresistible sweet and smoky flavour.
Prep Time: 10 minutes
Cook Time: 1 hour
Total Time: 1 hour 10 minutes
Serves:4 people
Hover over "serves" value to reveal recipe scaler
Ingredients
1.5 tablespoon Olive oil
4 Chicken Thighs, skin on & bone in.
1 Red onion, finely chopped
2 Garlic cloves, minced
2 Red Capsicums (bell peppers), chopped
2 teaspoon Smoked paprika
1 teaspoon Cumin
1 tablespoon Tomato puree (tomato paste)
400g Can (14oz Can) Chopped Tomatoes
250ml (1 cup) Chicken Stock *SEE NOTE 1
400g Can (14 oz Can) Chickpeas in water drained (drained weight 240g)
80ml ⅓ cup Sour cream *SEE NOTE 2 (optional)
⅓ cup Chopped coriander *SEE NOTE 3 (optional)
Instructions
Heat oil in a large saucepan over medium/high heat. Add the chicken thighs, skin side down, and brown on both sides. Remove thighs once the skin is golden and crispy (around 10 mins). Leave the chicken juices in the pan.


Add the onion to the same pan and use the chicken juices to saute the onions over low heat, until translucent and softened. (Around 6-8 mins)


Add the garlic and cook for a further minute. Add the capsicum (bell peppers), smoked paprika and cumin and continue to cook for a further minute, adding a splash of chicken stock if the spices begin to stick.


Add the chopped tomatoes, tomato puree (paste), chicken stock and chickpeas. Stir and bring to the boil. Add the chicken thighs back into the pan, cover and simmer for 30 mins, stirring occasionally.


Uncover and remove the chicken thighs. Allow the sauce to continue to simmer, uncovered, as you prepare the chicken.


Remove the skin from the thighs and cut the meat from the bone. Shred the meat and return it to the pan. Continue to simmer until the chicken has heated through and the sauce has reduced and thickened.


Add the sour cream and chopped coriander, stir through and serve.
Recipe Notes
Use homemade stock/baby stock if making for a baby.  
You can leave out the sour cream if you wish. It tastes delicious without it. 
You can omit or replace the coriander with parsley
Nutritional information is a rough GUIDE only, calculated using an online nutrition calculator. 
Nutritional facts
Calories: 464kcal | Carbohydrates: 23g | Protein: 25g | Fat: 30g | Saturated Fat: 8g | Cholesterol: 123mg | Sodium: 539mg | Potassium: 837mg | Fiber: 5g | Sugar: 8g | Vitamin A: 2835IU | Vitamin C: 89mg | Calcium: 101mg | Iron: 3.6mg