This chicken chickpea stew is delicious accompanied with crusty bread, stuffed into pita pockets or served with quinoa, rice, couscous or potatoes.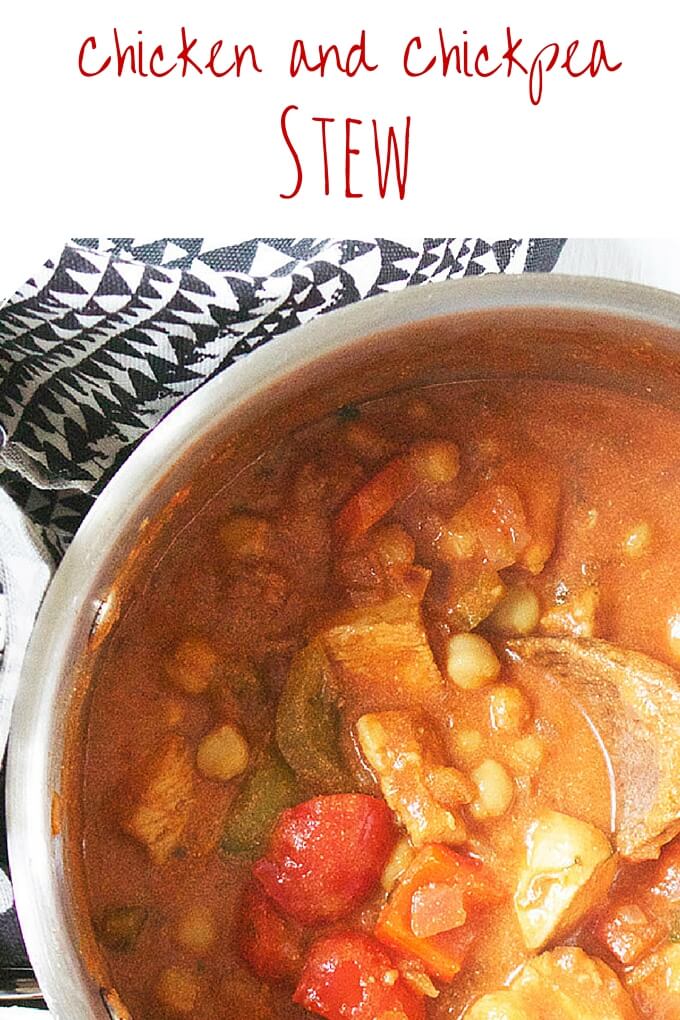 One of my favourite spices is smoked paprika and I use it a lot when cooking. It adds a distinctive smokey aroma and has a sweet flavour. I have added a teaspoon of it to this chicken chickpea stew (a heaped one as we all love the flavour.) If you haven't used it before you may wish to start with half a teaspoon, not because of the heat, as it is quite mild, but the smokey flavour might be quite powerful for young ones.
The chicken and chickpeas make this a protein rich food and it is delicious served inside pitta bread (as we did tonight) but also lovely served with rice, potatoes or couscous.
Chicken and Chickpea Stew
A delicious chicken stew with spanish flavours.
Ingredients
1

tbsp

olive oil

1

red onion - finely chopped

1

garlic clove - crushed

3

chicken breast - chopped

1

tsp

smoked paprika

1

tsp

cumin

2

peppers - chopped

1

tsp

tomato puree

1

tin

(400g) chopped tomatoes

1

cup

(250ml) chicken stock

1

tin

(400g) chickpeas in water drained (drained weight 240g)

1/3

cup

chopped coriander

1/3

cup

greek yoghurt
Instructions
Heat the oil in a saucepan over a medium heat and add the onion and garlic. Cook until the onion starts to turn translucent.

Add the spices and chicken and cook until the chicken is sealed.

Add the peppers and cook for a further minute before adding the stock, tomatoes and puree.

Bring to the boil and then reduce the heat and allow to simmer for 5 minutes

Add the chickpeas and simmer for a further 5 minutes.

Add the yoghurt and coriander and serve.
Recipe Notes
Eat by itself or serve with a grain of your choice. Lovely with pitta bread, rice or couscous.
Do your kids love chickpeas? Have you tried curried baked chickpeas?