Chocolate Dipped Dried Oranges make a beautiful edible Christmas gift for teachers family members or friends.
Last week we were in a speciality food store drooling over all the Christmas goodies on offer. My eldest pointed out some Chocolate Dipped Dried Oranges and said that he really wanted to try them.
As with many of these speciality products, the price was through the roof and so I decided we could make them at home. He was more than happy with that suggestion.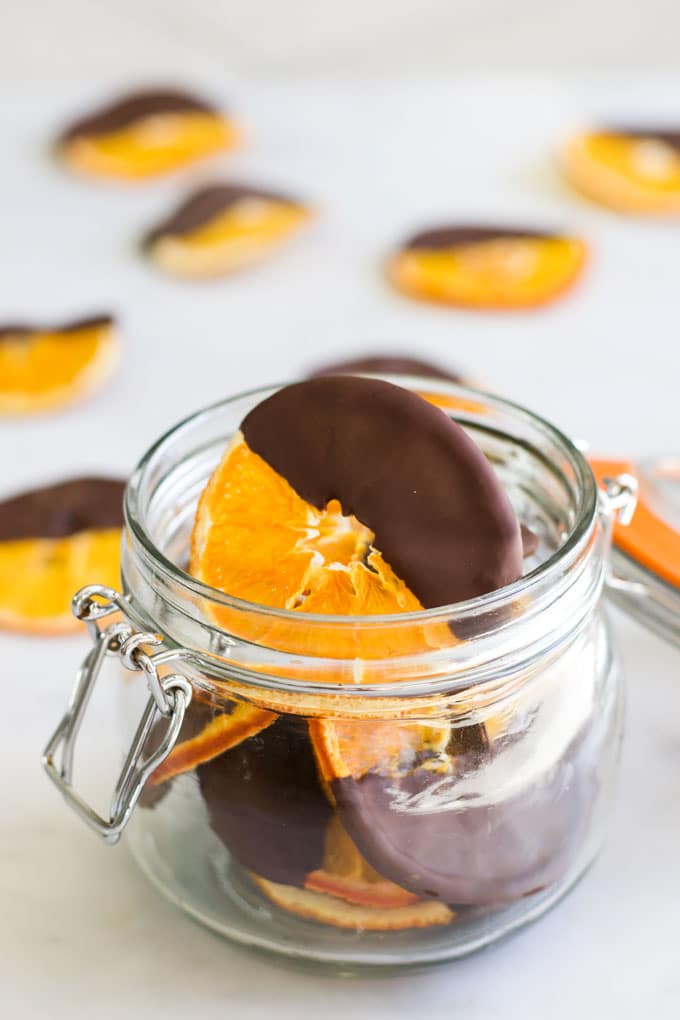 I don't own a dehydrator so I had to make them in the oven. They are required to dry at a low heat for a long time. Great in winter, not so great in summer!
You will need to heat your oven to 100c / 200f for around 2 ½ -3 ½ hours.
Making Dried Orange Slices - Tips.
Wash and dry the oranges well - As the rind is part of this delicious treat, you want to make sure to properly clean and dry the oranges.
Slice thinly - You want to slice the oranges as thin as you can, aim for around 5mm thick (¼ inch).  The thinner they are the quicker they will dry. Try to slice as uniformly as possible for even cooking.
Remove the seeds - Obviously, the seeds would be undesirable!
Dry on a single layer - Place oranges on a single layer, ensuring they do not touch.
Be patient - You are best to dry these slowly, at a low temperature. Turning the temperature up, in the hope to speed up the process, just doesn't work.
Dipping in Chocolate - Tips
Use a good quality dark chocolate with a high cocoa content
Always make sure that the bowl and utensils you use are completley dry and make sure your bowl is not touching the water in your double boiler. Even if the smallest amount of water gets into your chocolate, the chocolate will seize causing it to become grainy and clumpy.
Be careful not to overheat your chocolate. Chocolate is very sensitive to heat and if you overheat it will lose the glossy shine and become thick and clumpy.  Don't have your water in your double boiler boiling, you want just a gentle simmer.
If your chocolate does become too thick. You can try adding a spoon of coconut oil (or vegetable oil). This will thin out the chocolate and creates a smoother consistency.
After dipping in chocolate, you could try adding some crushed nuts or coconut flakes to the chocolate, before it dries, for extra decoration.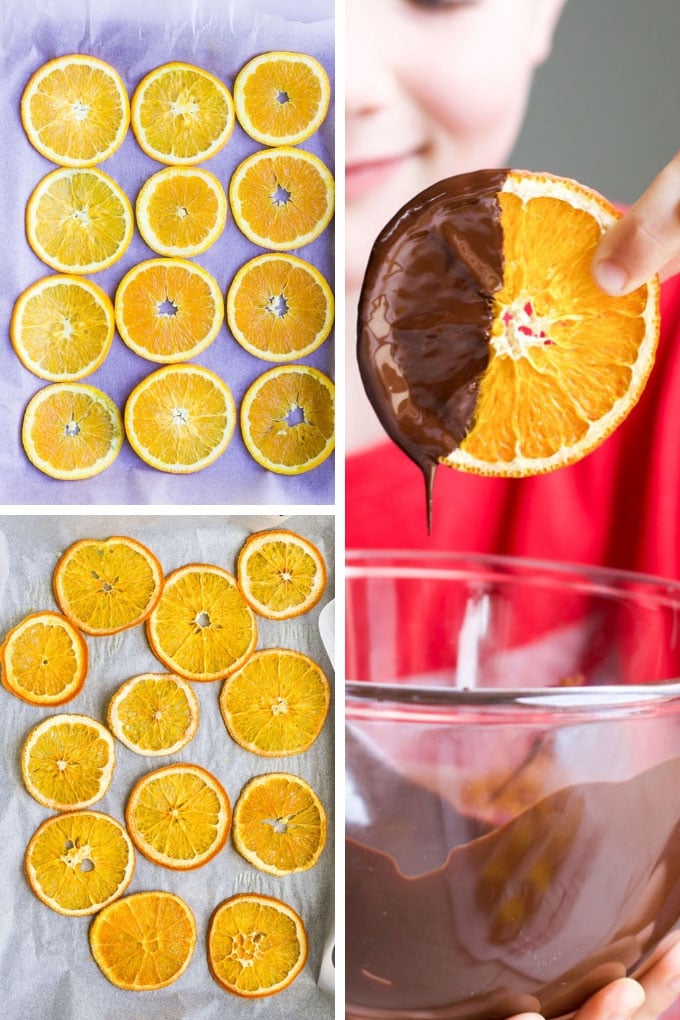 Other uses for Dried Oranges. 
I've focused this post on making beautiful edible gifts but there are many other ways you can use dried oranges (before adding the chocolate).
Decorations - They make beautiful Christmas decorations or additions to potpourri.
Snacks - They make a great snack, even without the chocolate. My kids have been enjoying them in their lunch box this week!
Drinks - Use them to flavour water and tea.
Garnish - They add a lovely touch to platters, desserts or cocktails.
Powder - Grind them into powder to add to baking and marinades.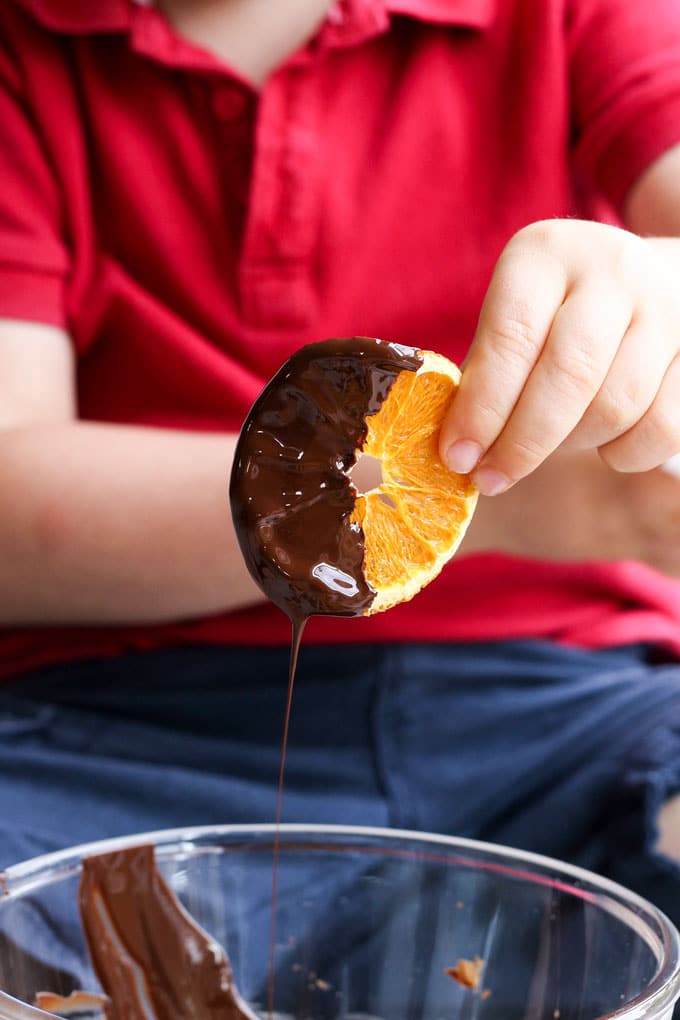 Storing Chocolate Dipped Dried Oranges.
Store your dried oranges in a glass container with a tight-fitting lid. Place them in a cool, dark pantry and store for around a week.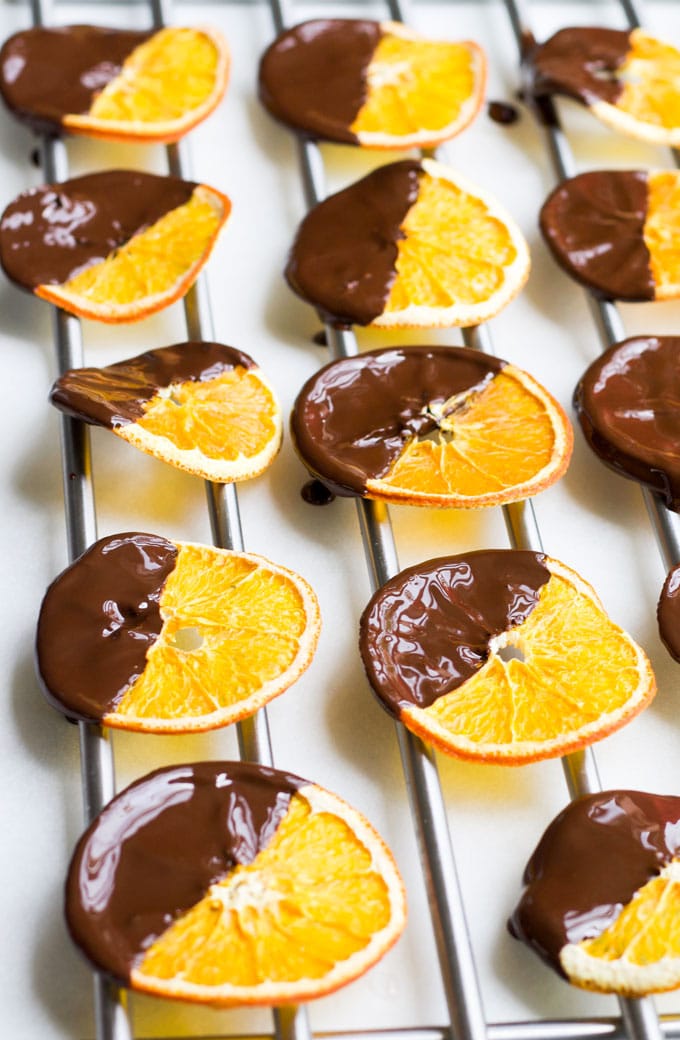 You may also like...
Chocolate Orange Avocado Mousse
Have you tried this recipe? I love hearing your feedback, please rate and leave a comment below or tag me on Instagram. 
Looking for more healthy kid recipes?Sign up for my free recipe newsletter to get new family friendly recipes in your inbox each week! Find me sharing more kid-friendly inspiration on Pinterest and Instagram.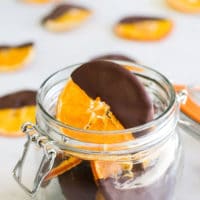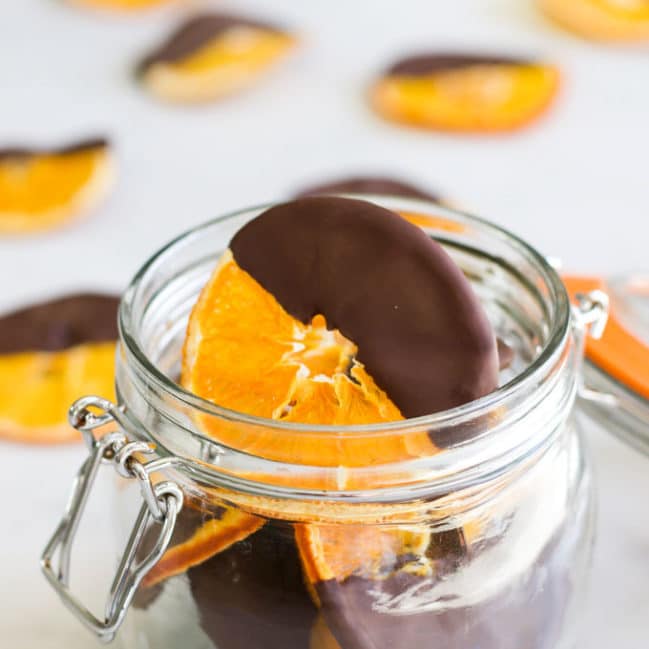 Chocolate Dipped Dried Oranges
Dried orange slices coated in dark chocolate. A delicious snack, dessert or edible Christmas gift.
Prep Time: 15 minutes
Cook Time: 3 hours
Total Time: 3 hours 15 minutes
Serves:4
Hover over "serves" value to reveal recipe scaler
Ingredients
2 Navel Oranges
100g (3 ½ oz) Good Quality Dark Chocolate
Instructions
Preheat oven to 100c (200f) and line two baking trays with baking paper.

Wash and dry oranges and then thinly slice (around ½ cm (¼ inch)) thick, with the peel still on. Place oranges, in a single layer, on the baking trays.

Place the trays in the oven and dry for 2.5hrs to 3hrs, turning the oranges halfway through. (the length of time will vary depending on how thin you cut your oranges)

Turn off the oven and allow the oranges to cool in the oven.

Break the chocolate up into small pieces and add to a heatproof bowl. Sit the bowl over a saucepan of simmering water, ensuring the bowl doesn't touch the water. Stir until the chocolate has melted.


Remove the chocolate from the heat and dip half of each orange slices into the chocolate. Allow any excess chocolate to drip off and then place on a cookie rack until the chocolate is set. *SEE NOTE 1

Store in an airtight container in a dark and cool room.
Recipe Notes
You may wish to sprinkle some finely crushed nuts or coconut flakes on the coated part of the orange for extra decoration. 
* Nutritional information is a ROUGH guide only, calculated using an online nutrition calculator. 
Nutritional facts
Calories: 183kcal | Carbohydrates: 20g | Protein: 2g | Fat: 10g | Saturated Fat: 6g | Cholesterol: 0mg | Sodium: 5mg | Potassium: 294mg | Fiber: 4g | Sugar: 11g | Vitamin A: 175IU | Vitamin C: 41.3mg | Calcium: 48mg | Iron: 3.1mg