Spanish Style Quinoa – A delicious and healthy family meal.
Quinoa is fast becoming known as one of the healthiest grains (or technically seed) available. This super food is a complex carbohydrate with a low glycemic index. It is packed full of essential vitamins and minerals, is a rich source of protein and is high in fibre.
I made this spanish style quinoa in a similar way to how I'd make a paella but substituted the rice for quinoa. I used a paella pan but if you don't have one a large frying pan will work.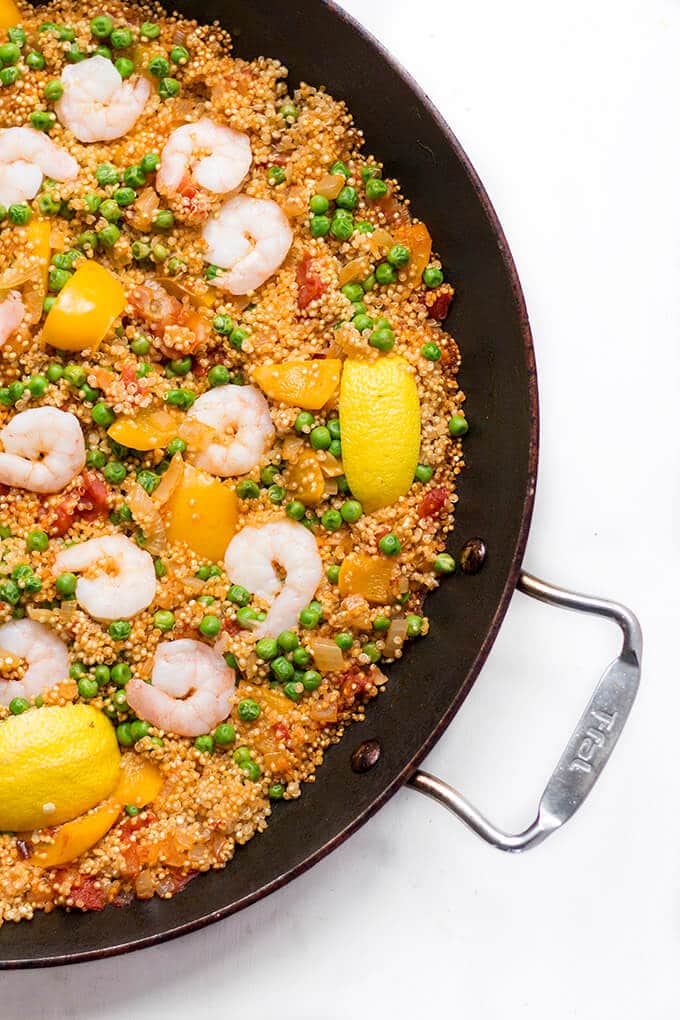 Looking for more healthy kid recipes?Sign up for my free recipe newsletter to get new family friendly recipes in your inbox each week! Find me sharing more kind-friendly inspiration on Pinterest and Instagram.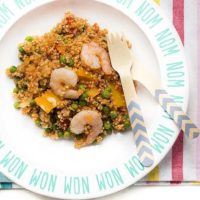 Spanish Style Quinoa
Prep Time: 5 minutes
Cook Time: 27 minutes
Total Time: 32 minutes
Hover over "serves" value to reveal recipe scaler
Ingredients
1/2 tbsp oil
1 onion - finely chopped
1 yellow / red pepper - roughly chopped into chunks
2 cloves garlic - crushed
1 tsp smoked paprika
200 g (half a tin) chopped tomatoes
3 cups (750ml) boiling water
1 1/2 cups quinoa
15 tiger prawns (shrimp)
1 cup of frozen peas
1 lemon
Instructions
Heat oil in a paella pan (or large frying pan) and add the onion and pepper. Gently fry over a medium heat for approx. 5 minutes (until the onion has started to turn brown at the edges)

Add garlic and smoked paprika and fry for a further minute.

Add the tomatoes and water and bring to the boil.

Add the quinoa and simmer for 10 minutes (stirring occasionally)

After the 10 minutes, add the prawns and peas to the pan.

Simmer for a further 10 minutes.

Cover with a dishcloth and allow to sit for 2 minutes.

Add the juice of one lemon, stir and serve.