Healthy Chilli Cheese Fries made from baked sweet potato fries, veggie-packed chilli and creamy guacamole. Delicious! 
As a student, I ate a lot of Chilli Cheese Fries and when I was travelling, with friends in the USA, I think my intake doubled. Mainly ordered in bars or in fast food restaurants, they certainly weren't the healthiest of choices. I'm a lot more health conscious now and they rarely exist in my diet, and definitely not in my kids' diet.....until now! These healthy chilli cheese fries are packed full of veggies and taste amazing.
A while ago I served some leftover mild chilli con carne with leftover sweet potato wedges to Finn and Rory. They went crazy over it and this is when I thought of making these Healthy Chilli Cheese Fries. They are made up of baked sweet potato fries, chilli packed full of veggies, a little cheese and some guacamole.  This version is much lower in fat and sodium than most chilli cheese fries and is packed with goodness.
Still not convinced that these are healthy? Have a look at what they are made up of
Sweet Potato Fries - Sweet potatoes provide a range of nutritional benefits. One medium sweet potato contains well over our daily requirement of Vitamin A and gives us a good dose of Vitamin C, potassium and fibre. They are baked instead of fried.
Chilli - If you use my mild chilli recipe then your kids will get a dose of the following vegetables; tomatoes, onion, celery, capsicum (pepper), zucchini (courgette) and eggplant (aubergine). Simmered for a long time the vegetables break down and the kids won't even notice them!
Guacamole - My guacamole recipe is made using avocado, onion, garlic, lime, coriander and no added salt for the kids. Pretty healthy, right?
I grated the tiniest amount of cheese on Rory's portion (due to salt levels) and a little more on Finns. A little is more than enough especially when it is topped with guacamole.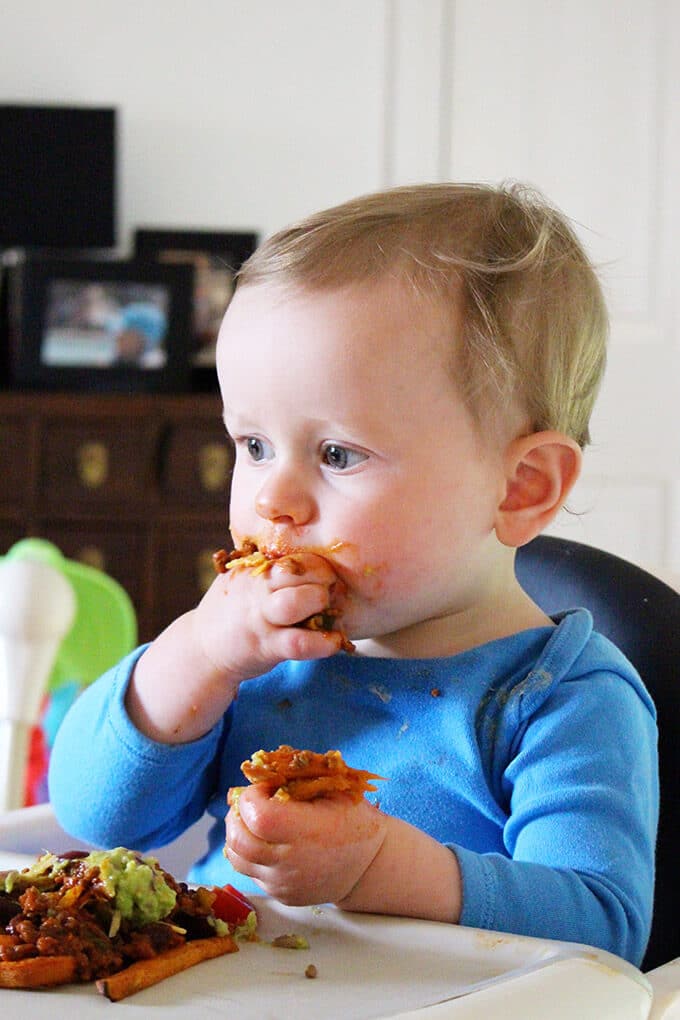 Looking for more healthy kid recipes?Sign up for my free recipe newsletter to get new family friendly recipes in your inbox each week! Find me sharing more kid-friendly inspiration on Pinterest and Instagram.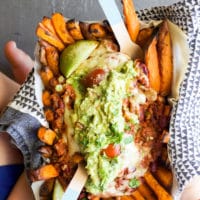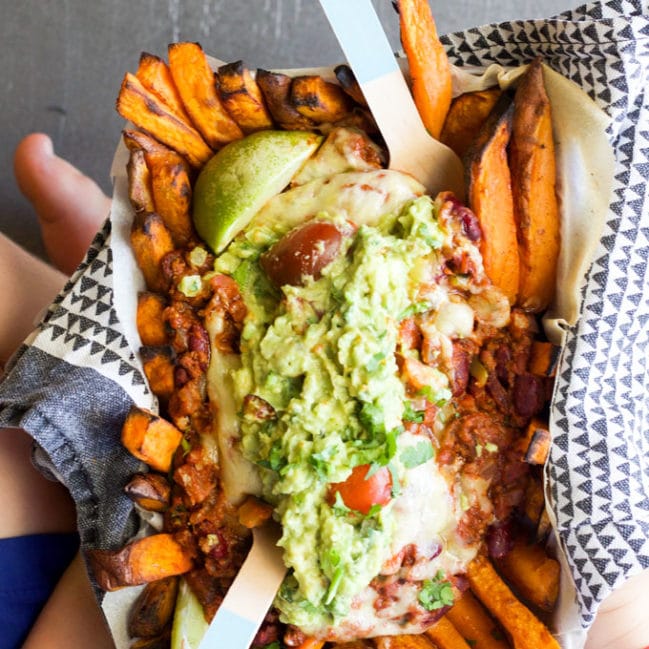 Healthy Chilli Cheese Fries
A healthy, veggie packed, twist on a fast-food favourite.
Prep Time: 10 minutes
Cook Time: 30 minutes
Total Time: 40 minutes
Serves:6
Hover over "serves" value to reveal recipe scaler
Ingredients
1 kg / 2lb kg Sweet Potatoes
2 tablespoon Olive Oil
1 teaspoon Smoked paprika (optional)
2 cups Cooked Chilli (see below for recipe links including vegetarian link)
1 cup Guacamole (see below for recipe link)
¼ cup Grated cheese. (approx)
Instructions
Pre heat oven to 200c / 400f

Wash and peel sweet potatoes

Slice the sweet potatoes into ¼ inch (about 60mm) thick fries

In a large bowl mix the cut sweet potato with the oil and smoked paprika until fully coated

Place the sweet potato fries in a single layer on a baking tray.

Bake until tender and browned (approx. 15-20 mins), turning occasionally.

Portion out the fries and top with some chilli, a little cheese and some guacamole.
Recipe Notes
Recipe Links for Chilli and Guacamole Cooking time does not include making the chilli and guacamole Nutritional information is a ROUGH guide only, calculated using an online nutrition calculator. Values will differ depending on chilli and guacamole recipe used. 
Nutritional facts
Calories: 558kcal | Carbohydrates: 104g | Protein: 10g | Fat: 13g | Saturated Fat: 3g | Cholesterol: 5mg | Sodium: 307mg | Potassium: 1899mg | Fiber: 18g | Sugar: 21g | Vitamin A: 71207IU | Vitamin C: 16mg | Calcium: 190mg | Iron: 3mg