If you find yourself with leftovers from a Sunday roast then you must try these Bubble and Squeak Cakes. However, even though the real purpose of this British classic is to use leftovers, it is still worth making from scratch.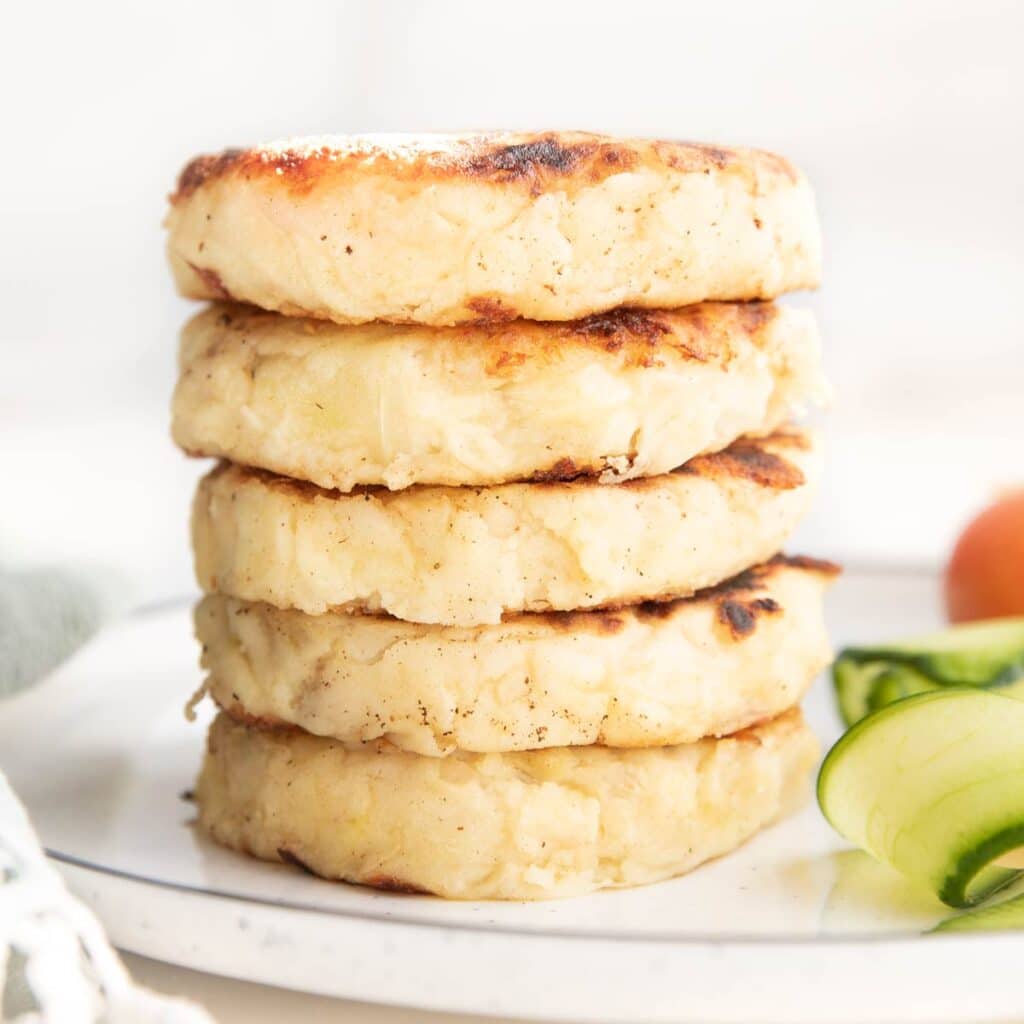 What is Bubble and Squeak?
Bubble and Squeak is a traditional British dish comprising of leftover potato and cabbage, usually from a Sunday roast or Christmas dinner. Other leftovers may also be thrown in such as Brussels sprouts, onion, carrots, parsnips, turnips, peas and meat. It is a really tasty and great way of combatting waste.
The potato and vegetables are mixed together, shallow fried and usually made into one large cake. For this recipe, smaller patties are made to make it more kid-friendly and easier to fry.
The name is thought to have come from the sound the cabbage makes whilst cooking in the pan. Maybe you can get your kids to listen out for the squeak as you make them!
Watch How to Make Them (Video)
Ingredient Information & Alternatives
Bubble and Squeak is usually made from leftover potato and cabbage (or other leftover vegetables). However, not everybody has leftovers and so for this recipe, the quantities needed for each ingredient are detailed for both using leftovers and for starting from scratch.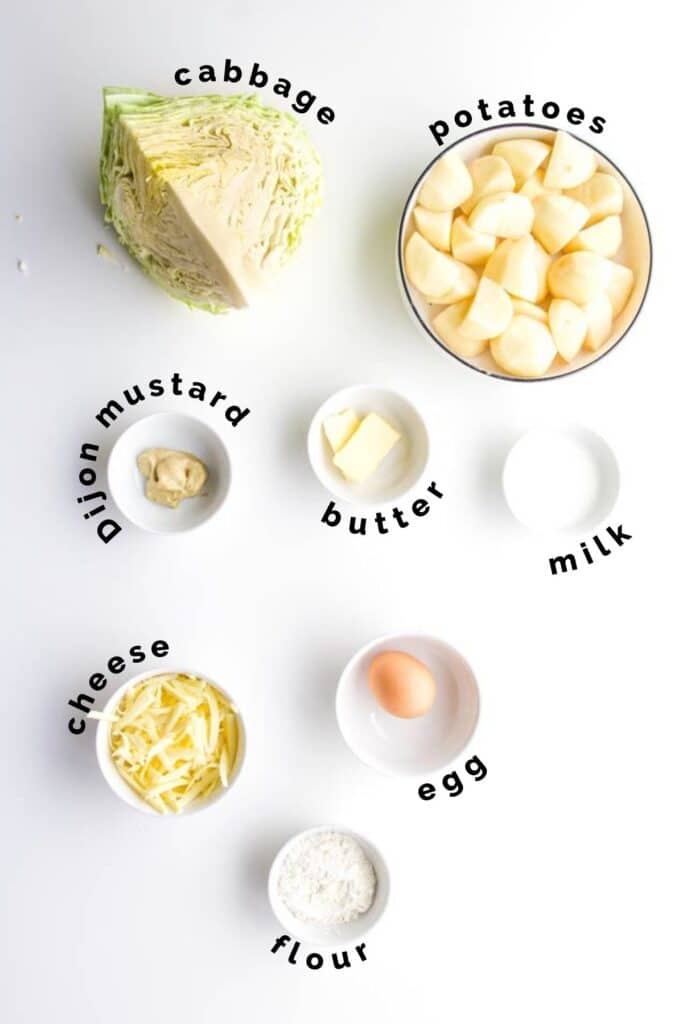 Potatoes, butter & milk - used to make mashed potato (or you can use leftover potatoes). The potatoes should make up over half the cake.
Cabbage: Can be replaced or mixed with other cooked vegetables such as onion, Brussels sprouts, kale, carrots & peas.
Dijon Mustard & Cheese: Added for flavour. You can skip or replace them with some dried or fresh herbs.
Egg: Helps with binding but is not strictly necessary and many recipes do not contain egg. Just make sure the patties are really cold before frying.
Flour: The flour really helps to stop the patties from sticking to the pan and makes them easier to handle.
Process Shots & Cooking Tips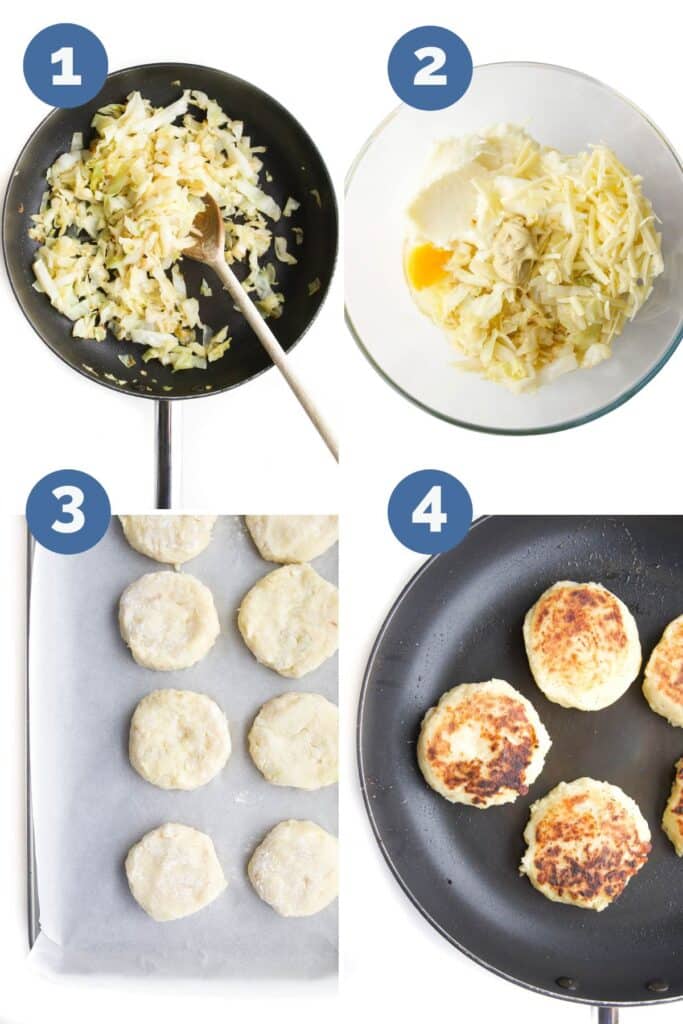 COOK POTATO & VEGETABLE: This step is only needed if you don't have leftovers and are making them from scratch. Cook your potatoes and mash. Finley slice and cook the cabbage (or vegetable of choice)
MIX - Mix the potato, cabbage, cheese, mustard and egg together until combined.
FORM PATTIES - Using roughly ¼ cup of mixture form into small cakes. Coat in flour and chill for around 20 mins. This helps the cakes to firm up and makes them easier to handle when frying.
SHALLOW FRY -  Re-coat the cakes in flour (which helps ensure the patties won't stick to the pan) Heat 1 tablespoon of oil in a wide-based non-stick frying pan and gently place five of the cakes into the hot oil. (this may vary depending on the size of the pan) Fry for 3 mins on each side on moderate heat. Repeat with the remaining cakes.

Serving Suggestions
Bubble and Squeak Cakes are generally associated with Boxing day or as part of a Monday meal (using leftovers from Christmas or a Sunday roast). It is often enjoyed at breakfast with an egg or served as a side with leftover roast meat.
However, you can serve these in a variety of ways. Serve them as a side dish served with fish or meat, try them with baked beans or even with a side salad.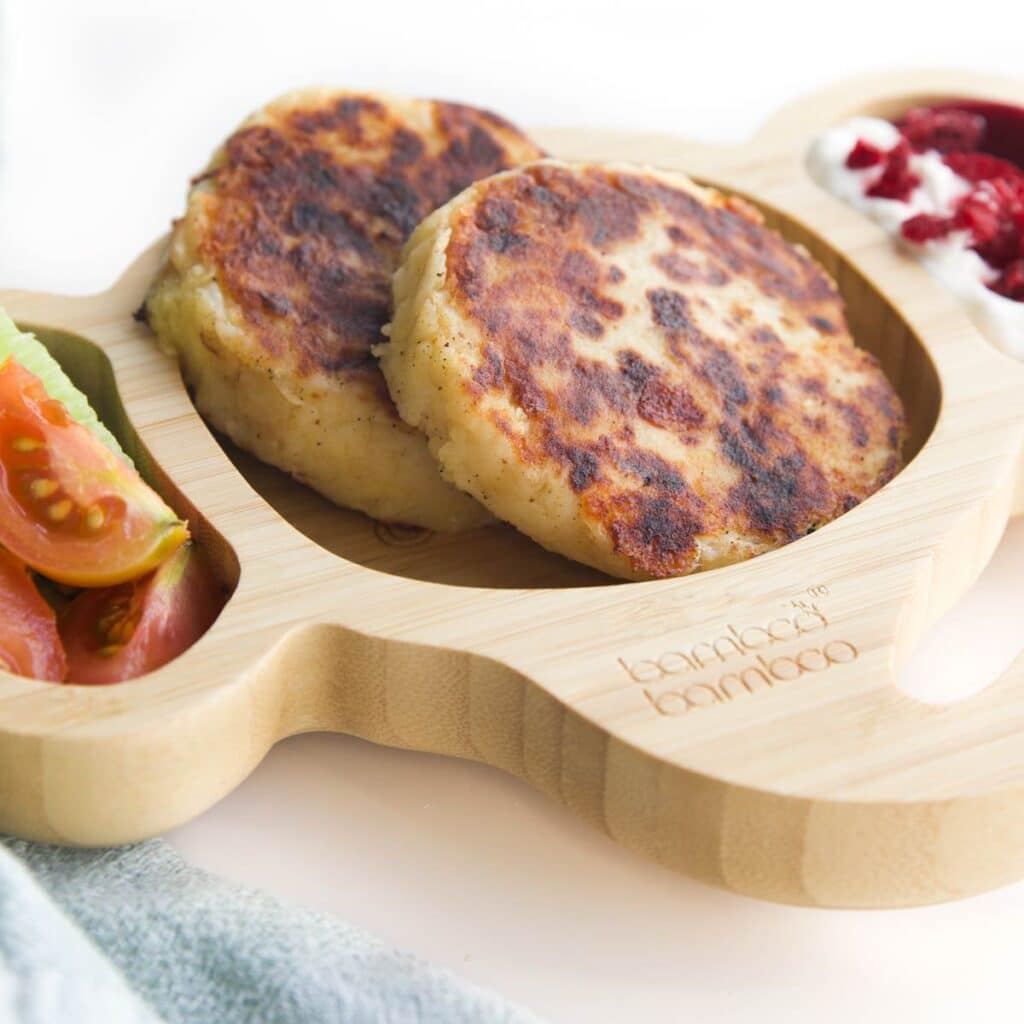 Storage Instructions
As Bubble and Squeak cakes are usually made by reheating leftovers I would not recommend saving leftover patties (unless you have made them from scratch). Reheating food more than once is not recommended.
REFRIGERATE: You can prep the cakes in advance (up to one day). Form the cakes and place them on a tray/plate in a single layer. Cover and refrigerate. Re-coat in flour before frying.
FREEZE: Freezing may cause a texture change that some will not find desirable. However, they can be frozen, before cooking. Once the cakes are formed freeze on a baking tray lined with parchment paper. Once frozen they should be individually wrapped and then stored in a freezer bag or box. Defrost overnight in the refrigerator, coat in flour and then shallow fry as per recipe instructions.
Frequently Asked Questions
Are these suitable for babies?
Yes from 6 months + However, these cakes contain dairy (milk, butter, cheese), egg and wheat (flour) which are all major allergen foods and should be introduced separately before serving these cakes. The cakes are very soft and babies may find them frustrating to eat. (Hard to pick up)
You May Also Like
Looking for more healthy kid recipes?Sign up for my free recipe newsletter to get new family friendly recipes in your inbox each week! Find me sharing more kid-friendly inspiration on Pinterest and Instagram.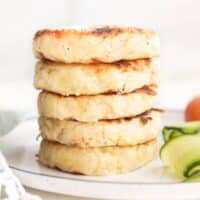 Bubble and Squeak Cakes
A potato and cabbage cake, perfect for kids.
Prep Time: 10 minutes
Cooling Time: 40 minutes
Cook Time: 30 minutes
Total Time: 1 hour 20 minutes
Serves:10 Cakes
Hover over "serves" value to reveal recipe scaler
Ingredients
550g (1.2lb) Raw Potato, peeled and cut into rough chunks of approx. 3-5cm cubed (or 3 cups of cooked mashed potato)
1 tablespoon (16g) Butter (not needed if the potato is already mashed)
30 ml Milk (not needed if the potato is already mashed)
280g (¼ of a large cabbage) Cabbage, thinly sliced (or 2 cups of cooked leftover cabbage/vegetables)
1 tablespoon Dijon Mustard
60g (½ cup) cup Cheddar Cheese, grated
1 Egg, beaten
2 tablespoon Plain/ All Purpose Flour
2 tablespoon Oil for frying
Instructions
Add the potatoes to a large pan and cover with water. Bring to the boil, cover and simmer until soft (approx. 15 mins). Drain the potatoes and return to the pan. Add the milk and butter and mash until smooth.

Meanwhile, saute the cabbage. Heat the oil over medium heat, add the cabbage and 2 tablespoons of water. Cover and allow to cook, stirring occasionally, for 10 mins (or until softened).

In a large mixing bowl add the cooked cabbage, mashed potato, mustard, cheese and beaten egg. Mix until combined.

Form the mixture into 10 patties, using roughly ¼ cup of the mixture per pattie.

Add the flour to a flat surface or plate. Dip each cake in the flour and flip to coat.

Place the floured cakes in the refrigerator for around 20 mins to firm up.

Just before serving, give each cake one more coat of flour. Heat 1 tablespoon of oil in a wide-based frying pan and gently place five of the cakes into the hot oil. (this may vary depending on size of pan) Fry for 3 mins on each side on moderate heat. Repeat with the remaining cakes.
Recipe Notes
If using leftover potato and cabbage start from step 3.  You can replace the cabbage with other vegetables such as Brussels sprouts, carrots, peas, parsnips and kale. Nutritional Information is a ROUGH guide only, calculated using an online nutrition calculator. The facts are for 1 cake when you make 10.
Nutritional facts
Calories: 123kcal | Carbohydrates: 13g | Protein: 4g | Fat: 7g | Saturated Fat: 2g | Polyunsaturated Fat: 1g | Monounsaturated Fat: 3g | Trans Fat: 0.1g | Cholesterol: 26mg | Sodium: 81mg | Potassium: 299mg | Fiber: 2g | Sugar: 2g | Vitamin A: 154IU | Vitamin C: 21mg | Calcium: 68mg | Iron: 1mg